This post is sponsored and written by Dim Nikov, a web publisher. Check out Dim's blog posts and case studies at AskDim.com.
Placing ads on your blog or website is one of the best ways to start earning more from the content you've published on it and the traffic it gets today.
If you're someone who's good at sales and you have a Rolodex of contacts in the industry your website is about, you can try selling ad space to businesses yourself. Direct ad deals—and the ability to sustain them over time—can make you a lot of money.
But for most of us who create websites, direct ad sales are not an option. So our best bet is to sign up with an ad platform that matches our content and visitors with advertisers' campaigns for us. Such platforms take a cut of the revenue, but they also limit our involvement to cashing in the check at the end of each month.
Ezoic, which was founded in 2010 and has grown to become the go-to monetization platform for tens of thousands of online publishers, is one of those platforms.
As somebody who monetizes his websites with Ezoic (and as a Certified Ezoic Expert and Ezoic Premium Publisher), I'll explain why you should consider joining Ezoic today and what the process looks like.
What Is Ezoic?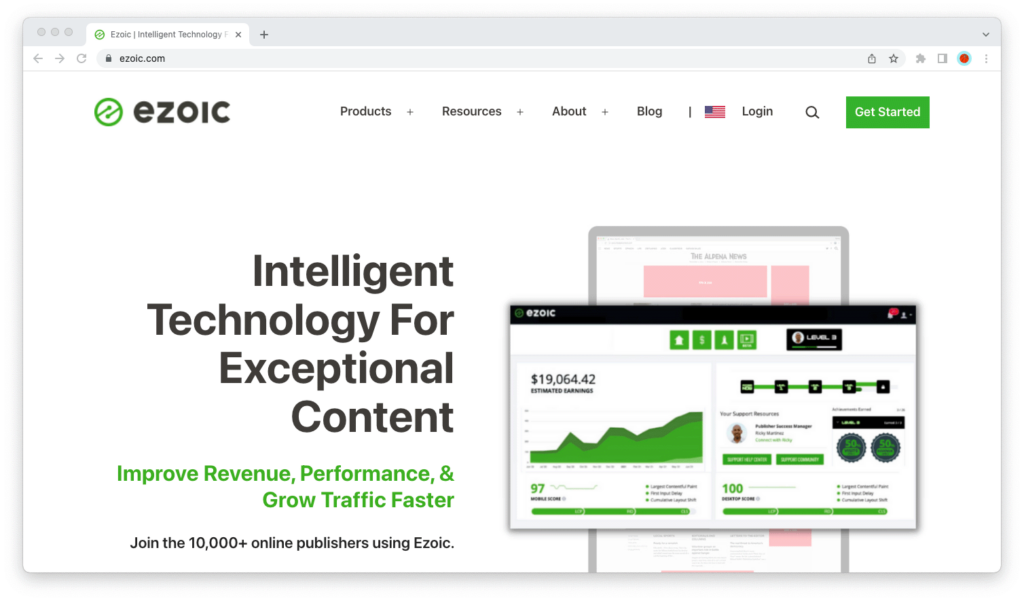 Ezoic is a technology platform for online publishers.
Once you're in, you'll get access to a number of tools that can help you make money from your website, improve its speed and usability, and gain insights into what content engages readers the most and brings you the highest revenue.
Ezoic is an ad platform that lets you create and sell ad space on your website. It uses an artificial intelligence (AI) algorithm, it identifies the advertisers, campaigns, and ads that will bring you the highest revenue and displays them to your visitors.
The longer you use Ezoic, the higher your revenue will be, as the algorithm understands which ad types work for which audiences, and gets better and better at identifying and displaying the highest-revenue ads on your site.
Ezoic is the best alternative to Google AdSense, and a competitor of full-service ad agencies Mediavine and AdThrive.
Learn more about Ezoic here.
(Or read on; I've also answered the top questions I get about Ezoic in my coaching practice below.)
How to Join Ezoic
To join Ezoic, you need to apply for the Ezoic Access Now program.
What Are the Requirements to Join Ezoic?
Ezoic used to require at least 10,000 page views for publishers to be able to participate in its program. Since 2021, that limit has been lifted, and there is no longer a minimum number of page views for Ezoic Access Now applications.
This means that you can apply to Ezoic even if you have a new website whose content is still aging and hasn't yet entered the growth phase. However, Ezoic itself recommends that you wait until your website has at least 500-1,000 page views per month to make it worth your while.
To be accepted into Ezoic, your website must comply with Ezoic's ad policy. To give you the ad policy short:
Your website must have a navigation menu;
The content on your website must be original and must not be on a topic on Google Ads' prohibited topics list;
The traffic to your website must be authentic (from humans, not bots);
The content must not be locked behind some sort of wall.
Generally speaking, if you have a website with at least a good design and a few dozen posts—and you're not doing anything black-hat—you have a high chance of making it into the Ezoic Access Now program.
You don't need a Google AdSense account to join Ezoic. However, having one can help, as long as it's in good standing with Google. You can learn why here.
What Does the Application Process Look Like?
Okay, so you want to apply for Ezoic. Here's how the application process for first-time Ezoic publishers typically goes.
First, you need to submit your application through the link on the landing page for the Ezoic Access Now program. There's a multi-step questionnaire you'll be asked to fill out with details about yourself and your website.
Then, you need to integrate your website into Ezoic's platform so that Ezoic's team can review it. There are two ways to integrate your website into Ezoic: by installing a WordPress plugin or by pointing your domain name's NS records to the Ezoic cloud.
The second option is the one I prefer. You can keep your current hosting provider, but the ads will load faster and slow down your website less. Besides, thanks to the DNS integration in Ezoic, you can use their tools to improve website speed, A/B test titles for winning at SEO, and a number of other benefits.
Once you've integrated your website, the Ezoic team will review it and let you know their decision.
It takes a few business days for your site to get reviewed in Ezoic and, in the meantime, you'll need to take the short, 15-minute Ezoic Essentials course on how to use Ezoic to set up ad placeholders on your website.
If you've completed the Ezoic course and your site gets accepted into the Ezoic Access Now program, you can start setting up ad placeholders and earning more from your website the same day.
Answering Your Ezoic Questions
I try to spend 90% of my time at work managing my web publishing business and 10% coaching others to help them to do the same.
Although I usually coach experienced publishers who want a sparring partner to help them tackle tough problems, I sometimes work with people who know their way around the Internet business (think sellers, dropshippers, crypto investors, etc.) and want to diversify into affiliate sites or niche blogs.
Whenever we talk about ad networks—and specifically about Ezoic—I almost always receive the same questions from most of the people I work with. So I will try to answer them here as understandably as possible here.
Ezoic vs. Google AdSense
If you're just starting out or you bought a website that doesn't meet Mediavine's 50,000 page view requirement, you have two options for monetizing your site with display ads: Google AdSense and Ezoic.
You might think that Google AdSense is the best option because it belongs to Google—and Ezoic is a Google partner that serves a good deal of ads from the Google ad exchange called Google Adx. However, I think that Ezoic is the better option, and I will tell you why below.
Google AdSense doesn't let you tap into Google Adx, the programmatic ad exchange network owned by Google. This is where the big-brand advertisers buy ads at a large scale, and where big-time publishers earn most of their revenue from.
In contrast, if you sign up for Ezoic and your site gets approved, Google AdSense ads and Google Adx ads will compete, alongside ads from other Ezoic partners, for the same ad space. The ones that bring you the highest revenue will always win and get displayed to your site's visitors, earning you more money.
It's not uncommon for publishers who earn cents or single-digit amounts per thousand page views to switch to Ezoic and see a significant earnings boost.
For example, I have sites in my portfolio monetized with Ezoic that earn an average of $35 per 1,000 page views during slow months and as much as $70 per thousand in the fourth quarter of the year. I couldn't make the same amount of money out of them had they stayed on Google AdSense.
Related: How Much Can You Earn With Ezoic?
How to Get Ezoic Approval
To maximize your chances of getting approved by Ezoic, have a quality website, and don't do blackhat stuff with your content or traffic.
As a general rule, a website with an ugly design and thin, spun, and/or poorly written content has a lower chance of being accepted than one that looks good and has content that people actually want to read.
Make sure your website has enough content. By "enough," I mean at least a few dozen pages or posts with quality content on them.
My personal rule is that I do not add a site to Ezoic until it has at least 50 pages or posts with at least 600-700 words each published on it. This isn't set in stone—and it varies from site to site—but I have quite a few sites and none of them have been rejected.
How Does Ezoic Pay Publishers?
Ezoic publishers are paid monthly by check, direct deposit, PayPal, or Payoneer. You will receive last month's earnings at the end of the current month. Suppose you earned $1,000 in January—you can expect to receive the amount between February 27th and 31st.
The minimum amount to get paid by Ezoic is $20, but you can set it to any higher number if you wish. In order for you to receive your money, you will of course need to enter your tax information and choose a payment method.
Why You Can Trust Me
Hey there and thanks for reading this far!
I'm Dim, an Ezoic Certified Expert and Ezoic Premium Publisher. I'm a web publisher who's been building, buying, and flipping online media outlets since 2007.
Occasionally, I do public case studies and give coaching. Check out my latest case studies and learn more at AskDim.com ("ask" as in don't hesitate to send me an email and ask me a question).