The Internet as we know it today is a network of 5 billion users and 22 billion devices connected in many ways.
Although there's more than one part of the Internet, the best known by far is the World Wide Web, also called the "web" and slang termed the "interwebz."
The web is an ecosystem of interconnected computers that exchange web pages. These web pages make up the websites we visit and use every day, from Google to Facebook to news sites, blogs, and forums.
Web pages are stored on servers—a special type of computers connected to the Internet whose job is to receive requests for web pages and serve those web pages (and the media files on them) to the clients that requested them.
Web Hosting, Explained
Every website consists of files uploaded somewhere on a server.
Web hosting is a service that allows website owners to upload and store their websites on servers so that others can visit and use those websites through a web browser.
Those servers are located in specialized facilities that house high-powered computers, called data centers. The purpose of a web server is to have enough computing power to respond to requests fast and be always on so that a website is almost never down.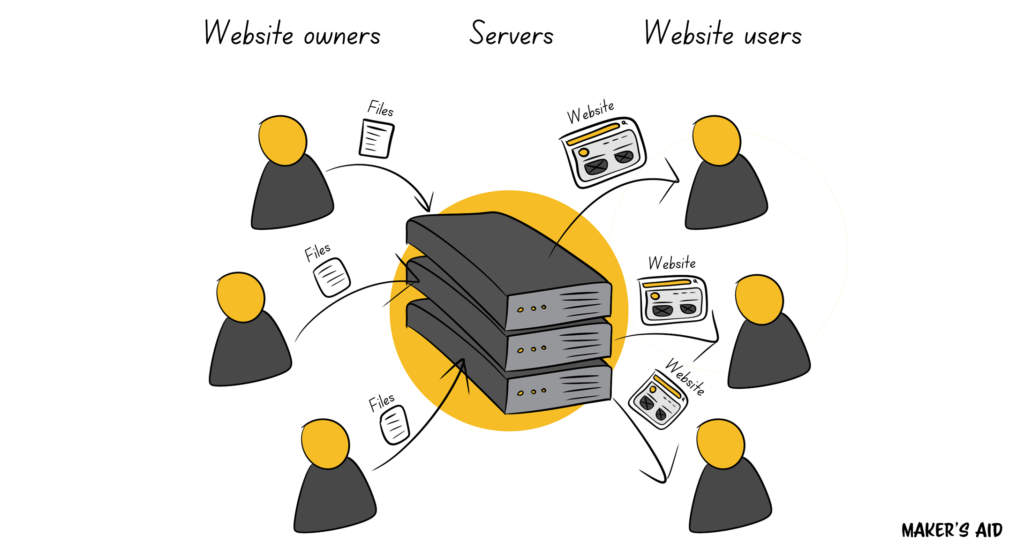 It can be said that web hosting is one of the services that enable the web as we know it today, where owners can create and edit websites, and users can visit and use those websites. This is made possible thanks to service providers called web hosts.
Web hosts are companies that operate servers and rent storage space on them to companies and individuals. The host takes care of the running and maintenance of the server and provides an uptime guarantee (typically 99.9% or more) that it will always be available.
What Types of Web Hosting Are There?
Most web hosting providers offer more than one type of hosting service to their customers. The most common types are shared hosting, managed hosting, dedicated hosting, virtual private servers (VPS), and cloud hosting.
Shared Hosting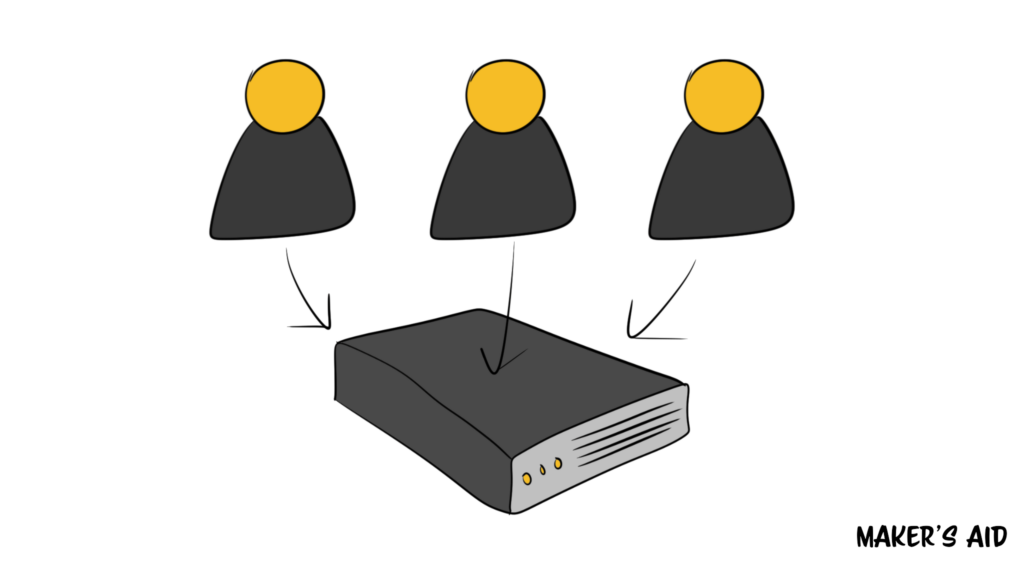 In shared hosting, many customers share space on the same server. This is the cheapest web hosting option, as the cost of running and maintaining the server is shared among those customers.
But shared hosting plans can also suffer from slow loading and, in some cases, downtime. If a website experiences a traffic spike or an attack causes the server to go down, the websites of all other customers on that server will also become unavailable.
Think of shared hosting as sharing the same office floor in an open space with others.
Managed Hosting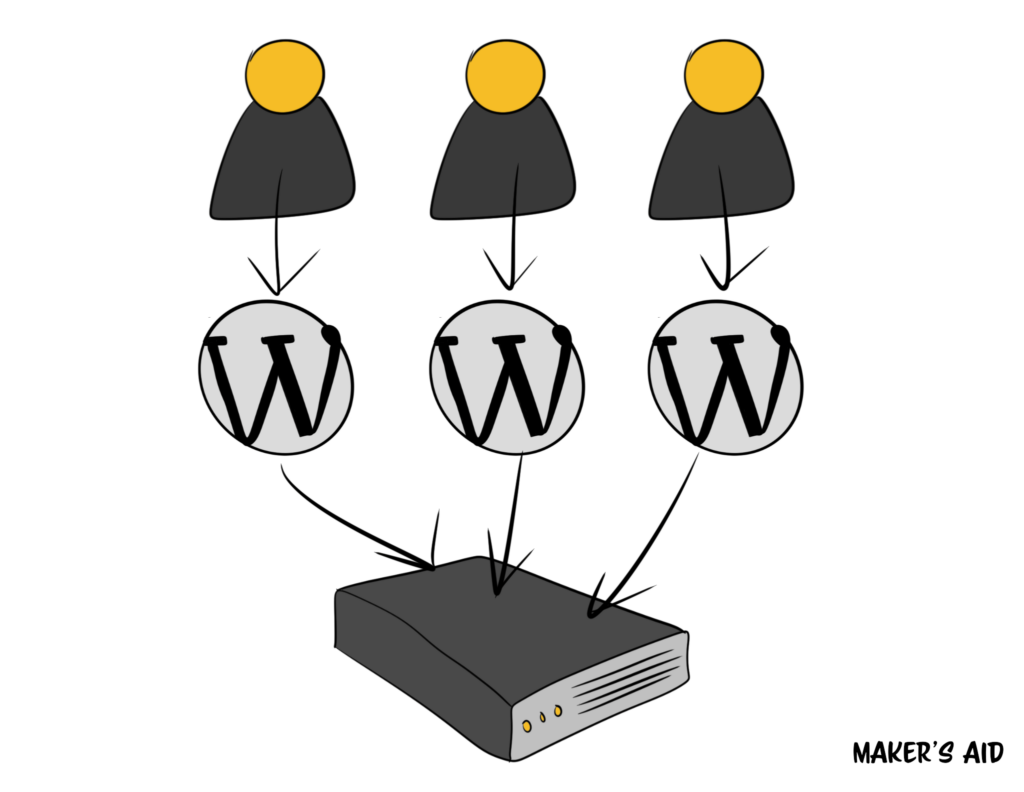 In a managed hosting plan, you get access to the application you want to run—say, WordPress—and let the hosting provider take care of all the technicalities for you.
So if you own a WordPress website, you get WordPress-as-a-service with a managed WordPress hosting plan. You don't have to log into administration panels, install software, or configure things—you just log into WordPress and start publishing.
Managed hosting plans are generally more expensive than shared hosting plans. But the price difference is worth it, especially for non-technical users who don't want to deal with the hassle of configuring software on a shared hosting plan.
Think of managed hosting as a co-working space where you share the same floor with others, but the co-working company takes care of the drinks, food, appliances, and facility.
Virtual Private Server (VPS)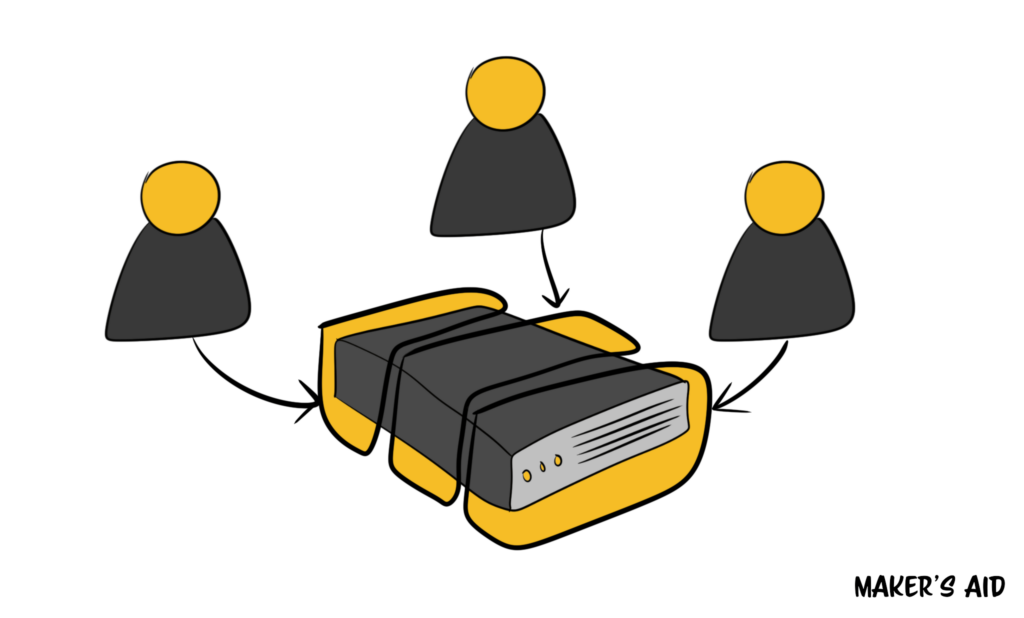 With a virtual private server (VPS), several customers share space on one server, but in a more compartmentalized way in which the activities of one customer don't affect those of another.
A VPS hosting plan is a big upgrade over a shared hosting plan and is usually the best solution for most website owners with high-traffic websites.
Think of VPS as renting a floor in an office building. You're still in the same building, but not on the same floor with others.
Dedicated Server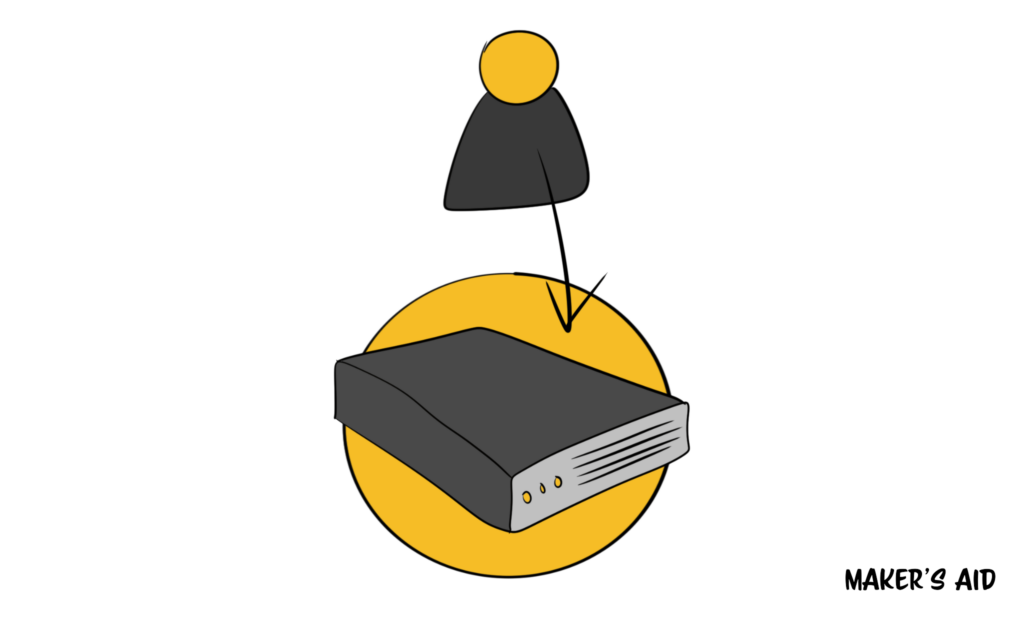 With a dedicated server, one customer has exclusive and private access to a server in a data center. That server is physically ran and maintained by the web hosting, and the software on it is entirely managed by the customer.
Dedicated servers are the most expensive and powerful web hosting plans of them all, and they're only needed by high-growth startups, Fortune 500 companies, and websites with lots (and I mean lots) of visitors.
The real-world equivalent of a dedicated server is renting an office building and having it managed by a facility management company.
Cloud Hosting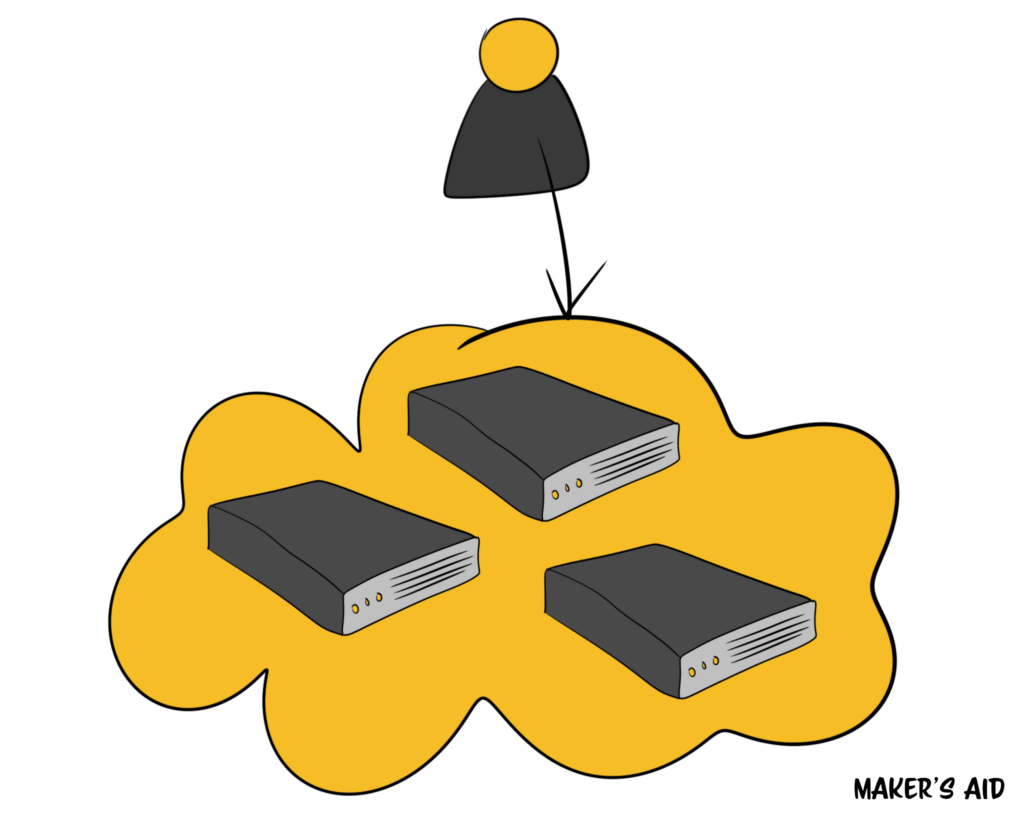 With cloud hosting, a website is hosted on a network of interconnected servers called the cloud.
If one server goes down or gets overloaded, a copy of the website is immediately made available on another and visitors get redirected or redistributed between those servers.
Cloud hosting plans are considered to have unlimited scalability, meaning they should be able to handle any amount of traffic on one's website, which is why they are so attractive to customers with heavy requirements and big budgets.
When Do You Need Web Hosting?
With some website building platforms, you need web hosting. With others, you don't. So how do you know which is the case for you? It comes down to the website you to build—and the website building platform you're planning to use.
You need web hosting if you want to create a static HTML/CSS website or build a website on a Content Management System (CMS) like Drupal, Joomla, or WordPress.org.
You don't have to buy web hosting if you want to build your website on a software-as-a-service (SaaS) platform like Squarespace, Wix, or WordPress.com. With these platforms, the software provider takes care of the hosting for you.
What Type of Web Hosting Should I Get?
If you're just starting out and want the cheapest option available, you should choose a shared hosting plan from a reputable web hosting provider. (You can always move if your website grows later on.)
If you want to create a WordPress website but do not feel like installing and configuring it on a shared hosting plan, you should opt for a managed WordPress hosting plan. They are a bit more expensive than shared hosting, but in return you will not have to do any technical tasks.
If you already have some websites and they are slowly outgrowing your shared or managed hosting plan, you should get a Virtual Private Server (VPS) from your web host or a managed cloud hosting plan from Cloudways.
If you're part of a fast-growing startup, a Fortune 500 company, or an online media company with considerable hosting needs, dedicated servers might just be the best solution for you.
Where Can I Buy Web Hosting?
You can buy a web hosting plan from any web host. As a rule of thumb, however, you should buy your web hosting services from reputable web hosting providers whose uptime guarantee and customer support you can rely on.
Web hosting plans are sold on a monthly and annual basis. Generally speaking, it's better to pay for your hosting plan for a year in advance; you will get discounts and many hosts will also offer you a free domain name.
Don't miss: What Is a Domain Name?
Some of the best-known web hosts are, in alphabetical order:
If the web hosting provider you're considering isn't on the list, it doesn't mean you shouldn't work with them. It just means that you should do your due diligence and look at reviews from existing customers before doing so.
What Should I Look for in a Web Hosting Plan?
Speed
Many years ago, people's Internet connection used to be slow and websites took minutes to load. With 5G on their mobile phones and fiber in the home, this is no longer the case.
Today's Internet users expect their websites to load almost instantly, and abandon them just as quickly when they don't. And when it comes to the speed of your website, the hosting plan is one of the most important factors.
The web hosts listed above are among the fastest providers of shared hosting plans.
99.9% Uptime Guarantee
In web hosting, "uptime" is the total time your website is up and available to visitors in any given period of time. "Downtime," on the other hand, is the total time your website is down and therefore unavailable.
Downtime is something you want as little of as possible because it costs you money: If your website is down, existing customers will be frustrated, and potential customers will leave and go to your competitors' websites.
When buying a web hosting package, look for an uptime guarantee of at least 99.9%. Such a guarantee doesn't necessarily mean that downtime will never happen. But you shouldn't work with a web host without such a guarantee.
Good Ratings From Existing Customers
Look up the name of the web host you're thinking of buying from on Trustpilot and other review sites.
How satisfied—or dissatisfied—are this web host's existing customers with the level of service? Do you see any red flags when it comes to their billing practices, customer support availability, or other issues?
Yes, some customers will be dissatisfied no matter how good the service they get. But if you see repeated complaints about downtime, hard-to-reach support teams, or questionable billing and renewal practices, you should steer clear of that provider.
An Affordable Price, With Perks
When it comes to web hosting, you always get what you pay for. So don't fall for the cheapest offer on the market; it will be at the expense of your website's speed, uptime, and the quality of support you receive.
And yet don't fall for the most expensive option, either. Some web hosts overcharge without giving much in return. Especially if you're a beginner and you don't have a high-traffic website, an entry-level plan shouldn't set you back more than $5-10/month.
Some web hosts also offer perks, like a free domain name for the first year and free privacy protection for your contacts.
Learn more: Can You Register a Domain Name Anonymously?
Support You Can Rely On
You don't need support from your hosting provider every day. But when you do need it, you want it to be available via live chat or phone, respond quickly, and be genuinely helpful.
Every web host claims to offer the best support compared to its competitors. To find out if this is really the case, you should visit the support section and see what contact options are available. If there's no live chat or phone number, consider it a red flag.
Can I Change Web Hosting Providers?
If you're not quite happy with your web hosting provider or want to switch to another provider whose plans better suit your needs, keep in mind that you can move your website at any time.
It's important to note that if you also bought your domain name from your current hosting provider (or you got it from them for free), you will probably want to transfer it to your new host.
Learn more: Can You Transfer a Domain Name With Zero Downtime?
Some web hosts will even have a website migration service with a technical team that can move your website for you for free.
How to Use a Web Hosting Service
Choose a web hosting provider and subscribe to a hosting plan that suits your budget and needs. If you have read this article all the way to this paragraph, you know how it works. If you just got here, scroll up to the sections above.
Once you purchase a plan, your host will send you an email with a link and the login details to the control panel. What happens next depends on the type of plan you purchased:
If you bought a managed hosting plan, your host will install WordPress for you on your domain name of choice.
If you bought a shared hosting plan, you will need to upload your website or install a content management system (CMS) like WordPress.
Read our guide: How to Install WordPress on cPanel
After uploading a static HTML/CSS website, your website is immediately available to you and others on the domain name it is associated with. If you installed WordPress, you will want to go the WordPress admin panel and start setting up your site.
Some hosts also offer an email service, so you can set up and use email boxes with your domain name. When in doubt, consult with the terms and conditions of your hosting package (or ask your host's support team).