It's 2023, and every tablet maker's trying to outcompete everyone else on chip and screen size. If you're looking for a tablet, this makes it easy to overlook smaller, more affordable options like the 2021 Apple iPad Mini. But with its impressive performance and compact design, is Apple's small, three-year-old iPad still worth it?
In this review, we'll take a closer look at the pros and cons of the iPad Mini to determine if it still is a viable option for those seeking a compact, budget-friendly tablet. From its sleek design to its powerful processor and impressive battery life, we'll explore everything that the iPad Mini has to offer to help you make an informed buying decision.
So, let's dive in and see whether this Apple tablet still stands the test of time.
We Tested the 2021 Apple iPad Mini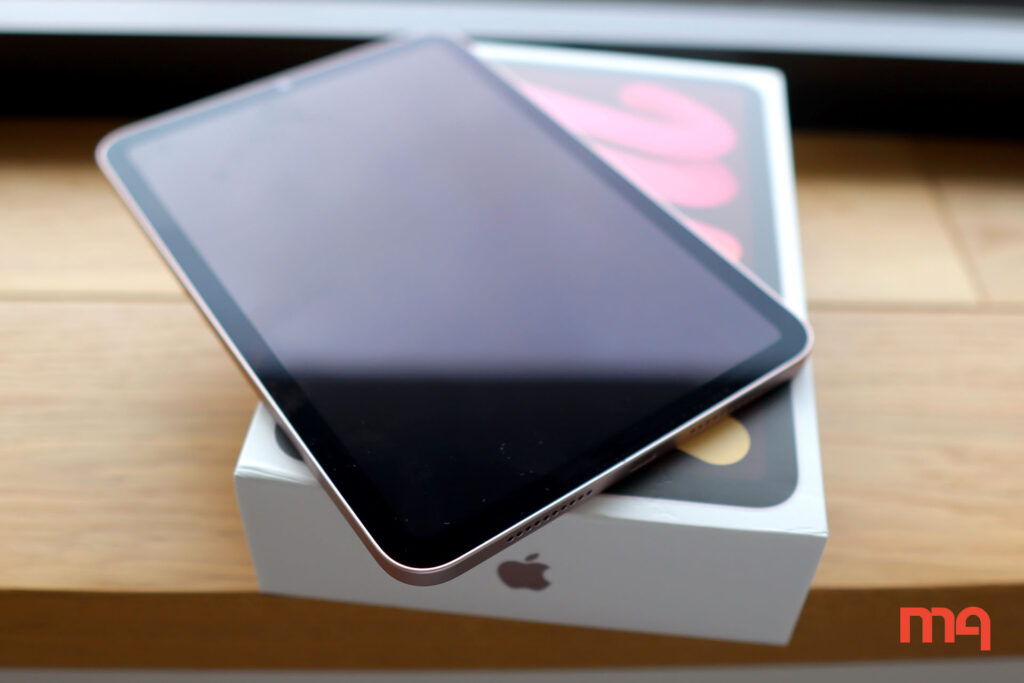 Let's talk about specs.
Measuring just 7.69 inches tall, 5.3 inches wide, and 0.25 inches deep, the iPad Mini is compact and relatively lightweight, making it ideal for on-the-go use. The Wi-Fi model weighs a 0.65 pounds, while the Wi-Fi + Cellular model comes in just slightly heavier 0.66 pounds. The weight is okay, but it could be better; the iPad Mini feels a little heavy in the hand.
One of the standout features of the iPad Mini compared to other tablets in its category is its 8.3-inch Liquid Retina touchscreen display. With a resolution of 2,266 x 1,488 pixels at a density of 326 pixels per inch, the display delivers the sharp, vibrant images you can expect out of an Apple device. The display is also fully laminated — with an antireflective, fingerprint-resistant oleophobic coating, sporting 500 nits of brightness and 1.8% reflectivity.
The 2021 iPad Mini works with the second-generation Apple Pencil, a must-have accessory for digital artists, creative professionals, and hobbyists that turns the device into a full-fledged drawing pad. The keyword here is second generation. Whereas the first generation had too many flaws to be enjoyable or even practical, the second is a major overhaul that, in our opinion, is definitely worth the money.
Under the hood, the iPad Mini is powered by Apple's A15 chip, with a 6-core CPU comprising 2 performance cores and 4 efficiency cores, a 5-core GPU, and a 16-core Neural Engine (the Neural Engine accelerates AI-powered tasks on your tablet). This combination of hardware delivers good performance and high energy efficiency, allowing users to multitask with ease and enjoy a smooth, speedy experience.
The 2021 iPad Mini also features a 12-MP wide-angle camera at the back, which captures images with Apple's Smart HDR 3 enhancement technology in HEIF and JPEG format. It can record 4K video at 24, 25, 30, and 60 FPS, and slow-motion video in HD (1080p). The front camera is also 12MP, with an aperture of ƒ/2.4 and a 122-degree field of view, making it perfect for FaceTime calls and selfies.
Finally, the body of the iPad Mini is made of aluminum and comes in four attractive colors: Space Gray, Pink, Purple, and Starlight. The tablet also comes with a choice of 64 GBs or 256 GBs of storage space. Always go for the option with the most space; it allows you to store a large number of apps, photos, videos, and other files without worry.
What the 2021 iPad Mini Is, And What It Isn't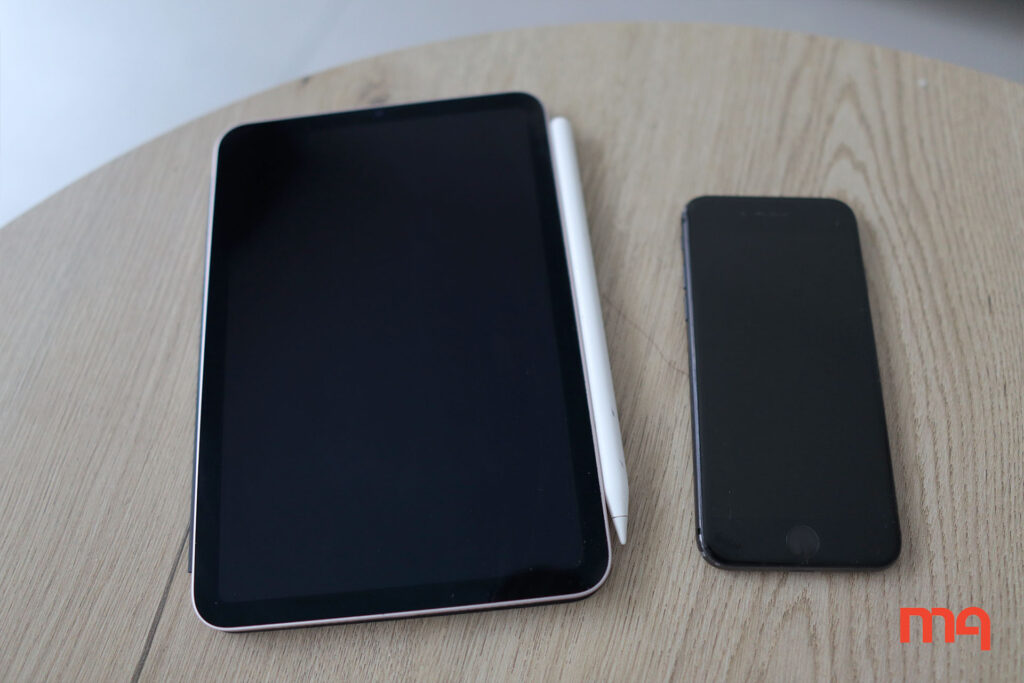 Contrary to what some people think, the iPad Mini isn't an iPhone with a bigger screen. It's three times as big as an iPhone. You can use Wi-Fi Calling on your iPad, but even the Wi-Fi + Cellular models don't have phone service — only cellular (5G) data transmission.
The iPad Mini feels different from a regular iPad. With a diameter of 8.3 inches, its screen is noticeably smaller than, the 2022 iPad's 10.9-inch screen, the latest model at the time of writing this review. If screen size is important to you but you have a limited budget, don't buy the iPad Mini because of its price. Apple has done a lot to make iOS easy to use on a smaller screen, but not all other app makers have done the same. You can just tell that some apps are designed first and foremost for regular-sized iPads.
Then again, that's the charm of the iPad Mini: it's a smaller, lighter, easier to carry version of the iPad. And if you're looking for a smaller iPad — whether for work, play, or both — chances are you'll love the iPad Mini. The Liquid Retina display is great, the 12-MP wide-angle camera is good enough, and the two speakers offer plenty of volume and quite frankly sound great.
The iPad Mini's battery lasts for hours and hours of use on a full charge, without problems. (Keep in mind that this is just my anecdotal account as an owner of one. I haven't done any benchmarking to back it, and I don't have any data to show.)
The biggest problem with the iPad Mini is that it doesn't have a headphone jack. If you want to use headphones, you have two options: Bluetooth headphones or a USB-C to 3.5-mm headphone jack adapter and plug it into the charging port, neither of which is particularly good.
A flaw, but not necessarily a dealbreaker, is the fact that the iPad Mini has fingerprint recognition, but not FaceID facial recognition.
Bottom Line
8.3-inch Liquid Retina touchscreen
Comes with 64 GB or 256 GB of storage space
Wi-Fi or Wi-Fi + Cellular (data only, no phone service)
Powerful, energy-saving Apple A15 CPU, GPU, and Neural Engine
12-MP front and back cameras
Image credit: Amazon
The 2021 iPad Mini is a good choice if you want a small tablet that won't break the bank, works well with your favorite apps, and has a decent battery life. That said, not all iPad apps look as good on a smaller screen — and you'll need to give up the headphone jack.
Pros
Compact iPad with a thin body; doesn't take up much space on your desk or in your bag.
The A15 chip is powerful enough for your favorite apps, and yet economic enough for a decent battery life.
Works with the second-generation Apple Pencil.
Cons
There's no 3.5-mm headphone jack; you either have to use Bluetooth headphones or an adapter.
The base model has only 64 GBs of storage, and the maximum amount of storage you can get is 256 GBs.
No FaceID facial recognition, only fingerprint recognition.