When Apple introduced the first generation Apple Pencil, the Cupertino tech giant changed how iPad owners use their tablets by providing a new level of precision and control for tasks such as sketching, drawing, coloring, and note-taking.
iPad users could at last draw and write with the precision and sensitivity comparable to those of a drawing tablet, thanks to the pressure and tilt sensors on the Apple Pen, which allowed for varying line weights and shading. This turned the iPad into the new favorite gadget of artists, designers, and creative professionals on the go.
But as groundbreaking of a device as the first generation Apple Pencil was, like the first generation of anything, it had its fair share of shortcomings.
For starters, it was long, thick, and felt unnatural in the hand — a hindrance for prolonged use. It was also perfectly round and had the tendency to roll off a table, posing a risk of damage or loss. The hard tip of the stylus, although precise, wasn't ideal for the iPad's glass screen. The pencil also had to be charged by removing the cap and plugging it into a Thunderbolt connector, which made using the device charging it difficult.
With the release of the second-generation Apple Pencil, Apple listened to users' feedback and addressed many of these issues, delivering an improved and refined product for artists and creatives to use. But has it finally created the perfect drawing pen for its tablets? We bought and tested the Apple Pencil 2 to find out.
We Tested the Apple Pen 2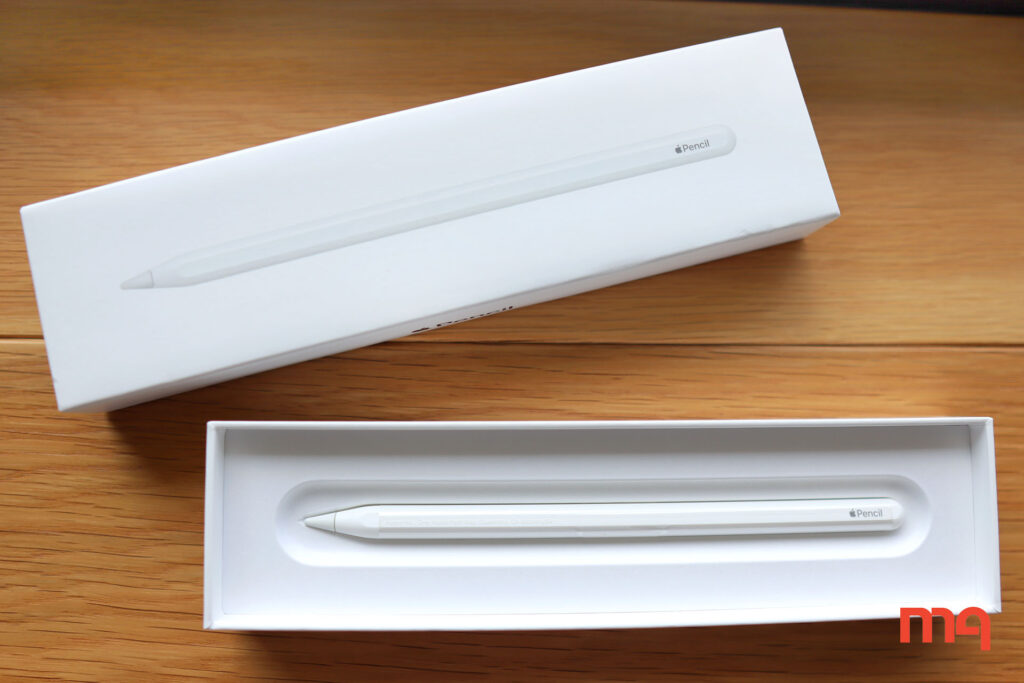 The second generation Apple Pencil is 6.53 inches (16.6 cm) long, 0.35 inch (0.9 cm) wide, and weighs 0.73 ounce (20.7 grams). The diameter and weight are the same as its predecessor, but the length has been trimmed down a notch, and now it's only slightly longer than your typical pen.
The old Apple Pencil had a glossy finish that was susceptible to picking up grease and sliding in your hands. The new Apple Pencil has a matte finish. If you're like me and your hands sweat, this is a real boon. You can use the pen for prolonged periods without having to worry (or use copious amounts of baby powder!).
The tip of the new second-generation Apple Pencil is slightly softer than the previous generation, and this makes working with the pencil feel more natural. Somehow, the pencil is responsive to pressure, allowing it to glide neatly over the glass surface of the iPad while giving the user enough resistance sketch more precisely.
You can still hear the tapping of the pencil's tip against the glass screen, and, at times, those taps can be very distracting. Even so, for anyone who's used the previous generation, the second one is a major step up in a multitude of ways.
The Apple Pencil now has a flat edge that not only keeps it from rolling off tables but also attaches magnetically to the side of your tablet for automatic pairing and, thanks to patented technology, wireless charging. No more caps, no more Lightning connectors; simply snap the pencil to your tablet and it'll start charging.
The Apple Pencil snaps securely onto my iPad Mini and stays in place, ensuring a secure hold. Unless I'm carrying the tablet with the pencil attached in my bag or in a backpack, it's virtually impossible for it to fall off by itself. With that being said, if I am carrying the tablet with me, stuff in my bag can certainly bump into the pencil and make it fall off inside.
As a side note, curiously enough, the charging if the pencil can interfere with your car's keyless entry if the tablet and your car's key fob are close to each other inside your bag. I've never had this happen to me — but then again, that's probably because I live in a city that allows me to move around freely without owning a car!
Anyway, I digressed… Let's get back to the practical side of things: What about battery life?
Well, I bought the Apple Pencil a few months ago and I've been using it almost every day. So far, the battery has never died on me, even with prolonged hours of work! My research shows that this seems to be the case for most pencil users. Battery life should be give or take 12 hours of use.
Bottom Line
The Apple Pencil's second generation is a big improvement over the first. With it, Apple fixed many of the first generation's issues, like size, shape, and charging. The pencil is now more comfortable to hold, has a softer tip for more natural-feeling use, and attaches securely to the iPad for charging and storage.
There are still some issues, such as tapping noise and the potential for the pencil to fall off inside a bag. However, the new design and features make it a must-have for any iPad user who enjoys drawing, sketching, or taking handwritten notes.
With long battery life and wireless charging, the Apple Pencil 2 is a solid investment for artists and creatives who want to take their work (on their iPads) on the go.
Where to Buy It
6.53″ long, 0.35″ wide, weighs 0.73 oz
Flat edge keeps the pencil from rolling off tables
Snaps to your tablet magnetically and charges from it wirelessly
Designed for iPad Pro, iPad, and iPad Mini
Pairs to your tablet via Bluetooth
Image credit: Amazon
Pros
Designed by Apple specifically for iPads, there's no other pen out there on the market that provides a drawing, sketching, and note-taking experience this good.
Snaps neatly onto the side of your iPad and charges wirelessly, without hassle, thanks to Apple's patented charging technology.
Matte finish that keeps the pen from sliding in your fingers. Flat edge that improves your grip and prevents it from rolling off the edge of tables.
Cons
If you own an older iPad that's not compatible with Apple's second generation pencil, you're left with only two choices: get a newer iPad or the older Apple Pencil.
If you clip the pencil to your tablet and take it with you on the go, it can bump into other objects in your bag and accidentally fall off inside.
Apple says the Apple Pencil's wireless charging can sometimes interfere with your car's keyless entry.