Canva's a great tool for graphic design and the easiest one to use if you're not a professional photographer or graphic designer.
It has dozens of templates for every use case, from logos and business cards to posts and stories for your Instagram account, and you can customize the colors, fonts, and layout to your liking with the click of a button.
But if you subscribed to Canva Pro some time ago and have been using it less and less lately, you might want to cancel it.
Read on; we'll show you how! And tell you everything you need to know before you do.
Canceling Your Canva Pro Subscription
Go to Canva.com and log into your account.
Find and click on the little gear icon in the top right corner of the navigation menu. (It's the one right next to the big "Create a Design" button.)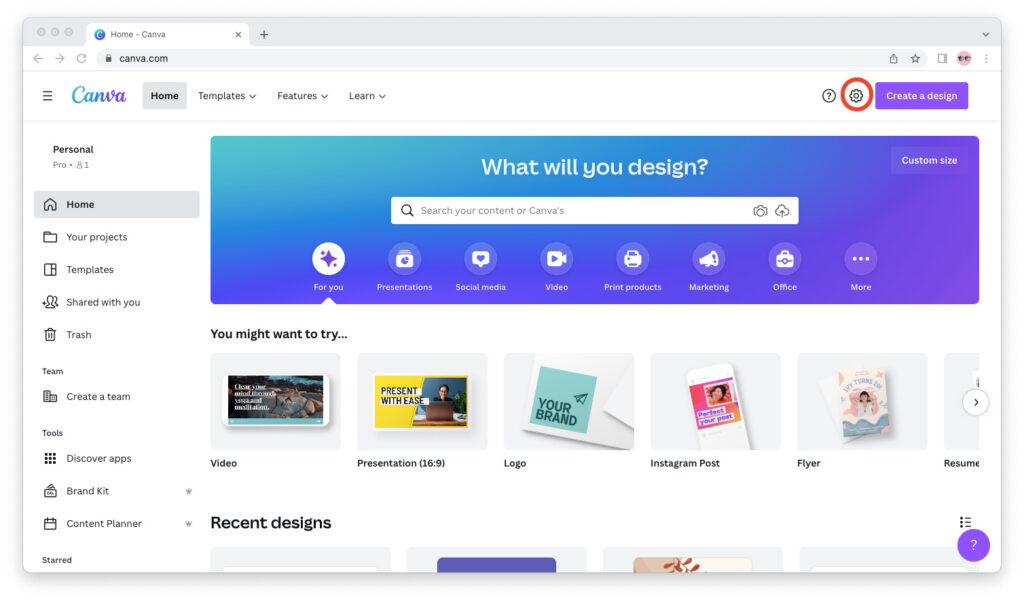 The "Account Settings" screen will open up.
Go to the "Billing & teams" tab from the left sidebar, then scroll down and find your Canva Pro subscription.
Click on the three dots in the bottom right corner of the box, then select "Cancel subscription."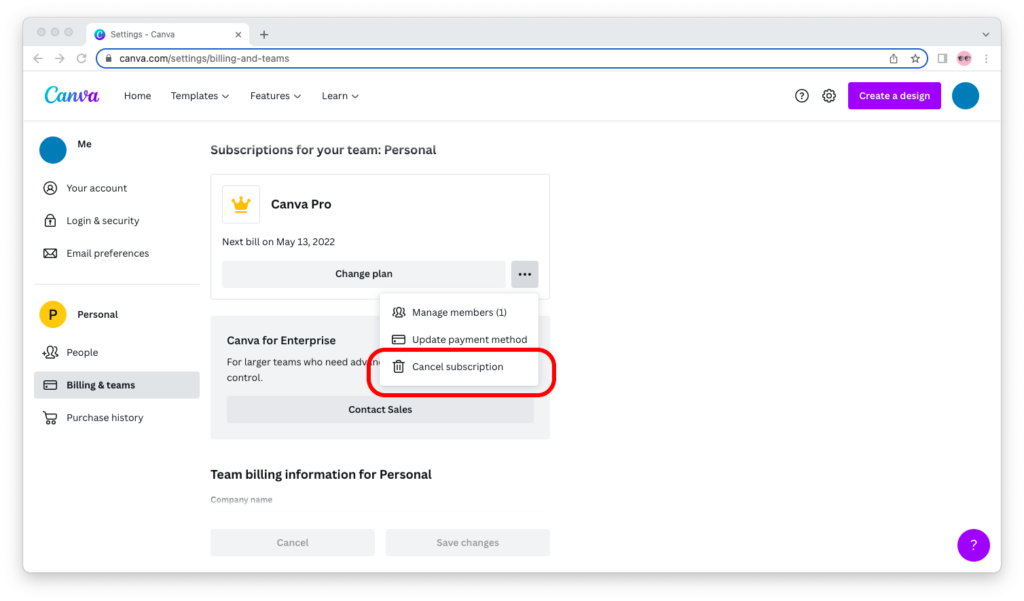 You will see a cancellation confirmation window.
In our case, it was a cute kitty waving sadly at us, with Canva reminding us that Canva Free users have to pay to remove the watermark from images like this—. In contrast, Canva Pro users get images like these without having to pay a dime extra.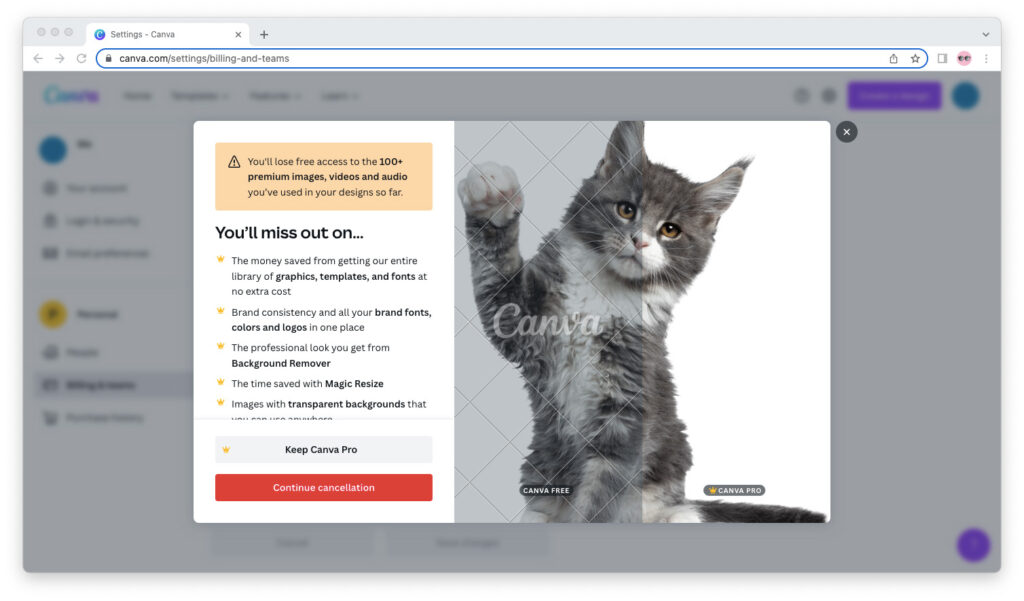 Canva will also remind you that you will no longer be able to use the Background Remover and the Magic Resize apps, to name a few.
If you're absolutely sure about canceling your Canva account, then click on the red "Continue Cancellation" button.
(Don't worry; this isn't like deleting your account. You can always re-subscribe to Canva Pro if you need it in the future!)
Canceling Canva Pro Subscription Before Renewal
If you don't cancel your subscription before the end of your current billing period, it will be renewed (and your card will be charged) automatically at the start of the new period.
Suppose you subscribed on January 1, 2022. This means you will be billed on February 1, 2022, unless you cancel your subscription sometime in January.
In other words, your Canva Pro subscription auto-renews unless you cancel it, so you should cancel it before the next billing period if that's what you want to do.
Keep in mind that if your last payment failed, you would have to settle it before you can cancel. Cancelling, after all, doesn't free you from your previous obligations!
Canceling Canva From Your iPad or iPhone
Users who bought the pro version of Canva from the App Store on their iPad or iPhone can cancel their subscription from either the iOS Settings app or through the Apple App Store.
From the Settings app, tap on your Apple ID, then go to "Subscriptions." As long as you upgraded from Canva Free to Canva Pro through the App Store, you should see your subscription—and the option to cancel it—under the "Active" list.
If you can't see your subscription to Canva Pro there, then:
If you didn't upgrade from Canva Free to Canva Pro through the App Store, try Canva.com.
You're using a different Apple ID. Try using an iOS device with the right Apple ID.
Cancel Canva Subscription From an Android Device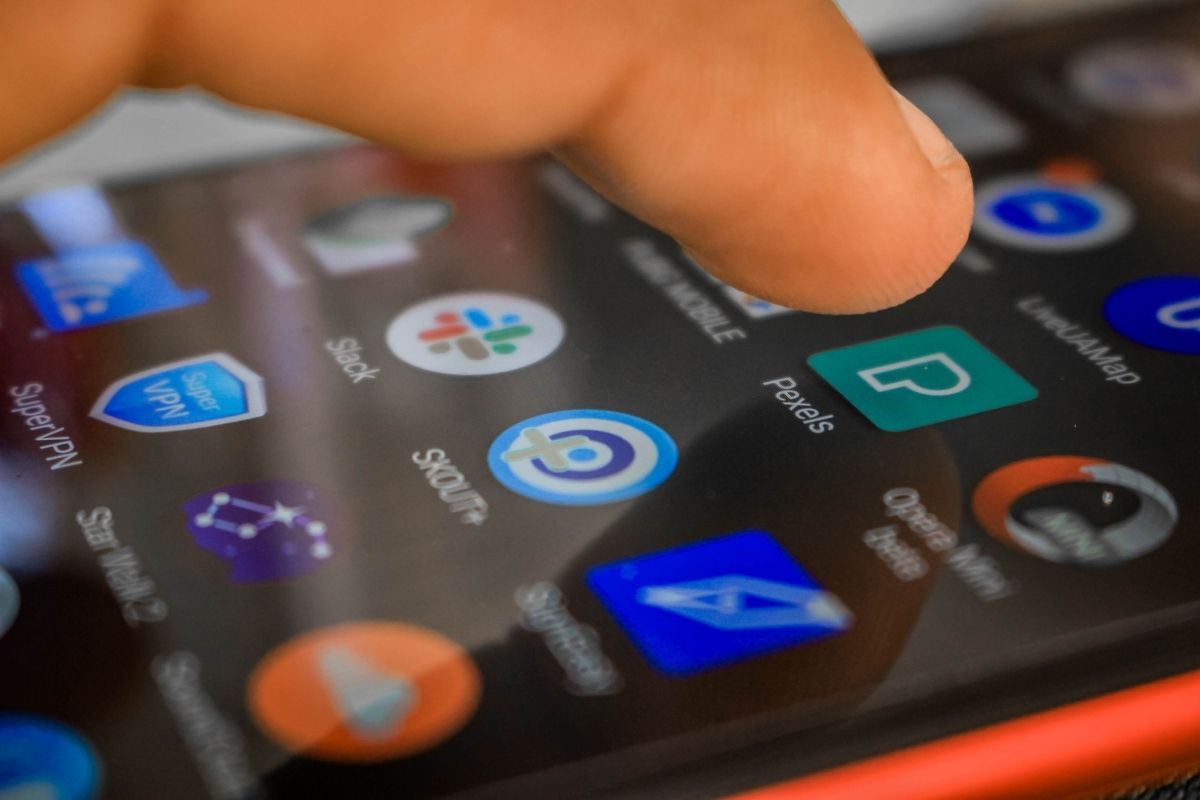 If you subscribed to Canva Pro from Google Play, you would only be able to cancel your subscription from the Play Store.
Make sure you're logged into the right Google account on your Android device, then tap on your profile icon in the top right corner. Find your list of paid subscriptions, select "Canva," and tap the "Cancel" button.
Will Canva Refund The Cancellation?
No, Canva won't give you the money back if you cancel your subscription. Instead, you'll be able to keep on using Canva Pro for the time you've paid for.
Will You Lose Anything When You Cancel?
In case you want to take a break and want to stop your Canva subscription, then your designs are saved, and your Brand Kits are kept—and they can be reused when the subscription is renewed again.
You can keep accessing and editing your designs, but with the Canva Free features. You will not be able to use the Brand Kits, however, as they are a Canva Pro feature.
So you can keep on using the free version of the tool, of course, but the features will be limited compared to what you're used to.
The good news is that if you decide to upgrade to Canva Pro again, you won't have to create your Brand Kits from scratch!
Pausing Your Plan
If you don't want to cancel your Canva subscription, but you'd like to pause it for one, two, or three months instead, this is an option.
This is only available to those who are subscribed to the monthly plan or to those who have less than two months remaining on their yearly plan.
You can temporarily pause your subscription for up to 3 months, and Canva will send you reminders about it.
Your subscription will be paused for three months. After this period, you can continue using the service without any interruption.
Canva Free vs. Canva Pro
Perhaps the biggest difference between Canva Free and Canva Pro is that, with the free version of the tool, you no longer have access to Canva's huge library of premium stock photos and videos.
You can still use the free images and videos, of course. But if you want to add premium stock media to your Canva designs, you will have to pay $1 per media for a single-use license.
Related: Can I Use Canva Images on My Blog or Website?
The free version is great if you need really basic graphic design, and you're fine with using free stock photos or uploading stock photos that you've purchased elsewhere to the tool.
Your image editing options will also be limited. Apps like Canva's Background Remover and Magic Resizer will no longer be there, so you will find that graphic editing is a little more limited than what you're used to.
Related: Is Canva Pro Worth Paying For?
Conclusion
Canva is a really powerful tool that helps a lot of people—but the premium version isn't for everyone!
If you've decided to cancel your subscription, you might be worried about going through a minefield. Hopefully, this guide has helped you learn everything you needed to know about canceling!