Canva Pro has all the cool features!
From resizing your designs to any size you want to removing backgrounds with one click, Canva Pro unlocks the true power of the world's easiest-to-use graphics editor.
But if you don't know if you have Canva Pro or not, how can you find out? This tutorial will show you how, with screenshots. So read on if that's what you came here to find out.
How to Check If You Have Canva Pro
From the Canva Home Page
It's simple, really.
Fire up your favorite browser and visit Canva.com.
Log into your Canva account, then take a good look at the left side of the screen on the home page.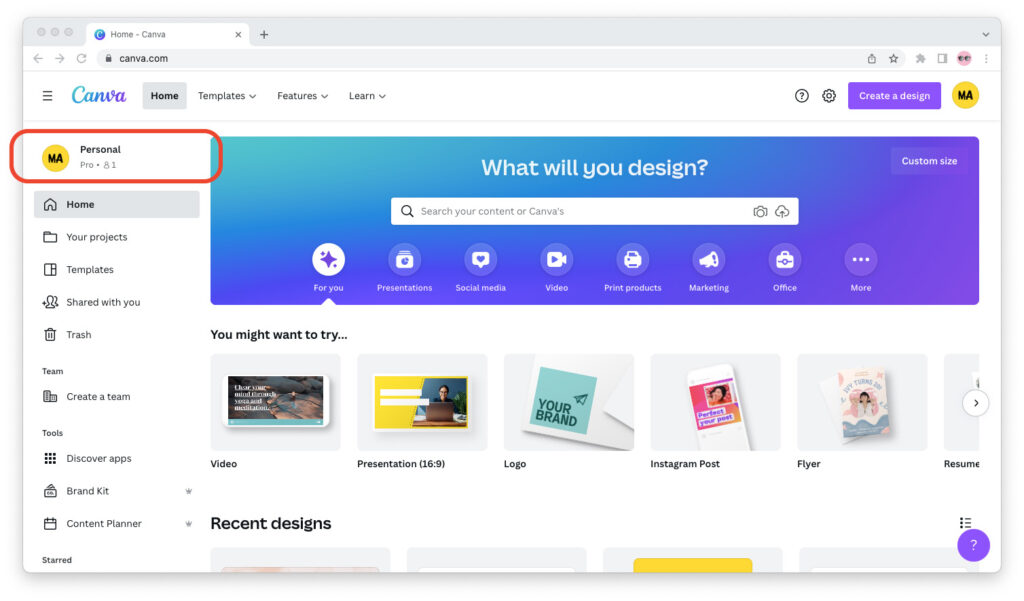 If you have Canva Pro, you should see the word "Pro" written in small gray text right next to your profile picture.
If you don't, this means you're on Canva Free.
Don't worry; you don't have to upgrade to Canva Pro to be able to use Canva. In fact, you can stay on Canva Free forever!
But then you won't have access to all of Canva Pro's features, which are there to make your design work *much* easier—and you will be limited to the free stock photos, videos, and design elements in Canva's library.
Related: Is Canva Free to Use?
From Your Canva Account Settings
Of course, if you're the type of guy or gal who likes to double-check everything, and you want to be "sure sure," do the below.
Step 1: Click on your profile picture in the upper right corner of the screen and go to "Account settings."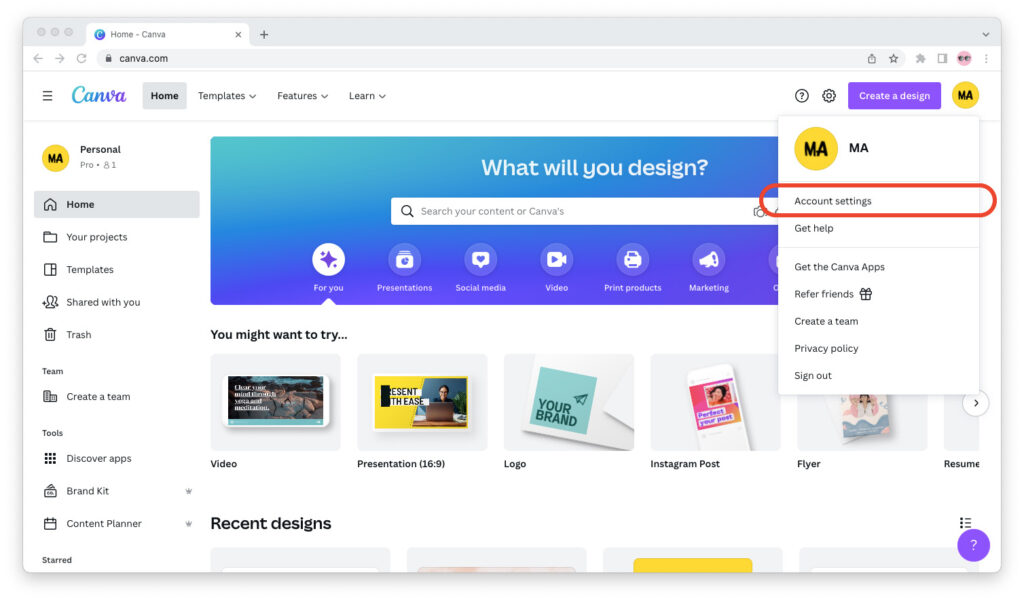 Step 2: Navigate to the "Billing & teams" tab from the sidebar to the left of the screen. As soon as you do, you will see if you're on Canva Free or Canva Pro.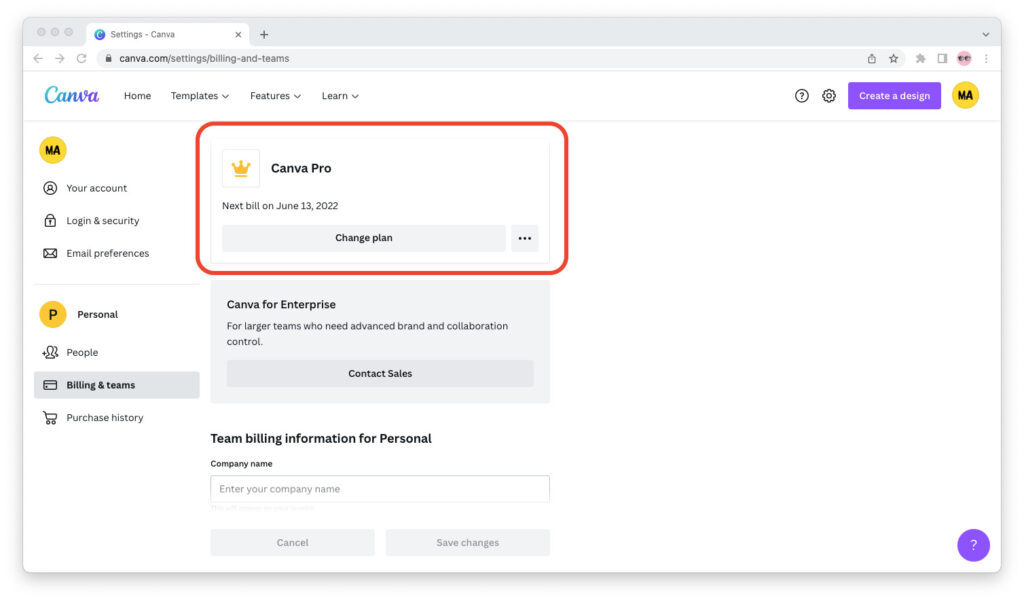 From here you can upgrade, downgrade, or add members to your team.
Related: How to Cancel Your Canva Pro Subscription
Canva Free vs. Canva Pro
Canva Free, as its name suggests, is the free version of Canva.
You can use Canva Free forever, and you don't have to upgrade to Canva Pro unless that's what you want to.
If you do upgrade to Canva Pro, which costs $12.99/month or $119.99/year, you get access to Canva's library of 100+ million royalty-free stock photos, videos, and design elements—and you don't have to pay a dime extra to use them in your designs.
You also unlock a number of Canva Pro features, including the tool's one-click background remover, magic resize feature, the ability to create custom brand kits with your brand's colors and fonts, and the whopping 100GB of cloud storage for your Canva designs.
All in all, Canva Pro is a sweet deal, especially if you want to create the most unique and eye-catching images for your business or personal brand. And what's even sweeter is that you can try it for free for 30 days!