Canva is by far the best graphic design tool for non-designers. With drag-and-drop editing and millions of templates to choose from, Canva's uses are limited only by the ingenuity and imagination of its users.
If you're new to Canva and you're looking for ideas and inspiration, we rounded up the absolute best uses for this tool for you.
Table of Contents
Create a Logo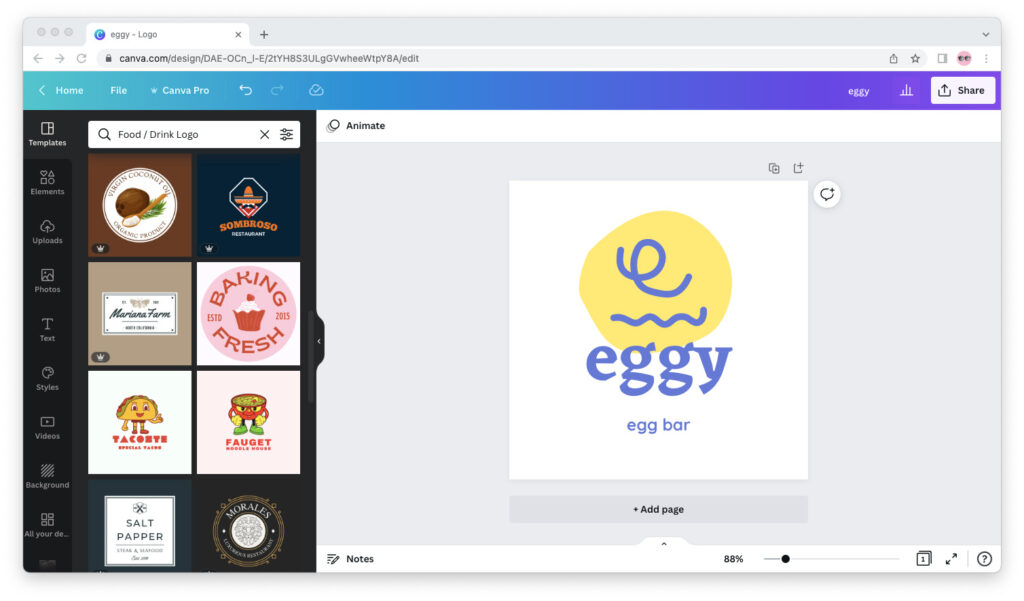 Canva's Logo Maker makes it easy to design a professional and unique logo for your business, even if you have no design experience.
Just launch Canva, create a Logo design, and browse Canva's vast library of logo templates. Pick the ones you like best and add each to a new page in your design.
Once you have a few pages of logo templates that you really like, start customizing each with your business' name, tagline, and color scheme. Select your favorite and tweak it to your liking until you're looking at a logo you can call your own.
Remember that this a logo based on a template that anyone else can use, so you want to customize it down to a T. To make your logo truly unique, experiment with different fonts, and why not different shapes and elements while you're at it.
Create Facebook Posts and Covers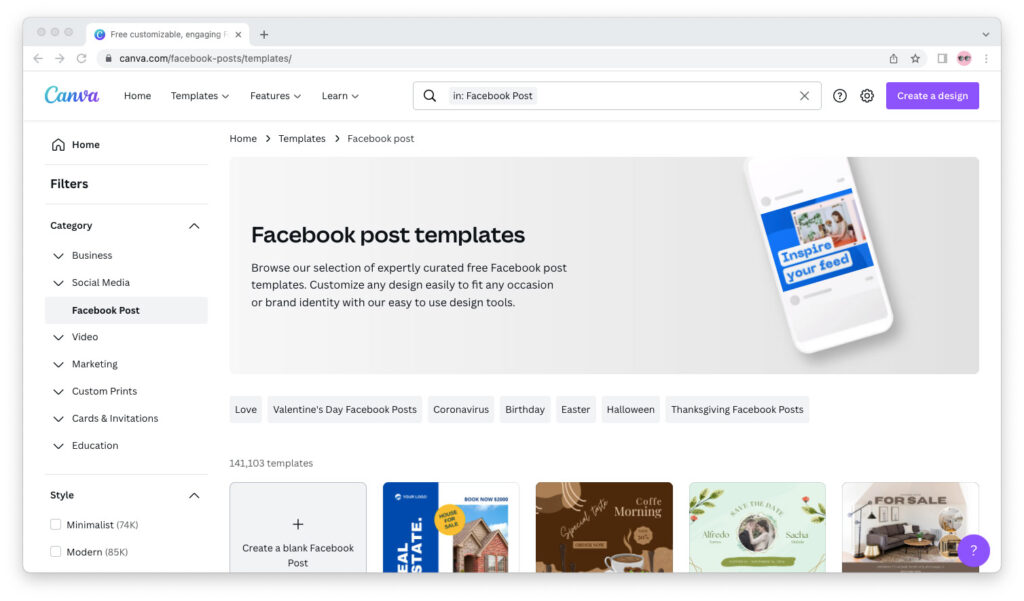 If you want Facebook users to like your page and engage with your posts, you need to have a well-designed cover and add likable images to each post. Canva lets you do this with ease, even if you're not a graphic designer.
You can select from hundreds of templates for Facebook covers and posts in Canva's library and customize them as you wish in the drag-and-drop editor. If you want to go premium, you can even buy templates from Etsy or Creative Market.
Create Instagram Stories and Posts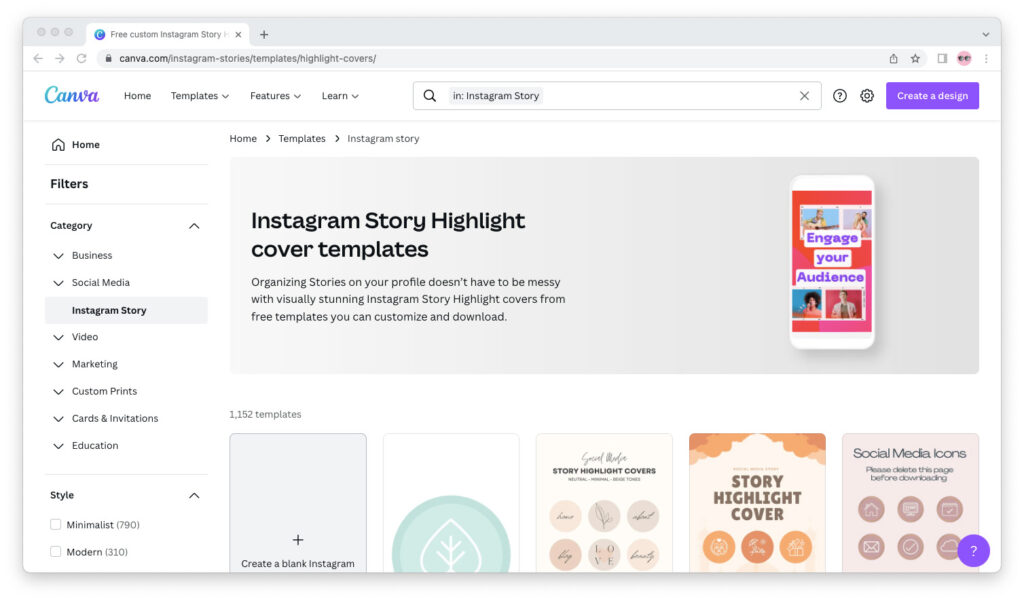 These days, everyone's on Instagram. And if you want your Instagram Business or Instagram Creator account to stand out in the feed, you need to make sure your Stories and posts always look good.
With hundreds of templates for Instagram stories and posts to choose from and countless ways to customize each to your liking, Canva makes designing graphics for your Instagram presence easy for you.
Create Images for Your Blog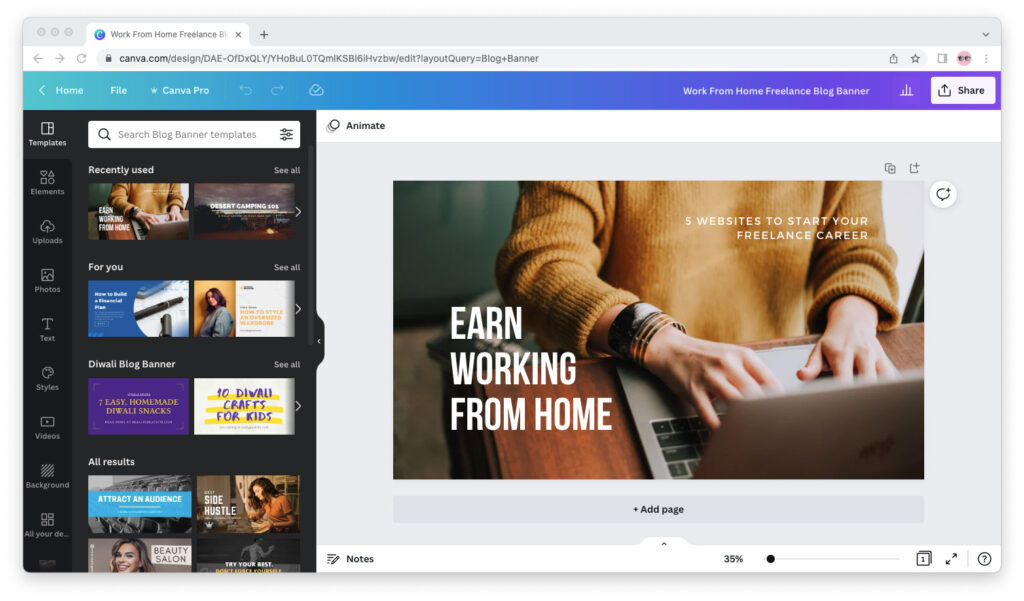 Ask any experienced blogger about the importance of featured images, and they won't take long to tell you that a good featured image can be the be-all and end-all of a blog post.
Not only does the featured image clarify what the blog post is about, but it also makes it more attribute when shared on social media. Lately, Google also started to show thumbnails alongside some search results!
With Canva, creating a featured image that catches the eye and keeps the user reading is as easy as one, two, three.
All you have to do is launch Canva, create a Blog Banner design, find the template you like the most, and customize it to your liking. When you're done, export the featured image and upload it to your blog.
If you don't want to use templates and you'd like to download unedited stock photos instead, there are some important restrictions to keep in mind. I've explained them all in "Can I Use Canva Images on My Blog or Website?"
Design a Book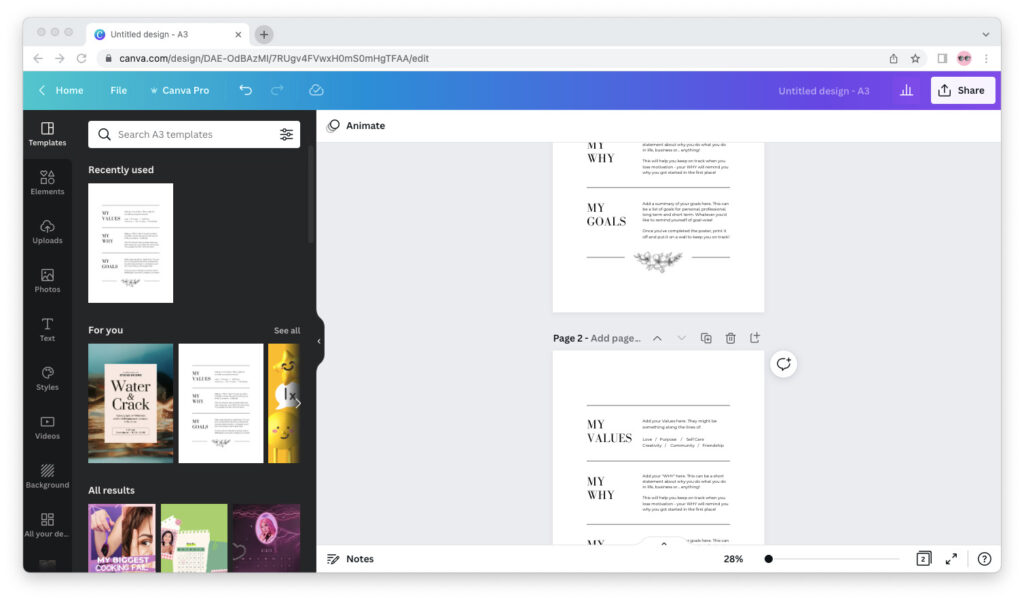 If you're into self-publishing and you want a beautiful cover and fancy design for your next book—but you don't want the hassle of finding a freelancer or posting a design contest—you can design your book yourself with Canva.
Canva lets you design documents for digital and print, including the must-have crop marks and print bleed to be able to send your book to a printer. I have used Canva myself for this purpose and can tell you from experience that it works amazingly well for files over 300 pages.
To get started, create a document with the size you need (this guide to standard book sizes will help), then find a template you like or, if you're a pro Canva user and you know exactly what you want, start designing your book from scratch.
What's also great is that if you use Canva through your browser, you can use Grammarly directly when designing your book.
Grammarly can help you make last-minute corrections to errors you missed during editing, or that you made when copying/pasting the book's content into Canva. You don't want to have any of these in your book, especially if you're self-publishing on Amazon Kindle.
Design a Downloadable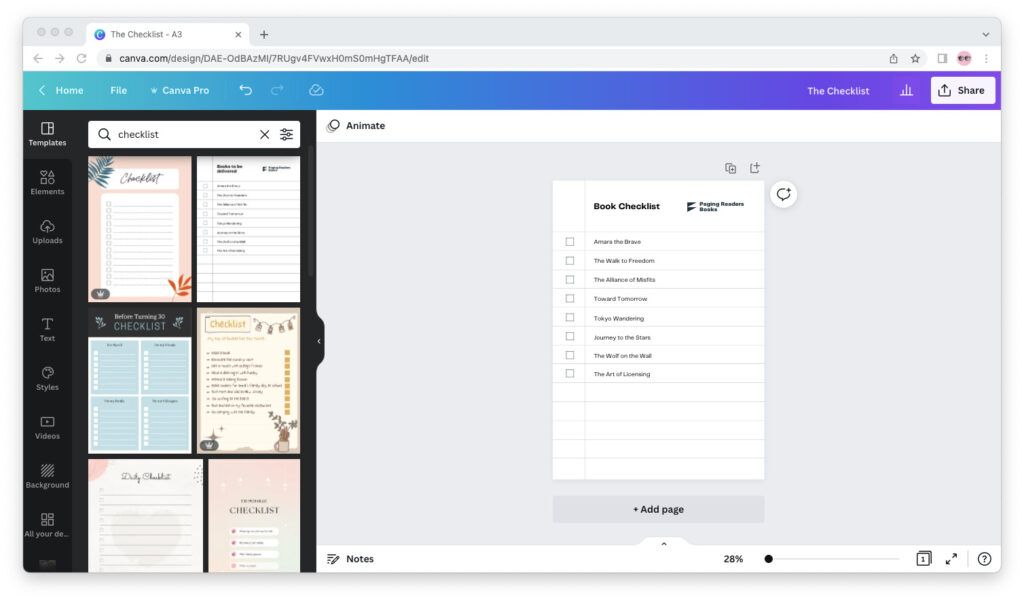 If you're creating a course or membership program that teaches others how to do something in your field, you probably want to create downloadables, like a cheat sheet, a checklist, a one-pager, that help your students practice and learn.
Canva makes it easy to create digital downloadables like these that not only contain the information you want, but also represent your brand with a great design.
Create a document with the size you want (for digital downloadables, I recommend sticking to the A-series sizes; this guide will help you pick), then find a template you like and customize it to your liking.
Design Product Mockups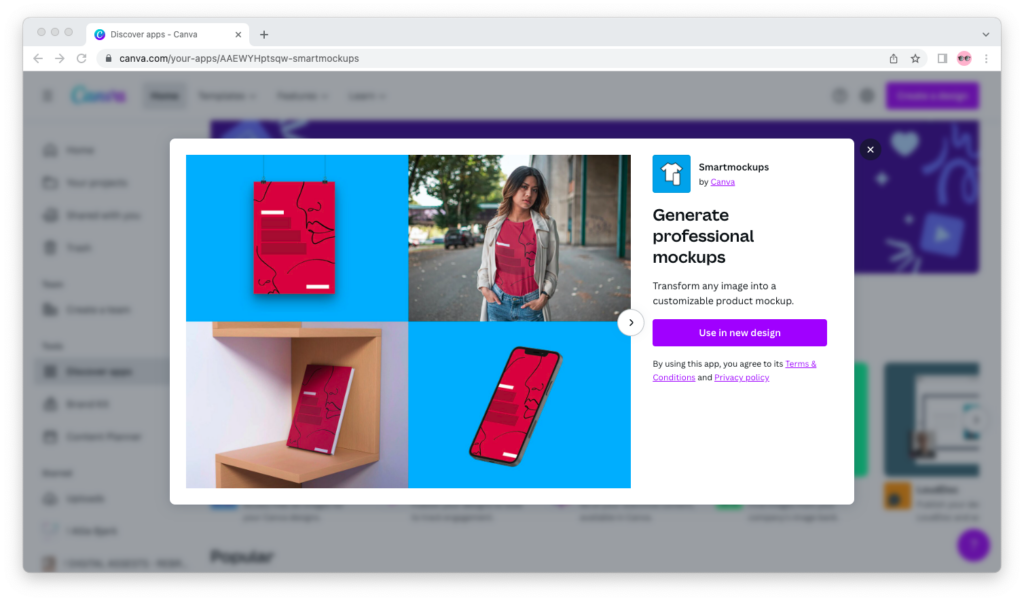 Creating a landing page or sales email for your product and want to display it in a mockup? Before Canva, mockups were the exclusive preserve of those who knew how to use Photoshop… and their high-paying clients.
Now, any Canva user can take a screenshot of their course or membership program on Kajabi, upload it to Canva's Smartmockups app, and create professional-looking mockups that present their course, program, or whatever it is that they're selling in its best light.
Generate a QR Code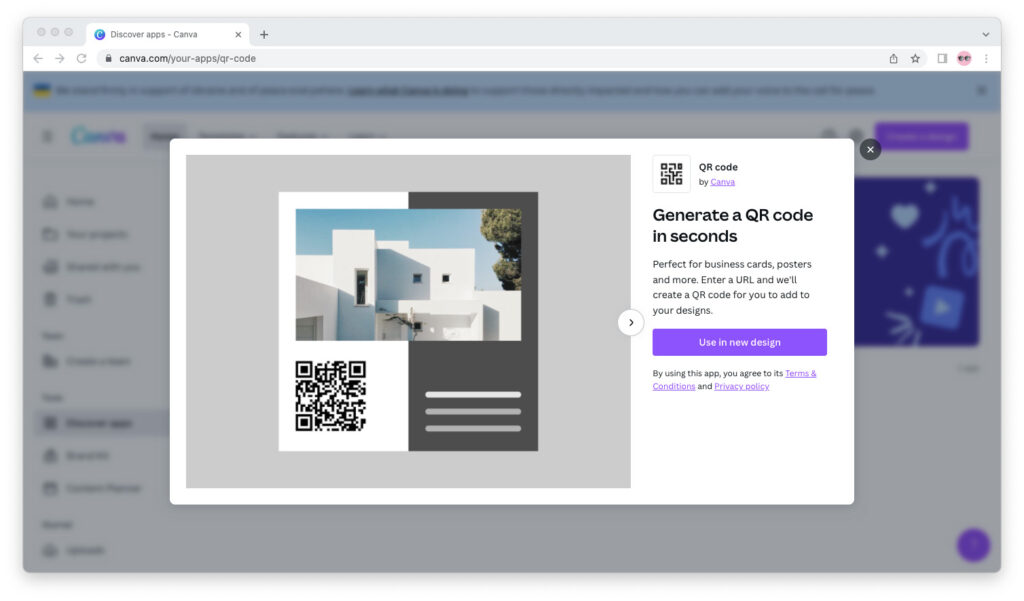 Need a QR code for your business cards or for your print ads? Forget about googling "How to generate a QR code" and having to learn how to use buggy websites or outdated software for the task.
Canva has an app that generates a QR code for you and automatically inserts it into your design. All you have to do is enter the URL you want the QR code to point to and then position the code in your design.
Launch Canva, search for "QR code," open the "QR Code" app by Canva, and click on "Use in new design."
Print a Custom Mug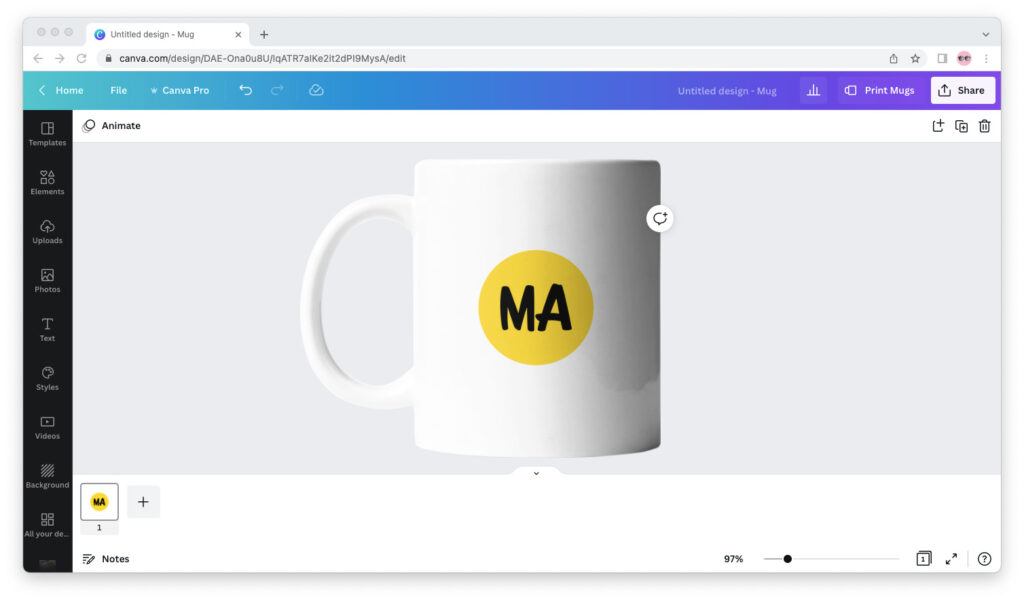 Not everyone knows that you can create a custom coffee mug in Canva. You can even order it and have it printed and shipped to your door, with fast and free standard shipping!
This is a great feature if you own a business and you want to gift customers a branded mug. It's also great for personal use, if you want to surprise your spouse, your kids, or your parents with a "World's greatest" mug like no other.
If you're doing this for the first time, you can start with a mug template. If you know what you're doing and exactly what you want, you can also start a mug design from scratch. You can print on one or both sides of the mug.
When you're done, you can order one or multiple mugs and have them shipped to your door for free. The mugs are made of white ceramic and are printed with FDA-certified ink.
Print a Custom T-Shirt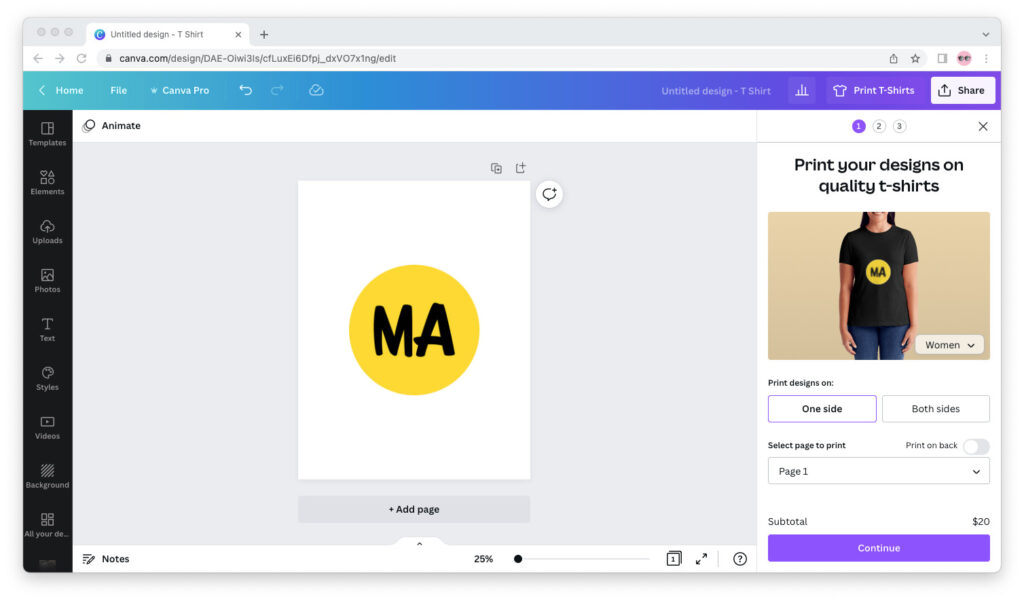 Let's be honest among us makers here… What's a custom mug without a custom T-shirt to wear while drinking cuppa' coffee from it?
Canva is actually one of the best places on the internet to design and print a custom T-shirt. Not only does Canva have the easiest-to-use graphics editor on the market, but the designs you create fit seamlessly with the T-shirt types and sizes offered.
To get started, create a T-shirt design, choose whether you want to print your design on one or both sides of the garment, and then select the T-shirt's color, type, size, and quantity you want to order.
Click the "Continue" button when you are done, buy the T-shirt, and soon after it will be delivered to your home or office with free standard shipping. Canva T-shirts are made from 100% combed cotton. They are soft, fit seamlessly, and can be machine washed without hesitation.
Put a Presentation Together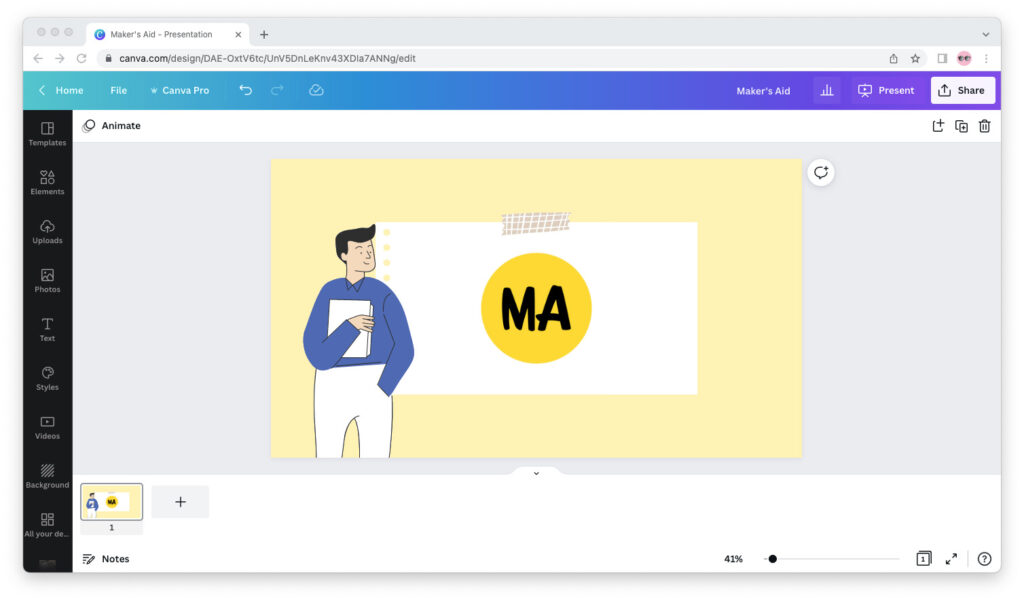 Whether you need to create a pitch deck for your startup or a business case for the next big project in your company, you want your presentation to look professional, highlight what's important, and stand out from the crowd with a unique design.
You could try doing this in Google Slides or Microsoft PowerPoint, but chances are your deck will not look as good as you need it to. For this reason, you should consider using Canva for your slides.
Launch Canva, click "Create a design," and type "presentation" in the search menu. Create a Presentation (16:9) or Presentation (4:3) design depending on the specs of the screen or projector, then get to work on the design.
Years ago, Canva was difficult to work with for slide decks and multi-page documents. But the team behind the tool seems to have put a lot of effort into catching up to Google and Microsoft while maintaining the ease of use of Canva's drag-and-drop editing.
So you can create stunning presentations with transitions and animations between slides—and work on them together with the members of your team. You can even present them directly from Canva instead of exporting them to other file formats.