For a long time, if you wanted an XML sitemap for your WordPress website, you had to install an SEO plugin like Rank Math or Yoast.
Some swear by these plugins. They have not only XML sitemaps, but many other features that can help you improve your Google rankings in a number of ways.
Others say that SEO plugins slow down their websites (like all WordPress plugins do) and add additional complexity that they just don't want to deal with. And yet, if they wanted to follow all the SEO best practices, they had no other option but to install one of them.
This changed with WordPress 5.5 when the WordPress core development team released a built-in XML sitemaps functionality.
Since WordPress 5.5, every WordPress website has a built-in XML sitemap, which can be accessed from www.yoursite.com/wp-sitemap.xml.
It's important to note that the built-in WordPress sitemap at /wp-sitemap.xml is a sitemap index, which means it lists the links to the site's actual sitemaps: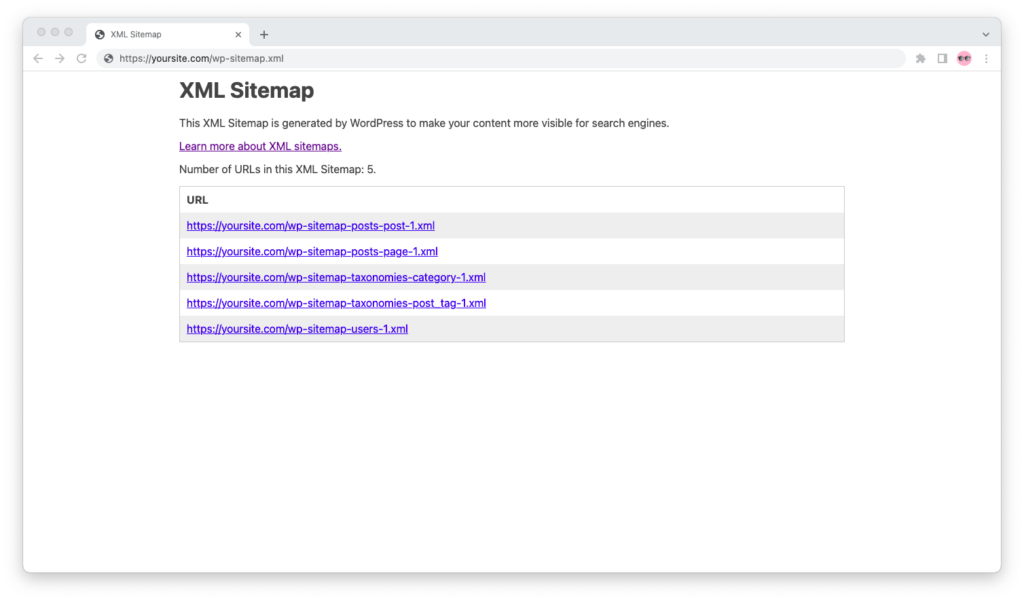 There's one sitemap for the posts, one for the pages, one for the categories, one for the tags, and one for the users on your website.
If you look at the URLs of the XML sitemap, you will notice that there is a "-1" appended to each and every one of them. No, this is not a bug, nor is it a product management oversight. It's a feature.
Since each sitemap can't contain more than 50,000 URLs, very large WordPress websites can have multiple sitemaps for posts, pages, and the taxonomies (categories, tags, custom taxonomies) that they're grouped in.
When that's the case, the first sitemap will have "-1" appended to it; the second will have "-2," and so on.
What If You Can't Access the WordPress Sitemap?
You're using an old version of WordPress
If you try to access the built-in WordPress sitemap from /wp-sitemap.xml but it's not there, it means you're using an old version of WordPress.
When that's the case, the solution is simple. Back up your website in case something goes wrong, then update WordPress and all plugins to the latest version available.
You're using a WordPress SEO plugin
If /wp-sitemap.xml redirects to another page with an XML sitemap that looks different, it means that your site's sitemap is generated by an SEO plugin and that the sitemap of the SEO plugin overwrites the one built into WordPress.
Think twice before disabling the plugin or making any changes. The sitemap created by the SEO plugin may have already been submitted to Google Search Console, and its removal may have a negative impact on your website's rankings.
Should You Use the WordPress Built-In XML Sitemap?
Okay, at least now you know where the XML sitemap is on a vanilla WordPress website. But should you actually use it or should you switch to one of the SEO plugins we already talked about?
It comes down to your SEO needs, really.
Generally speaking, the WordPress XML sitemap has everything you're looking for in a sitemap. It's well-structured, properly formatted, and ready for you to submit in Google Search Console and Bing Webmaster Tools.
But if you don't want your author pages, category pages, or tag pages to show up in the SERPs, and you want fine-grained control over the meta tags for individual posts and pages, you're probably better off with an SEO plugin.