Ever wonder what happens when you hover your mouse over a DM on Discord, click on the three dots icon on the right, and then click on "Delete Message?"
You know, the one with the red text and the red trash can icon next to it?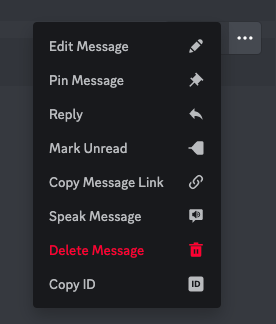 I mean, it's kinda self explanatory… right?
Delete message. Trash can. Red. But, will the message, you know, really get deleted? Like, disappear forever?
The answer — according to a tweet exchange between a user who's wondering whether they can recover a bunch of DMs they regret deleting and a support rep logged into Discord's official Twitter profile — is a definite, resounding yes.
When you delete a DM on Discord, that DM is instantly deleted from Discord's servers and can never, ever be recovered.
So, even if you're in an exchange of DMs with another Discord user and things get real, think twice about deleting the messages. As it turns out, trying to undelete a DM on Discord is like trying to unring a bell. Once the deed is done, there's absolutely no going back.
Can You Report a Deleted Discord DM?
Okay. Let's suppose you did delete a Discord message. Heck, maybe things got so heated, you deleted a whole bunch of them. But you really should have kept them because, now that you had time to think about the the whole situation, you now want to report those messages — and their author — to the server mods, or to Discord themselves.
But can you report a Discord DM if you've already deleted it?
Well, I hate to be the one to break it to you, but that's going to be extremely hard, if not impossible, to do.
If somebody scammed you, harassed you, or simply treated you poorly on Discord, then you need to have some sort of evidence to prove it — whether that's the DMs themselves, a video of them on your phone, or a screenshot on your computer.
Does Deleting a DM Delete It for the Other Person?
In some apps, when you delete a direct message, you will no longer see it in the chat, but the other person still will.
For better or worse, this isn't the case with Discord.
When you delete a DM on Discord, it will be deleted for both you and the person you were chatting with. Even so, if you didn't delete the direct message quickly enough, the other person may have nevertheless seen it.
So if you said something stupid, make sure to delete fast, or you might end up with some explaining to do. Or, better yet, think twice before saying stupid things in DMs and don't say them at all.
In Conclusion
The morals of the story?
When you hit that "Delete Message" button on Discord, the message is gone, and it's gone for good.
And even if you regret it later, there's no going back. So think twice before hitting that button — and if you find yourself in a situation where you need to report a message, make sure to gather evidence before it's too late.