So you read or heard about ClickFunnels. You then checked out its website, but had a hard time figuring out what exactly this tool does.
I know that feeling. A few years ago, before I started using ClickFunnels, it took me a good two, three weeks of googling to understand what exactly it was—and whether I actually needed it or not.
I've been using it for my sales funnels ever since and, by now, I can safely say that I know all of its ups and downs. So, in this post, I will try to give you the long story short about ClickFunnels, hopefully saving you a few weeks of research along the way.
Let's start with the basics: what does ClickFunnels do?
ClickFunnels is a sales funnel builder. It lets you put together high-conversion sales funnels quickly and easily, even if you can't code, don't know much about design, and haven't written copy before.
There's a difference between a website and a sales funnel, and knowing that difference can help you understand what ClickFunnels is all about (and why so many businesses swear by it).
Right off the bat, if you're looking for a platform to build a conventional, brochure-like website, you could do it on ClickFunnels, but it wouldn't necessarily the best tool for the job. You're much better off giving WordPress or Wix a try instead.
But if you do have a website, you're selling products or services on it, you're struggling to convert visitors into customers, and yet you can't figure out why… now we're talking.
ClickFunnels is the tool to take a hoard of traffic from your advertising campaigns on Google, Facebook, Instagram, LinkedIn, or YouTube, and send it to a sales funnel that generates tons of revenue for your business.
Contrary to what some of you may think, you don't need to replace your website with ClickFunnels. Most people have a brochure-like website built on WordPress, Wix, or Squarespace—and host their ClickFunnels sales funnels on a subdomain or top-level domain.
By that definition, ClickFunnels is more of a competitor of Kajabi, Leadpages, and Unbounce. It's where you build sales funnels to drive traffic to and sell on, and not where you keep a blog or have an "Our Services" page.
So YourCompany.com will be there for organic traffic from search engines and social mentions, and Offer.YourCompany.com for paid traffic from search ads, social ads, display ads, mobile ads, or any other major source of traffic your business has.
What Is a Sales Funnel?
A "sales funnel" is a sequence of landing pages that turn unknown visitors into signed-up leads, who then become paying customers, by taking them through a series of steps that build trust and prompt them to take action.
Unlike a website, which gives tens, sometimes hundreds of navigation options to its visitors, a sales funnel squeezes visitors down a single navigation path made to get them to pull out their credit cards.
Think of sales funnels as turbocharged landing pages. But instead of cramming everything on a single page, which can cause high dropout rates, you're splitting the journey into separate, sequenced pages.
These pages get your visitors to stay and keep them engaged as you build trust with them by giving them valuable information while slowly but surely exposing them to your offer and call to action.
How Do Sales Funnels Work?
Suppose you're selling a $999/year membership to a course with a Facebook group. Most of your sales are from cold audiences on Facebook Ads and Google Ads that land on your funnel after clicking on your ads.
Since this is a high-ticket item and you're selling to a cold audience, your funnel needs to build trust with them first, then convert them into paying customers.
One of the ways to achieve this is to give away a free webinar recording, which lets you introduce yourself to first-time visitors while teaching them how to solve a costly or painful problem that they have.
To watch the webinar, they need to give you their name and email address. In the middle of the webinar, you start introducing them to your membership program—and telling them how it will help them solve not only their problem but show them how to achieve their goals.
By the end of the webinar, you give them a limited-time offer with a 15% discount only if they take action in the next 60 minutes. They've already given you their name and email address, so all they need to do now is take out their credit card and enter the details if they want in.
Some do; others don't. Those that don't end up in your email list, which you can then add to a five-day email sequence that tells them more about the program and, at day five, gives them another limited-time offer to join your course.
Essentially, this is how your funnel would work:

With ClickFunnels, you can enter your goals, choose a template, change the logo, tweak the colors, add your copy, drag-and-drop the text and images on your page as you like… and you'd be good to start selling.
Without ClickFunnels, you'd have to pay thousands of dollars for freelance developers or agencies to build all of this from scratch—and you'd have to do it every single time you create a new funnel.
How ClickFunnels Works
ClickFunnels is a visual builder that lets you build funnels. A funnel contains pages sorted and sequenced in a specific way. Each page has rows, containers, and the elements that go into them.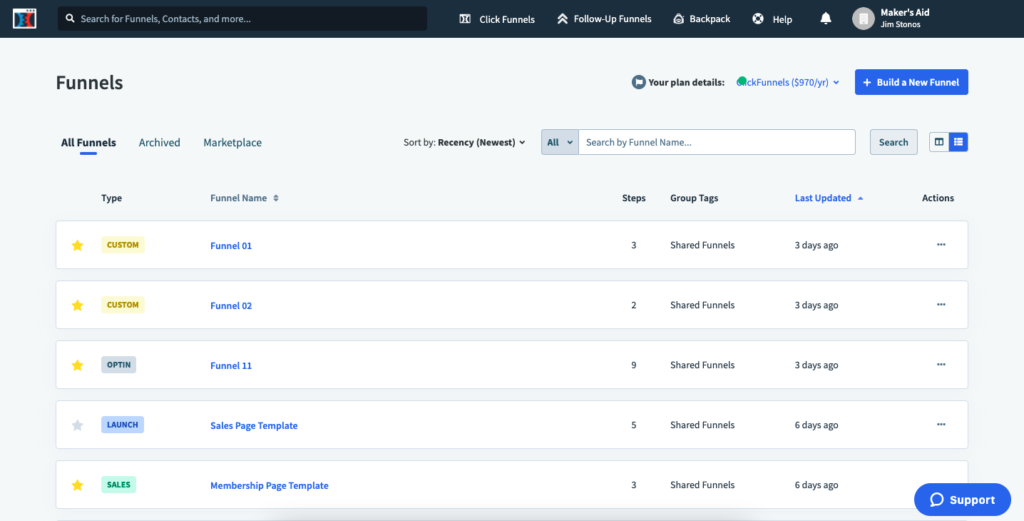 Elements include text, images, videos, countdowns, buttons, email forms, and payment forms. You can connect your email forms to the email marketing app that you're already using. The payment forms connect to your Stripe and PayPal account.
You build funnels using a drag-and-drop page builder, which looks, feels, and behaves much like the Divi theme or Elementor plugin for WordPress, for those of you who are used to using them. There are plenty of ready-made, highly-customizable templates for you to choose from. There's even a template marketplace.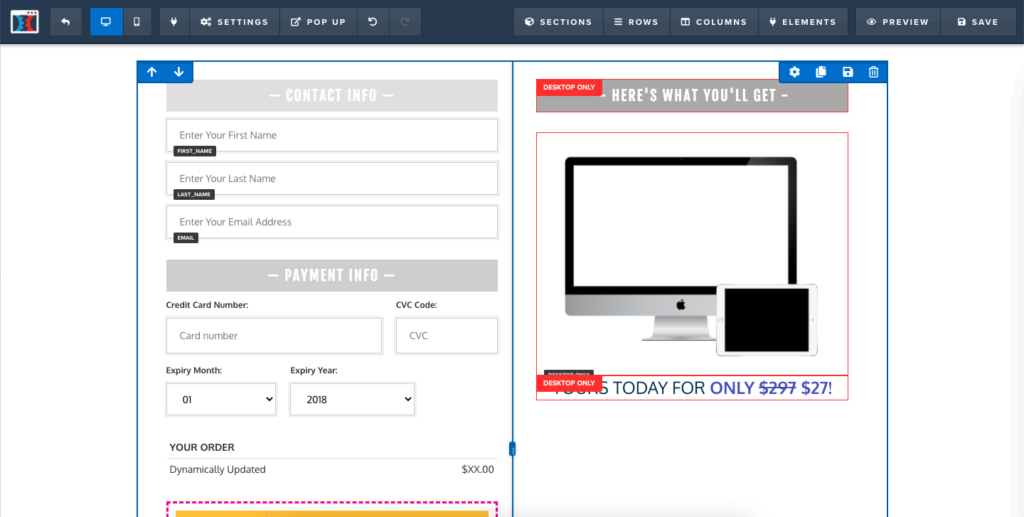 Once you've built your funnel, you can choose which domain that you've connected to your account to publish it on (for example, MyCompany.com), and you can set the URLs for each of its pages (for example, MyCompany.com/webinar-signup, and so on).
You can copy/paste the code snippet for any third-party scripts, like Google Tag Manager, Google Analytics, and your Facebook Pixel, and you're pretty much all set to start sending traffic to your newly-built sales funnel.
And that's where ClickFunnels excels. There's no other tool that lets you assemble and configure a sales funnel—that's integrated to your email tool, your payment gateway, and your analytics tools—so quickly and so easily.
If you're still on the fence about this tool, check out my post titled, "Is ClickFunnels Legit?"