If you're on the lookout for an SEO tool, there's a high chance that Ubersuggest is one of the names on your radar (and it should).
I bought a lifetime subscription to Ubersuggest's Individual plan several months ago, and I finally set aside the time to write a review.
So, without further ado, here's what I like, what I dislike about it, and what kind of user I think it's best for.
Ubersuggest is an SEO tool that website owners and marketing agencies can use for keyword research, rank tracking, backlink monitoring, competitor analysis, and technical SEO auditing.
It consists of a web app, which you can access from any browser, and a Google Chrome extension, which augments Google, YouTube, and Amazon search results pages with search volume estimates, SEO difficulty scores, and keyword ideas.
Ubersuggest's search volume estimates are about as accurate as estimates from a non-Google tool can get. They can help you identify higher-volume search terms, but will seldom predict it with precision.
Why so, some of you may be wondering?
Ubersuggest gets the majority of of its data from Google Trends, Google Keyword Planner, and Google's auto-suggest completions. Even then, that data doesn't always tell you the whole story.
Because most pieces of content on your site will not only rank for variations of the keyword you originally targeted with them, but will end up getting additional traffic from semantic searches and Google's People Also Ask box.
If you're the kind of person who competes on long-tail or question-based keywords, many zero-search-volume keywords can bring you tens to hundreds of visitors per month if you end up creating content for them.
The SEO difficulty score is based primarily on backlinks, so it shouldn't be the only thing you use to decide whether or not to compete for a given set of terms. I've had, for example, more than one occasion on which my blogs have outranked of Forbes or The New York Times because they seem to have the topical relevancy.
As with any other SEO tool, take the search volume estimates and SEO difficulty scores as a compass—not a map. They can help you navigate where to go, but they won't tell you how to exactly get there.
Where Ubersuggest falls short compared to other SEO tools is backlink tracking. Personally, I found that a lion's share of the links that point to my sites in Google Search Console and Ahrefs are missing, which can be an issue if it's the only tool you use.
I guess I stepped on someone's feet with one my websites, for example, because it's been under a negative SEO attack for months. It's getting tens of spammy backlinks a week, and I've decided to try to minimize the risk of a manual penalty from Google by proactively disavowing links in Google Search Console.
So far, Ahrefs has been the only tool that has stood up to the task—and Ubersuggest has not been as helpful to me as I originally aspired it to. That's definitely an area where Neil and team could improve on in the future.
Die-hard SEO experts and hardcore SEO agencies will probably want to go for Ahrefs, SEMrush, Moz, or one of the more advanced tools with all the bells and whistles.
Ubersuggest is a tool for the webmaster, business, or agency that does SEO as part of something else, but doesn't necessarily do it as their core competency.
Unlike many other tools that will set you back hundreds to thousands of dollars a year, Ubersuggest can cost you as little as $12/month or $120 for a lifetime (yes, you read that right).
The Five Things That You Can Do With Ubersuggest
Ubersuggest packs a fair share of features. The best place to get a bird's eye view over all of them—and how they relate to the subscription plans—is over at the pricing page.
To give you the long story short, here are the five things that you can do with Ubersuggest:
Track your website's ranking on keywords daily;
Research keywords and ideate content with trends data, volume estimates, SEO difficulty score, and filtering;
Analyze your competitors' websites, their top pages by traffic, their top keywords by traffic, and the backlinks to their site/pages;

Compare the backlink profiles of your website with the websites of your competitors to identify backlink opportunities

;
Audit your website's technical SEO on an ad-hoc basis or automatically every week.
Pros
The user interface is intuitive and easy to use, especially for people who are beginners or intermediate in SEO.
There's a Google Chrome extension that adds search volume estimates and keyword suggestions in Google, YouTube, and Amazon search results pages (Keywords Everywhere style).
It's great for keyword research and competitor analysis. Helps you identify long-tail keywords and sites to get backlinks from.
Cons
It's not very good at monitoring linking domains and backlinks pointing to your site when compared to other tools.
It allows you to track rankings for only 100 (Individual plan), 150 (Business plan), or 200 keywords (Agency plan) per project.
It lacks some of the keyword research operators, frequent scanning, and in-depth reporting of higher-end tools.
How Much Does Ubersuggest Cost?
While Ubersuggest can't compete with the features of Ahrefs and SEMrush, it competes, pretty aggressively, with them on price. The tool is highly affordable, even if you end up going for the most pricey plans.
I guess that's because, for Neil and his agency, Ubersuggest is as much a business line as it is a source of consulting leads. Whatever the reason, it comes at a price that's so good, you have no excuse to keep using it for free (especially if you're the kind of person who tends to support the creators of the sites and tools you like).
Ubersuggest's Individual plan costs $12/month. It's best for website owners who want a tool that helps them do keyword research and track rankings for 1-3 websites. You can also buy lifetime access for a one-time fee of $120, with a 30-day money-back guarantee.
Ubersuggest's Business plan costs $20/month. It's best for small and medium-sized businesses that want to do keyword research for SEO and SEM and manage 4-7 websites. They can also buy lifetime access to the plan for a one-time fee of $200, with a 30-day money-back guarantee.
Ubersuggest's Agency plan costs $40/mont. It's best for marketing agencies that manage 8+ websites for their clients. Lifetime access can be purchased for a one-time fee of $400, with a 30-day money-back guarantee.
If you sign up for a lower-end plan and your needs change, you can upgrade. This is true for the monthly and lifetime plan. So you can get started with the plan you actually need without having to worry about the number of users or queries you'll end up needing in the future.
This pricing model appeals to me because it's transparent and free from B.S. You can't say the same for some other tools on the market, where you think you've bought what you need, only to discover that you need to cough up more money to actually get it.
It's worth noting that the lifetime plans are being marketed as a limited-time offer. Though that may be just a gimmick to get you to take action, keep in mind that they may not be there forever (and, to get a deal as good as this, you'd have to scout AppSumo for months).
Is Ubersuggest Good for Keyword Research?
Ubersuggest excels at keyword research—and for a good reason.
It was originally founded as a tool for generating keyword ideas by scraping Google's auto-suggest completions.
It was one of those tools that were doing well without necessarily trying to compete with the old software suites in the field. In February 2017, Neil Patel acquired it for $120,000. A sum that, when you factor in the multiples that online businesses usually sell for, I consider a steal to this day.
Search for a keyword in Ubersuggest's Keywords Overview screen, and you'll get an instant list of a few mission-critical metrics such as search volume, SEO difficulty (organic search), SEM difficulty (paid search), and cost per click (CPC) for advertising on the term.
One piece of information that I find particularly useful as a blogger is the average number of backlinks and the average domain authority of the pages that rank in the top 10 positions for a term.
In general, I don't rely too much on authority scores from SEO tools. They can be mislead, and they don't necessarily reflect that way that Google, Bing, or DuckDuckGo think about that website in question.
Still, the number of backlinks plus an authority score can help you weigh, even if roughly, what kind of competition you're up against.
I still remember reading through the publicly available information about Google's PageRank algorithm long before the terms ML or AI came to be… I was in awe about how a team of engineers could build something so sophisticated, yet so simple, at the same time, capable of crawling the web and classifying websites by looking into a set of factors like content, markup, backlinks, and others.
Many of the engineers who wrote Google's early algorithms have retired, but their legacy in the form of functioning (and, sometimes, long forgotten) code remains.
When you factor in how each Google algorithm update will tweak one thing and have an unforeseen effect on a dozen others, it's no wonder why these updates take so much time to roll out and why we see so much volatility from them.
More often than not, the blast radius of a Google algorithm update can be minimized but not fully predicted.
As much as Google likes to play down the role of backlinks nowadays, they have always been—and will most probably remain—a factor that's capable of breaking ties between competing websites in the search results pages.
Anyway, I went off on one of my rants.
Back to keyword research in Ubersuggest…
As for subscription plans and limitations, here's what you need to know.
When it comes to keyword research, all Ubersuggest subscribers get historical trends data (the ability to see if searcher interest in a keyword is increasing or decreasing over time), can filter results, and can export data.
Individual plan subscribers get up to 20,000 keyword suggestions and 2,000 content ideas at a time. Business plan subscribers get up to 50,000 keyword suggestions and 5,000 content ideas, and those on the Agency plan get 100,000 keyword suggestions and 10,000 content ideas.
When you factor in the high quality of suggestions that you get, these limits are more than enough for website owners, small businesses, and agency teams to do as much content ideation as they'd like without worrying about hitting the limits.
If you're coming in from a tool like Keywords Everywhere or Keyword Chef, Ubersuggest can, without a doubt, make your use of them redundant.
How Does Rank Tracking Work in Ubersuggest?
With Ubersuggest's rank tracking, you can track how your website ranks for Google searches on desktop and mobile devices (the search engine tends to give different results on phones and tablets than it does on computers). The checks are daily, and the data can be exported.
Subscribers of Ubersuggest's Individual plan can track up to 100 keywords per project, Business plan subscribers can track up to 150 keywords per project, and Agency plan subscribers can track up to 200 keywords per project.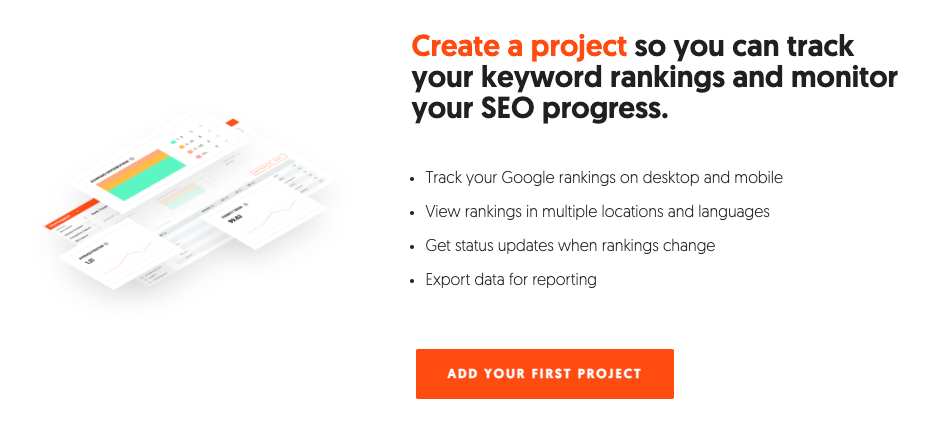 This can be somewhat limiting, especially if you'd like to use Ubersuggest to track the rankings of a news site or a blog with more than two hundred posts. I know because I own a few of these, and—unless I want only to track only a portion of the keywords they rank for—I have to use SERP Robot for them instead.
I haven't put much thought into the economics of rank tracking, and why it is that most SEO tools limit you to a certain number. Still, as a user, I'd be happy to pay up for an additional package that gives me more than 100 keywords/day to check for on my websites.
I'm paying that money ($4.99/month for 300 keyword rankings checked daily) to SERP Robot now, anyway. So, right now, I'm not using Ubersuggest's rank tracking feature at all. And, in all honestly, I don't have that much to tell you about it.
While you won't have this problem if you build sites with less than a hundred pages, website owners and marketing agencies with big sites should pay attention to this limit, as it may hinder their ability to rely on Ubersuggest as their only tool for SEO (agencies rarely use only one tool, but that's a story for another day).
Analyzing Competitors With Ubersuggest
The Competitive Analysis tab is one of my favorite corners of Ubersuggest.
Simply enter a competitor's domain name, and you get an instant overview of the organic keywords they rank for, the organic monthly traffic that they get, as well as their domain authority and the number of backlinks that point to their website.
Top Pages by Traffic gives you a sneak-peak into the most visited pages on their websites and shows you list of all the terms each page ranks for.
I've found the results to be comprehensive and accurate by testing this feature against my own websites, for which I have data in Google Analytics and Google Search Console.
Here's an example with Wikipedia (I'm not the most creative person, as you can tell, when it comes to coming up with examples to use for demonstrating tools):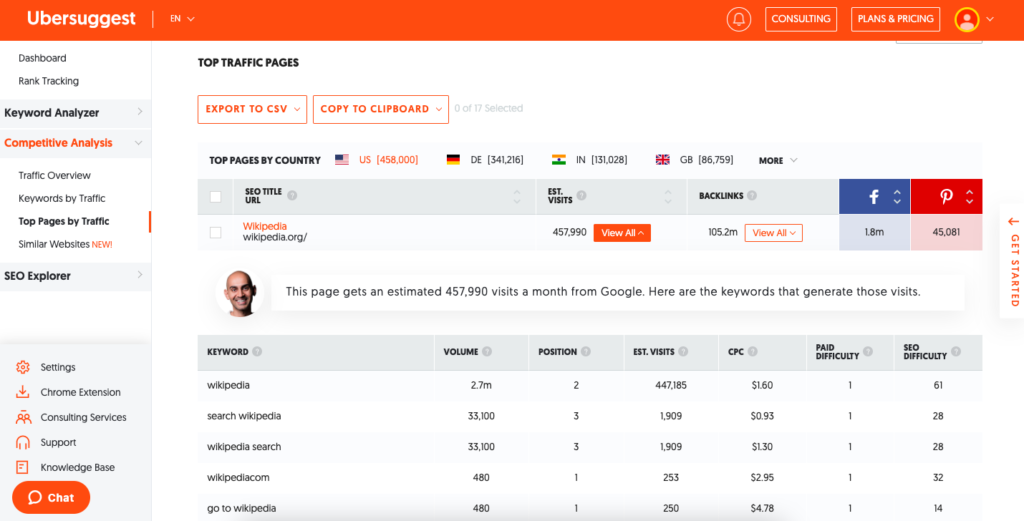 As with all SEO tools, the search volume and visit estimates are less accurate, so take them with a grain of salt.
I know that because, out of sheer curiosity, I've tested this on my websites. I have the traffic data in Google Analytics, and I can confirm to you that Ubersuggest, like all other tools I've used, understates the number of visits a website or page gets by two to three times.
Keywords by Traffic comes in particularly handy for reverse-engineering the terms that websites with less authority than yours rank for.
That's a neat (and highly Darwinian) way to develop ideas for keywords that are already bringing traffic to other people's websites. All that's left for you to do is to compete for them (and, as is the case sometimes, ward off the occasional negative SEO attack when you start eating away at their food).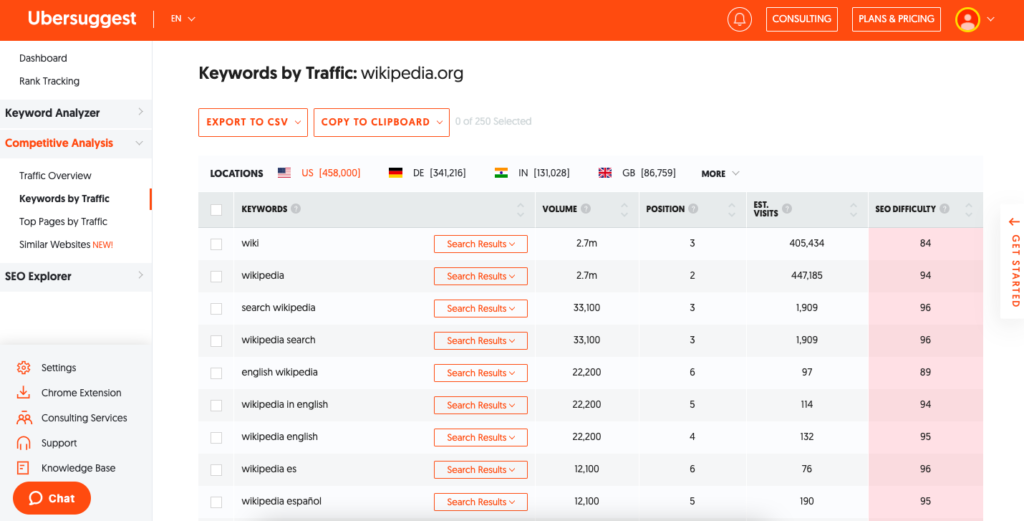 The thing I like the most about Keywords by Traffic is that, when you get the results, you can sort them by Volume, Position, Estimated Visits, and SEO Difficulty.
This saves you time by giving you the results you're looking for first, based on the criterion you trust the most (for me, that's position, since it's the most objective data point compared to the rest).
If you dislike Ubersuggest's somewhat bulky user interface (as some people do), you could also export the results in a CSV file and analyze them elsewhere, like in Microsoft Excel or a browser tab with Google Sheets open.
I don't mind it on my MacBook, but I have had problems trying to make the most of it on my iPhone. Some of the features, like sorting, are simply not there.
Not a deal-breaker if you ask me. Sadly, the most popular SEO tools out there, Ubersuggest being on exception, have a looong way to go to become mobile-friendly. Then again, most of us use them from our desktop computers or laptops, so I can't blame their creators.
Similar Websites helps you discover other websites that rank for keywords similar to those of the site you're analyzing. If you know your niche well, don't expect miracles here. You probably won't come across that many new sites to draw ideas from.
Still, Similar Websites, when used together with the Keywords by Traffic screen, is a good way to uncover some long-tail keywords to compete for by relying on other people's effort to create content on them.
Doing Technical SEO Audits With Ubersuggest
Ask any SEO expert about the basics of on-site optimization, and they're likely to tell you two things.
First, content is king. It's been decades since the Internet became a thing, yet many corners of the World Wide Web are still in desperate need of well-written content.
Second, technical SEO, the process of ensuring that your website is technically set up for success, is essential. And while you won't help you rank high if you have poor content, it can help you outcompete others when the quality of the content is a close tie.
With the SEO Analyzer in Ubersuggest, you can perform technical SEO audits on your website. Since the tool has to crawl your website's pages and look for issues, the whole process takes 10-15 minutes to complete (or a bit longer on large sites with hundreds of pages).
What you get back is an On-Page SEO Score and a number of specific SEO issues, sorted under Critical Errors, Warnings, and Recommendations, that you may (or may not) want to fix.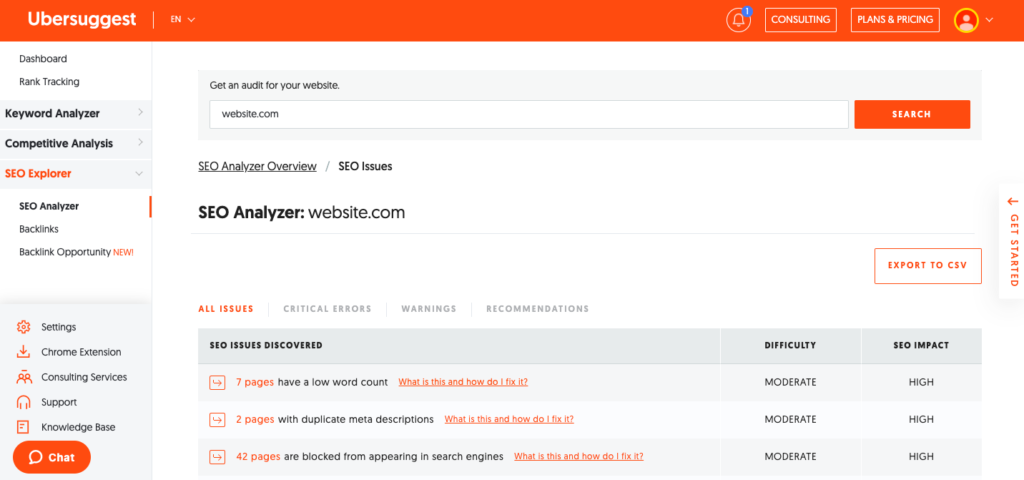 When you consider that Ubersuggest isn't necessarily aimed at the most proficient end of the SEO market—at least not at first glance—its technical SEO audit tool is pleasingly comprehensive.
Affiliate marketers, bloggers, niche website operators, and small business teams will find these results useful to identify pages with low word count, overly short/excessively long title tags, and missing meta descriptions.
Developers, on the other hand, will appreciate the checks on error codes, slow pages, sitemaps, the validity of SSL certificates, use of Adobe Flash, gzip compression, declaration of no-index, and common HTML markup issues.
Though, when it comes to technical SEO, I have yet to come across a more comprehensive checklist than that of Olga Zarzeczna at Seosly (hats off, Olga!). Whether you end up using Ubersuggest or not, I encourage you to go and check her list out.
Is Ubersuggest Worth It?
If you don't spend Monday to Friday entering advanced search operators into Ahrefs' Content Explorer and you're looking for an affordable and no-frills SEO tool to rank your website (or portfolio of sites), Ubersuggest is one of your best choices out there.
It's easy to use, even for SEO beginners, has most of the features you need (none of the features you don't), and comes at a price point so low, you'd think there's a catch. Yet there isn't.