In 1994, Justin Hall created the first blog on Links.net. But blogs didn't become mainstream until Blogger, TypePad, and WordPress made it easy for anyone to create one in the early 2000s.
In recent years, blogs have grown out of favor—and many will tell you that "blogging is dead." I don't necessarily agree with that. Though it's true that the Internet is becoming increasingly media-heavy (and the attention span of users is declining continuously), blogs are still an excellent way to convey facts and opinions.
And you can still make a good living if you manage to become a full-time blogger (also known as a "professional blogger" or "pro blogger").
If that's something you want, taking a blogging course and learning the tricks of the trade from a person or team who's been building profitable blogs and niche sites for years is undoubtedly the best way to get started.
The problem is that there are too many courses that don't deliver on their promise out there, which is probably why you're here, doing your research before taking the plunge and wasting your time and money.
In this post, I'm going to tell you about the blogging courses that are actually worth it (and introduce you to the people behind them).
---
Project 24 by Income School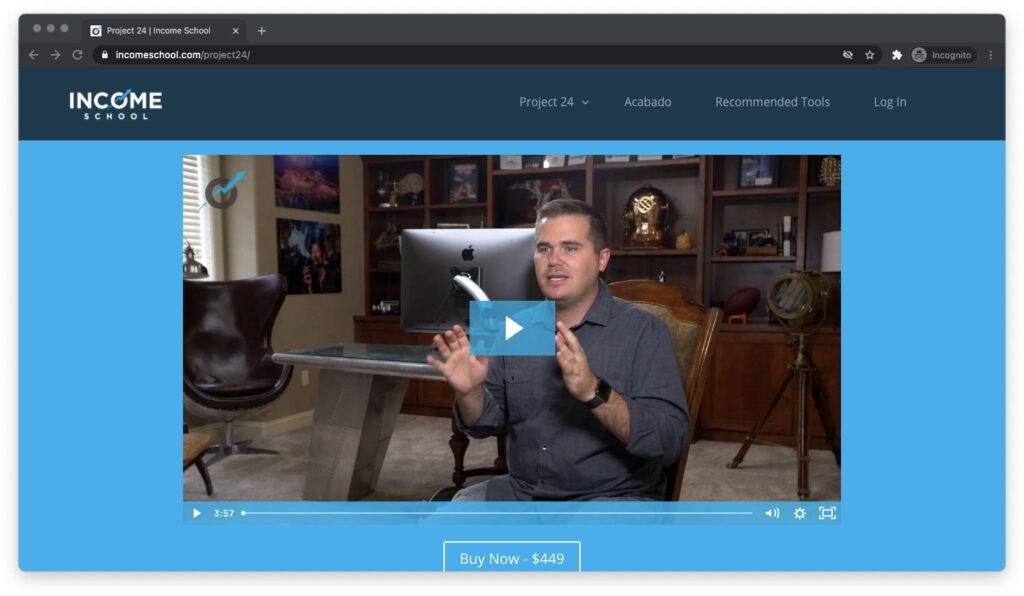 Income School's Project 24 is a course that will teach you how to build a profitable niche site and YouTube channel in 60 steps. Its creators want to help you become a full-time content creator in as little as two years.
So far, they've delivered on their promise. Many members of Project 24 have replaced their day jobs with income from display ads, affiliate marketing, and selling digital products, like books and courses.
The course is created by Internet entrepreneurs Jim Harmer, Rick "Ricky" Kesler, and their team. The two bought the domain incomeschool.com in 2013 and have since turned it from a parked domain to one of the most extensive blogging courses and most vibrant communities out there.
Jim and Ricky's unique topical research and content creation method, called "alphabet soup," is at the heart of Project 24. Alphabet soup relies on Google's autosuggest to identify the phrases and questions that users are searching for. Then, it looks at the competition to help you determine how long of an article you'll need to write on the topic to rank.
The duo has sparked a fair share of controversy in the SEO community as they don't believe in the accuracy of data you get from SEO tools. They also don't think that you need to build any links to rank a new site, as long as you start with low-competition, long-tail searches.
Controversial or not, I subscribe to their way of thinking. I've used their methods to build a blog from scratch in a very competitive niche. By month 6, it was already getting organic 10,000+ pageviews and making $100/month from Ezoic ads and $25/month from Amazon Associates.
What I like about Income School is that they practice what they preach in Project 24. Jim, Ricky, and their growing team actively use their methods to start new sites and grow YouTube channels from scratch. In doing so, they keep finding out what works and what doesn't, sharing it with their community in updates to the course and a members-only podcast.
When you join Project 24, you get access to a set of methods for researching, creating, and monetizing content on sites, blogs, podcasts, YouTube channels, and digital products that work. All you have to do is apply the methods, learn the tricks of the trade, and keep on writing.
Is Project 24 Worth It?
Most make money online courses are full of overpriced and generic advice, like "create useful content" or "write long posts." They fail to address most of your questions and don't give you an actionable, step-by-step plan for achieving results.
That's not the case with Project 24.
Income School's course is split into two tracks: a blogging track and a YouTube track. You choose which one to start with, try out, and keep to.
The blogging track will show you how to build a niche site from scratch using Jim and Ricky's stupid-simple, crazy-good method for researching and creating content that ranks high on Google—and gets tons of organic traffic as a result. Then, it will teach you how to monetize that traffic with display ads, affiliate marketing, and digital product creation.
The YouTube track will show you how to create a YouTube channel and research, draft, shoot, edit, and publish videos that get hundreds, thousands, and why not hundreds of thousands of views each. Eventually, you will be able to monetize your YouTube channel with Google AdSense and create a course or membership program for your audience. 
Though there are a couple of intersections between the blogging and YouTube course, it's your call which one to get started with—and whether or not to do both in the first place.
For example, some Project 24 members start by building only blogs. It ends up working out so well for them that they never really make a YouTube channel.
Others go the YouTube track, and the only thing they have to do with websites is when they create a "brochure site" and a few landing pages for their online course or membership program.
A small group of members who've been highly successful at applying the principles they've learned from Project 24 have turned their hobbies into thriving businesses. They've hired authors for their blogs, editors for their YouTube channels, and virtual assistants for daily tasks, owning and running several blogs and channels at a time.
If you're a content creation newbie—and you're willing to put in the time and work to create extra streams of income to supplement and eventually surpass the earnings from your day job—Project 24 is one of the best courses for you out there.
Here's a recording from one of Jim and Ricky's live webinars to get you started:
How Much Does Project 24 Cost?
Access to Project 24 costs $499 for the first year and renews at $199/year. You can cancel renewal at any time, and you'll retain access to the course and community until the end of your payment term.*
If you learned everything you need to know in your first year and started making good money blogging, why would you renew?
Most members stay in Income School for the active and helpful community (seriously, it's like the best forums from the good ol' web 1.0 days), the members-only podcasts where Jim and Ricky give you the newest tips and tricks, as well as the updates to the course itself.
Is Project 24 Refundable?
Purchases of Project 24 are non-refundable, with one exception. If you forget to cancel your account before renewal, Income School will refund your annual fee ($199/year) and cancel your account if you request it within 30 days of the renewal.*
To me, this no-refund policy is fair and understandable (and I'll tell you why below). If you think otherwise, share your thoughts with the rest of this post's readers in the comments.
On the Income School website and YouTube channel, Jim, Ricky, and their team go to great lengths to show you how their method works, what kind of effort you need to put in to make it work for you, and by when most members start seeing results.
If you don't do your due diligence before buying access to Project 24, that won't necessarily make the method, course, and community any less valuable. 
But if you did your research and you're worrying if what's behind the paywall is at least as good as the tons of free stuff they're giving out, you have nothing to worry about. Without a doubt, Project 24 is one of the best blogging courses out there (and it also happens to be one of the most affordable).
Links
Income School's YouTube channels
* All prices and terms quoted above were retrieved on the day of publishing this article. By the time you're reading it, some of the prices and terms may have changed. I encourage you to go to Income School's website and check for yourself before making a decision.
---
Multi-Profit Site by Doug Cunnington
Do you want to become an affiliate marketer make money by blogging about other people's products?
If the answer to that question is "yes," then put Doug Cunnington's eight-week Multi-Profit Site course on top of your wishlist.
Doug Cunnington is an affiliate marketer and project management professional. You'll find him over at his website, Niche Site Project, and YouTube channel. He's known for creating an SEO keyword research technique called Keyword Golden Ratio (KGR).
Keyword Golden Ratio is an estimate for the competitiveness of long-form keyword searches in the form of a number(for example, 0.25, 0.5, 0.75, 1, 1.25, etc.).
To calculate the KGR for a search term, google it using the "allintitle" operator. Then take the total number of indexed results for that search and divide it by the estimated search volume from your SEO keyword research tool (mine is Keywords Everywhere).
If the KGR is < 0.25, you should easily be able to compete for that search within days (yes, that's days—not months). KGR queries between 0.25 and 1 tend to take a few months (this is what some website owners call "getting out of the Google sandbox"). Searches with a KGR > 1 are highly competitive.
Like many other aspects of Doug's methodology, he's documented the Keyword Golden Ratio meticulously on a dedicated page on his website. 
He's also published an introductory video of it on his channel:
Every now and then, someone from the blogging community will publish a post or video critiquing the Keyword Golden Ratio. Yet I've been able to consistently rank posts high for long-tail keywords with it—and the number of website owners using it for their sites speaks for itself.
Don't get scared off by people who critique the method but don't give you any reasonable alternative. It's better to follow and fine-tune a system that works—even if it isn't perfect—than to start with no system at all.
Is Multi-Profit Site Worth It?
Yes, Multi-Profit Site is a blogging course that's worth your money and time. It will teach you the "how" and "why" of affiliate marketing, giving you the tools and mindset you need to build profitable niche sites.
Doug's course, Multi-Profit Site, will teach you how to choose a profitable niche, use the Keyword Golden Ratio to brainstorm a content plan for your website, how to set up your WordPress website, and how to monetize it with affiliate marketing (mostly Amazon Associates) and display ads.
Then, Doug shows you how to promote your content and build links so that you can boost your website's ranking even further by giving positive signals to Google's algorithm. He tells you how to scale and grow your website, hire writers and editors, and build an email list from scratch.
At every essential step along the way, there's a template, checklist, or worksheet for you to use. You can tell that Dough comes from a project management background, where making things repeatable and scalable is a must.
In the final unit of the course, you'll learn how to sell your website to a flipper, investor, or competitor. Selling websites isn't for everyone. But if you want to cash out well on the multi-year effort on your multi-profit site and get a cash injection in your bank account to pay the mortgage or invest elsewhere, selling one of the names in your portfolio is an option.
How Much Does Multi-Profit Site Cost?
Multi-Profit Site is sold in three tiers:**
The "Basic" tier costs $797 and gives you access to 8 modules with 43 lessons.
The "Advanced" tier costs $1,097 and gives you access to 12 modules with 57 lessons.
The "Premium" tier costs $1,997 and gives you access to everything from the "Advanced" tier, plus 4x, 60-minute 1-1 coaching sessions with Doug.
If you're a beginner looking to get started, I recommend buying the "Advanced" tier since you'll get access to all of the lessons.
If you own a niche website and you're struggling to monetize or scale it, I recommend buying the "Premium" tier. Doug hasn't personally coached me, but he's shared the 1-1 coaching sessions with one of his students on his YouTube channel. From having seen his approach and advice, I think those sessions can be invaluable.
Is Multi-Profit Site refundable?
Multi-Profit Site has a 14-day, no-questions-asked, money-back guarantee. If you don't think the course gives you value for the money and inform Doug within 14 days of your purchase, he will provide you with a full refund.
Even if that's the case, I encourage you to do your research before you buy. There's enough information on the website and YouTube channel to help you determine what this course is about, what kind of content creator it's for, and what will be needed from you to make it work.
When you buy Multi-Profit Site, you're getting access to one of the best blogging courses on the Internet. To be sure that you're purchasing the right course for you, take the time to get to know Doug Cunnington and his Keyword Golden Ratio approach.
I've seen plenty of content creators who swear by it and who've quit their jobs within months or a few years of consistently applying it.
Multi-Profit Site vs. Project 24 (Which Is Better for You?)
If you prefer creating informational content and monetizing it with display ads or informational products, Income School's Project 24 is the better choice for you. Those of you who prefer reviewing products and creating "best this for that" content should pick Multi-Profit Site.
Generally speaking, both of these courses are really good and give you everything you need to find a niche, create a blog, and research, write, and publish content in a way that gets you organic traffic.
Links
** All prices and terms quoted above were retrieved on the day of publishing this article. By the time you're reading it, some of the prices and terms may have changed. I encourage you to go to Multi-Profit Site's website and check for yourself before making a decision.
---
The Authority Site System by Authority Hacker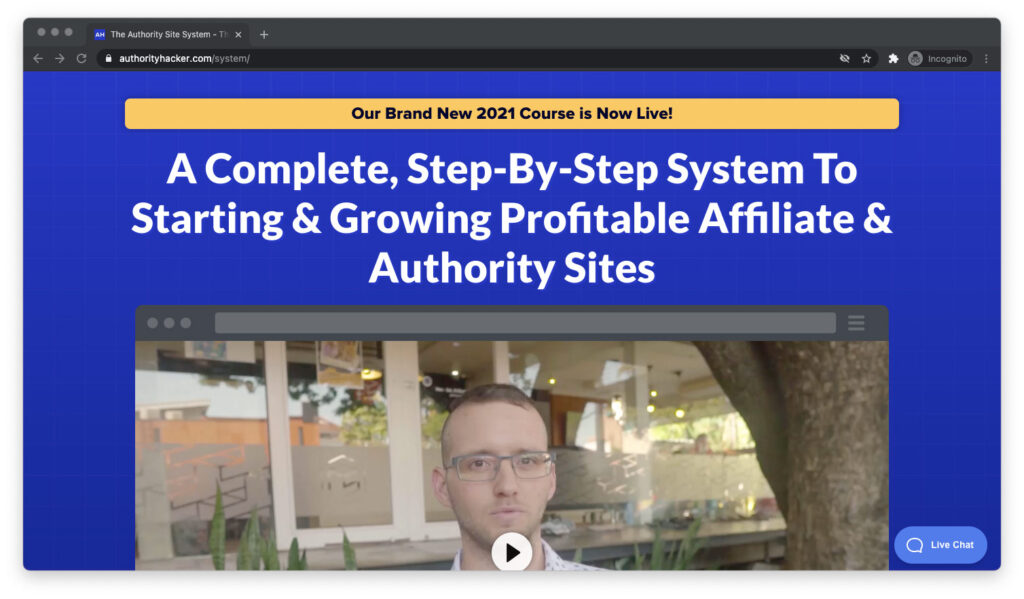 The Authority Site System (often abbreviated "TASS") is a beginner's introduction to authority website building by ex-agency owners, affiliate marketers, and SEO experts Gael Breton and Mark Webster.
If you like Authority Hacker's YouTube channel, chances are you're going to love The Authority Site System.
The course starts with an introduction to authority sites and modern-day internet marketing. Gael shows you what makes a good niche for your first website—and how to choose one in a way that sets you up for success.
On the whole, The Authority Site System is for people who like thorough research and data-driven planning. You'll learn how to dive deep into the sea of public data on sites like Google, Amazon, and ClickBank.
Gael and Mark excel at competitor research using Ahrefs. As a student of their methods, you will learn how to use it to identify your competitors' rankings—and make use of the work that others have done on their websites to make a content plan for competing with them.
You'll learn how to make a content plan for your first website, as well as the bread and butter of website ownership like selecting a domain name, signing up for a hosting account, installing and setting up WordPress.
One thing that's missing from other blogging courses is the emphasis on logo design and brand identity. An authority site, at the end of the day, should look as trustworthy as it sounds. Otherwise, visitors will quickly drop out and heat to your competitors' better-looking websites.
Mark takes over to show you the different content types you can be posting on your authority site in the following few modules. He teaches you how to research, brainstorm, write/edit, and publish content. Along the way, you get access to easy-to-use templates and real-world examples.
Unlike Jim and Ricky of Income School, who will tell you to focus all of your time pushing out high-quality content, Gael and Mark believe in the merits of link building. This is why they'll teach you three initial techniques for building links that are proven to work, even for authority sites that are just getting started.
When it comes to backlinks, I stand somewhere in the middle between Income School and Authority Hacker. I don't think that you need to build any links in the beginning if you do your research well and go for low-competition long-tail searches. Your site will naturally start to get backlinks from a few blogs, forums, Reddit, and Reddit clones as you do.
Sooner or later, you'll start to compete with websites with old and authoritative websites. And that's when having high-quality backlinks from reputable sources can give your posts and pages a lift. That's exactly what Mark and Gael will teach you how to do.
As a TASS member, you will also learn advanced tactics for hiring authors and managing an editorial team, all of which will be critical to your success as your website gains traction and your content throughput starts to scale.
Is The Authority Site System Worth It?
What sets The Authority Site System apart from Project 24 and Multi-Profit Site is the amount of tool-based SEO research that Gael and Mark teach you to do.
In a way, you can tell that they're coming from an agency background where they've had to compete for some of the most challenging keywords on search engine result pages (SERPs).
The Authority Site System is undoubtedly one of the best blogging courses on the Internet. It's definitely worth the money if you want to learn how to start, build, and grow an affiliate website monetized with high-commission programs other than Amazon Associates.
How Much Does The Authority Site System Cost?
Lifetime access to the Authority Site System costs $997. You also get access to all updates that Gael and Mark make to their course in the future (they make significant updates every few years to keep it highly relevant).***
Is The Authority Site System Refundable?
When you buy The Authority Site System, you get a 30-day, no-questions-asked, money-back guarantee. If you are not satisfied with your purchase for one reason or another, you can request a full refund during that time.
As with all other blogging courses on my list, I encourage you to do your research before buying. Check out the landing page, watch Mark and Gael's YouTube channel, search for other people's opinions and reviews of the course online.
Links
*** All prices and terms quoted above were retrieved on the day of publishing this article. By the time you're reading it, some of the prices and terms may have changed. I encourage you to go to The Authority Site System's website and check for yourself before making a decision.
In Conclusion
Whether you sign up for Project 24, Multi-Profit Site, or The Authority Site System, you'll have to work hard not to get results if you take the advice that these courses' creators are giving you, follow the steps in their methodologies, and put in the hours consistently.
As a general rule of thumb, Project 24 is best for those keen on creating helpful and actionable content about their hobbies, Multi-Profit Site is better for people who like to review products, and The Authority Site System stands somewhere in between.
Which one did you end up choosing? And why? Share your experience with me and the rest of this post's readers by leaving a comment below.