Whoever named Keywords Everywhere made a bold choice, but they sure lived up to their promise. This freemium extension for Google Chrome and add-on for Firefox is by far one of the best keyword research tools out there.
Love it or hate it; it does work everywhere. From Google and Bing to Amazon, Etsy, and eBay, this small tool can help your website, YouTube channel, or online store grow big with the search volumes, historical trends, and keyword ideas it gives you.
What if, for one reason or another, you don't want to use Keywords Everywhere? There are hundreds of free and paid SEO tools out there. But which ones are the best alternatives?
The closest alternative to Keywords Everywhere is a Chrome extension called Keywords Surfer, but it's limited in functionality. Some SEOs use free tools Google's Keyword Planner, Search Console, and Trends. Others prefer premium tools like Ahrefs, Semrush, or Ubersuggest.
As you look at my list, you probably won't see too many names you don't recognize. I tested some of the Keywords Everywhere clones that others out there had written about. But all of them turned out buggy, slow, and inaccurate. So I'll save you the nerves by excluding them.
The Best Alternatives to Keywords Everywhere
Name
Type
Pricing
Purpose
Ahrefs
Web application
Trial, $99+ per month
Content marketing, keyword research, rank tracking, backlink tracking, competitor research
Google Keyword Planner
Web application
Free
Keyword research
Google Search Console
Web application
Free
Rank tracking, backlink tracking
Google Trends
Web application
Free
Content marketing
Keywords Surfer
Google Chrome extension
Free
Keyword research in Google Search
SEMrush
Web application
Trial, $119.95+ per month
Content marketing, keyword research, rank tracking, backlink tracking, competitor research
Audience research, ad research, competitor ad research
Social media posting and scheduling
TubeBuddy
Google Chrome extension
Freemium, $3.60+ per month
YouTube keyword research
Ubersuggest
Web application, browser extension
Trial, $29+ per month
Content marketing, keyword research, rank tracking, backlink tracking, competitor research
vidIQ
Google Chrome extension
Freemium, $7.50 per month
YouTube keyword research
In the rest of this post, I'll tell you more about how I see the ups and downs of each of them.
I'll also give you my reco for when to consider each of these tools so that it's easier for you to decide which of them to try out.
---
Ahrefs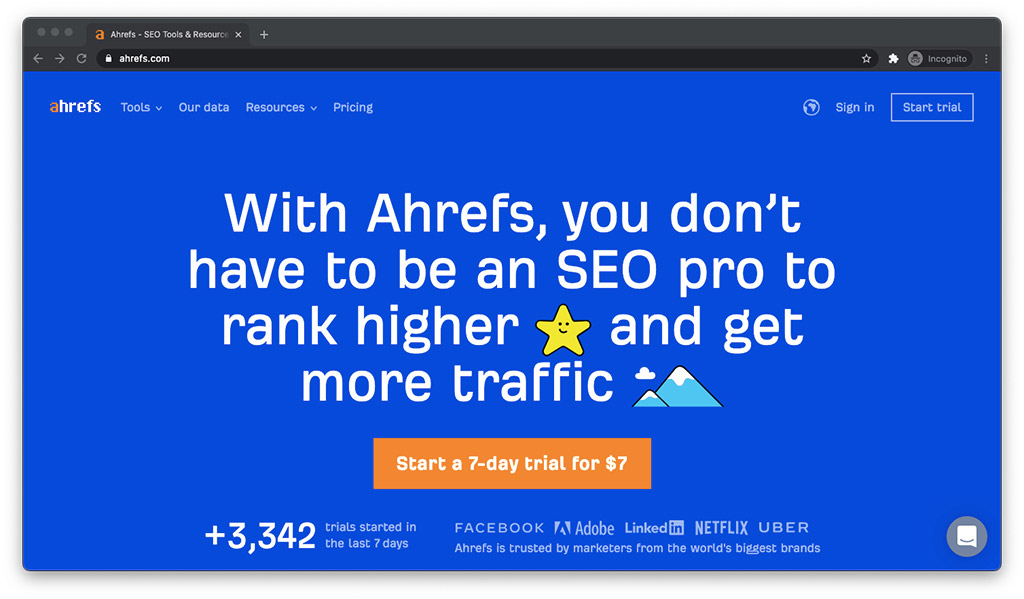 Ahrefs is the most functional SEO tool on my list and one of the best Keywords Everywhere alternatives. But it comes at a price: Ahrefs' plans start at $99/month (there's a 7-day paid trial that costs $7).
In return, you can track your websites' overall health and organic search rankings, research your competitors' websites and pages, and discover keyword ideas on Google, YouTube, Amazon, Bing, Yahoo, Yandex, Baidu, and others.
One of the things I like about Ahrefs is its clean user interface. If you're used to the convenience of researching keywords directly in Google Search with Keywords Everywhere, you'll find most web-based SEO software clunky and unnecessarily time-consuming to use.
That's not the case for Ahrefs. The results you get in its Keywords Explorer tool are neatly presented and thought out, making keyword research almost as easy as in Keywords Everywhere.
Consider Ahrefs if:
You're a blogger, website owner, or technical SEO professional. You want an all-in-one SEO software suite with everything you need—and nothing you don't—to organically-rank your websites and keep tabs on your competitors.
---
Google Keyword Planner, Search Console, and Trends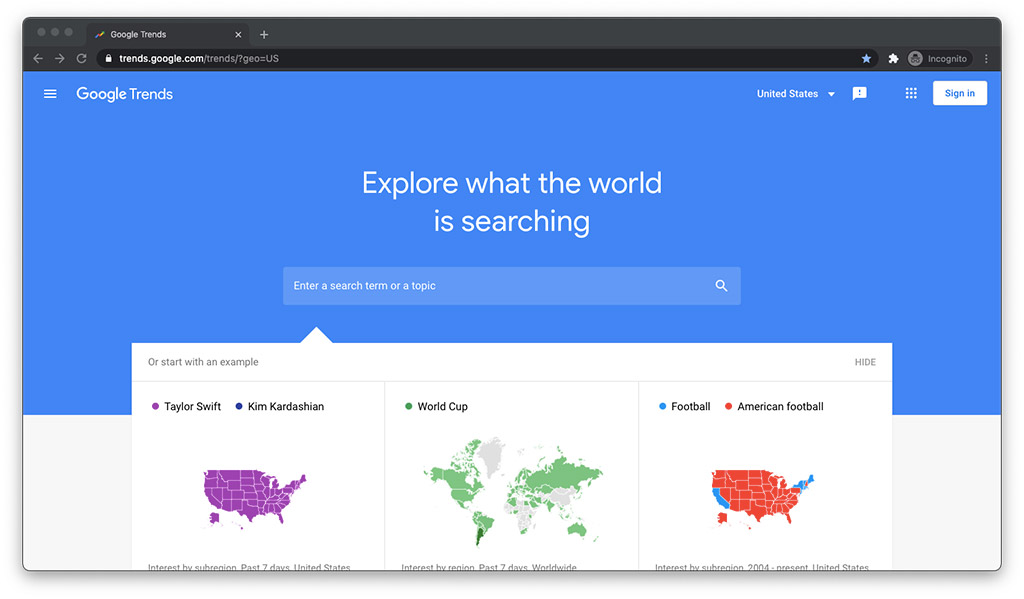 If you're wondering why Keywords Everywhere is so popular, just look at the number of Google tools it takes to *almost* replace it.
You can use Google Ads' Keyword Planner to get search volume, historical trends, and forecasts for search queries.
It has fewer features than any of the premium tools on my list, but you know what? It spews out the most accurate data and reliable predictions you could get since they come from Google itself.
You can get some pretty good keyword ideas from Google Search Console. Simply look at the search queries that your website isn't ranking in the top 30 results for. These searches are usually relevant to your content, but it isn't meeting the search intent behind them.
So you could get some ideas for quick-win posts and pages that can bring you a good amount of traffic in the mid-to-long-term.
Finally, Google Trends can help you discover the trend behind each query. This is important for finding the long-term growth or decline of a niche and allows you to uncover the impact of seasonality.
Consider Google's own tools if:
You do 100% of your keyword research on Google Search, and you don't need to do research and track any of your competitors.
---
Keywords Surfer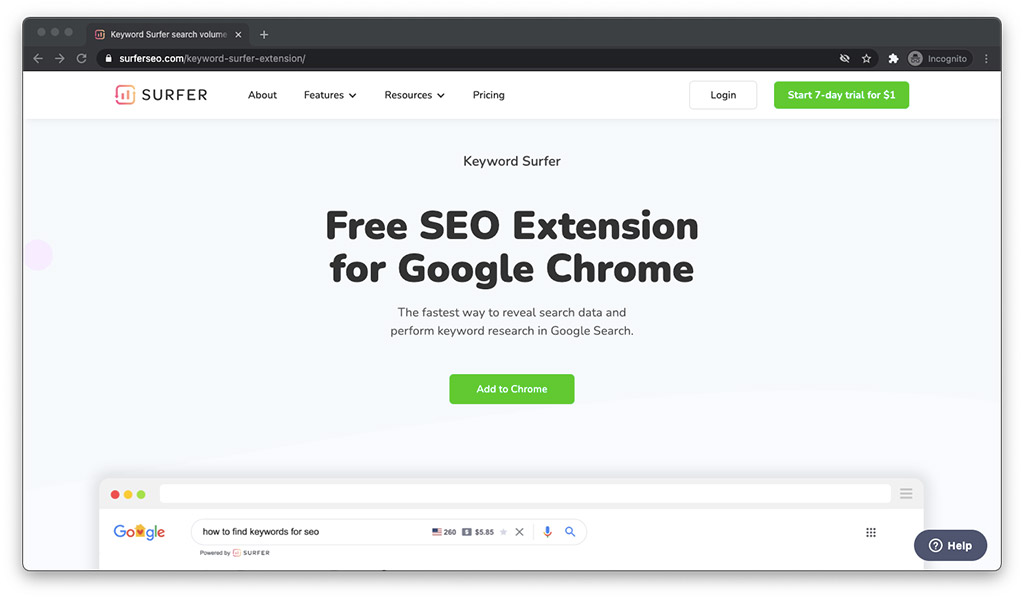 Keywords Surfer is a Google Chrome extension for SEO keyword research that's 100% free. 
Think of it as a trimmed-down alternative to Keywords Everywhere. It works exactly like it, but only in Google Search and only on Google's Chrome browser.
Surfer, the company behind the tool, says it plans to keep it that way forever. This seems plausible when you consider that it's an excellent way to attract customers for their paid software suite, Surfer SEO.
To try Keyword Surfer out, all you need to do is find the extension on the Chrome Web Store, install it on your Chrome browser, and start using Google Search as you'd normally do.
For each of your search queries, Keywords Surfer will show you the estimated search volume and CPC on Google AdWords, and generate a list of keyword ideas.
Consider Keywords Surfer if:
You're looking for a free alternative to Keywords Everywhere, you do 100% of your keyword research in Google Search, and you don't mind not seeing search data anywhere else, including Google Analytics or Search Console.
---
Semrush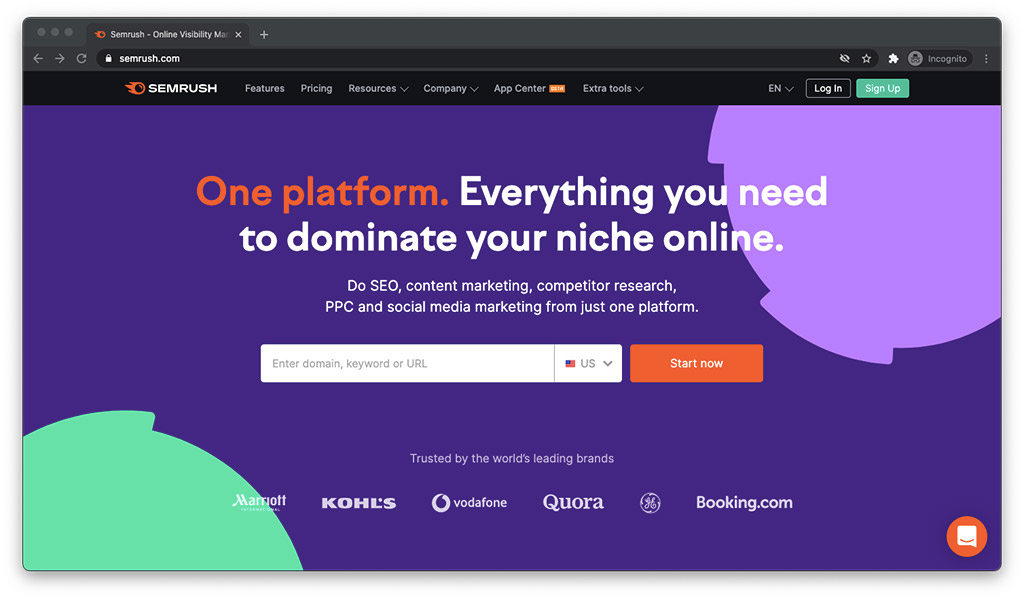 Semrush started out as yet another SEO tool in 2008.
It grew popular with higher-end SEO agencies and Fortune 500 companies pretty quickly, which is probably why it pivoted to become an "online visibility management platform."
Of all Keywords Everywhere alternatives on my list, this one is the most comprehensive and powerful. Semrush aims to turn into the only tool for managing your online presence that you'll ever need, and keyword research is one of the many features that help it get there.
Semrush allows you to do thorough SEO/SEM research, including content marketing, keyword research, rank tracking, backlink tracking, and competitor research.
In recent years, Semrush expanded its functionality into display ads research, including audience research, ad research, and competitor ad research (similar to other tools for the job, like SparkToro).
Last but not least, you can inform your social media strategy on Semrush and manage your social presence with it, including profile management, scheduled posts (like Buffer), post performance analysis, competitive profile tracking, and social ads.
As you can imagine, this turns it into one of the most expensive Keywords Everywhere alternatives on my list. When I wrote this post, the "Pro" plan sold for $119.95/month (billed monthly) or $99/month (billed annually).
Consider Semrush if:
You work in a high-end agency or a big company, and keyword research is just one of the many things you need to do for your clients or business.
---
TubeBuddy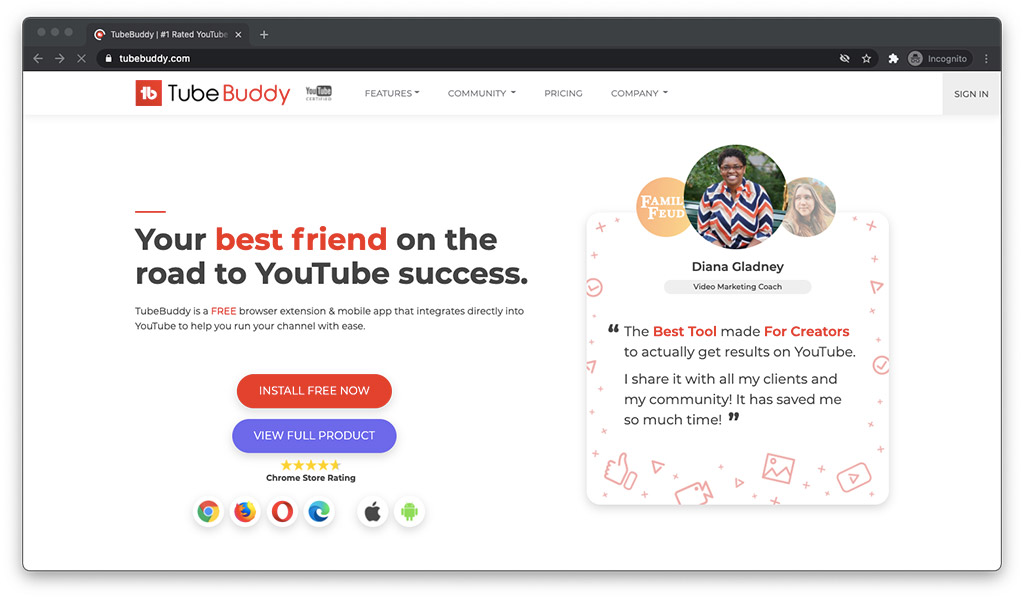 One of the things that make Keywords Everywhere so good is that you can use it… everywhere. This is why it's used by bloggers, niche site owners, Amazon sellers, YouTube channel owners.
And, when it comes to growing a YouTube channel, some of the alternatives I gave you so far aren't really relevant. That's not the case with TubeBuddy. Along with vidIQ, it's one of the two best Keywords Everywhere alternatives for YouTube channel owners.
TubeBuddy comes with so many features to help you do keyword research and rank your own videos organically on YouTube, that you'll probably have a hard time switching back from Keywords Everywhere after trying it.
TubeBuddy is a browser extension for Google Chrome, Mozilla Firefox, Opera, and Microsoft Edge. It also has a neat Android and iPhone app that allows you to do YouTube keyword research from your phone.
Use TubeBuddy to find the topics that YouTube users are actually searching for, then create the most sticky and binge-able videos possible and optimize their titles, descriptions, and tags with its scoring system.
I use it on my clients' YouTube channels—and it's been invaluable for their growth.
Consider TubeBuddy if:
You're new to YouTube or you own a channel that's started to get traction on the platform, and you need a keyword research and video SEO tool to help you take its growth to the next level.
---
Ubersuggest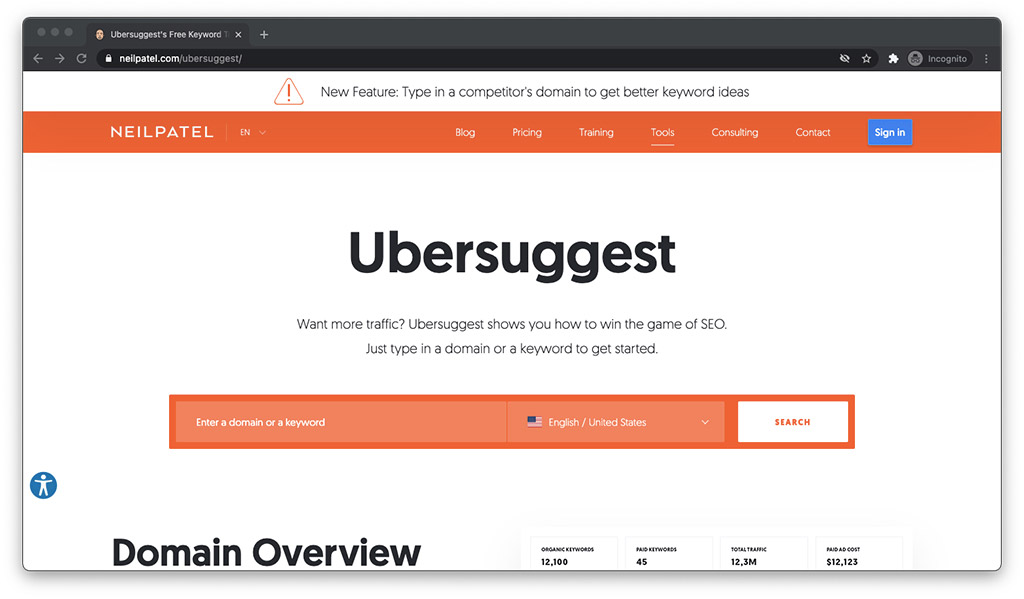 Everyone in digital marketing knows Neil Patel. I remember learning how to do blogging and SEO from his posts on QuickSprout back in the good ol' Web 2.0 days.
By now, everyone's probably heard of his SEO tool Ubersuggest, too.
Like Semrush, Ubersuggest is a Software-as-a-Service ("SaaS") application that you use from a web browser.
Unlike Semrush, it's focused only on SEO/SEM research. With a Ubersuggest account, you can do content marketing, keyword research, rank tracking, backlink tracking, and competitor research.
From the way Neil Patel and his team present Ubersuggest, I'm kind of getting the feeling that they're targeting, at least at this stage, content creators, digital marketers in small and medium-sized businesses, and SEO professionals who work in high-end agencies.
Because Ubersuggest targets a slightly different audience than Ahrefs and Semrush, it's also a few times less expensive than them. When I wrote this post (March 15, 2021), the "Individual" plan cost $29/month when billed yearly and just $290 for a lifetime, compared to $99/month for Ahrefs' "Lite" plan and $119.95/month for Semrush's "Pro" plan.
Consider Ubersuggest if:
You're a beginner or expert blogger, a content marketer who works for a company that manages its own presence, or an SEO professional in a high-end agency that focuses first and foremost on SEO/SEM.
---
vidIQ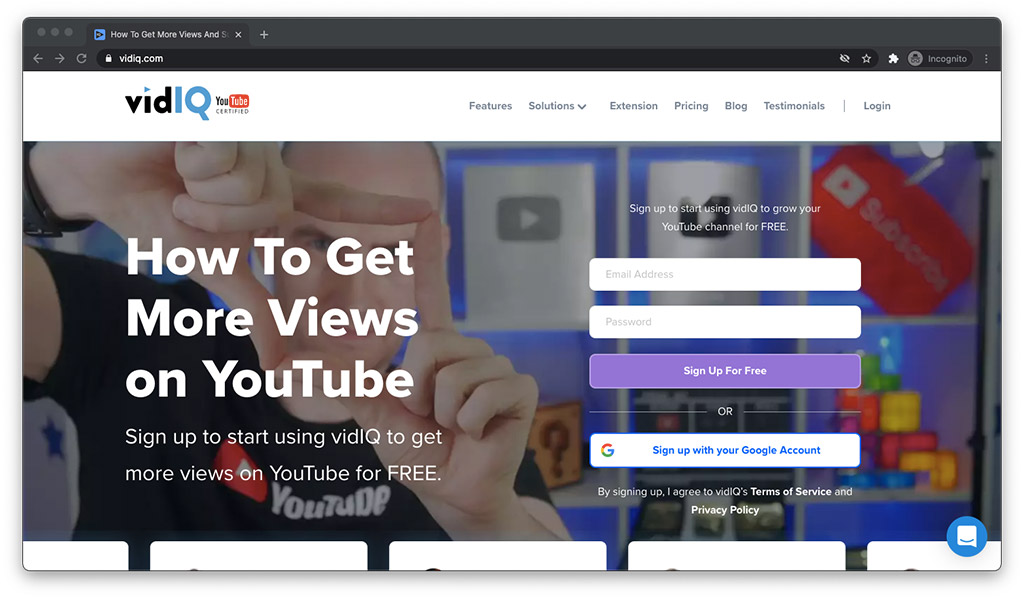 The jury's out on whether TubeBuddy or vidIQ is the better Keywords Everywhere alternative for YouTube channel owners.
But I'll tell you this: Ask anyone who uses vidIQ, and 99.9% of the time, they'll swear by this video SEO tool and its effectiveness.
Simply install vidIQ's extension for Google Chrome or add-on for Mozilla Firefox—and start searching. It will add useful information about the estimated search volume, competition, average no. of subscribers of ranked videos, as well as their average no. of views.
Like TubeBuddy, vidIQ lets you research your competitors' YouTube channels, discovering which videos on their channel have trended and why.
Many users swear by the Channel Audit features, which give you personalized insights and recommendations on what to do next so that you can grow your YouTube audience.