Whether you're an SEO professional who wants to keep an eye on their clients' rankings or a website owner who wants to track how their content is performing in the SERPs, one thing's for sure: You need a good rank tracker in your toolbox.
Of course, you could always opt for the rank tracking tools of some of the most popular SEO suites out there, like Ahrefs or SEMrush. But their plans aren't cheap, especially if you want to track rankings for many websites and hundreds—or even thousands—of keywords.
And this is where SERP Robot, a simple and affordable rank tracking tool, comes in. If you want to track keyword rankings on a budget, you should put this tool at the top of your list. (Yes, there's a free 14-day trial with no strings attached.)
What Is SERP Robot?
SERP Robot is a web-based SEO rank tracking tool that lets you track your websites' rankings in the SERPs.
It has all the features you need in a tool of this type, including support for an unlimited number of domains (or specific pages) and the ability to track rankings for as many keywords as you need.
You get to determine the Google geography, the device, the country, and the language you'd like SERP Roboto to monitor your website's ranking on, and you can even keep an eye on your competitors while you're at it.
If you are an SEO professional or you work in an agency, you can give view-only access to your clients' rankings at SERPReports.com or generate white-label PDF reports that you can brand with your own logo.
If you work in a big company that likes to generate its own reports in PowerBI or Tableau, SERPRobot even has a reporting API that lets you get all the data you need for your tracked websites and their rankings.
It's an amazing tool, really, and a true SEO workhorse.
How SERP Robot Works
It's simple, really.
You start by hiring bots and creating a project.
A bot is a virtual worker with the capacity to check rankings for a given number of times per 24 hours. A project is a single tracking task for the robots that you've hired.
You can track a website or a single URL and emulate any device, country, or language.
Create a Project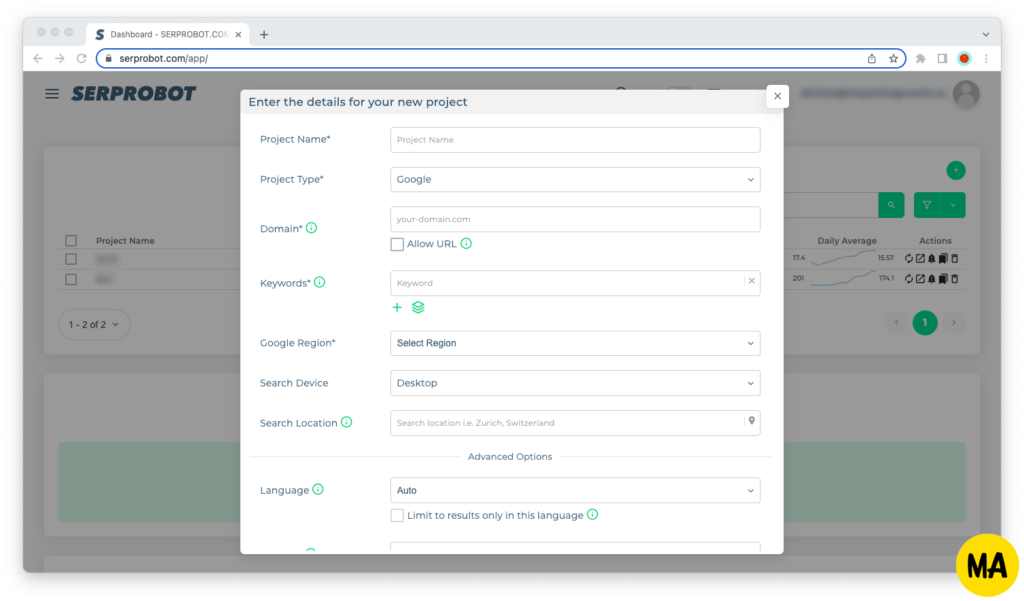 During the setup of the project, SERP Robot will ask you about the domain or URL to look for in the SERPs, as well as the Google region, the device, the country, and the language that you want it to emulate.
Once you've created your project, SERP Robot will get down to work. It starts googling the terms that you gave it, with the settings you set for device, country, and language, and collecting information about what position—if any—your site appears in.
Track and Analyze Your Rankings
Depending on the number of keywords you just added to your brand new SERP Robot project, it can take the tool anywhere from a few minutes to a few hours to generate the first report, which looks like this: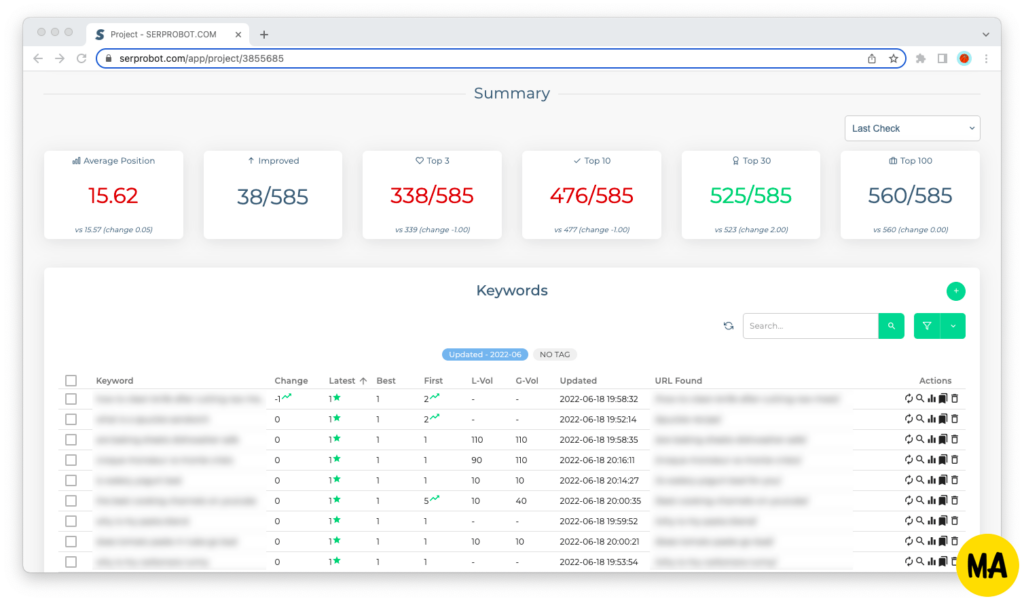 The "Summary" tab gives you a bird's-eye view of your website's average position and the number of improved rankings since the last report, as well as the total number of URLs in the Top 3, Top 10, Top 30, and Top 100 positions of the SERPs.
For each keyword, SERP Robot shows you the change since the last report, the latest position, the best position, the first position, as well as the estimated search volume locally (L-Vol) and globally (G-Vol) for that term.
From the icons on the right, you can do an ad-hoc check for your website's position for a keyword, go to the Google SERPs, plot your rankings on a visual graph, add a tag, or delete the keyword from your project.
If you click into the keyword, you will see who else is showing up in the search results. A neat—and undersold—feature of SERP Robot is that you can view and export your website's full history for any given keyword; really useful for troubleshooting fallen rankings.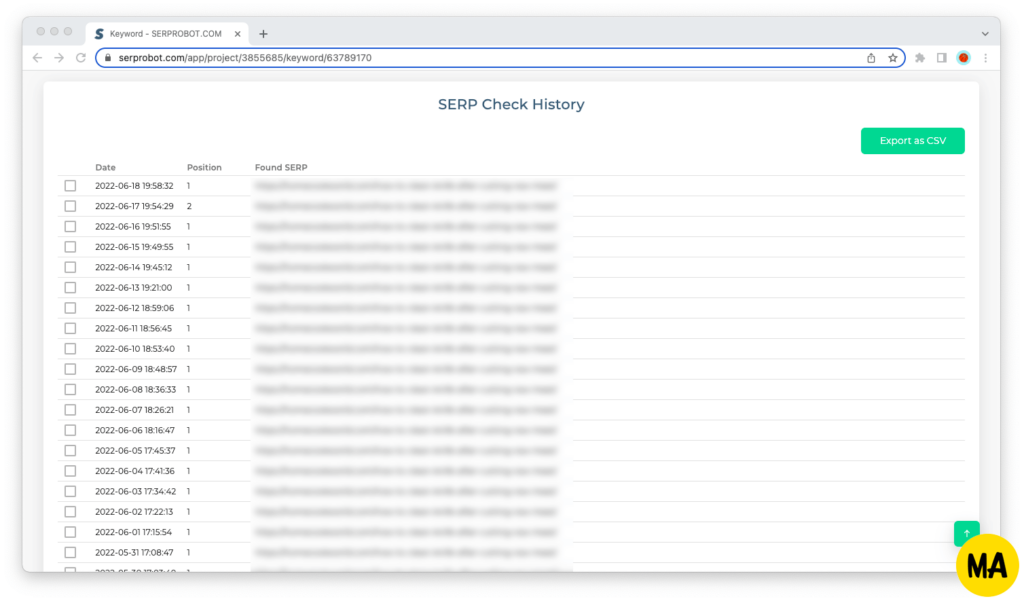 Keep Tabs on Your Competitors' Rankings
As you can see from the screenshot below, SERP Robot lets you make a number of tweaks to your projects: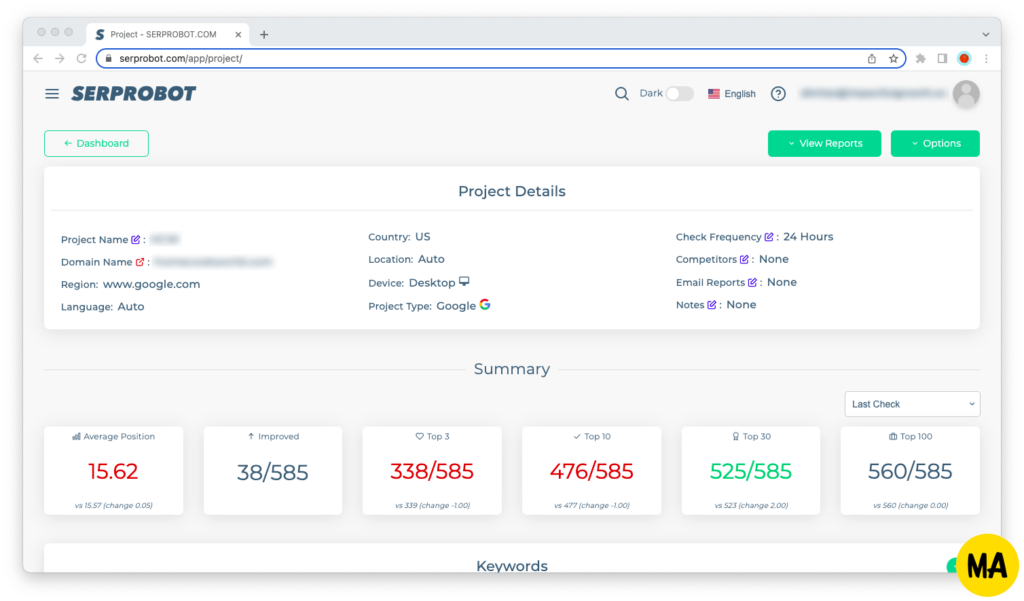 You can set the frequency of ranking reports to any period of time, from once every 2 hours to once a year, and subscribe yourself or others to updates of these reports via email.
You can also add the domain names of your competitors so that you can compare their rankings with yours. I've found this feature to be extremely useful with Google algorithm updates. No matter if your site is moving up or down, competitor tracking lets you see if these changes affected your site specifically or everyone else in your niche.
How Much Does SERP Robot Cost?
SERP Robot lets you track up to 10 keywords daily for free.
You can stay on the free plan forever. If you want to scale up, you need to hire SERP robots. Each robot has the capacity to check the rankings for 300 keywords per 24 hours. There's a 14-day trial, then you can pay via credit card (they use Braintree as a payment gateway) or PayPal.
SERP Robot starts at $4.99/month ($59.88/year) for 300 keywords and can be scaled to any number of websites and keywords you need to track. Here's how the price for this tool changes from 300 to 300,000 keywords tracked:
| No. of Robots | Keywords per 24 hours | Monthly Rate | Annual Rate |
| --- | --- | --- | --- |
| 1 | 300 | $4.99/month | $59.88/year |
| 2 | 600 | $9.98/month | $119.76/year |
| 3 | 900 | $14.97/month | $179.64/year |
| 4 | 1200 | $19.96/month | $239.52/year |
| 5 | 1500 | $24.95/month | $299.40/year |
| 6 | 1800 | $29.94/month | $359.28/year |
| 7 | 2100 | $34.93/month | $419.16/year |
| 8 | 2400 | $39.92/month | $479.04/year |
| 9 | 2700 | $44.91/month | $538.92/year |
| 10 | 3000 | $49.90/month | $598.80/year |
| 100 | 300,000 | $4,990/month | $59,880/year |
SERP Robot pricing plans
I have two robots: One with a capacity of 25 daily keywords from SERP Robot's old free tier, and another with a capacity of 900 daily keywords that I pay for monthly ($14.97/month). This gives me a total tracking capacity of 925 keywords per 24 hours, which is just enough for what I need for my websites.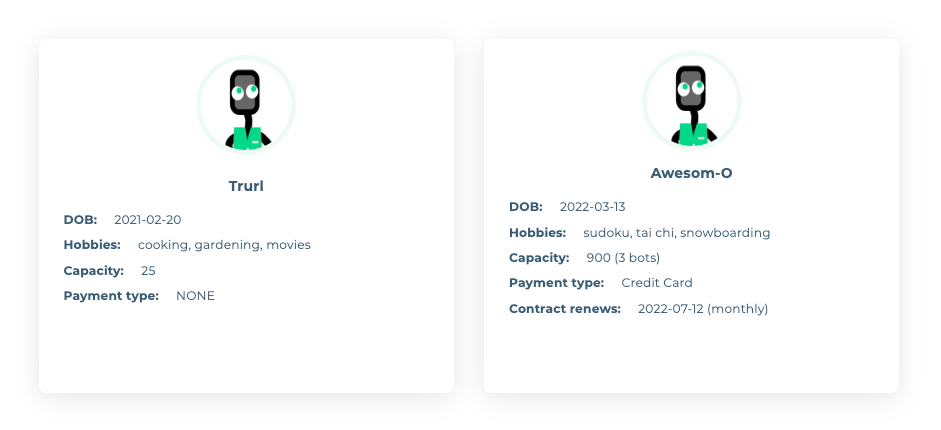 I can divide this capacity among any number of websites at will. In other words, it doesn't matter if I track just one website or ten websites; I receive 900 keyword checks a day, which I can divide up as I see fit.
SERP Robot Alternatives
At $29/month and $290 for a lifetime subscription, Neil Pattel's Ubersuggest lets you track 100 keywords on 1 website. Its Agency plan lets you track rankings for up to 200 keywords on up to 15 websites. (Check out my Ubersuggest review here.)
Ranktracker, which brands itself as an all-in-one SEO tool, lets you track rankings for 100 keywords for $14.40/month and 500 keywords for $47.20/month. (There are also pricier plans for rank tracking on 1,000 and 2,000 keywords.)
Link Assistant is an old-school desktop SEO app that lets you track rankings for an unlimited number of websites and an unlimited number of keywords for just $149/year.
Is SERP Robot Worth It?
SERP Robot is absolutely legit and totally worth the money. If you're looking for a rank-tracking tool that won't break the bank and that can scale to as many websites and keywords as you need to track, then SERP Robot is undoubtedly one of your best options out there.
The tool used to have a much uglier interface, as you've probably seen from the screenshots of some older reviews by others on the Internet, but the team cleaned it up and released the version you see in the screenshots a few months ago.
SERP Robot does exactly as advertised, and that's what I love about it. It's where I go to check on my websites' rankings and analyze their ups and downs; nothing less, nothing more.
Thanks for reading this far, and I hope this review helped! To learn more about SERP Robot, head on over to the tool's website.