Rytr is an AI copywriting assistant that can help you write copy and write copy for you for various use cases, including blogs, websites, landing pages, ads, emails, product listings, job postings, and others.
Under the bonnet, Rytr is powered by OpenAI's GPT-3, the same text-in, text-out AI algorithm that Jarvis and Writesonic use. On top of that, Rytr's team says that they've added a "proprietary layer of best practices and templates" to the algorithm.
While it's hard to tell if that proprietary layer is just marketing speech (I'd assume that Jarvis, Writesonic, and any other piece of software that uses this algorithm has been trained with a proprietary set of templates in one way or another), one thing's for sure: Rytr generates articulate, engaging, and diverse copy that can help you ideate and create content faster.
First Impressions From Using Rytr
Rytr's user interface is simpler than that of other apps and allows you to focus on what you opened the app to do: ideate, generate, and edit text.
As soon as you've logged in, you see a screen with a top bar, a sidebar to the left, and a list of files and folders to the right. Rytr feels like something you're used to using, even if this is your first time opening the app.
The same can't be said for most of the other AI copywriting assistants out there that can take you quite a while to figure out. For example, the first time I tested out nichesss, I felt overwhelmed by the lack of a coherent experience.
The top bar allows you to navigate between three screens: one for organizing and generating copy, another for your history of generated texts, and a third one for managing your account's settings.
Working with Rytr feels very much like using Google Docs. You get a list of all the pieces of content you've created with the app, which you can open, delete, rename, or group into folders.
Folders are not required, but they help you keep things organized. Especially when you consider that, at this stage, Rytr doesn't have a search feature, so finding older pieces of content you've generated with the app can be burdensome.
After much trial and error, I recommend coming up with a pattern—for example, one folder per client, project, or website—and sticking to it rigorously. Trust me; your future you will be thankful.
As a user who likes to keep their files and organized, I found it annoying that I couldn't move an existing document into a newly-created folder, whether by drag-and-dropping it or clicking on the three dots to the right.
Correction (August 27, 2021): You can now move a single file to another folder in Rytr by clicking on the three dots to the right of the screen. While convenient for moving one file, it would be great to be able to select and move multiple files some time in the future.

You start by selecting a language, setting a tone, choosing a use case, and feeding the algorithm with some sort of inputs. These inputs are language, tone, use case, and your specific instructions.
What Languages Does Rytr Support?
On the day of publishing this review, Rytr had 30 languages, including Arabic, Bulgarian, Chinese (S), Chinese (T), Czech, Danish, Dutch, English, Farsi, Finnish, French, German, Greek, Hebrew, Hindi, Indonesian, Italian, Japanese, Korean, Malay, Norwegian, Polish, Portuguese, Romanian, Russian, Spanish, Swedish, Thai, Turkish, and Vietnamese.
Rytr wrote in two dialects of Chinese, but it could only generate copy in American English. Researching this on the Internet, I found that a few of its users had already voiced the need for British English.
What Tones of Voice Can Rytr Write With?
You can select from 21 tones that alter the way your copy comes across for its readers, including appreciative, assertive, awestruck, candid, casual, cautionary, compassionate, convincing, critical, earnest, enthusiastic, formal, funny, humble, humorous, inspirational, joyful, passionate, thoughtful, urgent, and worried.
What Use Cases Does Rytr Generate Copy For?
What other tools call types (Writesonic) or templates, (Jarvis) Rytr refers to as use cases.
You can choose from a good few use cases, which can generally be grouped into ten categories: blogging, creative, hiring, long-form writing, marketing, product, SEO, social, startups, and work.
Below, I've made a list of all the Rytr use cases available to me on the day of publishing this review:
Blogging

Developing ideas and outlines for blog posts
Writing parts of blog posts

Creative
Hiring

Coming up with interview questions
Writing job descriptions

Long-form writing
Marketing

Landing page and website copy
Tagline and headline
Using the AIDA framework to present information
Using the PAS framework to give information

Product

Product descriptions
Product descriptions (in bullets)
Testimonials and reviews

SEO

SEO meta titles
SEO meta descriptions

Social

Copy for Facebook, Google, or LinkedIn ads
Post and caption ideas
YouTube channel description
YouTube video idea
YouTube video description

Startups

Creating pitches for business ideas

Work

Profile bio
Writing emails
Last but not least, whenever you generate copy with Rytr, you can decide how many variants you'd like it to generate (three being the maximum number), which would matter to you only if you're on the Free plan or a promotional plan with limited characters.
My Experiences Generating Copy With Rytr
As with any AI copywriting assistant, Rytr is more capable of writing coherent and trustworthy copy on some topics than it is on others.
It's great at spewing out introductions, opinions, and stories, but you need to take any checklists, facts, and steps coming from its engine with a grain of salt, and check them thoroughly.
This is not a fault specific to Rytr, but a shortcoming of AI copywriting assistants powered by the GPT-3 algorithm as a whole. The entire field of machine-powered text generation is evolving fast, and I'm sure this will improve over the years. But, for the time being, it's something for publishers like you and me to be cognizant of.
Suppose you need an introduction to a blog post. You can select Rytr's Blog Section Writing use case and give it the title of your post or—in my experience, better—give it a Magic Command in the likes of "Write an introduction to a blog post titled, 10 Reasons to Use a Ballpoint Pen".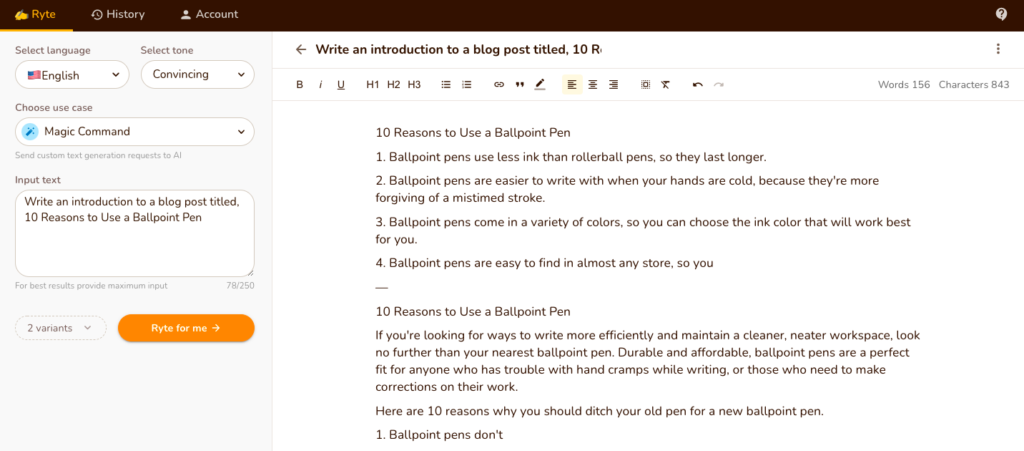 The exciting thing about giving Magic Commands to Rytr is that you never know exactly what you're going to get back. Obviously, more variants are better as they allow you to ignore random trails of AI thought and pick from the most accurate and compelling pieces of copy.
As long as you don't expect Rytr to do 100% of the work for you and understand that, in the current state, AI copywriting assistants are more like a copywriting buddy that helps you spin angles than a ghostwriter on a subscription basis, the chances are that you'll be satisfied with the results you get.
I know I was.
As for my listicle on ballpoint pens, here's what I got back:
If you're looking for ways to write more efficiently and maintain a cleaner, neater workspace, look no further than your nearest ballpoint pen. Durable and affordable, ballpoint pens are a perfect fit for anyone who has trouble with hand cramps while writing, or those who need to make corrections on their work.
The above is an unedited, copy/pasted extract from one of the two variants that I asked Rytr to generate using a Magic Command. In many cases, the app does a better job at writing introductions to blog posts than I could have myself.

Feature-wise, the long-form editor is fantastic. Select a phrase, sentence, or paragraph from 30 to 300 characters, and Rytr's contextual menu will pop up.
From the contextual menu, you can give magic commands to the AI algorithm or instruct it to rephrase, improve, expand, or shorten a chunk of text, as well as turn it into an entire paragraph or append certain words at the end of it.
If you're into copywriting assistants, you know that this is where the true magic happens, as you and the algorithm join forces to create ad copy that catches attention, blog posts that keep readers engaged, and SEO titles or descriptions that entice searchers to visit your website.
Long-form text editing and magic commands are features that many other tools tend to limit to their highest-end subscription plans—and an area where Rytr gives you unrivaled value for the price that they charge.
Still, you can only select extracts of text up to 300 characters long. More often than not, this can be an annoyance that you have to work around as you edit and iterate on content, and I hope that this limit only gets higher over time.
There's also the built-in plagiarism checker—available to all users at no additional cost—which you can use to determine the uniqueness of the content spewed out by the app.
Is Rytr-Generated Copy Unique?
One question I see many people asking about Rytr and the tools in this field as a whole is about the uniqueness of the copy. The copy generated by Rytr is about as unique as any text written by an algorithm that has learned how to type by reading other people's work can get.
AI copywriting assistants can help you approach a topic from a set of different use cases and tones of voice. It's one thing to write a humorous ad about the latest ballpoint pen, for example, and another to create a convincing blog post that explains why you should use one.
But don't expect the apps in this field to do thorough research instead of you; they won't win you the Pulitzer Prize.
How Much Does Rytr Cost?
Rytr has a simple pricing structure with a Free plan that lets you generate up to 5,000 characters/month and a Premium plan for $29/month (or $290/year when paid annually) that allows you to generate an unlimited amount of characters.
Plan
Limits
Price
Rytr Free
Up to 5,000 characters
Free forever
Rytr Premium
Unlimited characters
$29 paid monthly
or $290 paid annually
Occasionally, Rytr will issue promotional plans that may offer limited characters at a lower price. For example, I bought a lifetime subscription that lets me generate up to 50,000 characters/month for a one-time fee of $39.
Its list of use cases falls short of Jarvis' 50+ short-form copywriting templates. But, when you consider that Rytr Premium—the plan that gives you access to an account manager, priority support, and the ability to generate unlimited copy—costs $29/month, it's a pretty sweet deal.
For comparison, Jarvis' Boss Mode costs $119/month. So Rytr will set you back $290 paid annually, while Jarvis will cost you as much as $1,188. For a blogger or small business owner, that's a sizeable amount of money that you could invest elsewhere, be it in human copywriters for your blog or buying ads for your business.
Is Rytr Worth It?
Based on the GPT-3 algorithm, Rytr is a simple but powerful AI copywriting assistant with plenty of templates and a long-form text editor. At a price point of $29/month (or $290/year billed annually), it's definitely worth the money.
If you're looking for an affordable AI copywriting assistant that can rival the features and text quality of "the big guns" such as Jarvis and Writesonic, Rytr should, without a shadow of a doubt, be somewhere on top of your list.