If you want to become good at SEO for your blog, you need to become great at keyword research.
Your ability to find high-traffic, low-competition keywords can be the difference between writing posts that never rank on Google and creating content that brings in hundreds of thousands of organic visitors every month.
Since social media no longer plays a big role for most bloggers these days, good keyword research is pretty much the only way to turn your blog from a hobby to an occupation. And, to do keyword research, you need a keyword research tool.
In this post, I'll introduce you to RankIQ.
RankIQ is one of the most used tools in my toolbox, and one that's helped me drive tens of thousands—if not hundreds of thousands—monthly visitors from the Google SERPs to my blogs.
What Is RankIQ?
RankIQ is an SEO keyword research tool created by Brandon Gaille of The Blogging Millionaire Podcast.
In its simplest form, RankIQ has a keyword library, creates AI-powered content briefs, and helps you write optimized blog posts that rank on the first page of Google. It's a competitor of Surfer SEO and Frase.
Using its own AI algorithm, RankIQ finds keywords for you. You select the keywords you want to write about and add them to a keyword list. Then you perform an analysis for each of these keywords and write optimized content for them.
Keyword Library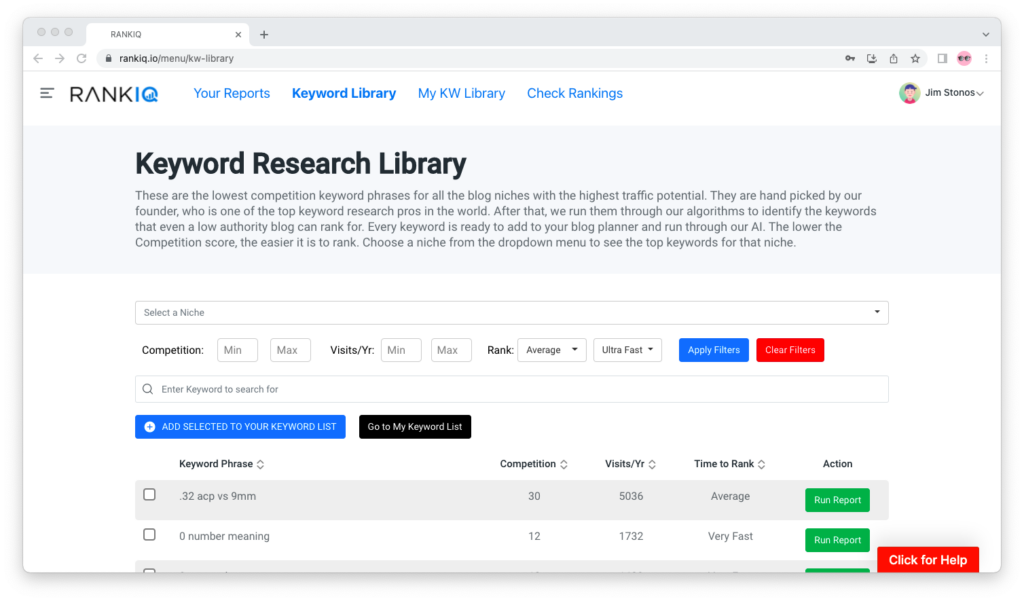 RankIQ uses the power of AI algorithms to provide you with a keyword library of hundreds of thousands of low competition, high traffic potential keywords in dozens of niches that you can write about today and rank for soon after.
The keyword library is one of the things that makes RankIQ unorthodox compared to the rest of the SEO tools I use. While other keyword research tools let you discover your own keywords, RankIQ does the heavy lifting for you.
All you have to do is open RankIQ, go to "Keyword Library," and then select your niche—and you will get a few pages with keywords that you can add to a list, run reports on, and optimize content for. It's as if you have the most SEO-savvy virtual assistant on earth!
Content Briefs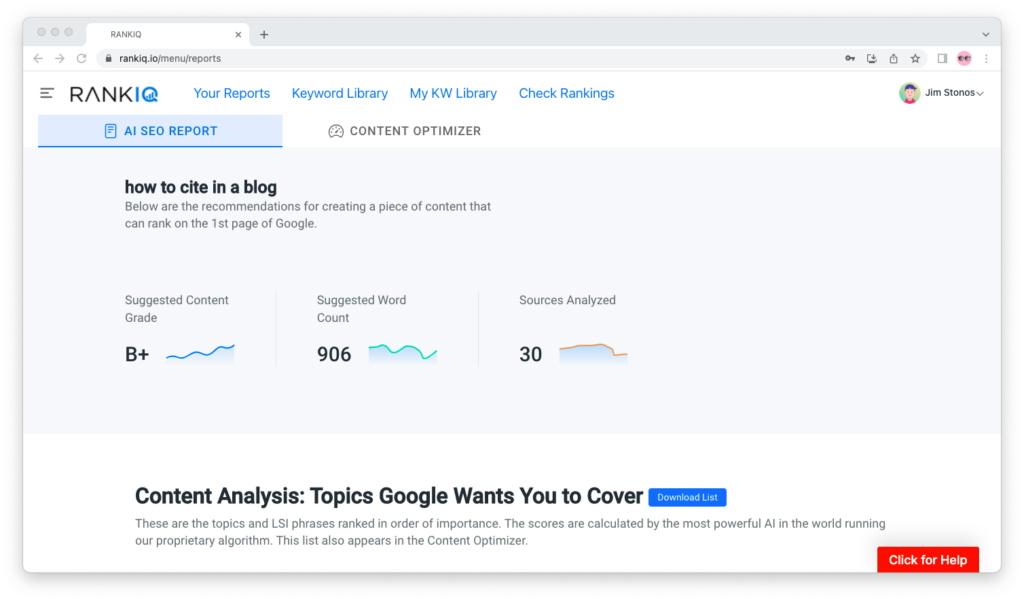 Choosing a good keyword is just the beginning of a bigger process.
For your blog post to have a high chance of ranking on the first page of Google, you need to know what topics to include in it.
Why is this important, you asked?
Since it introduced search intent—the goal that a user has when googling something—to its ranking algorithm, Google started to look for articles that meet the searcher's intent and rank them higher in the SERPs than those that assumably don't.
For us bloggers, this means that Google has a very clear picture of the topics it expects from us in each blog post if it wants to display it at the top of the SERPs. Posts that touch on these topics are considered more complete, among other factors, and thus better able to meet the searcher's intent.
How does RankIQ help you identify those topics?
By using the same analysis techniques as Google does, then generating content briefs to inform your writing.
To generate content briefs for keywords, RankIQ performs LSI (Latent Semantic Indexing) analysis on the sites that already rank for these keywords in the SERPs to tell you how long your text should be what topics to include in it.
Each content brief includes:
The topics and exact phrases to include in your blog post, in order of highest to lowest score;
An analysis of the titles in the <title> tags that Google likes the most, with an overview of the top keywords appearing in them;
A list of the pages with the highest-scoring content to give you clues for how to outline your post.
RankIQ's content briefs are complete and comprehensive; they are the only thing you need to write a blog post that has the best chance of ranking high in Google's SERPs.
Content Optimizer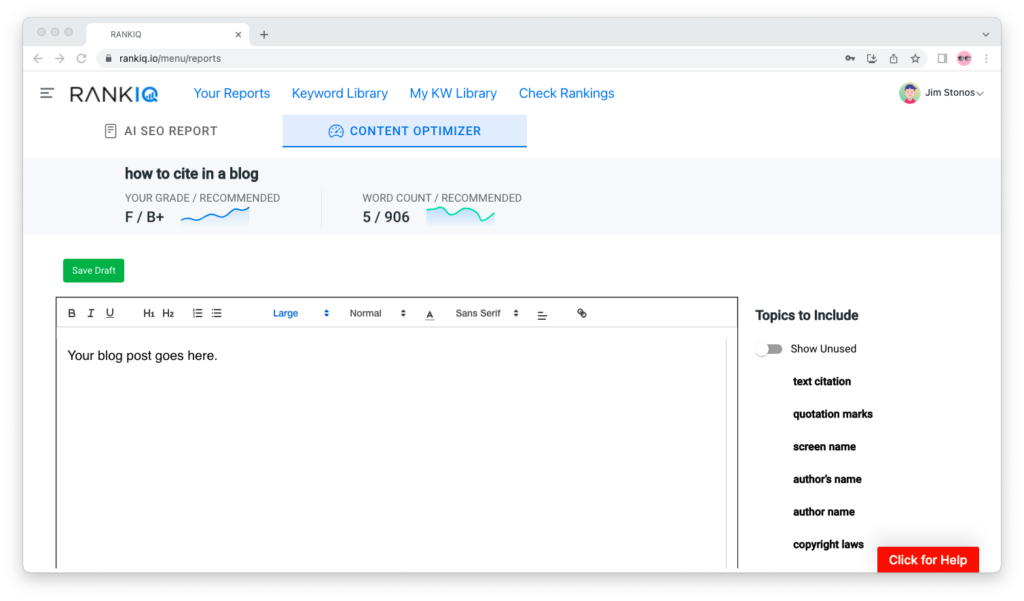 So you flicked through RankIQ's keyword library, put together a list of keywords you want to write about, and generated content briefs for each of those keywords. Time to roll up your sleeves and start writing!
This is where the content optimizer comes into play.
The content optimizer in RankIQ is a simple, web-based text editor that suggests how long your blog post should be and what topics and exact phrases you should include in it to give it completeness (from the point of view of semantics).
You can write your blog post directly in the content optimizer. Or, if you prefer to write them elsewhere, you can do as I do and copy/paste them every now and then to check which topics and exact phrases you have covered and which ones you still need to cover.
If you've tried Surfer SEO's content editor, you'll notice that RankIQ's content optimizer tells you what words and phrases to include, but doesn't tell you how many times to include them.
We can debate endlessly about which is better and I have no data to prove either side is right or wrong. What I can tell you, though, is that I never follow such recommendations 1:1 because I don't want my blog posts to appear over-optimized.
So I prefer the non-prescriptiveness of RankIQ's content optimizer.
Traffic Analyzer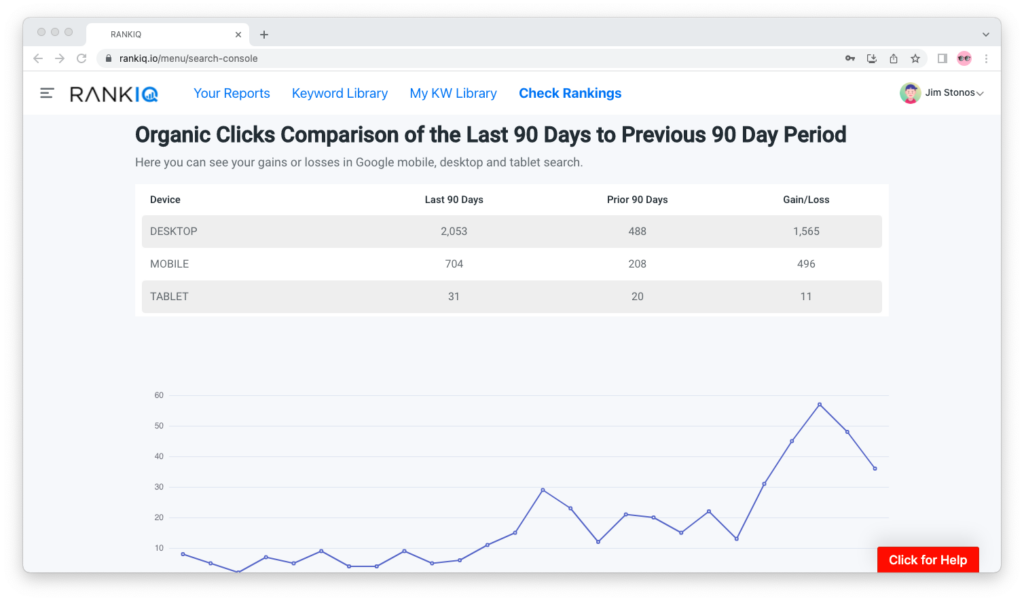 With RankIQ, you can connect your Google Search Console account and run a traffic analysis on any of your sites to discover:
Which keywords drove you the most traffic in the past 28 days;
How your organic clicks in the last 90 days compare to the previous 90-day period;
Which pages experienced the biggest increase in organic traffic in the last 90 days;
Which pages experienced the biggest drop in organic traffic in the last 90 days.
I use the traffic analyzer at the end of each month for all my sites because it helps me identify which posts have lost organic Google traffic and therefore need to be updated.
As posts get older, new competition comes in and steals some of your traffic. If you update older posts by expanding them with additional questions and answers and adding Canva illustrations, you can keep (and even grow) their traffic.
On the other hand, the posts whose organic traffic has increased in the last 90 days are great for building links to, external or internal. You should do everything in your power to maintain the growth curve and ensure that your best-performing content is difficult to compete with—link building helps you do exactly that.
How Much Does RankIQ Cost?
RankIQ costs $99/month, but is currently discounted by 50% and available for a price of $49/month.
For this price you will receive 16 AI-powered reports with a content brief and the content optimizer per month. Reports reset on the 1st of each month; unused reports expire and don't carry over to subsequent months.
This makes it more affordable than other AI-powered content optimization tools out there, especially when you consider the amount of money that they charge for LSI analysis.
Who Is RankIQ For?
If you're a beginner blogger—and you want to focus your time and energy on writing posts that have a higher chance of ranking on Google and bringing you thousands of organic visitors—RankIQ is one of the best SEO keyword research tools for you.
If you're an experienced blogger or website operator and want to equip your editorial team with a simple content briefing and optimization tool, you should put RankIQ at the top of your consideration list. It doesn't have all the bells and whistles of MarketMuse, Surfer SEO, and Frase, but that's also what makes it so easy to use.
If you're a content agency or freelance writer looking for a tool to help you create SEO-optimized content for your clients without having to deal with all the technical stuff, you should try RankIQ.
Who Is RankIQ Not For?
If you are an SEO professional, there's a good chance you will find RankIQ too basic and limited for your needs (it is, after all, a tool first and foremost for bloggers). Consider an alternative with more advanced features.
If you are a power user of SEO suites and looking for a SERP analysis tool with tons of data, you will be disappointed if you try RankIQ. It's a library of keywords with a content optimizer and a traffic analyzer, but it's not an alternative to Ahrefs or SEMrush.
The Bottom Line
Built by a blogger for bloggers and currently available at just $49/month, RankIQ is an AI-powered keyword research and content optimization tool that's well worth the money.
It's not for everyone, but then again, no SEO tool is. You'll probably love it if you are looking for a simple and straightforward tool to figure out what to write about and how to write in a way that will get your posts on the first page of Google.
I know I did.