The World Wide Web's changing, my friends. With generative AI tools like ChatGPT widely available — and ridiculously affordable — and Google no longer frowning at AI content, the floodgates have opened.
Everybody's using AI to create content, from big business to big media to indie publishers to self-published book authors, and the Wacky Races for who can create the highest-quality content the fastest and the cheapest are now officially on.
But before you hop on The Mean Machine and start spewing out thousands upon thousands of AI-written pages for your website to Muttley's evil laughter, hold your horses. Remember that these large language models are trained on billions of pages of other people's work, and that other users can get the same outputs from their prompts as you do.
If you're serious about your brand or blog, you want to — scratch that, you absolutely and positively need to — check your content for AI detection and, above all, plagiarism. Why? Because originality is what keeps you on top of the search results, and what protects you from infringing on other people's copyright.
Search for AI detection tools on Google, and it won't take you long to conclude that there are many tools for the job out there. But the one that particularly stands out is Originality AI.
And today, we're putting it to the test.
What Is Originality AI?
Originality AI is a plagiarism checker and an AI detector for both your written content and your website as a whole.
It's basically an AI model for detecting the outputs of AI models, which, as anyone who's fooled around with generative AI long enough knows, tend to have a structure and a tone of voice that's highly predictable unless you're really good at prompting.
Originality.AI can detect the outputs of the GPT-2, GPT-J, GPT-NEO, and GPT-3 large language models, according to its creators, by giving you back a confidence score for how likely an article is to be written by a human author vs. an AI model according to its assessment.
Remember, this is a probabilistic guess — not a definitive judgement. And yet most of the time, that guess is true.
How Does Originality AI Work?
How Originality AI works is, you sign up for the tool, buy credits (1 credit costs $0.01 and covers 100 words), and then, well, you use it.
Text Scanning
To scan a single piece of content you haven't published yet, simply go to the "Start New Scan" tab, copy and paste it into a text box, then let the tool work its magic and keep your fingers crossed you don't have too much to rewrite!
To give Originality AI a try, I fired up my browser, opened ChatGPT, and prompted: "How do large language models work?" It gave me exactly 258 words back, as you can see in the below screenshot.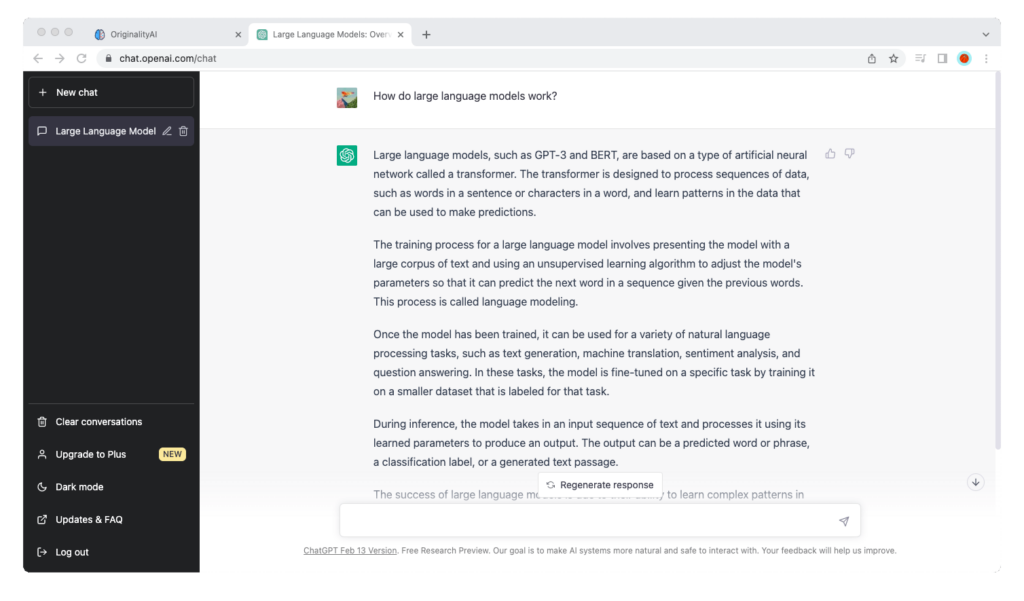 I then copied ChatGPT's text, pasted it into Originality AI, and scanned it for both AI detection and plagiarism.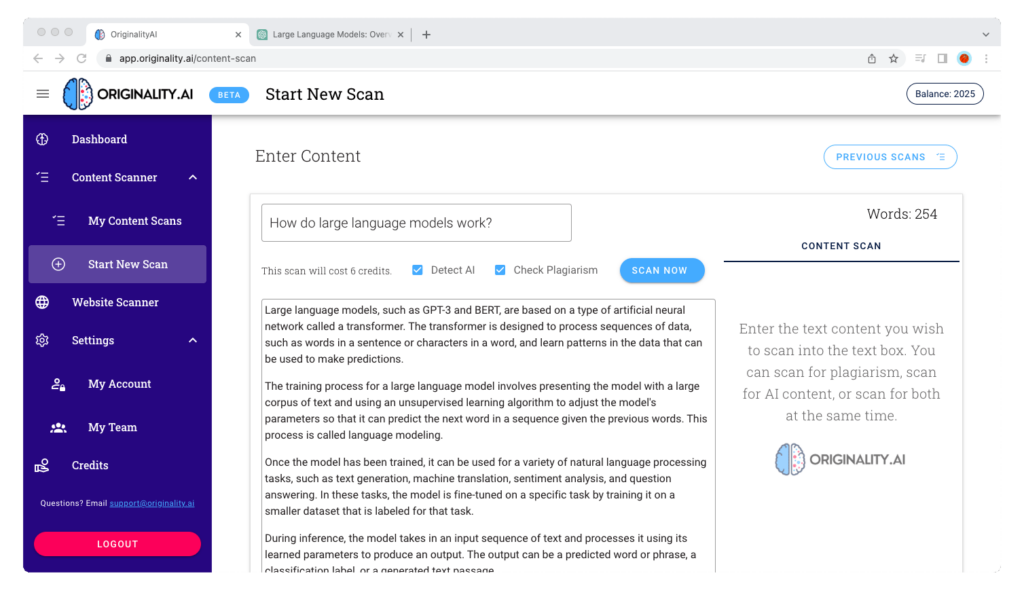 The results?
Yikes!
86% AI content, of which 10% was plagiarised word-by-word from somebody's post on LinkedIn. Whether that somebody also used ChatGPT to generate that part of their post is an open question, and part of the perplexity of copyright on the web.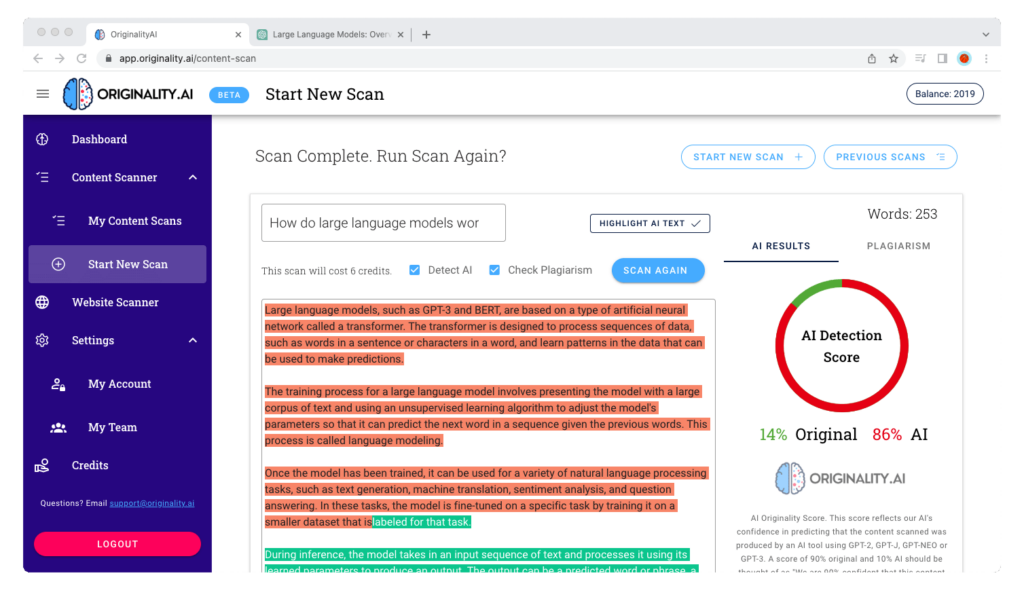 I know what you're thinking… "Come on, Dim, what's the big deal? A little AI content don't hurt nobody!"
And to that I say, you're right. These days, even Google says it rewards high-quality content no matter how it's created.
But ask yourself, if your content is this predictable, is it really to the quality it needs to be? And even if so, doesn't that mean that any other brand, blogger, affiliate marketer, or book author will generate a similar output — if not the same — if they use the same prompt?
Try it out and judge for yourself. To entice you to give it a spin, Originality AI gifts you with 25 free credits at sign up, enough for checking 2,500 words. That's one long-form article or two-three shorter articles depending on what kind of content you want to scan.
Website Scanning
Originality AI can also scan your full website for both AI content and plagiarism. To do this, you'll need to make sure your website's XML sitemap is reachable by the tool, and that it isn't too large (the tool's hints say that, at present, it doesn't scan more than 1,000 pages in a single run).
Go to the "Website Scanner" tab. Hit the "Scan New Website" button in the upper-right corner of the screen, then enter your site's domain name (without "https://") into the input field and click on "Scan Now".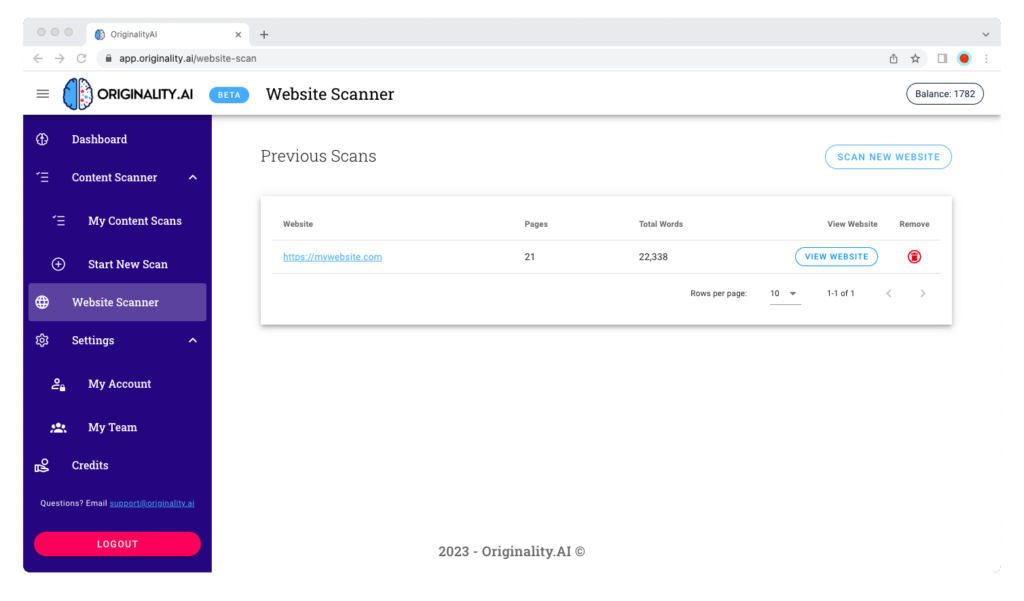 It says in the tool that the cost of credits for the website scan is determined during the scan, and is based on the total number of words for each page on the website. Be careful when scanning a big website, though — if your account doesn't have enough credits for the scan, Originality AI will automatically charge you for the remaining amount.
One thing I'm missing, and I'd like to see in future versions of Originality AI, is the ability to scan single pages instead of an entire website. However, there's a Chrome extension that you can use to scan single pages with the same results.
Enterprise Features
You can add an unlimited number of websites to your Originality AI account. And if you have a team, you can add as many team members to your account as you need to — you're billed in credits per scan, and the number of team members in your account doesn't affect the pricing.
Then, there are the Originality AI APIs. Whether you're technical or in a big organization with a team that leverages APIs for internal AI-detection and plagiarism-checking tools, you'll like the fact that Originality AI has APIs that let you request checks at a rate of 100 calls per minute, which return JSON responses.
Originality AI vs. Copyscape
Originality AI positions itself as a Copyscape alternative. Copyscape, for those not familiar with the name, is the Internet's O.G. plagiarism checker, and the tool used by many a publisher to verify the originality of their authors' and their agencies' work.
At Maker's Aid, we use Copyscape Premium. So I ran the same text through Copyscape's plagiarism checker to see whether or not I would get the same results. Curiously enough, I didn't. Copyscape gave me two instances of plagiarism, but they were both different from the one caught by Originality AI.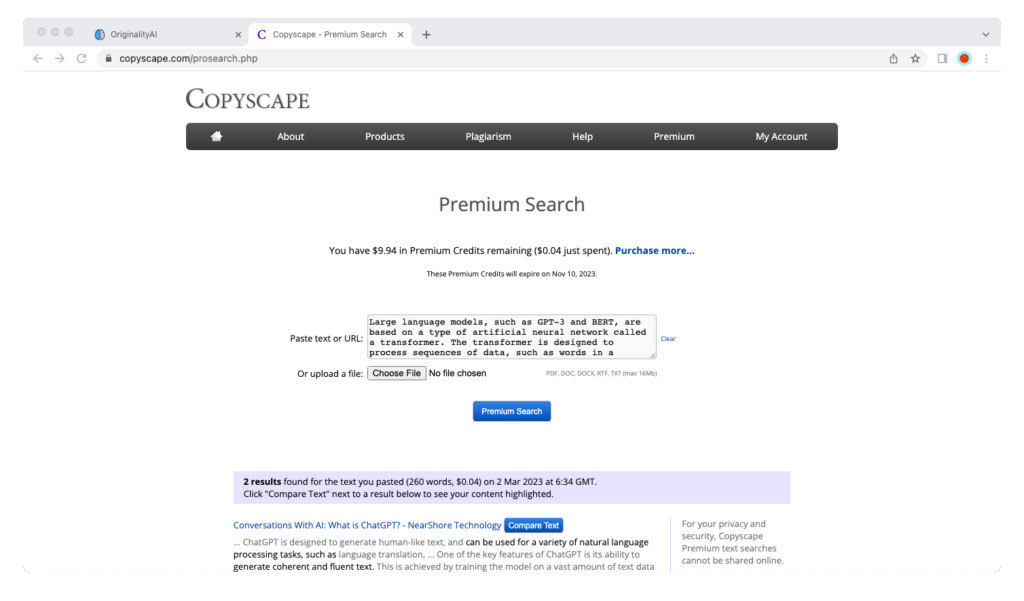 This isn't a head-to-head comparison of Copyscape and Originality AI's plagiarism checkers, and I didn't do any additional testing to compare the accuracy of the two tools. But it goes to show that no single tool, at least none of those currently on the market, can give you the full picture when checking for plagiarism on the web.
(To give you the non-advice you probably want to get anyway, if you're selecting between these tools, do your due diligence and pick the one that meets on your needs the best.)
What's worth noting, though, is the price difference. If I had only done plagiarism checking, I would have paid Originality AI $0.03 to do it. But since I also did AI content detection, I paid a total of $0.06 for what it counted as 253 words. In comparison, I paid $0.04 to Copyscape for plagiarism-checking the same amount of words.
The other notable difference is the fact that, at the time of writing this review, Copyscape doesn't have AI content detection at all. So even if you end up using it for plagiarism checking, you would still need to use another tool for AI content detection.
Bottom Line
If you use AI to create content, or buy content from freelancers and agencies, you need a tool or two for AI detection and plagiarism checking before hitting "Publish." Originality AI does both, and although the tool is still in beta, it's already making a name for itself as one of the best options out there on the market for the job.
Give it a try and decide for yourself. It may or may not be the right tool for you, but after I tested it out, I can tell you with confidence that you won't waste your time doing it.