Whether you're starting an online course or launching a membership program, you need a set of tools to help you market, sell, and share your content and community with students and members.
These tools include a website builder for your website and sales pages, a marketing automation platform for your sales funnels and email sequences, a course platform for your course content, and a place to host your community.
You could buy, learn, and integrate each of these tools separately. But that will cost you a lot of money, take forever, and give you more than one headache—before, during, and after the launch.
Or you could opt for Kajabi instead. This Kajabi review will help you determine whether or not it's the right platform for you.
What Is Kajabi?
Kajabi is an all-in-one platform for online course creators and membership site owners. It has all the important features they need to build their online presence, automate their marketing, deliver their course content, and manage their community from a single place.
If you're an online entrepreneur looking for a single platform to build and run your online business, chances are Kajabi is that platform. It will free you (and your team) from the burden of having to learn, integrate and maintain a whole stack of different platforms for your website, email list, marketing funnels, checkout pages, and online courses.
If you've looked into other tools, Kajabi is like a cross between Squarespace, ClickFunnels, ConvertKit, Thinkific, Zendesk, and Facebook Groups with all the features you need for your course and community—and none of the features you don't.
What Features Does Kajabi Have?
Website builder. Kajabi has a full-featured website builder, with different themes, that allows you to effortlessly create a great-looking, fast-loading, search engine-optimized website for your online business.
If you want to do content marketing and attract leads through organic search, you can even create a blog and publish blog posts. (Blogs are one of the features that make Kajabi great for SEO.)
Online store. With Kajabi, you can create an online store to showcase your courses, membership programs, and digital products. New and existing members can buy them without friction. And, unlike some of its competitors, Kajabi doesn't charge you a transaction fee for every sale.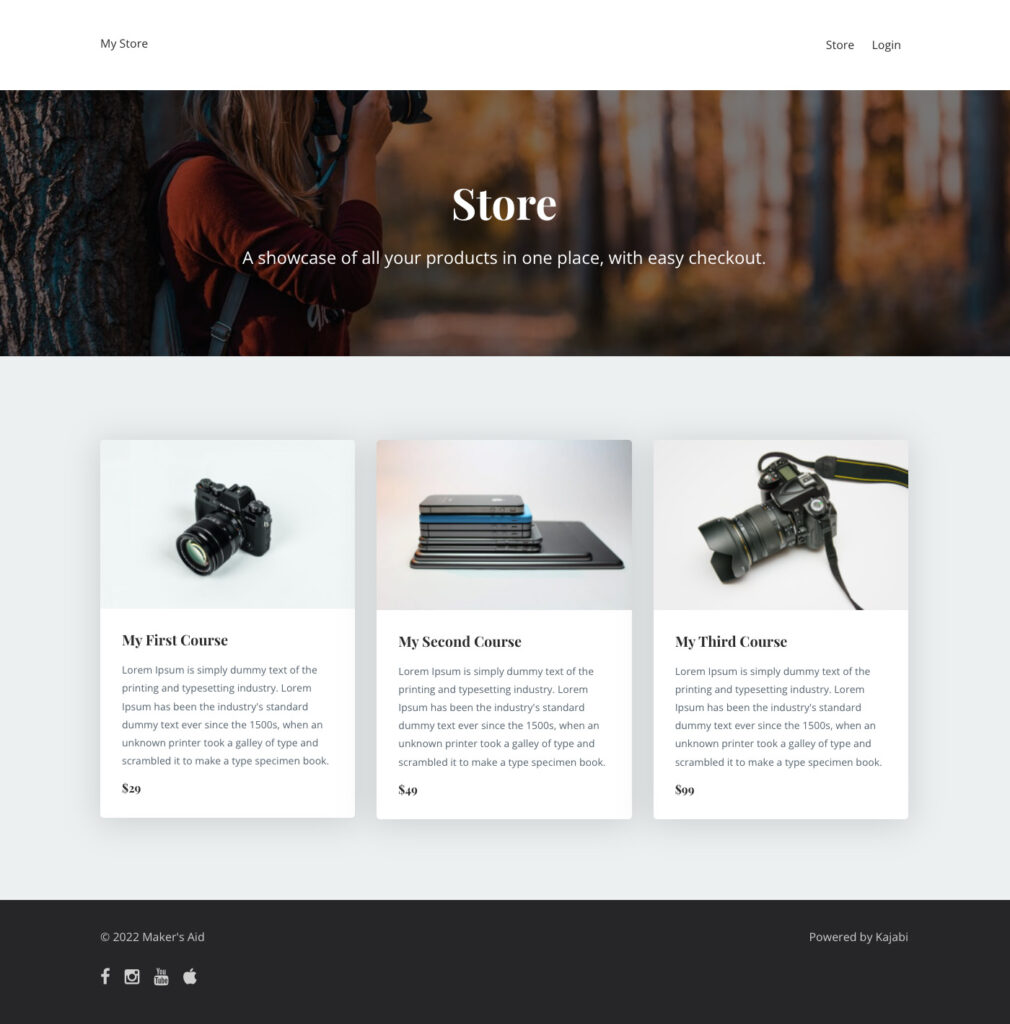 Checkout is smooth thanks to Kajabi's built-in integration with Stripe and PayPal. Once a customer purchases a course, membership, or digital product, they get access to its content and can start learning immediately.
Marketing automation. Want to collect email addresses on a landing page with a form? No problem! A marketing funnel with an upsell at checkout? You got it. An email sequence that teaches the basics in five days and gives a discount at day five? Sure thing.
Kajabi is a powerful tool that lets you take your marketing automations to the next level without having any technical skills whatsoever.
Course builder. Creating courses and assessments is easy. You can add written content, upload audio and video, and organize everything into modules and lessons so that learners can track their progress.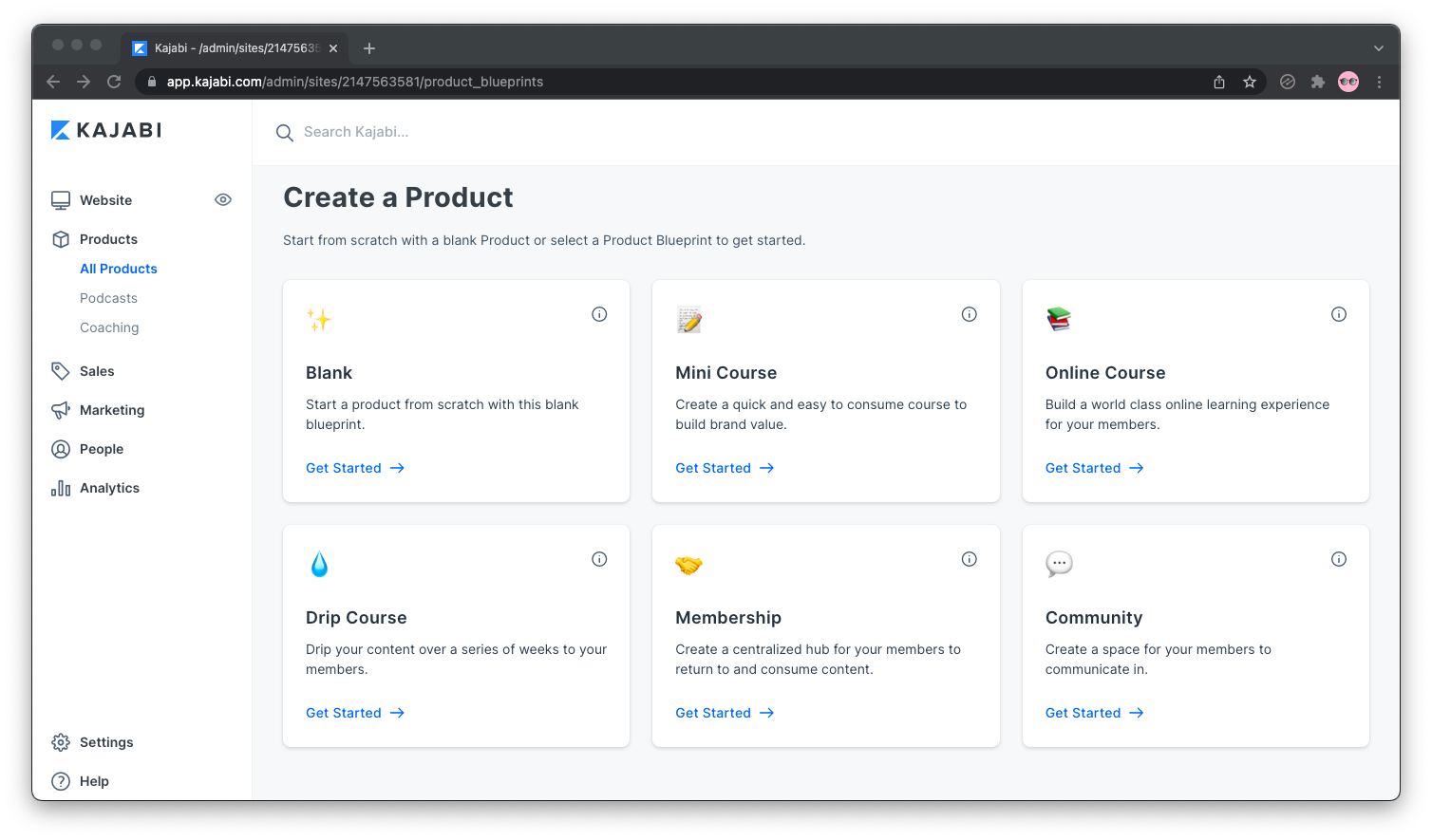 When starting a new course, newbie creators can choose from a dozen ready-made product blueprints to give them the structure they need. Experienced Kajabi users, on the other hand, can start from scratch.
Learning across devices. Consuming content on Kajabi is also easy. Members can access their courses and track their progress through both a web-based platform and a mobile app.
I think that Kajabi's mobile app is undersold. These days, everyone uses their phones to read, listen, and watch, especially when they want to learn something. Kajabi's intuitive mobile app lets you deliver a first-class user experience to your learners.
Online community. As someone who only uses their Facebook account to buy ads, I am always frustrated when I join a course whose community is in a Facebook group. I have talked to a few friends about this, and it looks like I am not alone in this.
Maintaining a Facebook group when new members join and old members leave is also difficult for business owners. Fortunately, Kajabi has thought of this problem with the community feature. It is basically a members-only community behind a paywall.
Webinars and in-person events. Yes, you read that right! Not only can you host your courses and marketing automations on Kajabi, but you can also sell your webinars and in-person events with it.
You will need to host your webinar on (or embed it from) another platform, such as WebinarJam or YouTube Live, but Kajabi takes care of pretty much everything else. You can sell tickets, give it away as part of a funnel, and link to it within a drip email campaign.
Customer care. With Kajabi, you can look up every lead and buyer—and see when they signed up, what forms, landing pages, and marketing automations they went through, what products they purchased, and see their Customer Lifetime Value.
Especially for course creators who sell to many customers with a refund policy and have a large support team, this can make the difference between great and terrible customer support.
Analytics. Analytics. Analytics are the Achilles heel of most website builders and course creation platforms. To get a complete picture, you need to filter and export data from at least a few tools and very often spend hours consolidating it into spreadsheets.
Not with Kajabi. The analytics dashboard gives you a full, holistic view of sales metrics like product purchases, offers sold, net revenue, and subscriber churn; marketing metrics like page views and opt-ins; and customer success metrics like course progress.
Third-party integrations. Although Kajabi is intended to be the only tool you ever need to build and run your online business, it has built-in integrations with a number of third-party applications.
These integrations include Aweber, MailChimp, Drip, ConvertKit, and ActiveCampaign for email; Google Analytics and Segment for analytics; Facebook pixels for ads; Zapier for integrations. If you're using ClickFunnels for your funnels as I am, you can also integrate Kajabi with ClickFunnels with only a few clicks.
The Pros of Kajabi
All-in-one suite for creating, marketing, and selling online courses and membership programs.
Simple, easy-to-use tools for building your online presence and automating your marketing without technical skills.
Sell individual products and product bundles with offers and drive sales with limited-time or limited-quantity coupons.
Great user experience for course creators and course members alike. Course content is accessible from the web and a mobile app.
0% transaction fee for every sale (excluding the fee that Stripe and PayPal charge for processing payments).
The Cons of Kajabi
Expensive if you don't make the most of Kajabi by replacing all of your other tools with it.
Customization options are limited compared to other website builders, email tools, and course platforms.
Finding your way in the Kajabi platform takes a while. The fact that most features have strange names doesn't help.
To edit your website's HTML/CSS, you need to add a top-up called Kajabi Access to your subscription, which costs $99/month.
How Much Does Kajabi Cost?
Kajabi has three pricing plans: Basic ($149/month), Growth ($199/month), and Pro ($399/month). There's a free, 7-day trial for all plans. If you prepay for one year, you get 20% off.
When the limits get tight, there are two ways to scale. You can go straight to the next tier, or you can upgrade your subscription with Access (more on that below).
Standard Plans
The Basic plan, at $149/month, allows you to create up to 3 products and 3 pipelines on 1 website. It limits your email list to 10,000 contacts and your customer base to 1,000 active members. With it, you get 1 admin user only.
The Growth plan, at $199/month, allows you to create up to 15 products and 15 pipelines on 1 website. It limits your email list to 25,000 contacts and your customer base to 10,000 active members. With it, you get 10 admin users.
The Pro plan, at $399/month, allows you to create up to 100 products and 100 pipelines on 3 websites. It limits your email list to 100,000 contacts and your customer base to 20,000 active members. With it, you get 25 admin users.
Standard Plans + Access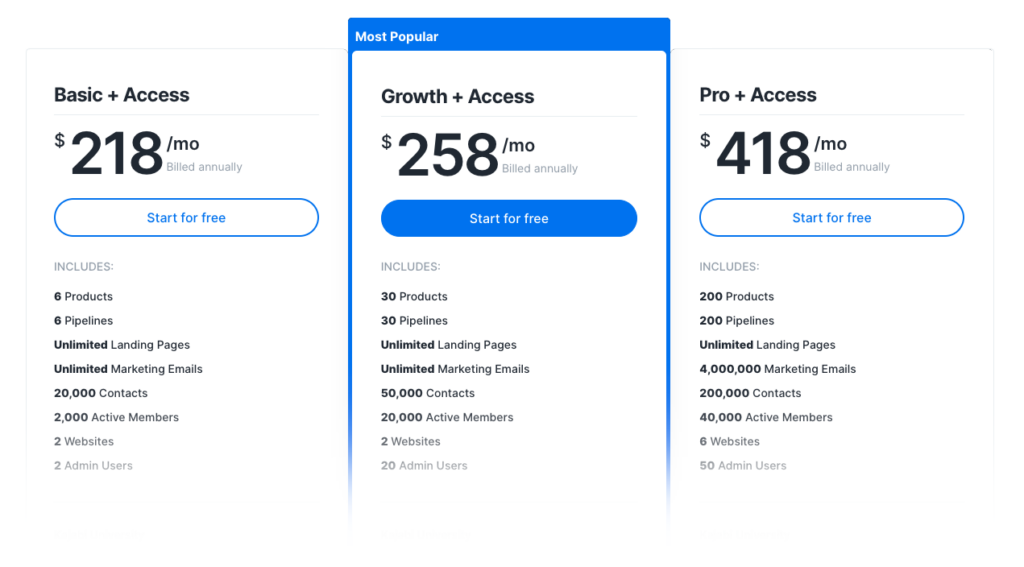 If you top up your Kajabi subscription with access, you double your subscription plan's limits and get access to the Code Editor, a neat feature that lets you customize your website template's HTML/CSS markup.
The Basic + Access plan, at $248/month, allows you to create up to 6 products and 6 pipelines on 2 websites. It limits your email list to 20,000 contacts and your customer base to 2,000 active members. With it, you get 2 admin users.
The Growth + Access plan, at $298/month, allows you to create up to 30 products and 30 pipelines on 2 websites. It limits your email list to 50,000 contacts and your customer base to 20,000 active members. With it, you get 20 admin users.
The Pro + Access plan, at $498/month, allows you to create up to 200 products and 200 pipelines on 6 websites. It limits your email list to 200,000 contacts and your customer base to 40,000 active members. With it, you get 50 admin users.
Is Kajabi Worth It?
At first glance, Kajabi comes across as expensive, with its cheapest subscription plan starting at $149/month. And, if you're just looking for a platform to host and sell your courses, it is expensive when compared to other tools.
If you use Kajabi for what it really is—an all-in-one platform to power your web presence, your email marketing, your sales sequences, your course delivery, and your membership community—the picture is different.
Not only is Kajabi user friendly and seamlessly integrated, but it saves you time, money, and nerves from having to learn to use a dozen other tools (and make them work together).
So, yes, Kajabi is 100% worth it for creators of courses, memberships, and information products who want to grow their audience and provide a world-class learning experience for customers.
Kajabi Alternatives
Some of the best alternatives to Kajabi as a course creation platform are Teachable, Thinkific, and Podia. Udemy can also be considered a Kajabi alternative—although it is also a marketplace that charges a transaction fee in exchange for the sales it can drive.
Squarespace, Wix, and WordPress are alternatives to Kajabi as a website builder. ClickFunnels, Leadpages, and Unbounce, on the other hand, can substitute Kajabi's marketing automations and pipelines.
When it comes to email marketing, some of the best alternatives to Kajabi are ActiveCampaign, ConvertKit, and MailChimp.
Why You Can Trust Me
For starters, I actually am a Kajabi subscriber. I've spent countless hours learning, tweaking, and using Kajabi.
I've been making stuff online since 2007. Maker's Aid is not my online source of income, and blogs are not my only business model.
My business partners and I have developed numerous courses and information products over the years. In 2022, we trialed Kajabi for a new course and immediately fell in love with its ease of use and utility.
Since then, we've used Kajabi for several products and launches. And, at Maker's Aid, I've been busy posting tutorials and answering reader questions about the platform.