Since launching in 2010, Kajabi has made a name for itself as the best platform for creating and selling online courses and membership programs. And it's no wonder: it looks great, is easy to use, and provides an unrivaled experience for your course members.
If you're new to Kajabi, it will nevertheless take you a while to get used to it. Although it's quite minimalistic and intuitive compared to other platforms, like ClickFunnels, Kajabi has its quirks.
One of those quirks are Kajabi products—and the weird naming convention for everything that goes in them.
I am a nerd, and I consider myself good at software. And yet I have rarely felt as confused as I did when I first opened Kajabi and tried to learn how to create a course with it.
Everything, and I mean everything, was named differently than I expected. If you are in the same situation and that's why you landed here, read on; I wrote this guide to Kajabi products for you and others like you.
What Are Kajabi Products?
In Kajabi, a product is a course or a membership program that you can sell or give away to your audience for free. A better, if longer, name for Kajabi products is "informational products."
Every Kajabi product has a name, description, and thumbnail. A product can contain a course, drip course, coaching program, membership, community, or any mix of some or all of these.
Within a Kajabi product, you can create categories, a better name for which would have been modules, and posts, or, for the rest of us, lessons.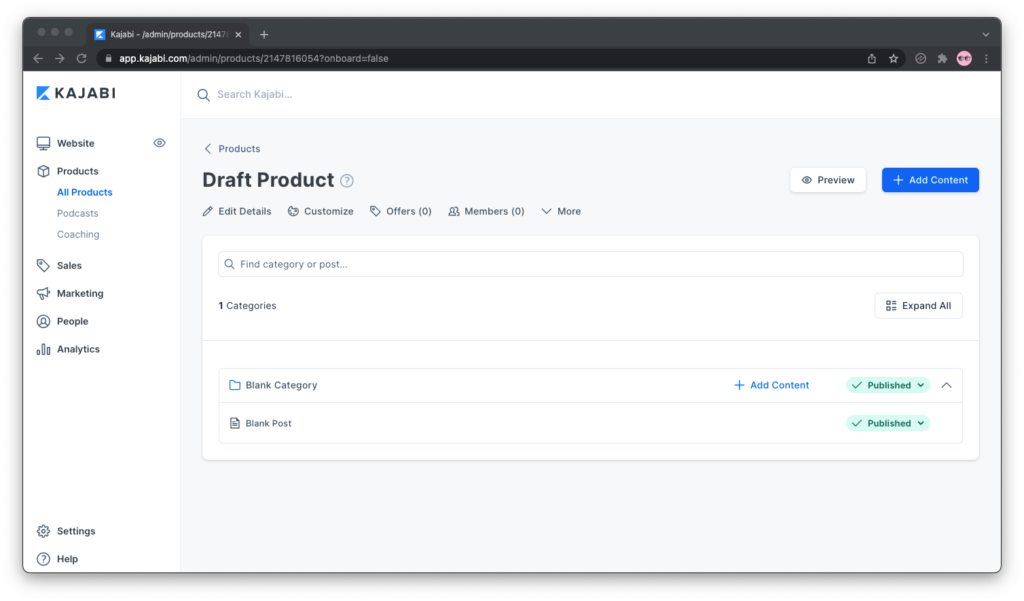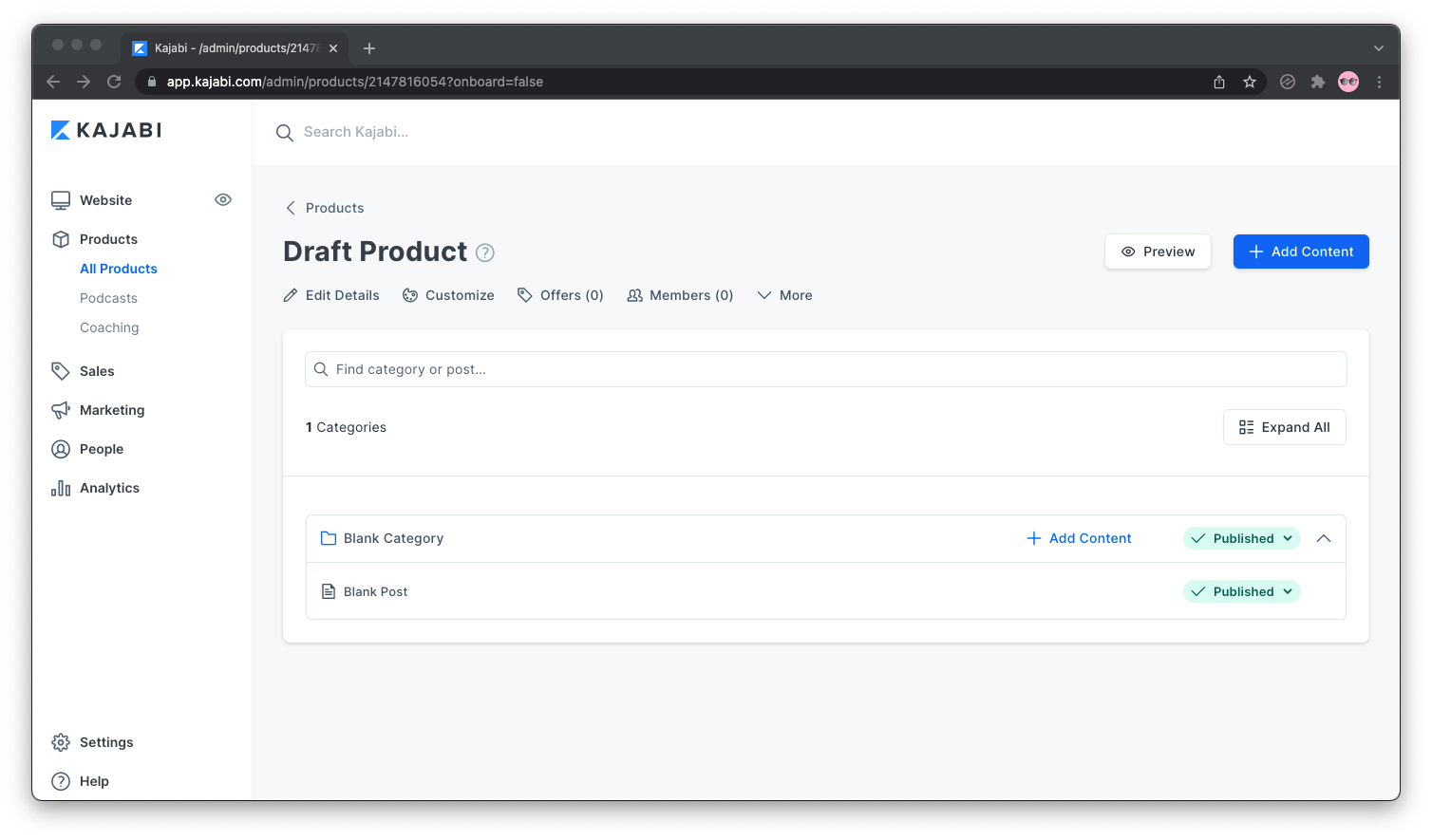 Just like a course can have multiple modules with many lessons, a product can have multiple categories with many posts.
To put this in a visual way:
| Kajabi Naming | Friendlier Naming |
| --- | --- |
| Product | Course |
| Category | Module |
| Subcategory | Submodule |
| Post | Lesson |
Understanding Kajabi's namings
Collectively, Kajabi refers to categories, subcategories, and posts as "content."
How This Works
To create a new course or membership program in Kajabi, you create a product.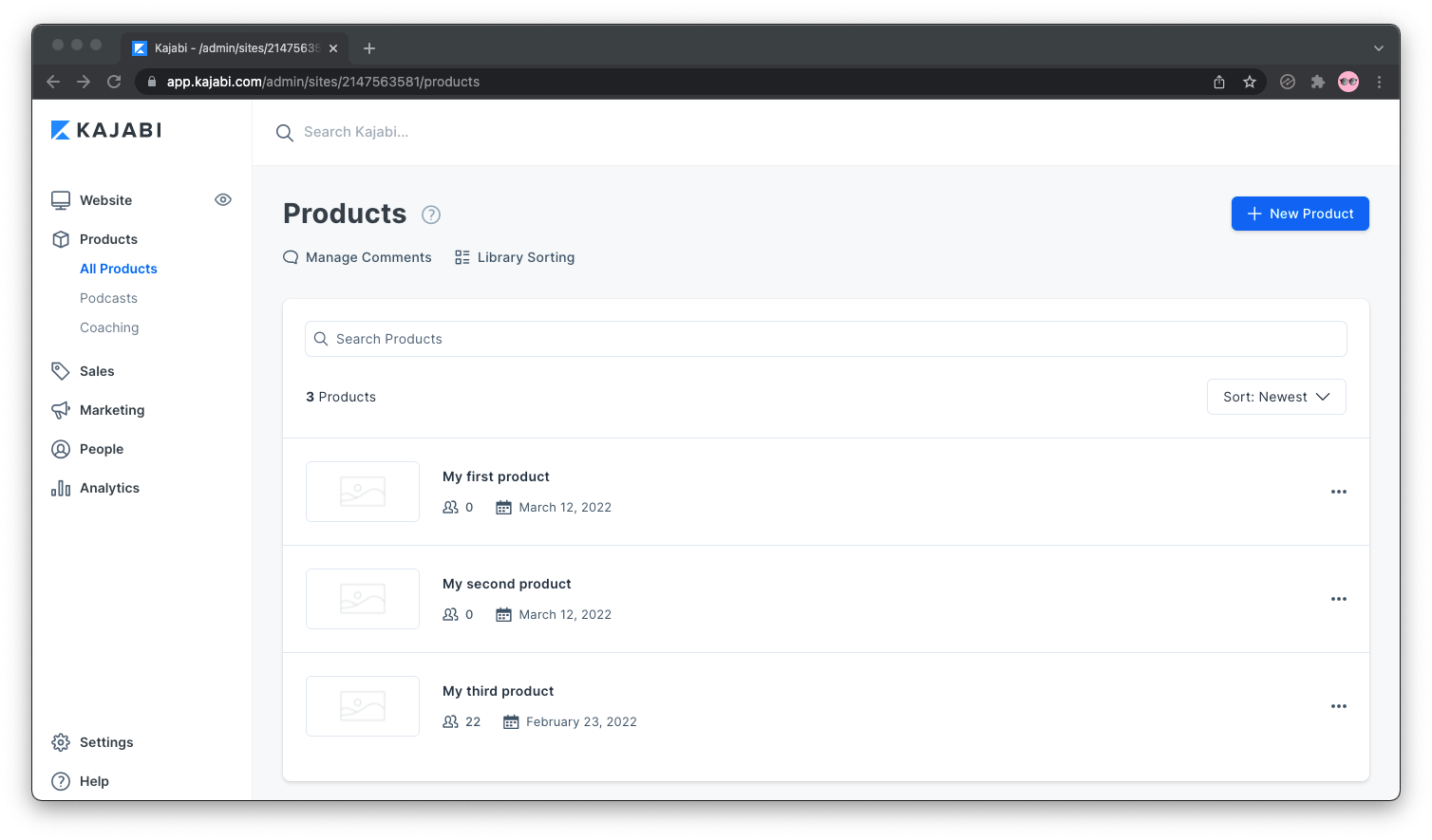 As you create the product, Kajabi lets you choose from a ready-made blueprint (this option's best for beginners) or start from scratch (this one's best for advanced users).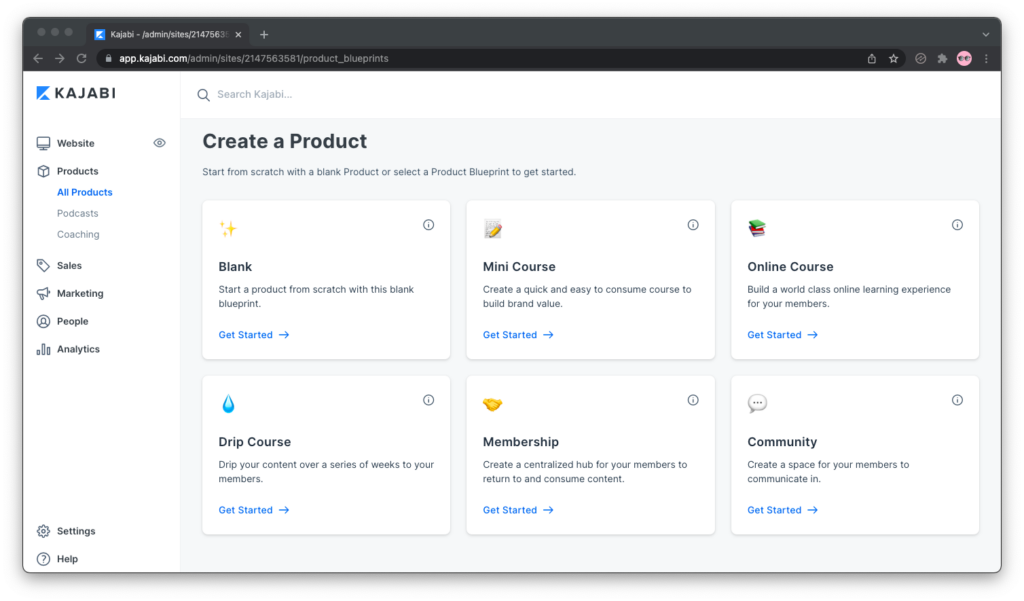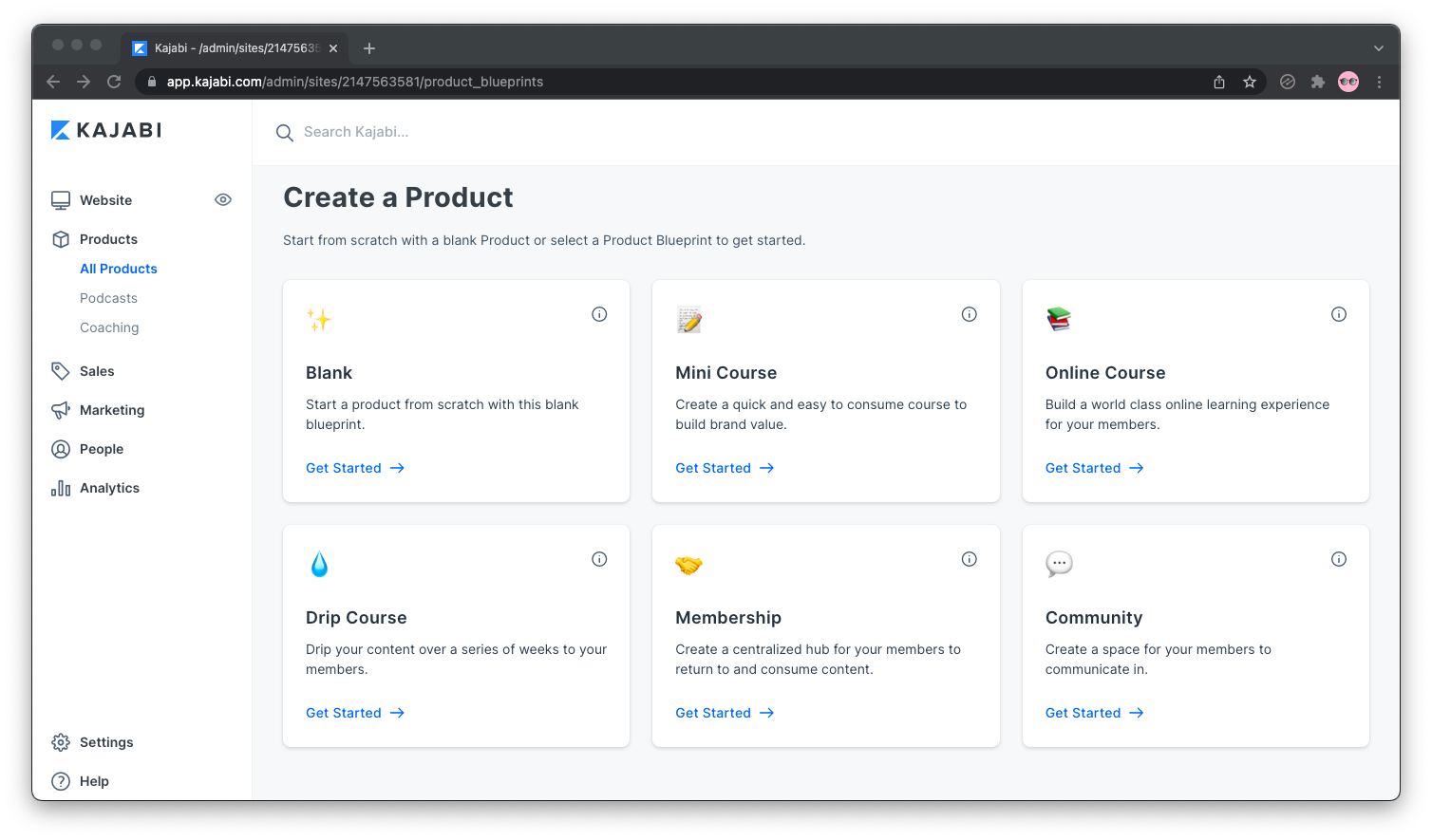 When you select a blueprint, Kajabi automatically creates and configures the categories and posts for you. This gives you a structure to work with, which can be handy if you don't come into Kajabi with an existing course from another platform and don't have a clear outline in mind.
You can choose from the following product blueprints in Kajabi:
If you are using Kajabi for the first time, I recommend creating a product with the template that best fits your idea for the course, and then rolling up your sleeves and playing with it.
Once you've learned the ropes and you feel confident enough to get cracking, create a new product and start assembling your actual course.
Kajabi Products vs. Offers
You've probably noticed already that, when a product is created in Kajabi, there's no mention of price or subscription. This is because—as far as Kajabi is concerned—the financial aspects are not important to the product but to the offer.
In Kajabi, a product is a course, and an offer is how the members of your audience can purchase that course (or access it for free if you're giving it away as a means to generate leads).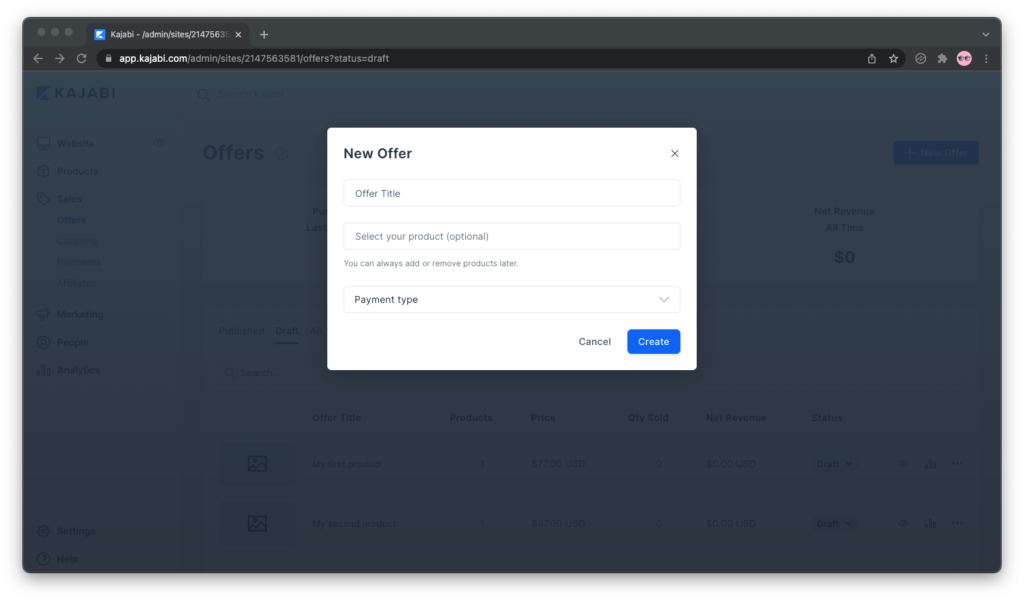 An offer has a title, a product, and a payment type. The payment type can be one-time payment, multiple payments, subscription, or free.
One-time payment and multiple payment are your best choices for when you're selling a mini-course or course, and you want to give the members of your audience an option to buy it at a discounted price or pay in installments.
Subscriptions, on the other hand, are best for membership programs and paid communities (for example, masterminds, think tanks, and so forth).
Free is… self-explanatory. Use it wisely. 🙂
Kajabi Offers vs. Coupons
In Kajabi, you set the selling price of your product in an offer. But you can entice members of your target audience to buy with coupons they can enter at checkout to get a discount.
You can create two types of coupons: Single coupons can only be redeemed once, by one customer. Bulk codes, on the other hand, can be used many times, by more than one customer.

When creating coupons in Kajabi, you can decide whether to give a percentage discount (e.g. "15% discount") or a specific amount (e.g. "$15 discount"). Individual vouchers may have an expiration date, while quantity vouchers may be limited in amount.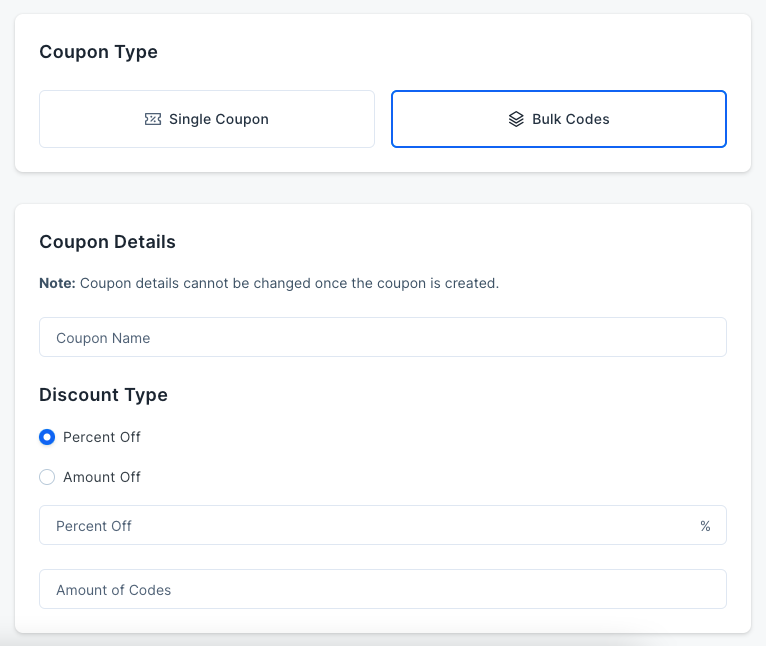 Coupons can be a powerful way to drive sales by giving an incentive while creating scarcity, especially if you have an email list or a large subset of customers who haven't bought a specific product yet.
How Many Products Can I Create?
How many Kajabi products you can create depends on which plan you subscribe to. Subscribers to Kajabi's Basic plan get 3 products, Growth subscribers get 15, and Pro subscribers get 100.
When you reach your Kajabi plan's product limit, you can still create draft products. Draft products are products that only you can see. You can create, edit, and delete them as you wish—but you can't publish them until you upgrade your plan or delete an existing product.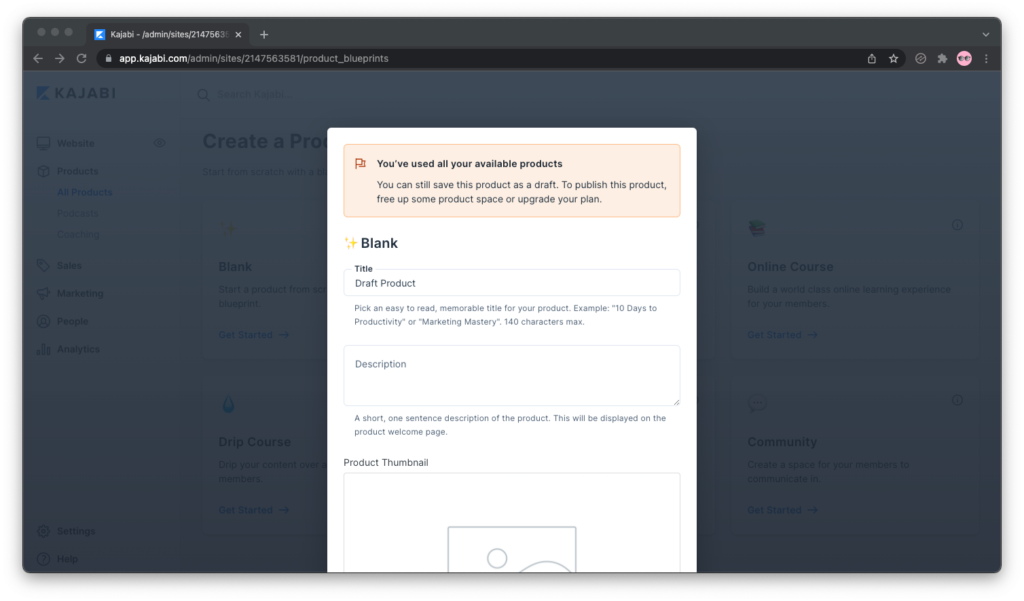 The jump from a limit of 3 products to 15 products. And so is from $149/month for the Basic plan to $199/month for the Growth plan. At the same time, if you have three products in Kajabi and you're not making enough money out of them to pay for the app, there's a high chance you're doing something wrong.
In Conclusion
Thank you for reading this far! I hope this no-frills guide to Kajabi products has been helpful to you. Please leave a comment if you have any questions that were left unanswered while reading through.
Kajabi, the awesome platform for course creators like you and me that it is, is a little strange in the way it names everything. The good news is that once you get used to it, you do not see it at all. Believe me, I am the best proof of that!