Keywords Everywhere is a browser add-on for keyword research and, without doubt, one of my most favorite SEO tools out there.
It does exactly what the name says: it helps you do keyword research virtually everywhere on the web.
That includes search engine result pages on Google and Bing, video search results on YouTube, and product results on Amazon, eBay, and Etsy, and even the results of other keyword research tools, like Answer the Public and Soovle.
Seriously, they should have named it Awesome Keywords Everywhere (now you know why I never really managed to break into branding).
With Keywords Everywhere, you can also analyze any page on your own and your competitors' websites to get the keywords it's optimized for—and their estimated search volumes.
But how accurate are the search volumes on Keywords Everywhere in the first place?
To find out, I took one of my well-ranked blogs and compared the actual search traffic on Google Search Console to the search volume estimates from Keywords Everywhere.
In this post, I'm going to tell you all about the results.
First, let's talk a little bit about the experiment.
As I'm telling you this, the blog in question is 5 years and 50 days old. It has 120 posts, all of which were written in advance and published on day one. I haven't done any link building; all links are natural.
The domain itself was never previously registered when I bought it. Today, it has a DA of 20 and a total of 328 backlinks to it.
Though search traffic fluctuates from one day to another, the hockey-stick growth curve flattened 3-4 years ago and the search clicks stabilized at 180-220/day since.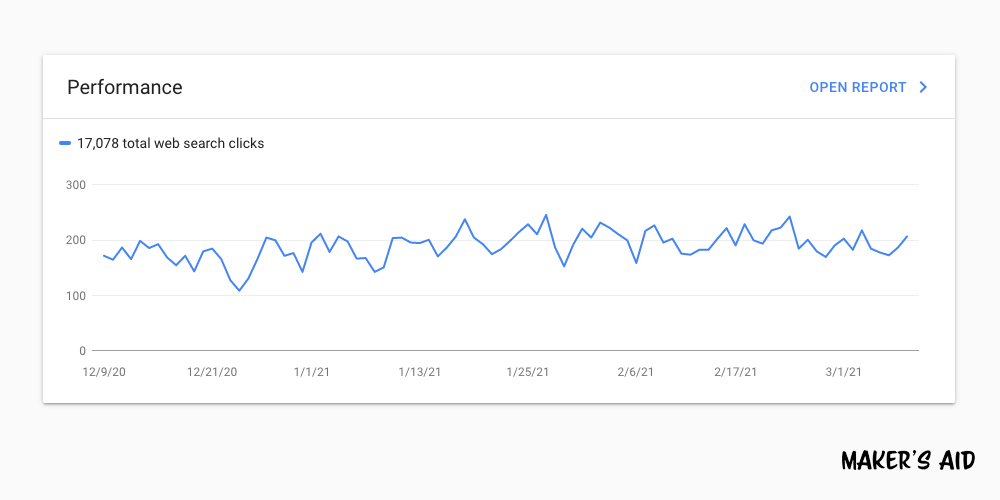 Knowing all of this, you and I can make a reasonable assumption that the data I have about the actual search traffic on keywords this blog ranks in the top 3 positions for is reliable.
The blog is in a YMYL topic and the topic itself requires a good amount of EAT to break into. Nevertheless, I'm not going to reveal the niche, website, or keywords to avoid new competitors that I frankly don't want to deal with.
So you're either going to have to take my word for the numbers that you're about to see, or do your own due diligence.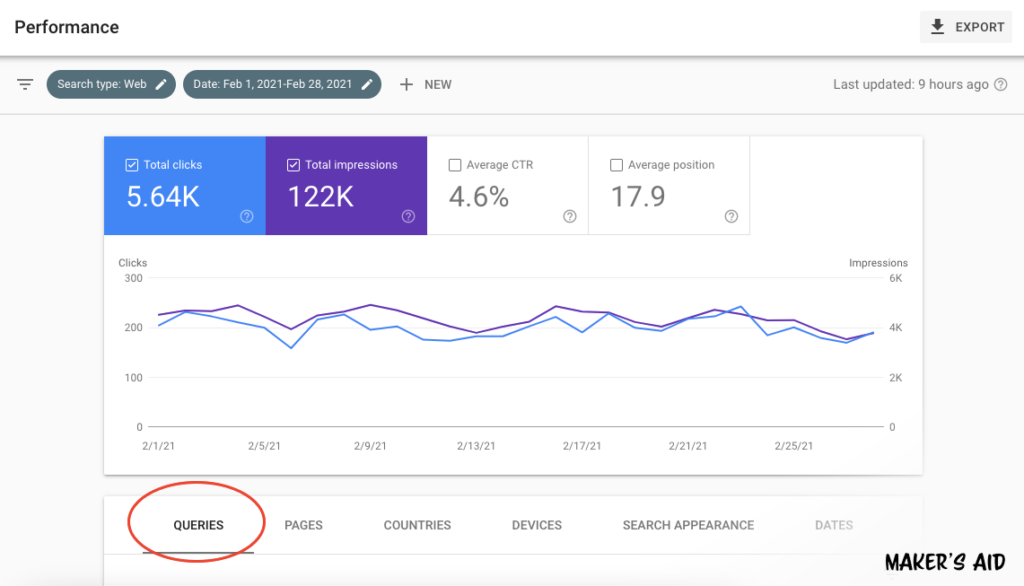 All the data that you're about to see is coming from the "Queries" tab for this property for the time period February 1, 2021 — February 28, 2021.
I took three keywords that three posts on this blog rank in the top three positions for, and compared the search volumes on Keywords Everywhere to the actual traffic for the time period captured in Google Search Console.
| Post | Keyword | Average Position | Keywords Everywhere | Search Console |
| --- | --- | --- | --- | --- |
| Post 1 | Keyword 1 | 1 | 480 clicks | 208 clicks |
| Post 2 | Keyword 2 | 1.7 | 260 clicks | 107 clicks |
| Post 3 | Keyword 3 | 2 | 590 clicks | 316 clicks |
Search traffic on a query level
So far, it seems like Keywords Everywhere gives you search volume estimates as accurate as they can be when you consider that they're coming from a tool that's not owned by Google.
As with any other keyword research tool, the search volume estimates in Keywords Everywhere are almost never an exact match to the actual search traffic I get when my posts rank. But they are close enough.
Here's the thing most folks in SEO won't tell you: keyword research tools, whether that's Keywords Everywhere, SEMrush, Ahrefs, are always wrong. A single keyword will never bring in 100% of a post's search traffic.
When you open the "Pages" tab and you look at the clicks for that time period for each of the post that ranked for those search queries, the numbers will grow bigger.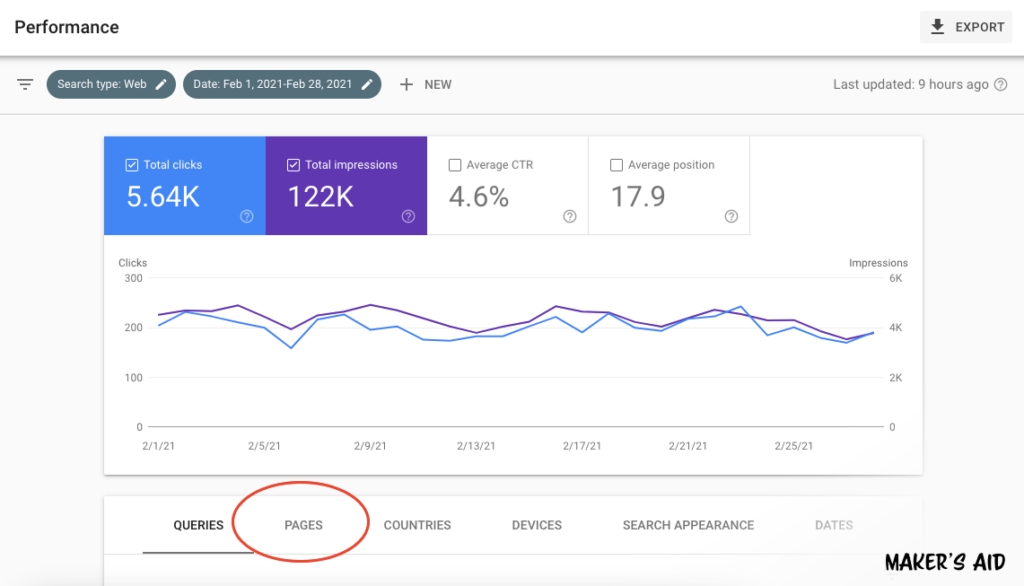 Each of these three posts ranked well for the keywords that they were intended to compete for. However, they also got additional traffic from semantically-related keywords. On one of the posts, that resulted in 4.5 times the estimated search volume.
| Post | Page-Level Traffic | Query-Level Traffic | Difference |
| --- | --- | --- | --- |
| Post 1 | 2,186 clicks | 480 clicks | 1050.96% |
| Post 2 | 558 clicks | 260 clicks | 214.62% |
| Post 3 | 373 clicks | 590 clicks | 118.04% |
Page-level vs. query-level search traffic
People are searching for answers to their questions in all sorts of ways. And search engines like Google, Bing, and DuckDuckGo are becoming better and better at finding those answers for them on the web.
For every search query you target, there are at least a few semantic search queries that your post will most probably rank for and get traffic from, often in hard-to-predict volumes.
What does that say for keyword research tools like Keywords Everywhere? Does that make them redundant?
Not necessarily.
Keyword research tools like Keywords Everywhere can help you to find out how people are searching online and gauge the approximate search volumes of single queries.
As long as you remember that they're not 100% accurate and use them more like a compass—and less like a map—they can be very useful in helping you discover underserved topics to write about.
The key takeaway I want you to have after reading this post is that they'll don't give you the full or the exact picture.
How Much Does Keywords Everywhere Cost?
Unlike most other tools of its kind, Keywords Everywhere doesn't have a monthly or yearly subscription.
To start using Keywords Everywhere, all you need to do is install the Chrome extension or Firefox addon, sign up for an API key on the tool's website, and pre-purchase keyword credits with your debit/credit card or PayPal account.
Keywords Everywhere uses up one credit when it shows you the search volume for a single keyword on Google, Google Search Console, Google Analytics, Google Trends, Google Keywords Planner, Bing, YouTube, Amazon, eBay, Etsy, Answer the Public, Soovle, or the given page on a website that you're analyzing with it.
If you use Keywords Everywhere economically, turning it off whenever you're not doing keyword research as you browse the web, it can cost you as little as $10/year.
In comparison, Ubersuggest's "Individual" plan costs $12/month and Ahref's "Lite" plan costs $99/month (when billed monthly; annual plans are typically sold at a 15-20% discount).
When buying Keywords Everywhere credits, you can choose from six packages:
| Package Cost | Package Credits |
| --- | --- |
| $10 | 100,000 credits |
| $50 | 500,000 credits |
| $100 | 1 million credits |
| $200 | 2 million credits |
| $500 | 5 million credits |
| $1,000 | 10 million credits |
Keywords Everywhere credit packages
If you're just getting started with Keywords Everywhere and you're not sure how many credits you'll need, buy the $10 package and keep track of your monthly credit use.
Most of the content creators I know who use the tool for their keyword research and use it economically don't pay more than $50-$100/year.
In Conclusion
I use Keywords Everywhere every week. And, apart from a few tricks of my own for using the data from Google's tools and carefully eyeing the competition on search queries before I write the posts that target them, it's the only keyword research tool I use.
Did you end up trying it? And what was your experience? Share it with me and the rest of this post's readers in the comments below.