Since it launched in 2012, Canva has been changing the rules of the design industry by empowering anyone—no matter how experienced or inexperienced they are at design—to create beautiful-looking graphics based on highly customizable templates.
There's a free plan that you and your team can use forever, letting you use most of the tool's features and store up to 5GB of graphics and videos in the cloud.
There's also a paid plan called Canva Pro—which costs $12.99/month billed monthly or $119.99/year billed annually—that gives you access to a larger library of design templates and stock media, and unlocks a few extra bells and whistles for you.
Is it worth paying for Canva Pro, though?
With brand kits, which let you pre-set your logo, colors, and fonts across templates, access to 100+ million stock photos and videos at no extra cost, and many features that save you time and make design work easier, a $12.99/month subscription to Canva Pro is positively worth it.
If you're just getting started as a solopreneur or content creator, you're probably better off sticking to Canva Free and investing those $120 in something that helps you grow your audience or business.
But if you're ramping up your content creation efforts, and you need to start churning out great-looking graphics for your social media profiles, digital products, or marketing and sales collateral, by all means, give Canva Pro a try (there's a 30-day trial so it's risk-free anyway).
As someone who's been using it for well over two years now, I'm about to tell you why that is. So let's take a quick look at what a subscription to Canva Pro buys you.
Brand Kits
Canva has 600,000 templates for digital and print designs, including graphics for social media profiles and posts, greetings cards and event invitations, logos, slide decks, business cards—and even marketing and sales collateral like print-on-demand mugs and t-shirts.
These templates, as good as they look, are usually not made for your brand's logo, colors, and font family, so you'll need to spend a fair amount of time tailoring them to the needs of your brand… unless you subscribe to Canva Pro and save yourself the effort by creating a brand kit.
Canva's brand kits let you pre-set your brand's logo, colors, and fonts, then use that to customize templates to your brand's identity in a single click.
No more switching between browser tabs to copy/paste color codes or look up logos in folders on your computer. Your logo, your colors, and your font families are available where and when you need them.
If you're a content creator, and you regularly create stuff for your blog, Facebook group, Instagram profile, YouTube channel, you're going to fall in love with Canva's brand kits as this small feature is about to save you a big amount of time!
The same applies to those of you creating courses, eBooks, or digital downloadables. With brand kits, you're going to save hours and hours of switching between tabs and comparing designs to check for brand consistency on your Canva-designed graphics and documents.
Stock Photos, Graphics, and Videos
In 2019, Canva bought Pexels and Pixabay, two of the Internet's largest free stock photo websites. (Pixabay says that it has more than 2.4 million free stock photos, and Pexels discloses that it's used by more than 450k photographers.)
Then, the do-it-yourself design tool integrated the Pexels and Pixabay libraries into its search bar, allowing you to look up and add, for personal or commercial use, free stock photos for almost any design need.
Still, almost any design need doesn't mean every design need. And anyone who's had to create a hero image for a blog post, a thumbnail for YouTube, or a story for Instagram knows what I'm talking about.
Perhaps that's why Canva lets you browse its library of premium stock photos—sourced from big-time photography partners such as Getty Images—even if you're a free user.
But if you want to add a photo to your design, you will have to pay $1 per photo for a single-use license. That's not the case if you're subscribed to Canva Pro because you get these photos "for free."
As part of their subscription, customers of Canva Pro get access to a library of 100 million premium stock photos, graphics, and videos that they can use without paying any additional fees.
When you consider that a bundle of 100 photos at Depositphotos or 123 RF costs $100 when sold at a discount, you start to see why Canva Pro's $12.99/month price is worth it even if you only consider the access to premium photography that you get.
Yes, there is a fair usage policy. But I've never hit the limit of it, so I can't tell you exactly where the threshold is—and I bet that you won't either unless you're somehow abusing Canva Pro.
P.S. You can also use Canva stock images on your blog. (As long as you don't download them bigger than 800×600 pixels for landscape-oriented graphics or 600×800 pixels for portrait-oriented graphics in case you left the stock photos unaltered; details in the post I linked to.)
Background Remover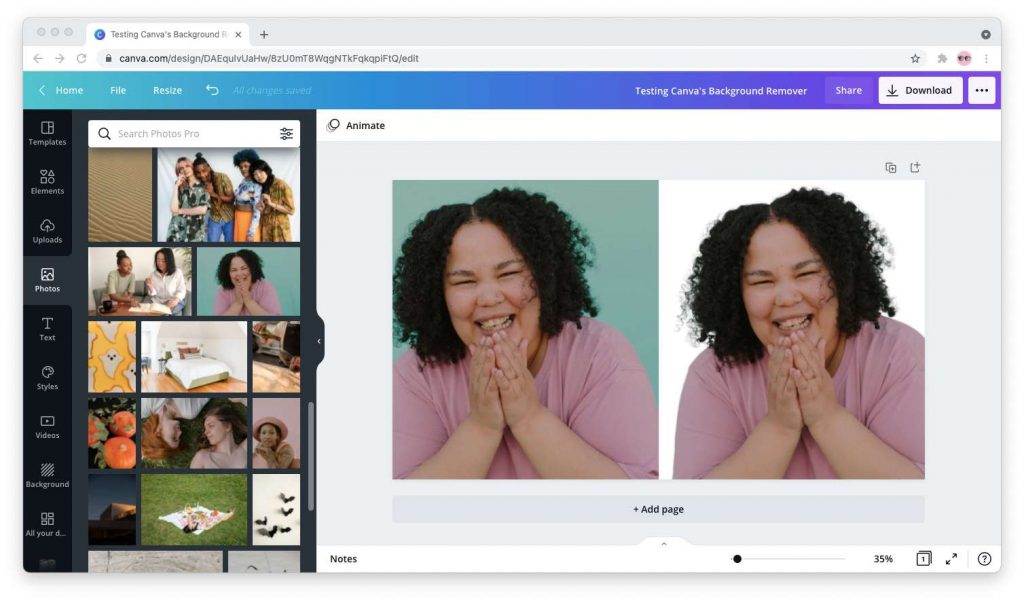 If you create branded images with custom backgrounds and such, chances are you're going to have to remove backgrounds from your photos and stock media.
Before Canva introduced its background remover tool, I had to open up Photoshop, spend a good fifteen to twenty minutes using its background removal tool, then save the file on my computer and uploaded it into Canva for use.
Anyone who's used Photoshop, whether they're an amateur or a professional, can tell you that its background remover tool is precise and powerful—yet results are variable, and every image takes time to get right. If you want to edit a graphic quickly and well, there weren't any good alternatives out there.
Canva's background remover changed that, and, since it got introduced, I've frankly been using it more than Photoshop's background remover tool (for reference, I am also an amateur photographer and a subscriber of Adobe Creative Cloud's Photography Plan).
It's also surprisingly good at removing backgrounds, even when your object and scene are alarmingly blended and similar colored.
Like other features of Canva Pro, the background remover has helped save me a ton of time and nerves, as I'm not the most patient person on earth and fine-tuning background removals isn't my favorite thing to do on a good day.
Magic Resize
Resizing images is a pain, especially when you get the size of a Facebook post image or YouTube cover photo wrong, and Canva Pro's magic resize feature relieves that pain for you.
Magic resize is a neat feature that lets you scale the size of your Canva designs up and down without having to worry about them getting choppy when downsizing or blurry when upsizing.
You probably won't need to use this every day, but it's nothing short of a blessing when you create your logos—and other reusable elements for your brand's identity—that you need to export and use in many sizes.
Social media posting and scheduling
In 2020, Canva stepped into Buffer and Tailwind territory when it added a feature for publishing and scheduling social posts across Facebook, Instagram, Twitter, LinkedIn, Pinterest, Tumblr, and Slack.
Simply create your design intended for a specific social media platform in Canva, click the "Schedule" button, and you'll be shown the menu that lets you connect and schedule posts to your social accounts.
I've tested the feature, and it works well. If you're not a fan of another service and you want to save money, this feature comes in handy. Personally, I prefer to use Buffer, so I don't use this as much.
Team Members
Canva Pro lets you add up to 5 team members to your account for as little as $2.59/person/month when billed monthly and $1.99/person/month when billed annually.
This turns Canva Pro into an intuitive and highly affordable choice of a graphics design tool for people who delegate templated design work to their virtual assistants (VAs) or a team of freelancers.
100GB of Storage
Last but not least, you get 100GB of storage space in the cloud with Canva Pro, whereas you only get 5GB on the free plan.
You won't need this much space if you use Canva every now and then, that's for sure. But if you create large-resolution graphics, i.e. for print-on-demand products, or media-rich content like video pins, those five gigs are going to fill up quicker than you think.
And that's where having all of that additional storage space gets useful.