To win their readers' trust and capture their attention, every blogger needs unique, eye-catching featured and in-post images that make their content stand out from the crowd.
Previously, that was only possible if you were willing to get yourself a license for Adobe's Photoshop, then spend weeks (and weeks, and weeks…) on learning how to use it.
If you wanted more than the free stock photos out there—they tend to be a little too generic, and, besides, all of your competitors are already using them—you also had to subscribe to a stock photo marketplace.
That has all changed since Canva came into the picture.
The best do-it-yourself graphic design tool, Canva lets you tap into ready-made, easy-to-customize templates to create unique images for your blog and your profiles on social media.
Canva is a great tool for bloggers. With thousands of templates and an almost endless stock media library, bloggers can use Canva to create logos, featured images, illustrations, and infographics for their blogs.
As a blogger, you will probably be spending 99.9% of your time using Canva's Logo Maker and Photo Editor tools.
Here's why—and what I like about them.
Logo Maker
Canva's Logo Maker is a do-it-yourself tool that turns designing logos into a breeze, no matter if you know this and that about design or you've never touched a graphic design tool before.
There's a growing list of templates that you can take and customize to your likings, by changing colors, playing around with fonts, or even changing the size of certain elements and moving them around.
When using the Logo Maker, I usually create ten, fifteen logos based on templates I like. Then, I scroll through each of them as I try to weed out the ones that don't look all that good from the ones that really stand out. As soon as I'm there, I pick a favorite and tweak it.
This tool alone has saved me hundreds of dollars from logo templates on Graphicriver, or thousands of dollars from logo design requests on freelance marketplaces like Fiverr, 99 Designs, and Upwork.
Would my logos look better had I payed a professional designer? Probably. Does it matter all that much, especially on new blogs that have yet to gain traction with Google? Not at all. They say you should pick your battles—and I choose to spend most of my money on content creation and building backlinks.
Photo Editor
Canva's Photo Editor is where the real magic happens.
You start by selecting a template, which determines the type and size of your design. Though you could choose any template, there are two that are specifically created for blogging:
The "Blog Banner," a horizontally-oriented design with a size of 2240×1260 pixels;
The "Blog Graphic," a vertically-oriented design with a size of 800×1200 pixels.
There are all kinds of templates for blog banners and blog graphics, and yet they all share a few common traits. For example, all have a background photo and a styled heading and/or subheading.
Here's an example with a banner template for a camping-related post: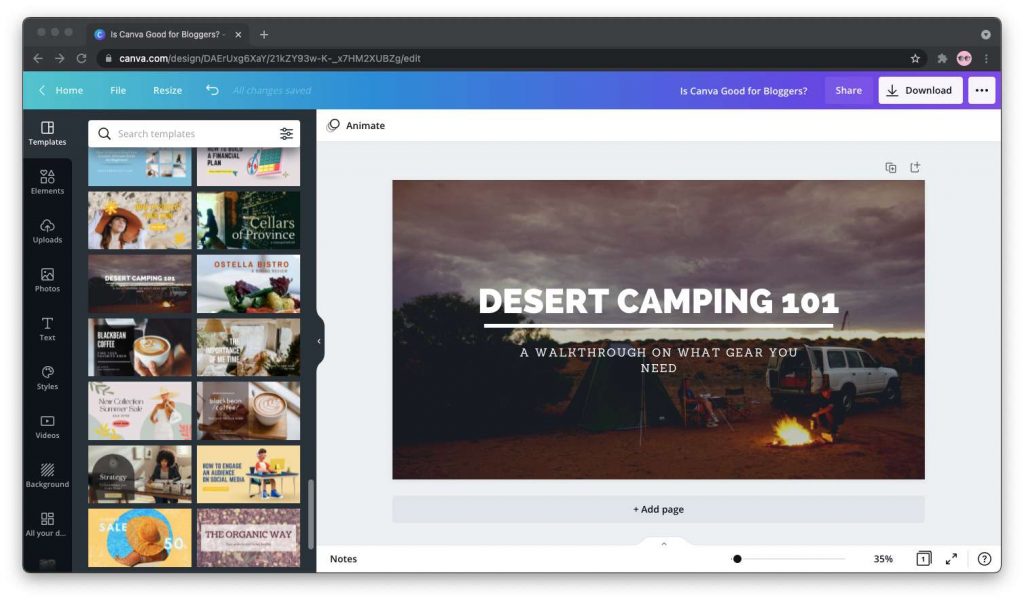 The editor gives you full control over the look and feel of your designs. You can edit the heading and the subheading, tweak their colors, and change their fonts.
You can move the divider, remove it altogether, or replace it with one or multiple elements from Canva's Elements library, which lets you find and use thousands of vectors and cropped objects.
Last but not least, you can edit the background photo with Instagram-like effects and Lightroom-like presents. Or you can replace it with another one from Canva's free and premium stock media library.
Couple that with the fact that Canva has hundreds of thousands of templates already—and it's adding new ones every day—and you start to see why it's made such a name for itself in the blogosphere and content creation community as a whole.
Use it yourself, give it to your Virtual Assistant, or get someone on Fiverr to do it for you; as long as that person sticks to your blog's fonts and color palette, the designs will come out just as good.
Canva Free vs. Canva Pro
Canva is free to use, though its free plan has certain limitations.
For example, it lets you browse and use photos from its free stock media library, powered by Pexels and Pixabay, but you need to pay $1/image in case you want to use premium stock photos in your designs.
Another limitation of Canva's free plan is that it doesn't give you access to the Background Remover and Magic Resize tools, which let you remove backgrounds from photos with the click of a button and repurpose graphics on the fly.
The free plan doesn't give you access to Canva's Magic Resize and Background Remover features, which help you resize images infinitely and remove backgrounds from photos with one click. Both tools are extremely useful for repurposing content from one medium to another.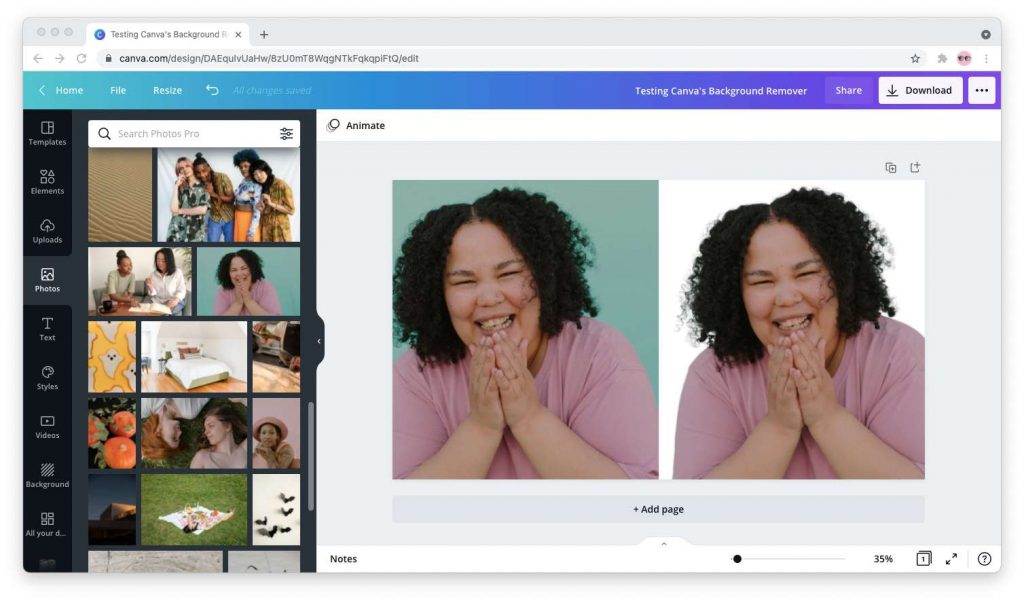 Canva's paid plan, Canva Pro, costs $12.99/month when billed monthly and $9.99/month when billed yearly—and it unlocks all of the features of Canva.
Canva Pro lets you tap into the tool's premium stock photo library, powered by partnerships with Getty Images and others. At no extra cost, you can incorporate premium photos, vectors, audio, and video files into your static images and animated graphics.
All in all, I've been using Canva Pro for a couple of years now. And, apart from the fact that it's saved a ton of time for me, it's definitely worth the money.
Using Canva Images on Your Blog
You can use Canva's free stock photos as your heart desires.
But if you want to use a premium stock photo, whether you pay per image for a one-use license or subscribe to Canva Pro, there are a few important restrictions that you need to know about.
Suppose you want to use a free stock photo as it is, without or without cropping it. In that case, you must download it in a resolution no greater than 800×600 pixels for horizontal images or 600×800 pixels for vertical images. Otherwise, you will violate Canva's terms and conditions, which may get you into trouble.
If you add a premium photo to a unique and original design—and you use it only as part of that design—you're free to download it in any size and format you wish, as you've basically created a new piece of artwork.
Psst! I've written a whole post on the topic titled, "Can I Use Canva Images on My Blog?" I encourage you to go on over and check it out.
Image courtesy of khosrork /123RF