I'm on a mission to find the best writing apps for macOS out there. As an editor who cranks out tens of thousands of words per month, I'm putting these bad boys to the test, weeding out the good from the bad from the ugly to figure out which are worth your dough and which have no place in your dock.
In this review of the series, I'm letting you in on my experience with iA Writer, the self-proclaimed "benchmark of Markdown writing apps."
Aat $49.99 for a lifetime subscription, it's not cheap (though it's not the most expensive writing app either), and it promises a distraction-free zone where you can let your words flow freely. Does it live up to the hype?
Let's find out.
My story with iA Writer started when I headed over to their website to grab the free 14-day trial.
No need for an email address, no credit card info, and no sneaky stuff where they hope you'll forget to cancel the trial even if you didn't want to buy the tool. All I had to do was hit the blue "Download" button and get the 64-megabyte app.
Editor's note: iA Writer is also available for iPhone, iPad, Android, and Windows. I'm a MacBook Air owner, and I keep my Windows laptop locked away safely in a drawer for only when I've no other option but to use it. This review is based on my first-hand experience with the iA Writer macOS app version 6.0.3.
So far, so good. iA Writer already stood out compared to the other writing apps I tested in the past few months. Were this tool's developers that confident in its ability to hook me into using it? It was too early to say for sure — but that's what it felt like.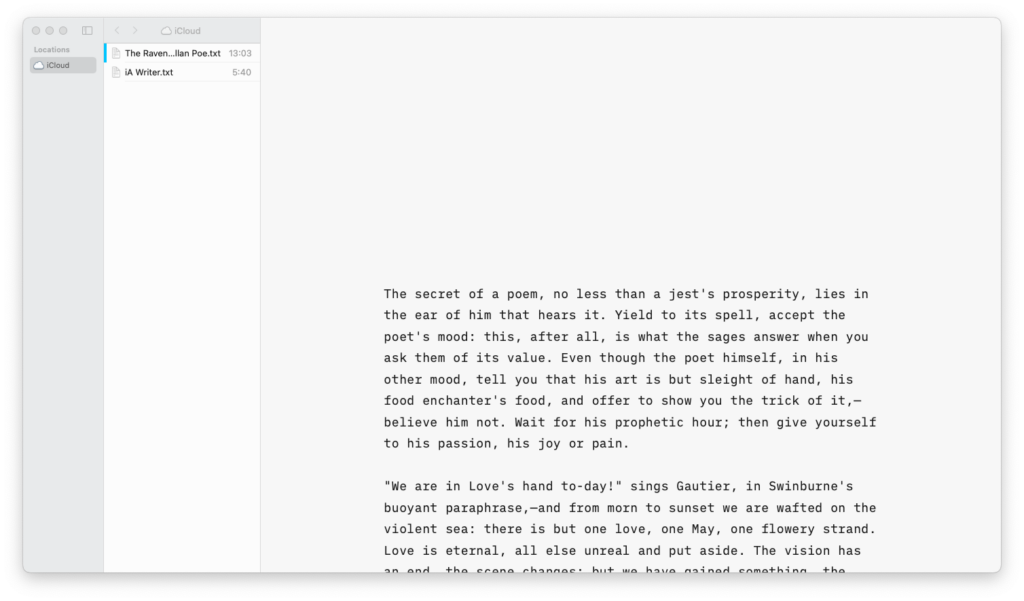 From the get-go, iA Writer's interface made sense to me. If you're familiar with other writing apps of its caliber, you'll find some familiar patterns. You've got the left sidebar with an "Organizer" and a "Library" of files. The organizer helps you keep your files in order, and the library lets you scroll through them.
All the options are there to help you stay on top of your work for any writing project, no matter how big or small, from favorite files to smart folders to automatic grouping by hashtags.
You can work locally, keeping your files on your computer if you're like me — a stubborn dude born before the age of the Internet — or you can also upload them to the cloud. iA Writer can store your files in iCloud, Dropbox, Google Drive, and OneDrive, leaving you with plenty of options.
If you're a blogger, you can straight up post your drafts to your content management system, whether it be WordPress, Medium, Ghost, Micropub or Micro.blog. iA Writer makes this a breeze, so it scores points for its ease of use and connectivity.
The typing experience is where iA Writer truly shines. It has had three custom fonts since 2018, called iA Writer Mono, iA Writer Duo, and iA writer Quattro, which are all based upon the IBM Plex typeface. Trust me when I tell you that once you start typing with these bad boys, you won't want to go back to Times New Roman or Helvetica ever again.
I mean, these fonts are specifically designed for typing and reading. They just work, you know? They're sharp and crisp, but also smooth and curved in all the right places. Plus, they're relatively thick and large, so they don't tire out your eyes like some other fonts do. The real deal, you know?
Coming from someone who has astigmatism and sees everything triple without glasses, it's pretty rare for me to be able to type without my specs and not strain my eyes until I look around and feel dizzy. Just like other apps, you can easily adjust the text size by hitting the Cmd button and the + or - keys. It's simple, quick, and it allows you to customize your writing experience and make it more comfortable for you.
iA Writer's font design is so on point, that it quickly made its way to the top of my "favorite writing apps" list.
Formatting happens with Markdown syntax.
If you're already familiar with Markdown, then you'll know how to format text in iA Writer out of the box. If you're not, it'll take you some time to learn the ropes and get used to it. For example, you either surround a word or phrase with the asterisk characters *to make it italic* or you use one the keyboard shortcut for this.
The full screen mode on iA Writer is a godsend. It eliminates ALL the distractions and leaves you with a blank canvas for your words to shine. It's intimidating and inspiring at the same time, you feel me?
And if you combine full screen mode with focus mode, where the words sit in the center of the screen just like on a typewriter, you can start churning out text like a pro. The setup is perfect for a distraction-free writing experience that allows you to get into the zone and keeps you stay there.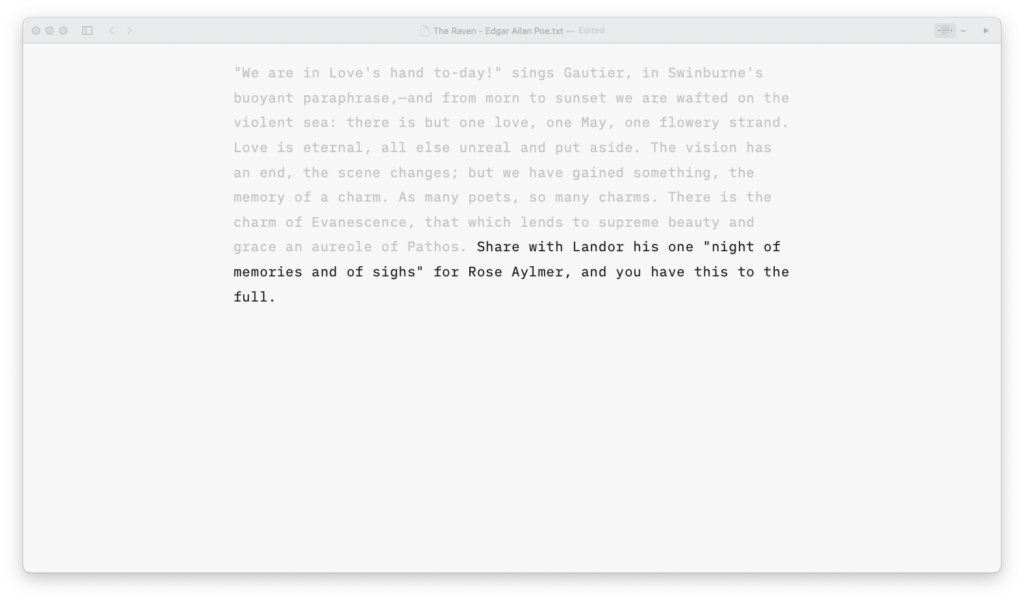 In focus mode, you have the option to make the current sentence or paragraph brighter than the words you've already typed. This little trick turned out to be a lifesaver for me in those times when I was feeling tired and everything was a distraction for my brain. It really helped me to stay focused and power through my work.
But, one thing to note, is that the words you've already typed do flash occasionally, which could be annoying. And the text jumps around unnaturally when you move your mouse between paragraphs and sentences. So focus mode might not be the best option for those writers who like to edit while they write — you'll want to stick to full screen mode.
iA Writer has both Light and Dark mode options. And, of course, you can choose to have them switch with your macOS settings or keep one on at all times; it's your call.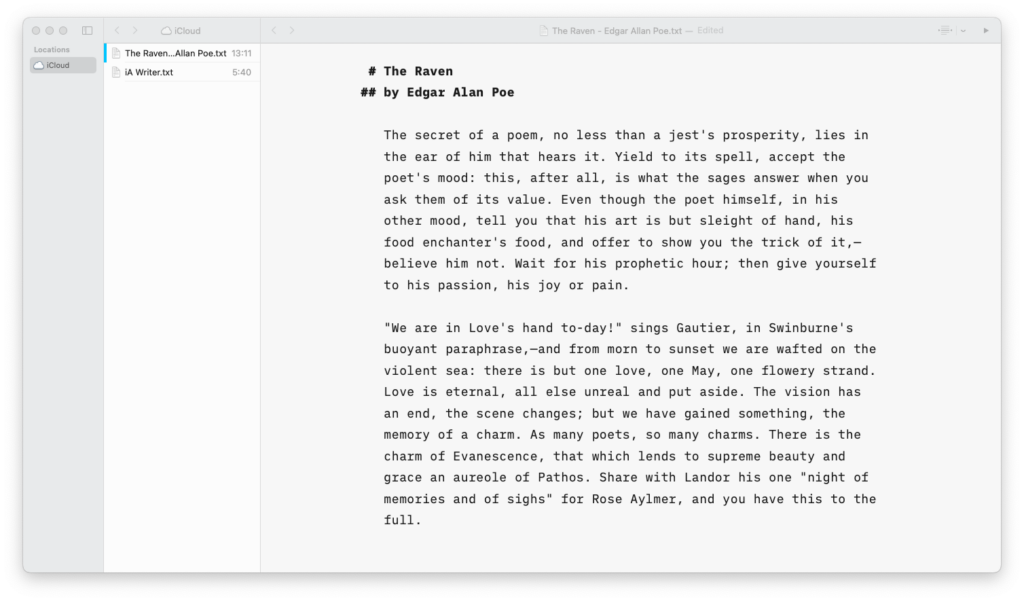 Editors (and writers who edit their own work) will enjoy the "Show Syntax" and "Enable Style Check" features:
"Show Syntax" highlights adjectives, nouns, adverbs, verbs, and conjunctions in different colors, revealing the flow and structure of the text you're editing and making it easy to edit so that everything's flowing smoothly.
And "Enable Style Check" helps you to identify and eliminate filler words, clichés, and redundancies by automatically crossing them out for you. It's a great feature for editing your work, but it's not always suitable for writing, as, sometimes, "just" is just the word you're looking for, and the last thing you want is for your writing app to cross it out.
The syntax highlighter works for English, German, French, Italian, Spanish, and Russian. The style checker, for English, German, and French only. Spelling and grammar check and auto-correct come from your macOS system. It will be interesting to see if the iA Writer team eventually decides to integrate with any third-party AI editing service the way Ulysses uses LangugeTool Plus.
"Wikilinks" is a slick feature. Basically, you put square brackets around a word, and autocomplete asks you which of your other iA Writer documents you want to "link" that word to. I didn't find it too useful in my work, but I see how it can be useful when you're writing long-form content for a research paper or maybe even a book. If you Cmd and click on a link, you can switch between files without using the sidebar. Neat.
Embedding pictures is also easy. You simply drag and drop them to where you want them to go. When you preview or export your file, they'll be right where you want them.
iA Writer saves your files in .txt format. But it can also export in HTML, Word, or PDF. You can choose to center the headings and add numbers to them, and indent the paragraphs for export. You can download different templates for exporting your documents (letters, academic papers, others). And if you know HTML, CSS, and JS, you can create templates of your own.
So, what's the verdict? It iA Writer worth the dough?
Hell yeah, it is. The typing experience is top-notch. The interface is easy to use, and the app is packed with features that make it a great choice for writers and editors of all breeds.
Plus, the full-screen and focus mode are game-changers for staying focused and hustling out the words when you need to. The ability to organize and navigate between your work in various ways is also a big plus.
Sure, iA Writer is not the cheapest option out there (take Typora; a license for 3 devices will set you back just $15), but I think it's worth every penny. Try it out, and if you like it get it before they realize the price is a steal and start charging more.