Canva is a graphics editing app that lets you create beautiful, professional-looking images without having to worry about design skills or hard-to-use software.
With tens of millions of users worldwide, Canva has become the go-to app for anyone looking to create images for their online presence—including for their Instagram account.
With hundreds of eye-catching templates for Instagram posts and Instagram stories and countless ways to customize them (or create your own), Canva is the perfect tool to make your profile stand out and your content more engaging.
What Is Canva?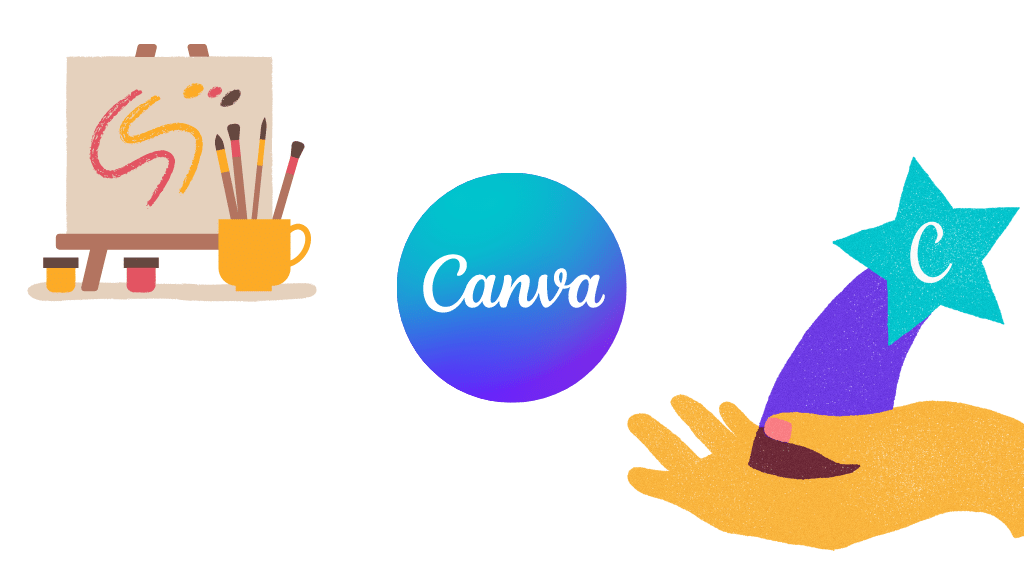 Canva is an app that makes designing graphics for your Instagram presence easy.
It makes it easy by offering a range of ready-made, highly-customizable post and story templates—and features such as text boxes, shapes, royalty-free photos and videos, fonts, backgrounds, frames, filters, illustrations, arrows… and more.
Whether you're an Instagram influencer, a food blogger, a fashion personality, or the marketer of a brand that's looking to improve its Instagram presence, Canva can help you create stunning graphics for your profile and feed without having to hire designers or know graphic design.
Ways Canva Can Improve Your Instagram Account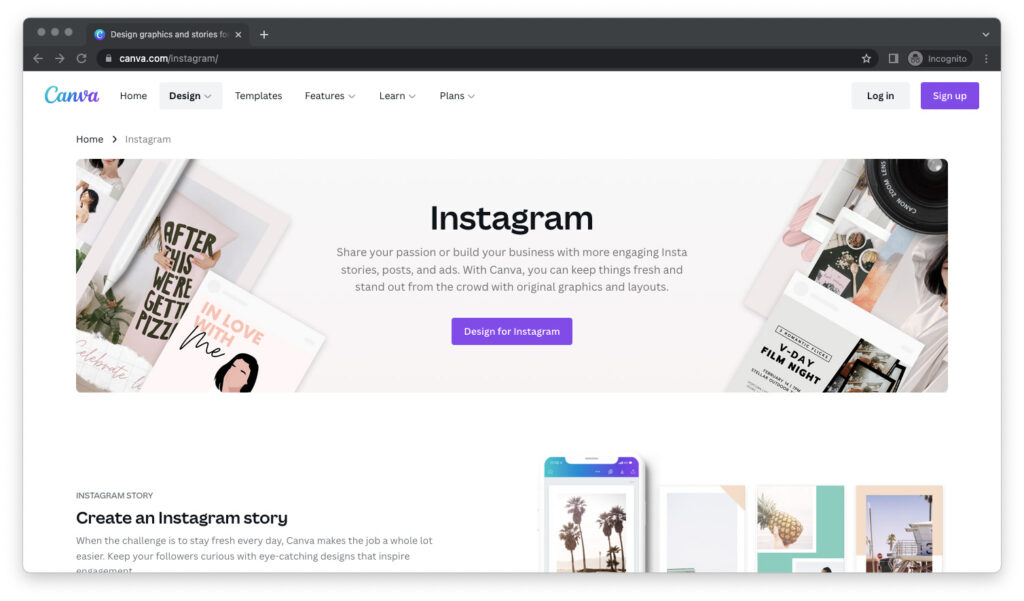 Many people who create content for Instagram find it hard to:
Stay fresh every day with beautiful, engaging stories and posts
Stay consistent with the look and feel of your brand or personality
This is where Canva comes in handy.
With this tool, you can easily create stunning graphics that will make Instagram users stop scrolling and want to engage with your brand or business.
All you have to do is to select the type of graphic that you want to create and select the template that appeals to you the most. You can then change the fonts, the colors, the text, the images, adding, tweaking, and removing design elements as you wish.
Canva has professionally-made templates for Instagram stories and Instagram posts. You don't need to worry about the size—the tool will take care of it for you—and there are at least a few templates for every Instagram account and occasion!
Here are some examples of how Canva can be used to improve your Instagram:
Create Instagram Posts
To create an Instagram post in Canva, simply open Canva.com, click on "Templates" from the navigation menu, and select "Instagram posts."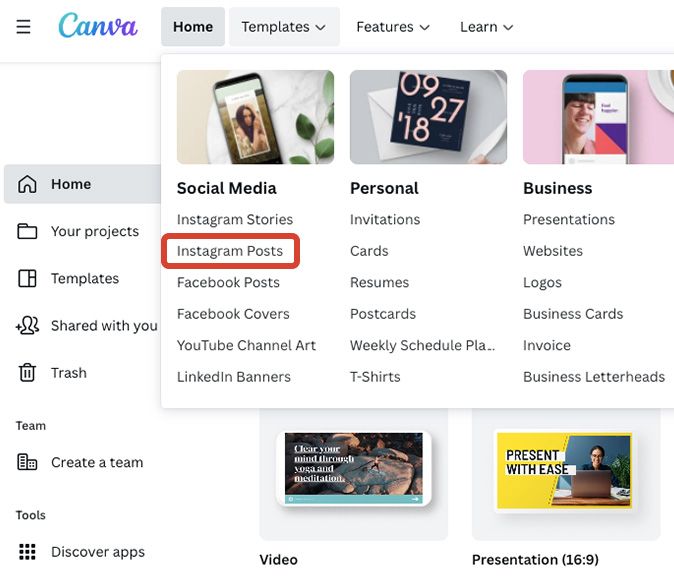 Search for a template that you like, then click on that template and hit the "Customize this template" button.
The Canva editor will pop up: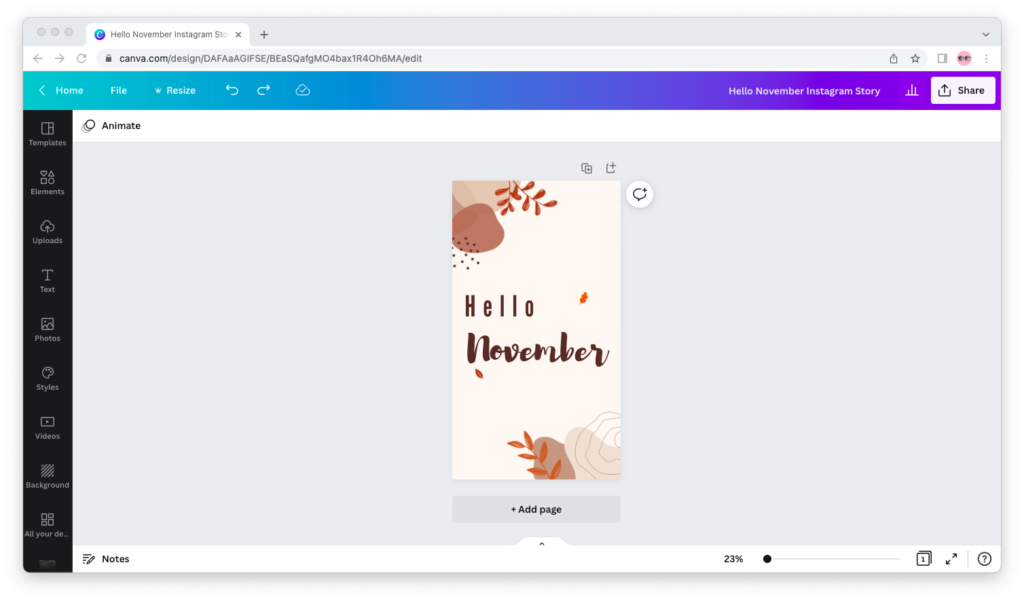 Click on any of the individual design elements in your Instagram post template to edit its properties.
You can add, edit, and remove elements. You can also resize them, like if you want to make the text bigger or some doodles in the bottom of the page smaller.
Or you can move them around in case you want them aligned differently than they are in the template. All in all, the customization options are limited only by your imagination and ingenuity.
It's so easy to use, it's addictive! (Just don't say we didn't warn you.)
What we love about creating Instagram posts in Canva is that:
If you don't know design, you don't have to worry about choosing fonts, matching colors, and finding images. The templates have it all for you.
If you do know design, you can create the most amazing Instagram posts in minutes and use Canva's library of millions of stock images and design elements as you do.
Create Instagram Stories
To create an Instagram story in Canva, fire up your browser, open Canva.com, click on "Templates" from the navigation menu, and select "Instagram stories."
Once again, the Canva editor will open up: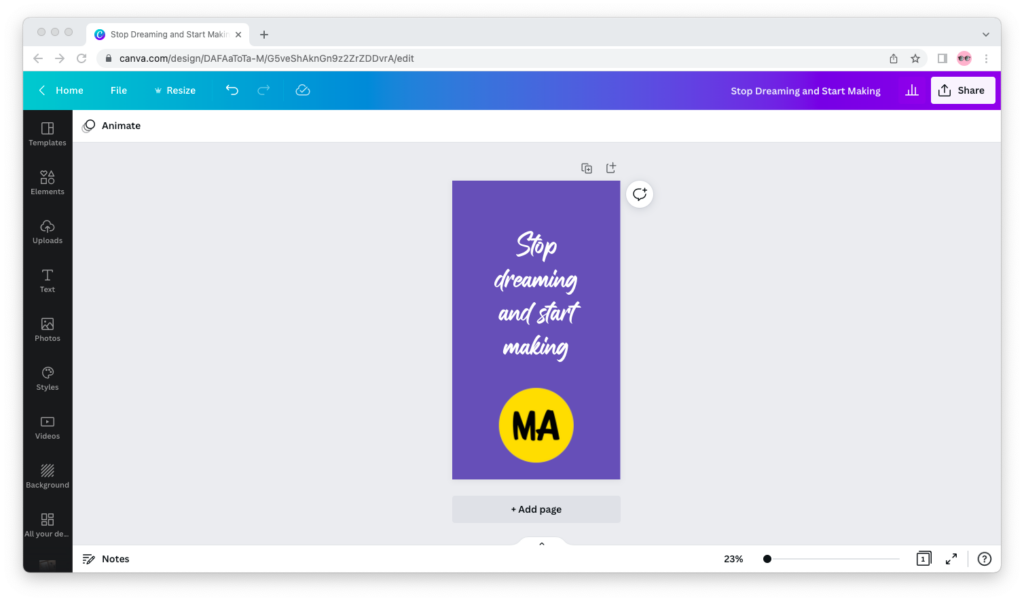 Use your mouse, your creativity, and the tools available in the editor to create the Instagram story that you want.
Making the Most of Canva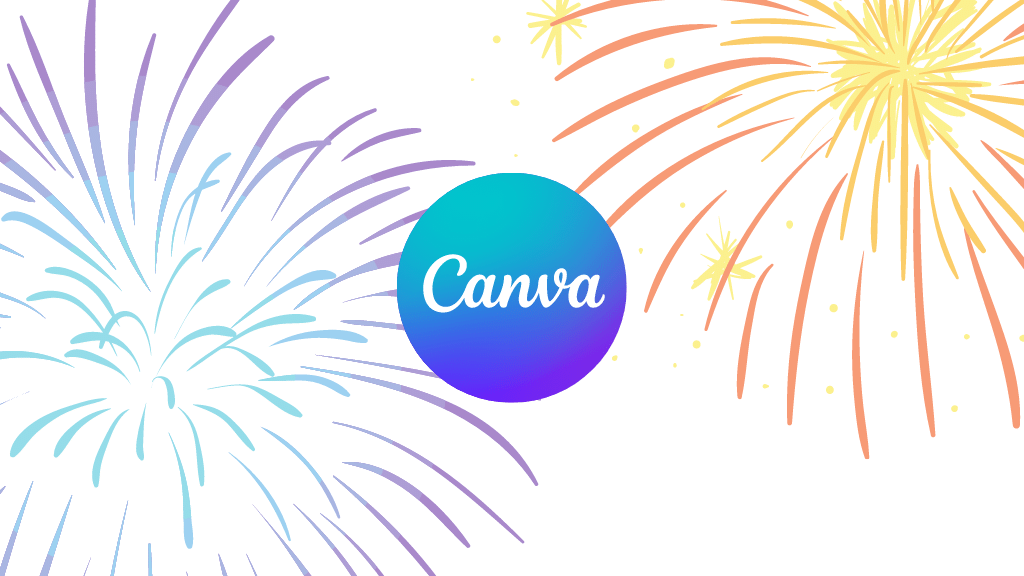 Connect Canva to Instagram
Not everyone knows that you can publish and schedule content to your Instagram account directly from Canva!
To learn how, check out "Can Canva Schedule to Instagram?" where we explain the details and walk you step-by-step through the setup.
Use Photos and Design Elements That Make Your Posts and Stories Stand Out
When creating posts and stories for your Instagram profile, it's sometimes hard to stand out from the crowd—especially if you don't use unique images.
Happily, Canva lets you select from a vast library of stock photos and design elements that can make your content one-of-a-kind.
Canva Free, the free version of Canva, gives you access to thousands upon thousands of stock photos from sites like Pexels and Pixabay (which it acquired in 2019).
Canva Premium, the paid version of Canva, unlocks a gigantic collection of 75+ million royalty-free stock photos and stock videos to add to your Instagram posts and stories. And you don't need to pay a dime extra to use them in your content!
Add a Fun Element to Your Content
Instagram is a social media platform that rewards personality.
Think about ways to make your Instagram posts and stories fun and quirky. By adding a little humor to your post, you'll be able to keep things interesting while still staying true to yourself.
Use Canva Templates for Your Inspiration
When you need inspiration, Canva can be a great place to turn to.
As you begin to grow your Instagram following, you may start feeling overwhelmed at times. It's just so hard to keep coming up with new, and new, and new content!
The good news is that Canva has hundreds of templates available for you to explore and try. And if you see templates that aren't right for the job but you might use later down the line, Canva will let you save them and use them in the future.
Related: Where to Find Favorites in Canva
It's like window shopping but for graphic design. So when you're stuck and out of ideas, look for inspo by browsing Canva's template library.
You can thank us later. 🙂
Stay Consistent
Consistency is key when it comes to building your audience and growing your engagement on Instagram.
If you're constantly changing the look and feel of your profile, or you keep changing the focus of your content week over week, people will lose interest in what you're doing.
This doesn't mean that you shouldn't change your profile picture now and then, or that it's a no-no to try new things and mix it up a notch, but make sure you stick to one theme throughout your feed.
This consistency will also show your followers that you're committed to your brand—and they'll trust you more.
Keep It Simple
When choosing your themes and templates, try not to include too much detail.
You only want to include enough information to tell your story and starting out you don't want to have to spend hours on every single post. 
Add Some Personality
People love seeing real-life moments in their feeds, so add a few personal touches to your posts to help them connect with you and your brand.
This could be a shot of your dog, a funny meme, or even a handwritten note to your followers, it's all about making an experience feel personal for viewers.
Have Fun! 
Remember, this isn't about being serious all the time. If you're having fun with your pictures then people will enjoy seeing them.
So, take some time to think outside the box and experiment with different styles and ideas.
Remember, you can be whoever you want to be, and Canva is simply the tool to allow you to do that.
Canva Pro: Worth It?
If you're thinking about upgrading to Canva Pro, there are plenty of features that make it well worth your time.
The most obvious benefit is that you'll be able to choose from a larger array of templates and even gain access to animations that can really spice up a social media page.
There are also loads of other useful tools including photos, videos, audio, and graphics that you can freely choose from, and edit with magic resize and photo effect features.
And, of course, you're free to save as much as you like with unlimited storage space, perfect for churning out lots of content!
Conclusion
Instagram is a fun and mostly easy-going platform that's incredibly powerful at showing off a person from just a few glances which really allows brands, companies, and individual influencers to reach millions of followers around the world. 
With a little creativity and effort, you can use Canva to create amazing visuals that will engage your audience and help you build a strong social media presence, because why wouldn't you want to give yourself a head start? 
We hope that we've shown you some advantages of using Canva for your Instagram pages in this article, so, if you're looking for a way to spice up your Instagram page, give Canva a shot today.
And remember to have fun with it, it's your brand so make it yours!