Canva is an online tool that allows individuals and teams to create eye-catching graphics for their brand, social media, and online presence. It even lets you create designs for your own merch, like coffee mugs and hoodies, and have them shipped to your door!
One of the things I love about Canva is the sheer number of fonts you can choose from without paying a penny extra (especially if you use Canva Pro). And yet, every once in a while, Canva just doesn't have the font you're looking for—and you have to look for it somewhere else.
Whether you bought a fancy font from a type foundry or downloaded a free font from the internet that you really like, you can import it into Canva and use it in all your designs.
Follow along, because I'm about to show you exactly how to do that in this tutorial.
How to Upload a Custom Font to Canva
To upload a custom font to have, you need to be a Canva Pro, Canva for Enterprise, Canva for Education, or Canva for Nonprofits user. Canva Free users can't upload custom fonts.
Note that Canva, like most design tools, doesn't support all font formats. This means that any custom fonts you add to the graphic design tool must have a .ttf, .woff, or .otf extension. Otherwise, they won't upload.
Steps to upload a custom font to Canva:
Step 1: Fire up your web browser and go to Canva.com. Or if you have the Canva app installed on your computer, launch the app from the shortcut icon.
Step 2: Click on the burger icon in the upper left corner of the screen to expand the left sidebar.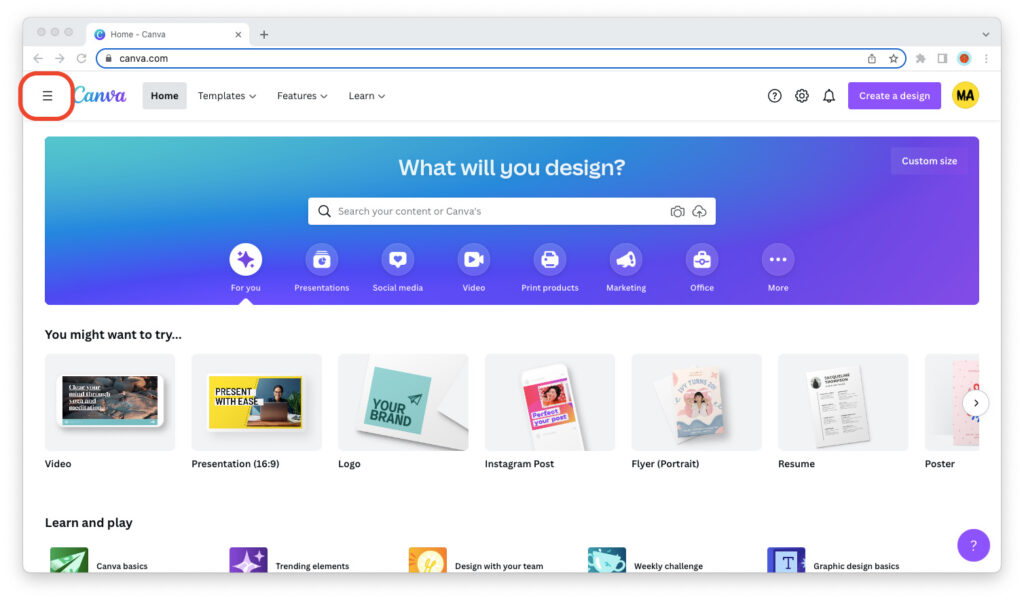 Step 3: Look for "Brand Kit" at the bottom of the sidebar and click on it to go to your brand kits.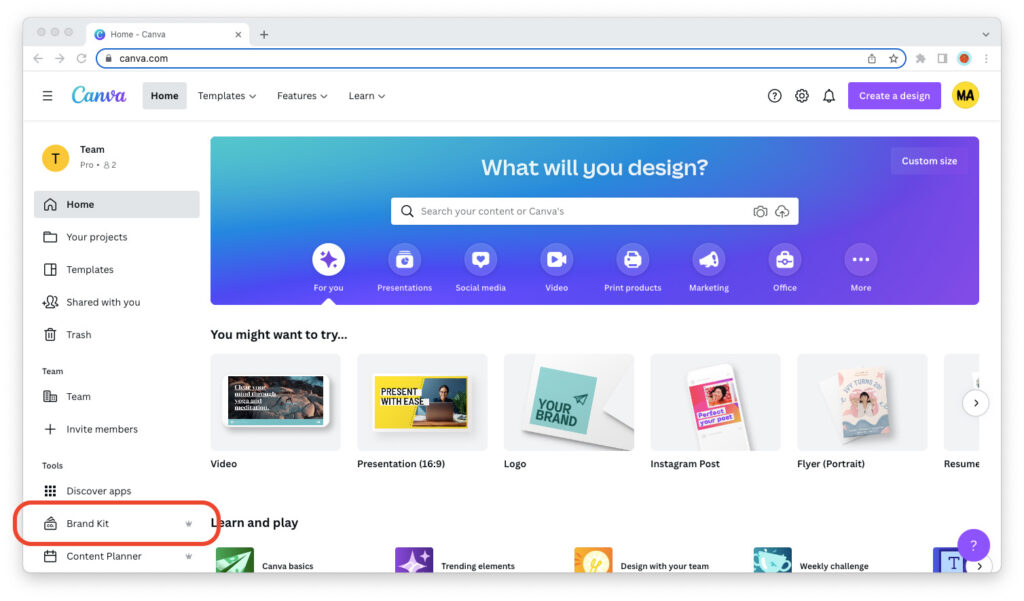 Step 4: Click on the "Upload font" button to the right of "Brand fonts." Locate the font file on your computer and wait for it to upload to Canva.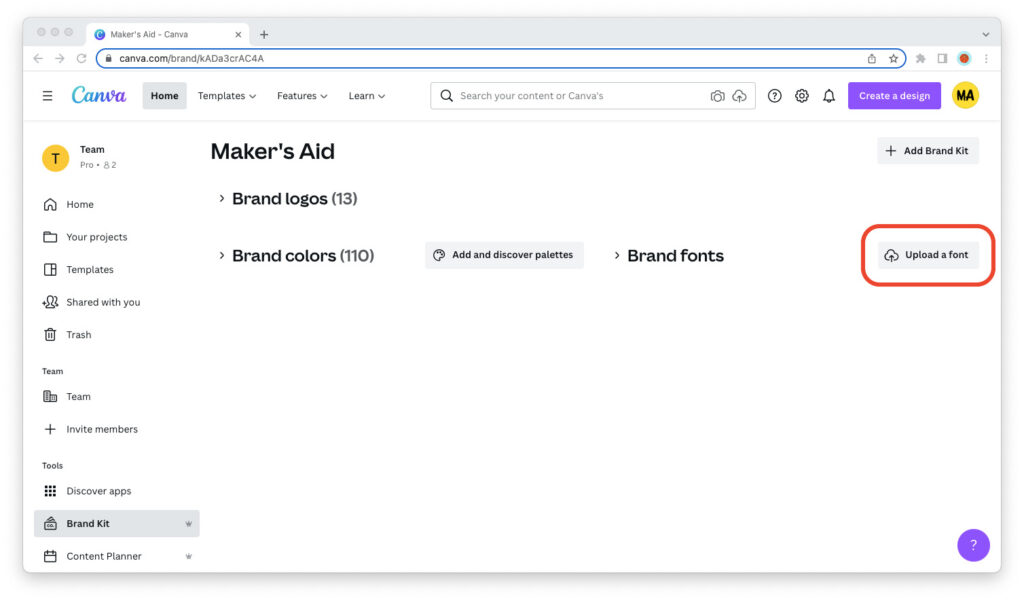 Once the font is uploaded, which may take anywhere from a few seconds to a few minutes depending on your Internet connection, you should be able to see it under "Brand fonts".
And now I'll show you how to use the font in your designs!
How to Use Your Custom Font in Canva
Using fonts that you've uploaded to Canva yourself is no different from using fonts that the tool already provides for you.
Create a new Canva design or open the Canva design that you want to edit, then add a text element or select an existing one and look for your custom font under "Uploaded fonts" in the font picker.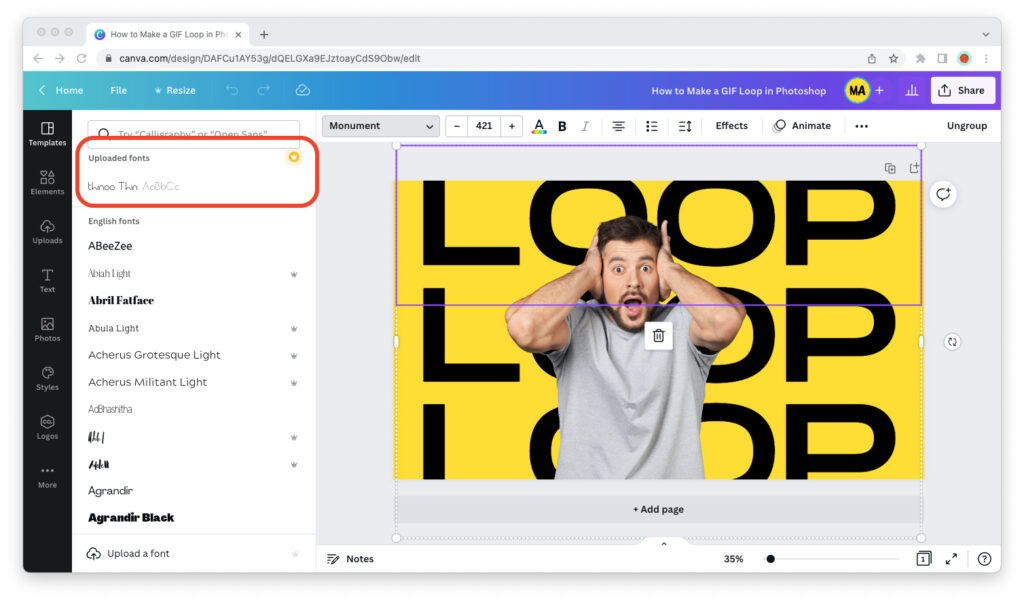 You're all set!
Just follow the steps in this guide, and you will be able to upload and use your custom fonts in Canva without hassle.
Can You Use Any Font You Upload to Canva?
Technically, you can use any font you upload to Canva in any of your designs.
But before you do, check the license. Some free fonts, for example, can only be used for non-commercial use. Even if you paid for a font, take the time to familiarize yourself with the license that you got from the type foundry.
If you paid for a font, you most certainly can use it for commercial purposes. But type foundries and font authors tend to put limits on the number of items that you can use it on, or the number of page views it can be viewed on if used on the Internet.
Remember that Canva is just a graphic design tool. The fact that you can upload any font doesn't mean that you can use any font you upload.