WordPress makes it easy to create your own website, even if you don't know how to write code or use Photoshop.
In this guide, we'll go through the steps to set up a simple website with WordPress.
There are lots of reasons why you might want to make your own website instead of having one made for you.
Maybe you want to start a side hustle and need an online presence so potential customers can find you.
Or maybe you just want to share your ideas with others and teach them how to do things, like we're doing right now with this very guide.
Whatever the reason, you know the saying. If you want something done, and done well, do it yourself!
You just have to learn how to do it—and that's exactly what you're about to do.
Why Create A Website With WordPress?
WordPress is software that millions of people use to create their own blogs, websites, and web-based apps.
It's free and open-source, so you can use it for personal and for commercial purposes without having to pay a fee.
It's also very user-friendly and has many features to make your website beautiful (and your life as a website owner easier).
If you've ever had trouble creating a website before, then WordPress is definitely worth checking out.
There are lots of different ways to make a website using WordPress.
Option 1: Use WordPress.com
One of the easiest ways is to sign up with WordPress.com. This service allows you to create a free website without any technical knowledge.
All you need to do is choose a theme, add some text, upload images, and publish your site.
Option 2: Download WordPress from WordPress.org
Tech-savvy users can go to WordPress.org, download the software themselves, then buy a domain name and a hosting package from a web host and install it themselves—also a legit way to get started with WordPress.
In this tutorial, we'll focus on the first option, WordPress.com, since you can use it for free and you don't need any knowledge about web hosting to create your first website on it.
Steps To Creating A Website On WordPress.com
Step 1: Create An Account On WordPress.com
Fire up your favorite web browser, then go to wordpress.com and create an account on the platform.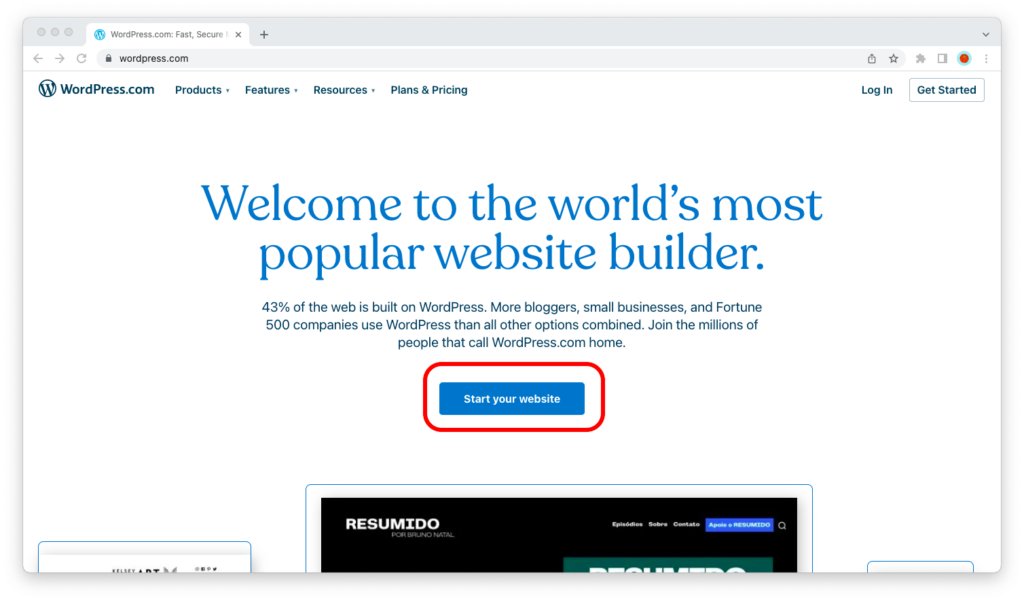 When you are on the site, click on the "Get Started" button in the upper right corner of the screen, and WordPress.com will take you to the signup page.
Here, you need to fill out the signup form with all the required fields. These are:
Your email address
Your username
Your password
If you prefer to log in to the platform with your Google or Apple account, you can also create an account with these identity providers from the buttons on the right side of the screen.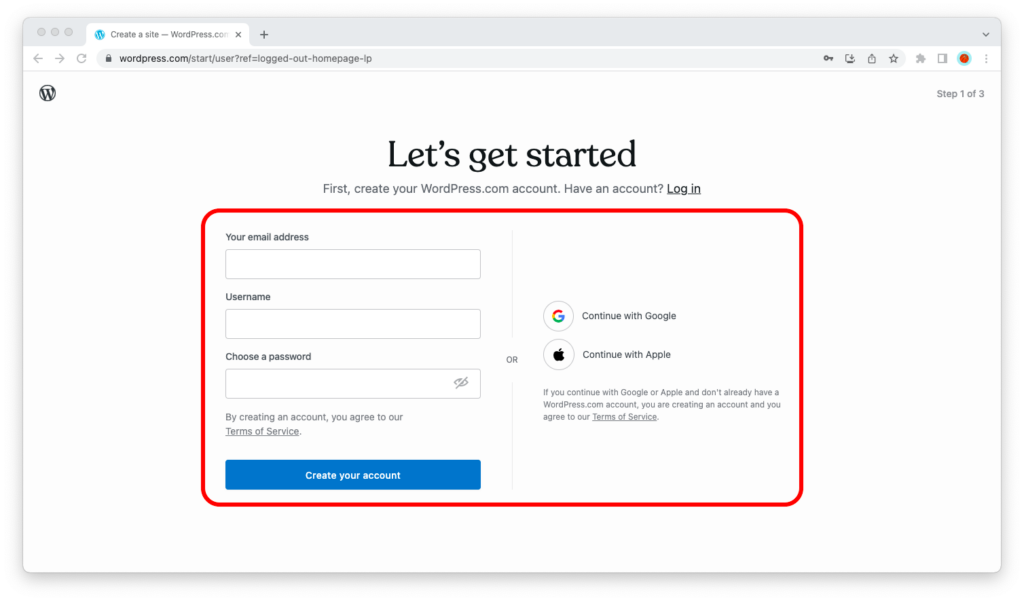 Make sure you've spelled the email, username, and password correctly, then hit the blue "Create your account" button to proceed to the next step.
Don't use a fake email, temporary email, or anything like that; you need to activate your account by clicking on a confirmation link in an email message.
Also, your website should be tied to an account with a real email address.
Step 2: Choose A Domain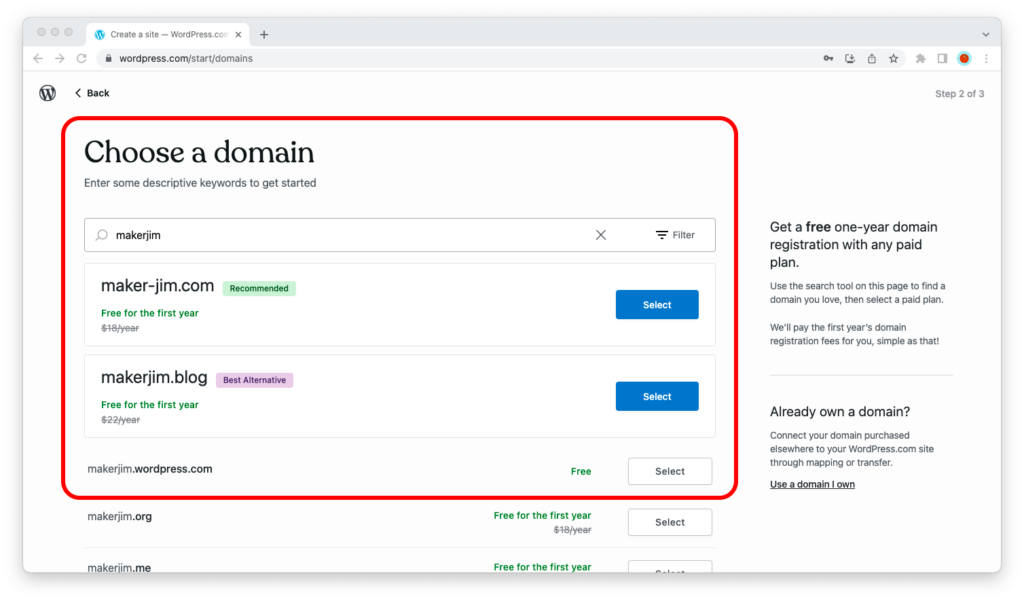 The domain is your website's address, the one that you and the visitors of your website will have to type into the browser's address bar to visit it.
Choose a name that's short, concise, and easy to remember. Preferably it should consist of 2-3 words without hyphens, as hyphens in domains are considered old-fashioned these days.
WordPress.com offers you a free domain name for the first year if you subscribe to one of its paid plans.
At $5/month, the WordPress starter plan is affordable, and the free domain name for the first year is a good deal.
But if you want to create a blog for free free, then select the WordPress.com subdomain option that's right under the first two featured domains.
What's the difference?
If you buy a domain name, your website will have an address like yourwebsite.com.
If you get the free subdomain, then your website's address will be yourwebsite.wordpress.com (basically, on a subdomain of the wordpress.com domain).
Now, if you're serious about your website, you probably want to get a good .com domain name for it.
But if you haven't thought about it yet and you don't know how to proceed, don't worry.
Just opt for the free subdomain; you can always upgrade to a paid plan and custom domain name before you start to spread the word about your website.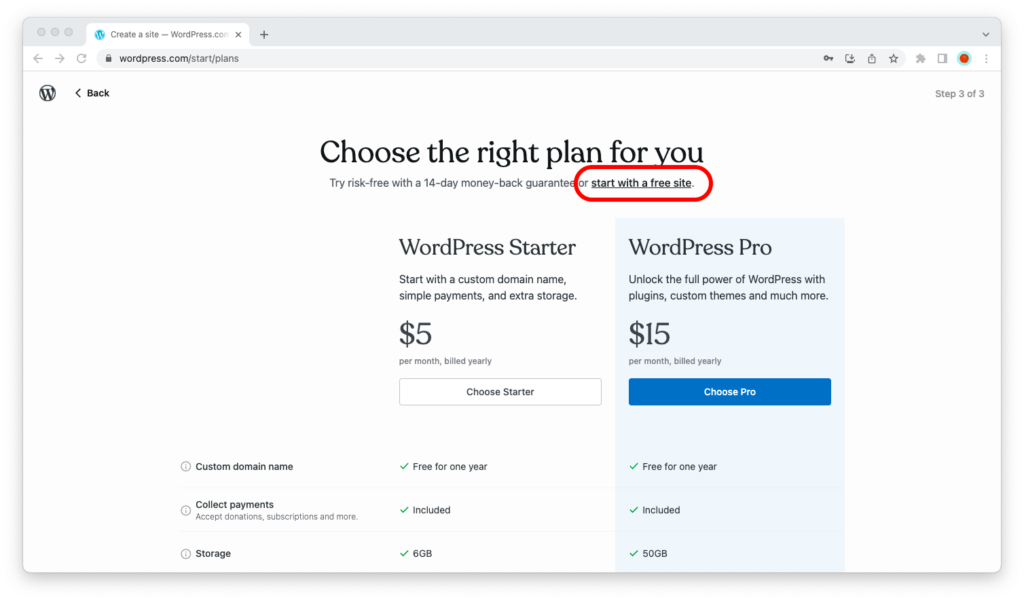 Last but not least, WordPress.com will ask you which plan you want to use.
As we mentioned earlier, we think the WordPress Starter plan is a bargain ($60/year), especially when you consider that you get a free domain name for your website for the first year. (After the first year, you will have to pay a renewal fee to keep it.)
But you're here because you want to create a WordPress.com website for free.
So look for the "start with a free site" link in the subheading of the page and click on it to complete the signup process.
Step 3: Setting Up The Website
Once you're signed up for WordPress.com and you've created your website with it, you will be redirected to another page that helps you get started.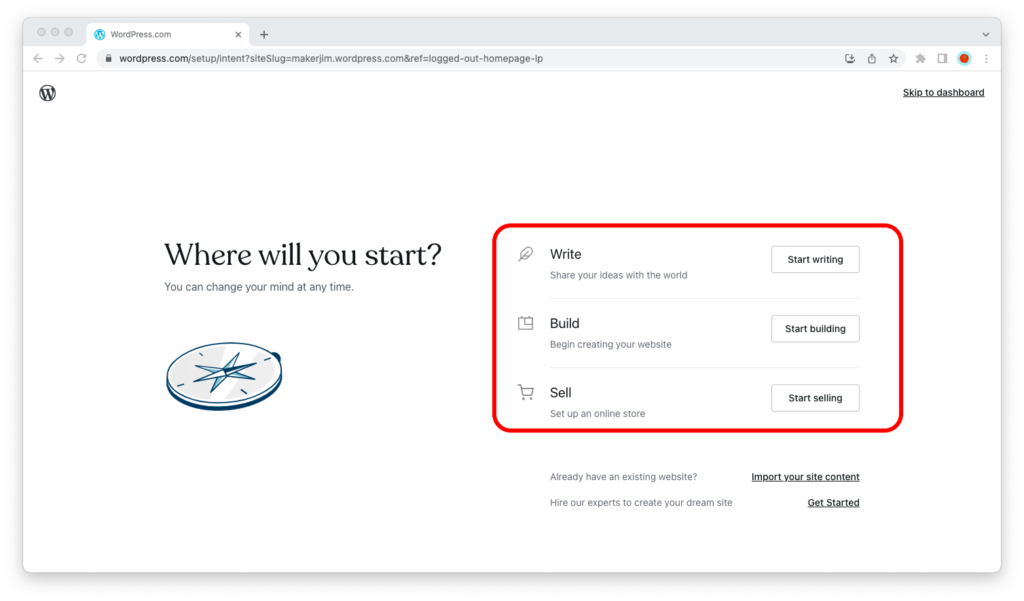 This page gives you three options:
Write content
Begin building your website

Set up an online store and start selling your products 
Which option to choose depends on what you want to do at that moment.
Your website is created, and you can do all these things at a later time. So now is a great time to take a coffee break!
If you're already familiar with WordPress, you can skip the introductory page and go straight to the WordPress dashboard by clicking on the "Skip to dashboard" link in the upper right corner of the browser window.
Step 4: Get Down To Work On Your Website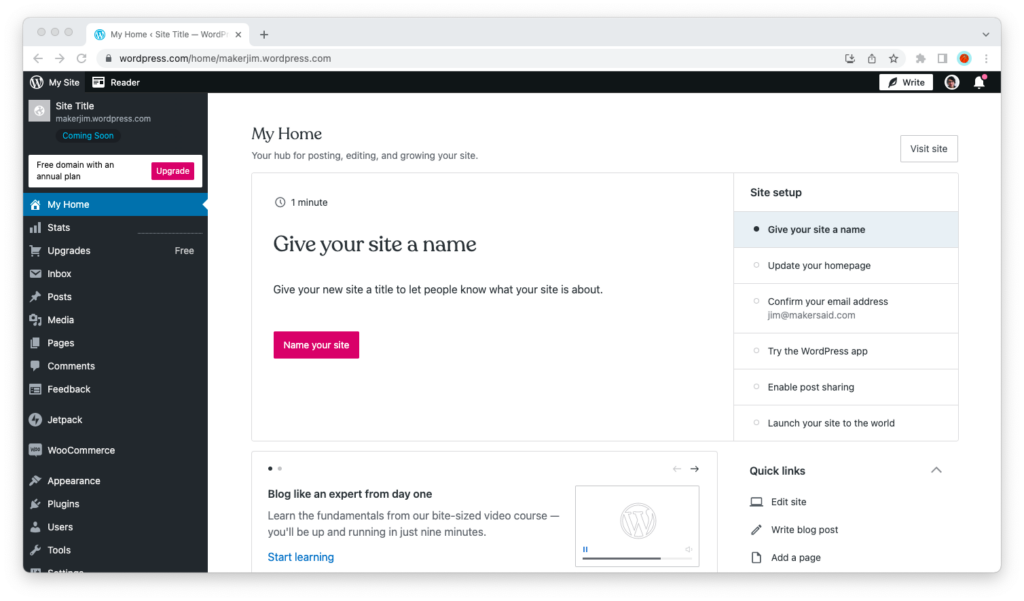 If this is the first time you're using WordPress, the good news is that WordPress.com makes it really easy for you to get started.
The My Home page, which you can access once you've logged into your WordPress.com account, walks you through the steps to set up your site.
These include giving your site a name, updating your homepage, enabling post sharing on social media, and launching your site to the world.
Wrapping Things Up
Congrats, you just created your first WordPress website on WordPress.com for free!
Now that all the steps are complete, it's time to roll up your sleeves and get to the real work—building.
You'll probably want to create pages and posts on your site, choose a design, and optimize functionality.
When your site looks exactly like you want it to, it's ready to share with the world!