There's little doubt that Google Tag Manager is one of the best tools for tag management professionals out there. It's free, it's easy to use, and it has all the features you need to deploy tags, pixels, and manage consent.
However, as easy as Google Tag Manager is to use, it can still take a while to get familiar with it if you're new to it. So it's not surprising that you end up googling a lot of questions. Questions like, "How do you give somebody else access to a GTM container?"
If you need to give someone else access to your website's Google Tag Manager container, but you've never managed access in GTM and you don't really know how to do it, this tutorial will show you how.
How to Give Others Access to Google Tag Manager
Step 1: Fire up your favorite web browser and go to tagmanager.google.com.
Step 2: Log in to the Google account associated with the GTM container that you want to give access to.
Step 3: Click the icon with three dots on the GTM container in question, then go to "User Management."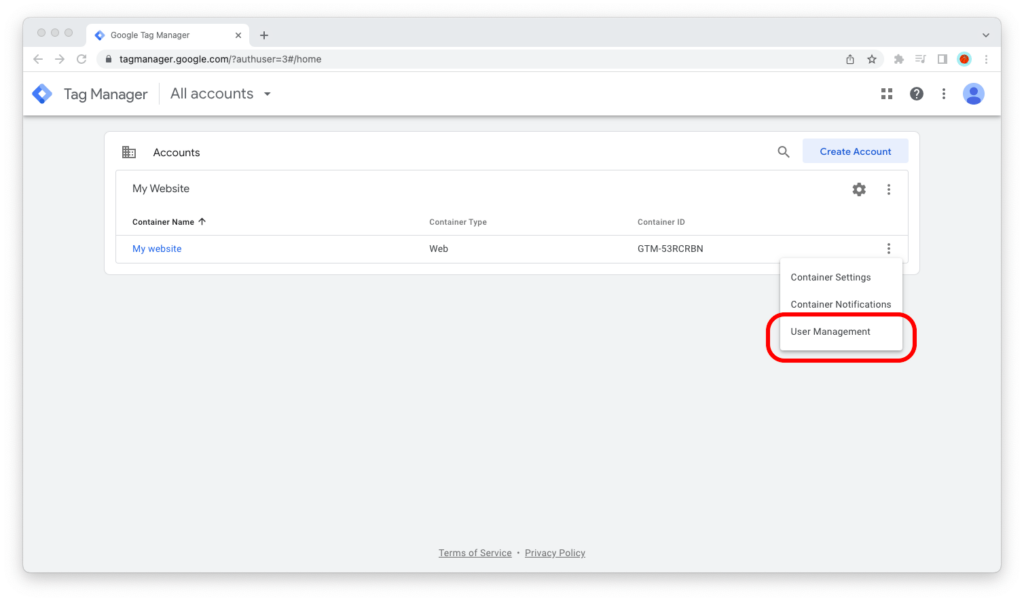 Step 4: Click the "+" icon in the upper-right corner of the screen, then go to "Add users."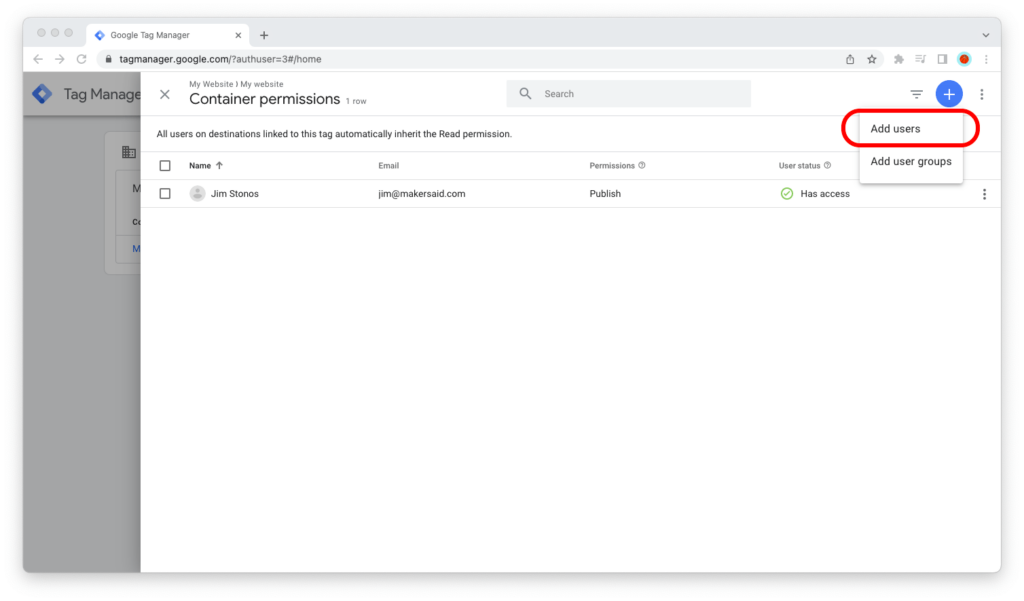 Step 5: Enter the email address of the person you want to grant access to the container, and then select the permissions they should have.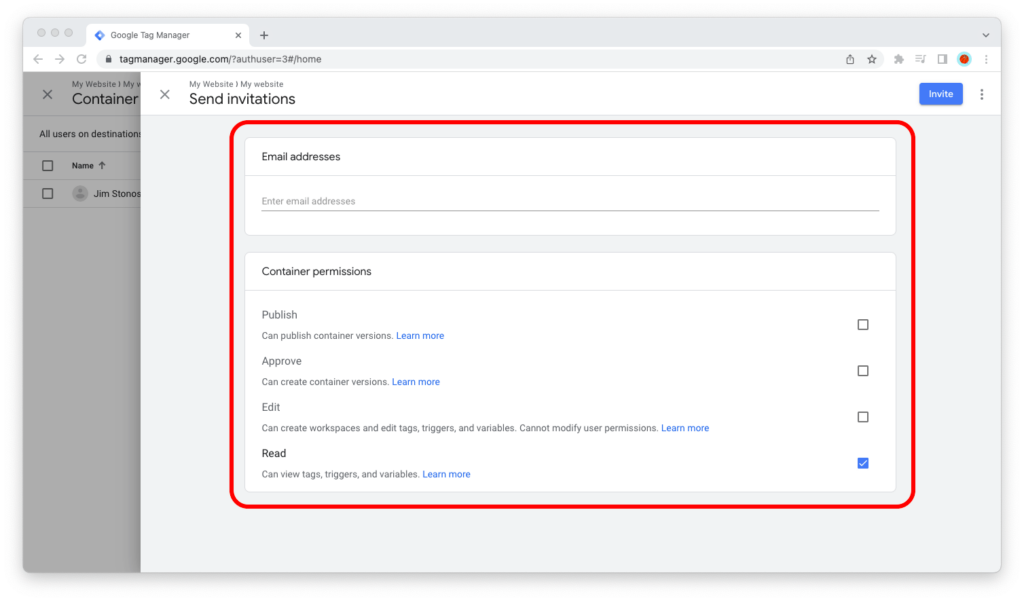 Step 6: Click on the blue "Invite" button in the upper-right corner of the screen.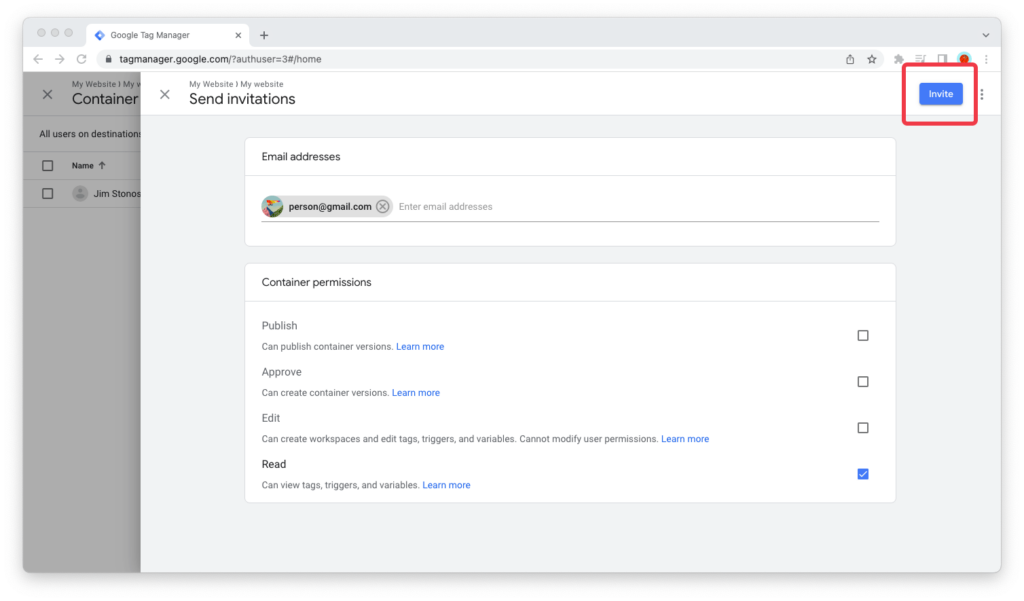 You're all set!
Next, the invited person receives an email message with a link. He or she must click on this link and accept the invitation in Google Tag Manager.
Who Can You Give Access to Google Tag Manager?
You can grant anyone access to your Google Tag Manager container, as long as they have a Google account associated with the email address that you're sending the invitation to.
If you try to send an invitation to an email address that isn't associated with a Google account, Google Tag Manager will show an error that says, "This email address doesn't match a Google Account."
Here's what that error looks like: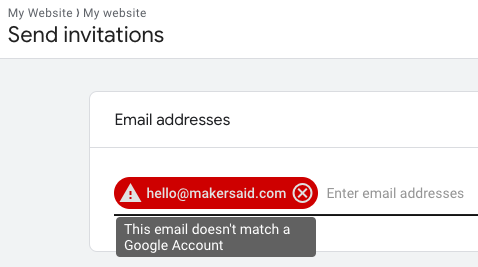 If you see this error, ask this person to give you the email address of their Google account. (And if they don't happen to have one, ask them to create one by visiting accounts.google.com/signup.)
In such a case, they can create a Google account with an existing email address (say, person@company.com), or with a Gmail (person@gmail.com) email address.