Did you know that you can create QR codes in Canva?
Gone are the days when you had to use buggy websites stuffed with ads or install weird, outdated software on your computer to just create a QR code.
Creating QR codes in Canva is quick and easy, as you would expect from any decent Canva feature. And, in this tutorial, I'll walk you through it step-by-step and with screenshots!
How to Create QR Codes in Canva
Canva has a QR Codes app that lets you create QR codes for your designs in a snap.
Each QR code contains a URL that opens in the user's browser when they scan the code with their phone or tablet.
To generate a QR code in Canva, follow these steps:
Step 1: Go to Canva.com and create an account or sign in. From the top navigation menu next to Canva's logo, hover over "Features" and click "QR Codes" under "Apps."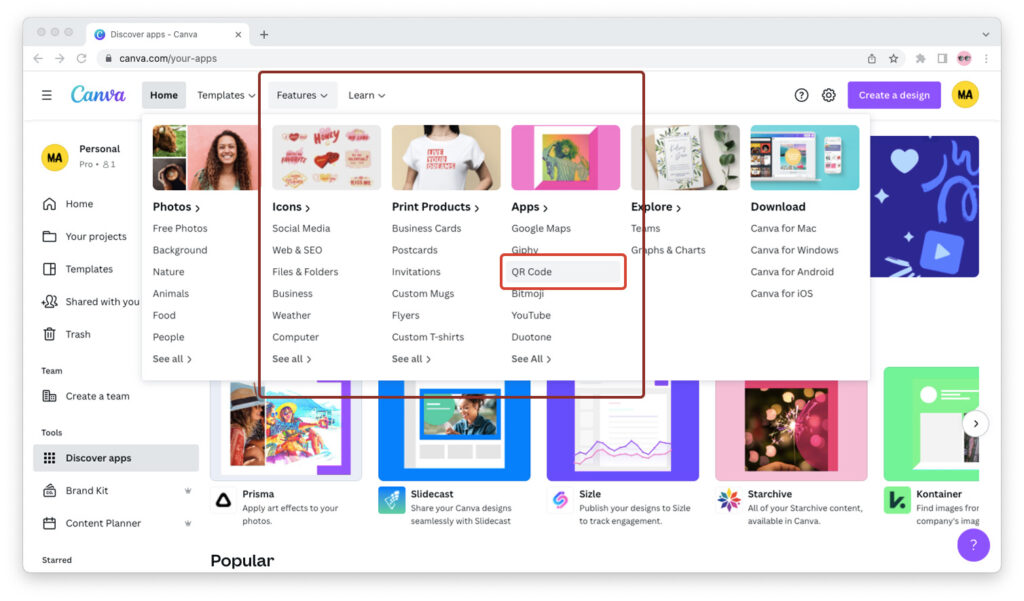 Psst! There's a shortcut. You can go to Canva.com/apps/qr-code instead. Just don't tell anyone I told you 😉
Step 2: Click the purple "Use in new design" button.
Step 3: Enter the size you need your QR code to be, in pixels, and create the design.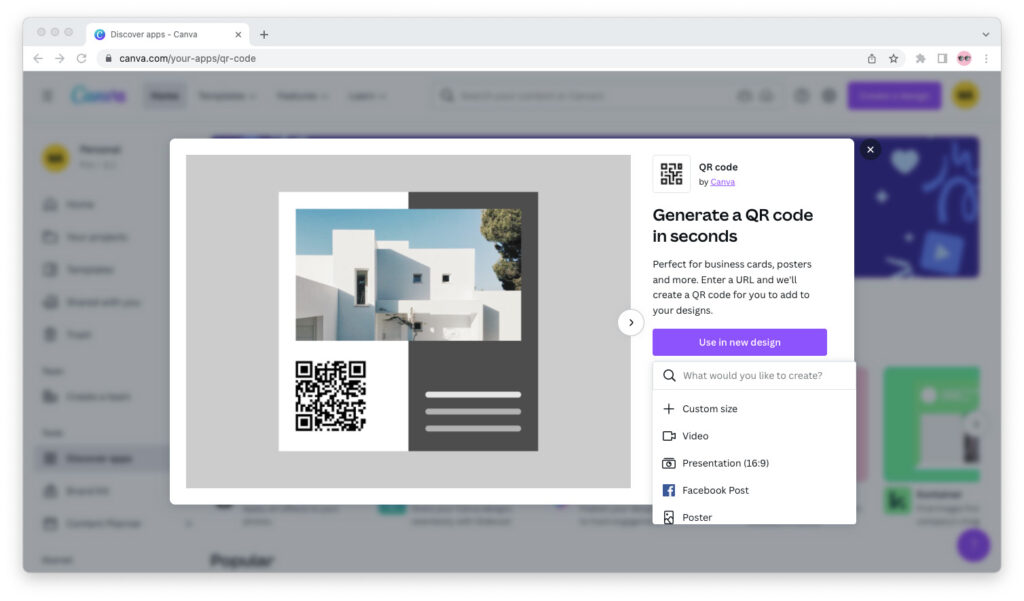 Remember that QR codes are square, so you want to enter a size with a 1:1 ratio. (When in doubt, enter 1,280×1,280 pixels.)
Step 4: From the sidebar to the left of the screen, enter the URL you want the QR code to point to under "URL" and click the blue "Generate code" button. Canva will generate and insert a QR code into your design.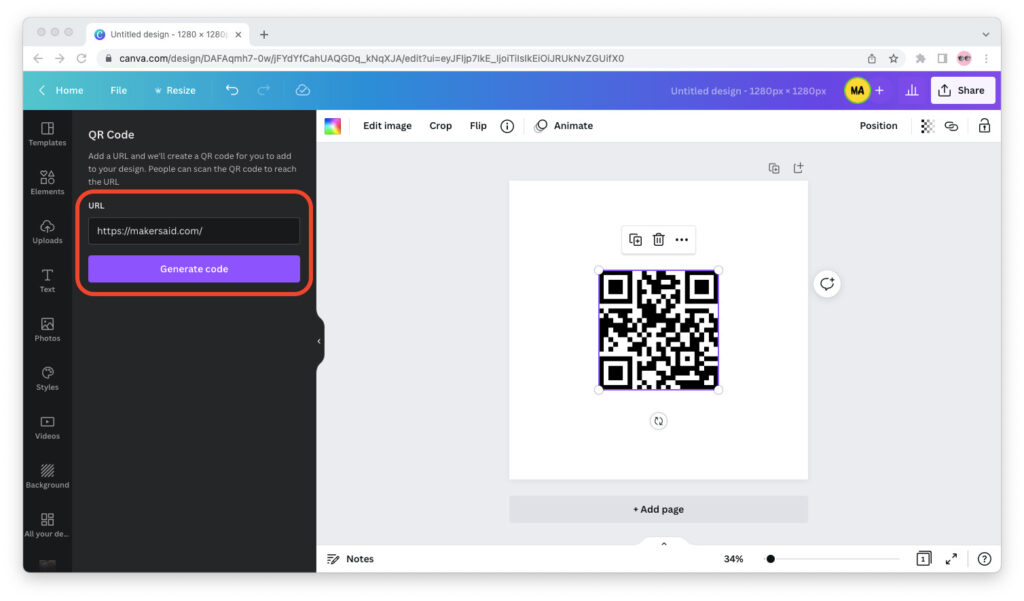 If you need to insert your QR code into another Canva design, like a flyer, don't worry. Canva will automatically save your newly-generated QR code in the "Uploads" tab.
Now that you've generated it, all you have to do is close this design, open the one you want to insert your QR code into, then head over to the "Uploads" tab from the left sidebar and find it.
Are Canva QR Codes Static?
Canva's QR codes are static. Once a QR code is generated, that code can't be updated. You can always create a new QR code if you need to change the URL, but you can't update the URL of the original.
So it's really important to get the URL for your QR code right, especially if you're inserting it into a print design. Remember that once it's printed and out there, you can't change the URL it points to.
There is one workaround, and that workaround is Bit.ly Basic. At $29/month or $348/year, Bit.ly's Basic plan lets you create short links and redirect them to any destination URL you want, even after you've created them.
Do Canva QR Codes Expire?
QR codes generated in Canva last forever. Basically, a QR code is just an image that contains a link. Whenever somebody scans the QR code on their phone or tablet, their browser will read the code and ask them if they want to open the link.
So you don't have to worry about your Canva-generated QR codes expiring. Any QR code will always lead to the link you generated it for, even if someone scans it after years.