Cookie categories, also called "cookie groups," are an important part of any CookiePro cookie banner implementation. They are the basis for cookie categorization and cookie consent management.
They are the basis for cookie categorization, the grouping of cookies based on their type and function, and cookie consent management, the ability for visitors to your website to give or withdraw consent to a particular cookie category at any time along their journey.
Checking Your Cookie Categories in CookiePro
All CookiePro banners come with a list of default cookie categories (based on privacy best practices) to work with, although these categories can also be edited by the organization using the tool.
When you are configuring a CookiePro cookie banner for your organization or integrating its tag management tool with it, it's critical to understand what cookie categories exist, as this will determine much of the following consent management logic.
How to find the list of cookie categories in CookiePro:
Launch CookiePro, go to "Cookiepedia" > "Categorizations" from the left sidebar and, from the top bar, click on "Categories."
The list of cookie categories for your CookiePro organization will pop up: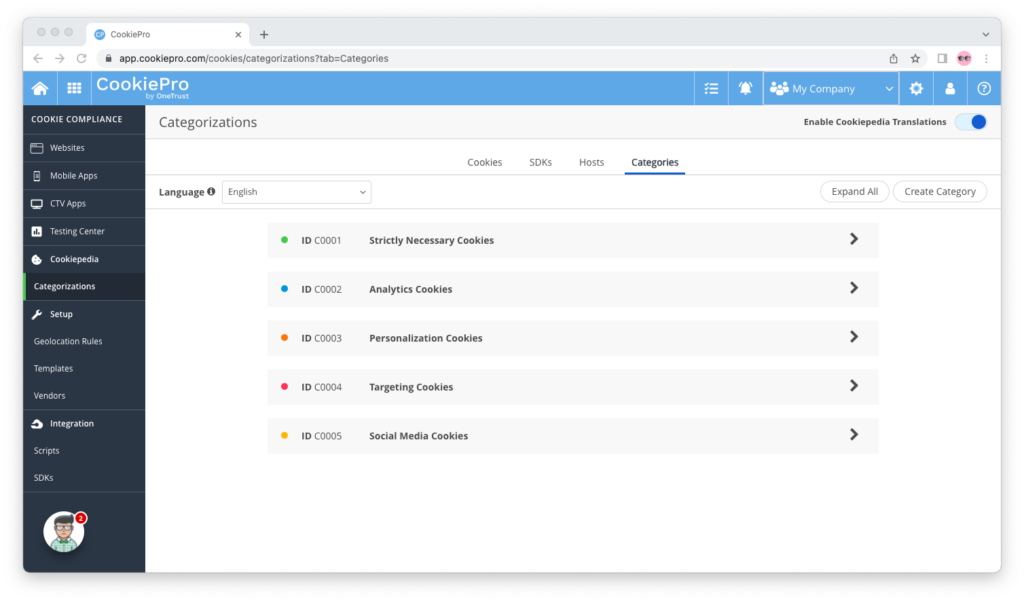 The default cookie categories for all CookiePro banners are as follows:
| ID | Name |
| --- | --- |
| C0001 | Strictly Necessary Cookies |
| C0002 | Analytics Cookies |
| C0003 | Personalization Cookies |
| C0004 | Targeting Cookies |
| C0005 | Social Media Cookies |
If you're a new CookiePro user and you're setting up your account and organization for the first time, this is what you want to see.
If you're an existing CookiePro user, especially in a bigger company, you may see a different list with different IDs configured here. Check your company's internal documentation for cooking management to find out why.
Why Cookie Categories Are Important
After scanning your website in CookiePro, you need to make sure that each cookie is assigned to a cookie category. Don't leave cookies as "Uncategorized", this can lead to complaints from privacy-conscious users and scolding, in all forms, from data protection authorities.
Second and not to be underestimated, your website's tag management tool must be properly configured to listen to the IDs of each cookie category and to have firing triggers and blocking triggers based on the state of each.
For those of you who are using Google Tag Manager, check out my guide, "How to Integrate CookiePro and Google Tag Manager."