Some people might think that Ubersuggest is not the most reliable SEO tool and may not be worth the time and effort to use.
Like any other web app out there, it can take you a while to learn how to use it at first. But, once you do, it can help you take your SEO game to the next level, as long as you're aware of its strengths and weaknesses.
Keyword Research and Content Ideation
Learn how to make the most of Ubersuggest (the knowledge base and Neil Patel's YouTube channel are two good places to get started), and it can save you hours of keyword research and content ideation every week.
This tool, even before Neil acquired it, was originally created to suggest keywords—and that's an area it definitely excels at.
For each keyword that you enter into the Keyword Ideas tab, you get thousands of suggestions for related terms, the questions people ask, the comparisons they search for, and the prepositions that they use.
Each keyword is listed on a separate line and comes with estimates for search volume, Cost per Click (CPC) in Google Ads, SEM difficulty to compete on ads, and SEO difficulty to compete on rankings.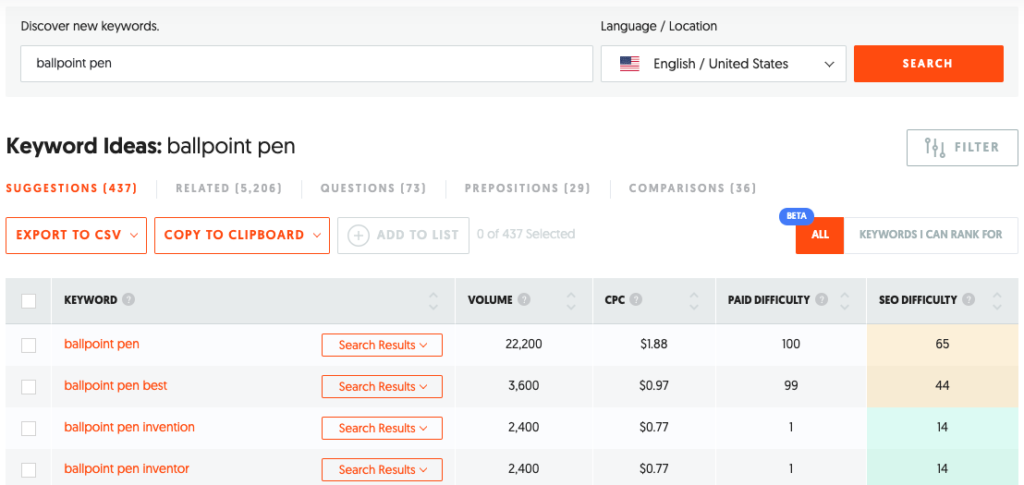 When talking about the reliability of Ubersuggest for keyword research, there are two angles for us to explore: there's the reliability of the results as a whole, and then there's the reliability of the estimates and scores for each of them.
Since I started to use Ubersuggest, it has easily turned into one of my favorite keyword research and content ideation tools.
The suggestions are good, filterable by more than one criteria, and can rival the results of any competitor, be it Ahrefs, Keywords Everywhere, or Keyword Chef.
Still, it's important to note that if you're a power user of Ahrefs (here's an example of what I mean), you will find the filters and operators too simple—and you'll quickly want to get back to using your favorite tool.
But if you're someone who's been using Doug Cunnington's keyword golden ratio, Income School's alphabet soup method, or the suggestions from Keywords Everywhere on Google SERPs to ideate content, you're going to love the results you get on Ubersuggest.
Volume estimates and difficulty scores are… another story.
As long-time readers of Maker's Aid know, I don't count on estimates and metrics from most SEO tools as a whole, as they're not as reliable as most people think in the first place.
And that's in no way because Ubersuggest—or any other tool, for that matter of fact—is faulty. It's simply because an organic search volume estimate or a difficulty score from 1 to 100 can only be that useful to you when researching keywords and ideating content.
Sure, you can use them, but don't count solely on them. There are many other questions you should be asking yourself as you look through the results for a search term instead.
Estimating Organic Traffic on Websites and Pages
As a Ubersuggest user, you'll be spending a good portion of your time in the "Competitive Analysis" tab researching other people's websites as you try to discover keywords that they rank for—and you don't.
Given that the results will probably influence the content that you and your team end up putting on your editorial calendar, it's only natural that you'd want to ensure that these results are accurate in the first place.
To find out how reliable the results under Ubersuggest's Top Pages by Traffic tab were, I ran the analysis on one of my own websites, for which I have the actual data available to me in Google Search Console.
Without claiming to have any data of statistical significance here, I approached this in the following way:
I took the top 10 pages by traffic according to Ubersuggest;
I pulled traffic estimates from both Ubersuggest and Ahrefs as a benchmark;
I compared the traffic estimates that I got from these two tools to the actual traffic for these pages (in the past 28 days) in Google Search Console.
I calculated a metric that I called offset, which measured the difference between Google Search Console data and organic traffic estimates given by each of the two tools.
Here's what I found:
Page*
Search Console
(Last 28 Days)
Ubersuggest Estimate
(Monthly)
Ubersuggest Offset**
Ahrefs Estimate
(Monthly)
Ahrefs Offset**
Post 01
1,980
1,773
1.12
1,235
1.60
Post 02
1,462
1,196
1.22
711
2.06
Post 03
631
843
0.75
234
2.70
Post 04
770
610
1.26
295
2.61
Post 05
523
592
0.88
123
4.25
Post 06
1,028
375
2.74
461
2.23
Post 07
1,068
363
2.94
305
3.50
Post 08
278
248
1.12
20
13.90
Post 09
1,173
213
5.51
52
22.56
Post 10
124
207
0.60
470
0.26
* I've hidden the titles and URLs of all pages since they're published on a blog that I'm not keen on turning into a public case study
** Offset = ( Search Console Data for Last 28 Days / Monthly Organic Traffic Estimate of Tool )
The results were least to say interesting.
For the top 5 pages Ubersuggest had designated as having the most traffic, it estimated that traffic fairly accurately, with an average offset of 1.05 in comparison to Ahrefs' less-accurate estimates with an offset of 2.64.
As I added more pages, Ubersuggest's average accuracy started to decline. However, its estimates for organic monthly traffic were still marginally more accurate than those of Ahrefs.
For the top 10 pages Ubersuggest had designated as having the most traffic, it estimated that traffic with an average offset of 1.81 compared to 5.57 for Ahrefs.
These numbers tell us a couple of things.
First, for the website in question, Ubersuggest was on average 3.07 times better at estimating monthly organic search traffic per page than Ahrefs.
When you consider that Ahrefs' Lite license costs $990/year yet you can snatch a lifetime subscription for Ubersuggest's Individual plan for as little as $120, it's a pretty sweet deal.
Though it must be said, Ahrefs and Ubersuggest seem to be targeting users of different levels of SEO knowledge and feature needs.
Second, it's impossible for any tool that's not owned by Google to estimate organic search traffic accurately.
Why is that so, some of you may be asking?
The days of creating content for a specific keyword are over. With things like semantic search, Google's passages update, and the "People also ask" box, a single piece of content is capable of ranking for tens of keywords, queries, and topics at a time.
So, even though tools like Ubersuggest get the lion's share of their data from Google's Keyword Planner, they don't have the full picture. Only Google does—and they're reluctant to share it with anyone else, including website owners like you and me.
Again, don't treat this as some sort of comprehensive, multi-website, thousands-of-results-analyzed study. This is just your average Joe (or Jim, to be specific) looking into the top 10 pages on one of his blogs.
That being said, if you saw me on the street tomorrow and asked me, "Jim, how accurate is Ubersuggest?", I'd tell you that it's as accurate as a non-Google tool gets—but don't bet all of your horses on it.
Of the top 10 pages that had brought in the most traffic in the past 28 days according to Google Search Console, Ubersuggest had identified only 7, and had put in 3 others that were actually in the top 20 instead.
It had done so 20% better than Ahrefs, which correctly identified half of the top 10 pages by traffic, and had put in 5 other pages that were in the top 30 instead.
For the same reasons I shared with you above, no SEO tool is capable of giving you the full picture, with 100% accuracy.
So if you rely on a single SEO tool for all of your keyword research and content creation calls, no matter which one it is, you're probably missing out on otherwise good opportunities to get traffic.
Tracking Backlinks Pointing to Your Site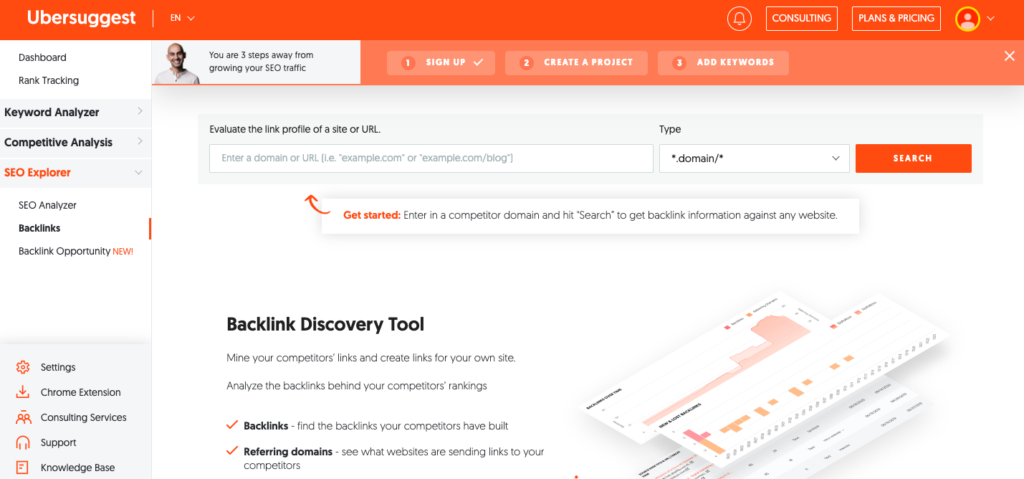 As I shared with you in my review of Ubersuggest, backlink tracking is one of the areas where this SEO tool fell short of my expectations.
Let's take a look at a comparison between the data for referring domains and external links from Google Search Console, Ahrefs, and Ubersuggest to illustrate my point.
On the day of publishing this post, for one of my websites:
Google Search Console had identified a total of 1,337 external links from 111 referring domains;
Ahrefs had identified 730 external links coming from 192 referring domains;
Ubersuggest had identified 51 external links from 23 referring domains.
To rephrase this, Ubersuggest caught 4.82 times fewer referring domains and a whopping 26.21 times fewer backlinks than Google's tool for the purpose, the Search Console.
This can be an issue, especially if you're relying on timely and reliable backlink data from Ubersuggest to ward off a negative SEO attack pointed at one of your websites.
A negative SEO attack is something that, sooner or later, happens to everyone whose website either gets gobbled up by a network of spam sites that spin text or images, or who happens to step on someone's feet and eat away at too much of their ad earnings.
Whether you're under one or not, the most reliable tool I've found for monitoring backlinks to date is Ahrefs. At the end of the day, this is a game of crawling—and whoever scours the web for the most data wins. And, so far, Ahrefs seems to be ahead of everyone else.