This post is sponsored and written by Dim Nikov, a web publisher. Check out Dim's blog posts and case studies at AskDim.com.
Ezoic is an AI-powered technology platform that helps online publishers, large and small, make money selling display ads on their websites and blogs.
It's the best alternative to Google AdSense, especially for bloggers and website owners who want to earn more from every thousand page views on their website, and a competitor to Mediavine and AdThrive.
But exactly how much does Ezoic pay?
How much you can earn from your website with Ezoic depends on several factors. These include the topics you publish content on, the time of year and seasonality of the niche, the ad placements and ad types, and the overall user engagement on your site.
Ezoic publishers track their average ad earnings with a metric called EPMV, which stands for "Earnings Per Thousand Visitors."
EPMV measures how much you earned for every 1,000 visits to your website in any given time period. It's calculated by dividing the total ad earnings in that time period by the total number of website visits divided by 1,000.
Some Ezoic publishers say that they earn $1-$9 per 1,000 visits, usually in the higher range. Most say that they make anywhere between $10 and $50 per 1,000 visits, sometimes higher. A lucky few claim to have EPMVs of more than $100 on their sites.
The higher the EPMV, the more you can earn from the same traffic:
| | | | | | |
| --- | --- | --- | --- | --- | --- |
| Page Views / EPMV | $5 | $10 | $15 | $25 | $50 |
| 1,000 | $5 | $10 | $15 | $25 | $50 |
| 10,000 | $50 | $100 | $150 | $250 | $500 |
| 100,000 | $500 | $1,000 | $1,500 | $2,500 | $5,000 |
| 250,000 | $1,250 | $2,500 | $3,750 | $6,250 | $12,500 |
| 500,000 | $2,500 | $5,000 | $7,500 | $12,500 | $25,000 |
| 1,000,000 | $5,000 | $10,000 | $15,000 | $25,000 | $50,000 |
I fall in the majority. For example, one of my websites with Ezoic earns $15 per 1,000 page views, and another—which uses the same WordPress theme and ad placements but is in a different niche—earns $35 per 1,000 page views.
Related: How Much Does a Beginner Blogger Earn?
Why Average Earnings Can Vary So Much
In its simplest form, online advertising is easy to understand.
Brands, retailers, political figures, and nonprofits compete for ad space on websites. Publishers, large and small, sell advertising space on their websites. Ad networks serve as the intermediaries that allow advertisers to bid for ads and publishers to earn from ads.
Many factors determine exactly how much publishers can earn from their websites by selling ads.
Let's break them down one-by-one to understand why.
Not All Niches Are Created Equal
If you started a book review website, you're likely to earn less than if you started a one for financial advice.
A book is a book, and at the end of the day, book publishers don't make much money selling books. Since the products are of low value and the profit margins are small, there's not much budget for advertising in the book publishing business.
The picture is very different in financial services, where the average customer lifetime value is a lot higher than that in books—so financial service providers are willing (and able) to spend more money on acquiring a customer than book publishers are.
If you're a publisher, more advertisers in your niche means more competition between them, which means that each advertiser has to bid more than the others so that their ads are displayed to every visitor to your site (and not the ads of the competition).
Supply is somewhat limited. There are only this many good financial advice websites out there, and the ad buyers and marketing teams of financial service providers will be willing to spend more to get their ads shown to their visitors.
Basic economics principles apply: When demand goes up and supply stays more or less the same, prices go up. And so do your average earnings!
Not All Websites Are Created Equal
When a big-brand advertiser wants to get their message out there, their ad buying team (or ad agency) will usually do two things.
First, they will use the Google Ads Keyword Tool to identify relevant search queries to bid on for search ads. Second, they will review the top sites on Page 1 of the SERPs and decide which ones to bid on for display ads.
So if you get a lot of organic Google traffic and you want to make the most money from every 1,000 page views on your website, its presentation—the design, the content, the "About," "Advertise," and "Contacts" pages—matters.
To put it simply, a shady affiliate website with AI avatars and poorly-written content is likely to get fewer big-brand advertisers than a lovely blog or trustworthy media outlet. So make sure your website falls in the former, and not the latter, category.
It's All About Ad Placeholders and Ad Types
To get the highest EPMV you can out of your niche and your website, you need to create as many ad placeholders on your website as you can and enable as many ad types as possible.
Don't worry, this doesn't mean Ezoic will show an ad in every placeholder and your visitors will leave. It means that Ezoic's AI-powered platform will test which ad placeholders and ad types earn you the most money.
When setting up your site for Ezoic, this means that you want to:
Turn on AI and Enhanced AI placeholders.
Use the Ezoic chrome extension to create placeholders manually.
Install the Ezoic WordPress plugin and have it create default placeholders for you automatically.
As a general rule of thumb, you want to have at least 10-15 ad placeholders on every page, including an anchor ad, a header ad, a sticky sidebar ad, in-content ads, and a footer ad. So have enough and make them diverse.
Remember: you can always tell the Ezoic platform what your earnings goal is for this site. There is a setting that allows you to prioritize earnings or usability, or find the right balance in between.

Time of Year and Niche Seasonality Matter
Historically, online ad rates have been rising every year. This means that every year, the typical Internet publisher can expect to earn more money per 1,000 page views than they did the year before.
You can see this visually in The Online Ad Revenue Index, a statistic Ezoic has been tracking and openly reporting to the advertising and publishing industry since 2016: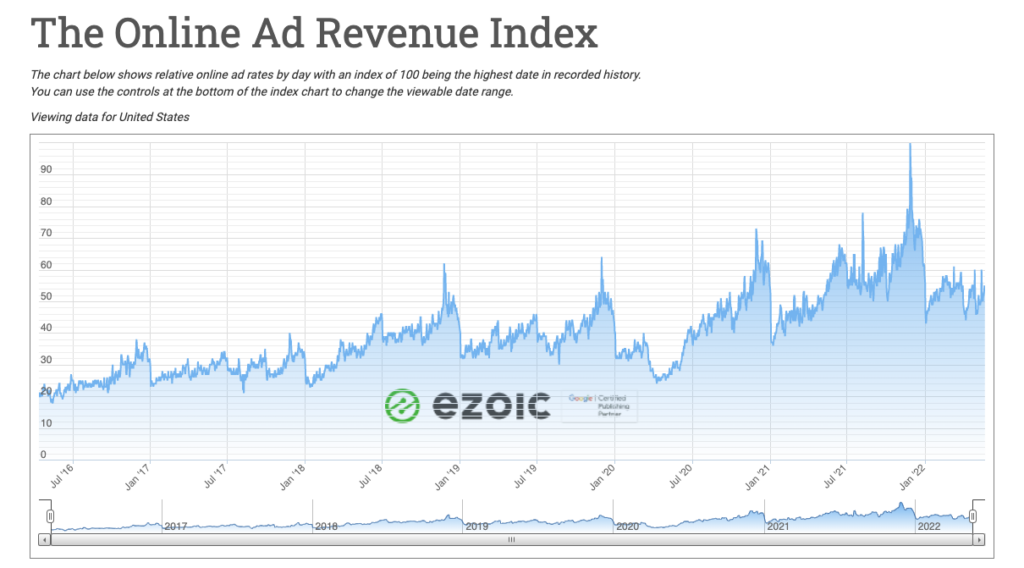 But as you can see on the chart, it's the average that's going up—and publishers' ad revenue is not distributed evenly throughout the year.
Advertisers, especially big brands and major retailers, because they are public companies that report earnings every three months, plan their ad spending in quarters (Q1, Q2, Q3, Q4).
When it comes to ad spending and ad revenue, Q1 (Jan, Feb, Mar) is the weakest quarter of every year. Spending increases with Easter in Q2 (Apr, May, Jun), then falls again in Q3 (Jul, Aug, Sep) during the summer.
Then comes Q4 (Oct, Nov, Dec) when it's Christmas for everyone. Advertisers spend the most on Black Friday, Cyber Monday, and Christmas. That's also when Internet publishers earn the most then because the competition for advertising space drives up the ad rates.
There's also the seasonality of your niche.
For example, the hobby-related websites in my portfolio make the most on weekends and holidays. In contrast, the work-related websites in my portfolio make the most on workdays (and the least on weekends and bank holidays).
Finally, It Comes Down to User Experience
If your website has a good design and the content you publish on it is helpful, engaging, and well-written, users who land on the site are more likely to stay, read (or at least skim) through it, and visit other pages.
Ezoic rotates ads at regular intervals. The longer a user stays on a page and reads, listens to, or watches the content attentively, the more ads they see and the higher EPMV you earn on that page. And if you get them to visit other pages, you generate more page views (and more revenue) from first-time visits.
Create content good enough to get first-time visitors to come back, publish new content often enough that it becomes a habit, and build your social media presence and/or start an email newsletter, and you'll suddenly have 10-20% of your traffic from returning visitors.
Building a brand and fostering a relationship with your audience always pays off in the long term, as long as that's the game you're willing to play.
Earn More With Ezoic Premium
Ezoic has a program called Ezoic Premium, which I participate in, where you can earn more money from your website by getting it in front of Ezoic's pool of premium advertisers.
In exchange for a monthly fee, Ezoic Premium displays ads on your site with high EPMV from direct contracts with major brand advertisers. So you pay for a service that earns you more than you pay for it each month.
Ezoic Premium is by invitation only. To receive an invitation, your website must already be monetized with Ezoic. If their AI platform determines that you can earn more than the monthly fee for Ezoic Premium, you will receive an invitation.
I have talked to many publishers who are hesitant to join Ezoic Premium because of the monthly fee. But as part of the contract, you get a guarantee that you'll never pay more than you earn—which has been the case for me—so I consider it a risk-free exchange of value.
(If you're not on Ezoic yet, you need to join Ezoic Access Now first. If you're eligible to participate in Ezoic Premium, you will get an invite after your site has been approved and monetized for a while on the Ezoic platform.)
Why You Can Trust Me
Hey there and thanks for reading this far!
I'm Dim, an Ezoic Certified Expert and Ezoic Premium Publisher. I'm a web publisher who's been building, buying, and flipping online media outlets since 2007.
Occasionally, I do public case studies and give coaching. Check out my latest case studies and learn more at AskDim.com ("ask" as in don't hesitate to send me an email and ask me a question).