There's a reason why WordPress powers 43% of the web.
It's open-source, so it's free for you to use for personal and commercial purposes, and everyone can contribute to its evolution.
It has all the features you need out of a website platform: the drag-and-drop layout builder, the Gutenberg editor for posts and pages, as well as countless ways to customize your site's design and tweak its functionality with themes and plugins.
Yes, WordPress is user-friendly, and it won't take you long to learn it. But building a website can be, and very often is, a time-consuming process!
So how long will it take you to build a WordPress website?
We'll help you get to the answer.
Plan Out Your Website
What do you want your website to look like?
For example, it's one thing to build a simple and static website for a bricks-and-mortar business—and another to create an interactive and media-rich website for an agency.
Flip through the pages of Siteinspire and a few other web design inspiration galleries, like Awwwards and Dribble, to find inspiration and come up with ideas of your own.
What sections and pages do you need to create for it?
Sign up for a visual diagramming tool like Lucidchart or Google Drawings and try to create a visual map of the sections and pages on your website.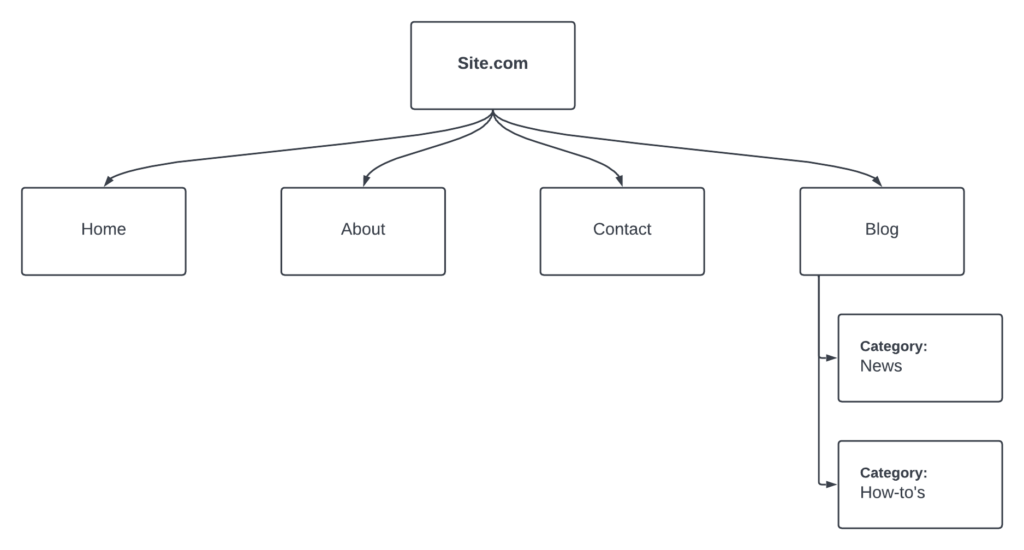 Put your planning hat on and think about your website's structure. What would you see if you were a first-time visitor and landed on your website's home page?
Once you've defined the sections you want on your website, you can start to think about how you want them to look and what kind of content (layout, headings, paragraphs, images, videos, etc.) you want to have on them.
Generally, you can expect this process to take 3-4 days.
How long will it take you to create the content for everything?
Before we even think about how long it will take you to create your website with WordPress, think about the content you will need to create for each page.
Try to estimate how long it will take you to create the content for these pages as honestly and objectively as you can. (If you are the type of person who plans *a little too* optimistically, add 20-25% of the total time to your plan as a buffer.)
We advise that you set aside at least 1-2 weeks for content production, especially if you're using agencies or freelancers for your copy or rich media.
Consider the Technicalities
Buying a domain name and hosting subscription:
WordPress can power your website and allow you to build and manage it visually, but you have to run it first.
To run WordPress, you need a domain name so visitors can type something into their web browsers and a hosting subscription so your website shows up when they type in the domain name.
Related: Does WordPress Require Hosting?
It takes time to come up with a good domain name. And, because the Internet is a crowded place, the best ideas you come up with will already be taken!
So plan at least 2-3 days for you to find a free domain name for your website that you actually like. Buying the domain name and a hosting subscription to go along with it will take you a couple of hours, tops.
Installing WordPress and setting up your website:
If we were writing this guide a few years ago, we'd tell you to set aside a few days for learning how to install and set up WordPress.
These days, most hosting companies have made it ridiculously easy to install WordPress and configure your website's name, description, and a few other things needed in order to get it up and running.
Our favorite hosting company, Namecheap, has a service called EasyWP that lets you install and set up WordPress in less than 90 seconds! (Give it a try, there's a free 30-day trial.)
Getting to know WordPress:
WordPress is easy to learn; there's no doubt about it. But learning how to use WordPress takes time nevertheless.
If you're using WordPress for the first time and you've never used a website builder like Squarespace or Wix before, it can take you as long as 1 to 2 months to truly get the hang of it.
If you have used another website builder and you're coming in with foundational knowledge of how to build a website, it might take you less—say, 1-2 weeks to learn the quirks of WordPress.
If you are a WordPress power user and really know what you're doing, you can build a website in 4-5 hours! And this isn't just us guesstimating here; it's how long it took YouTuber Alex Cooper, a.k.a. WP Eagle, to build an affiliate website from scratch:
Consider the overhead from themes and plugins:
As long as you know what you're doing, it's quick and easy to build a website with a vanilla, or unmodified, WordPress.
However, most website owners use a third-party WordPress theme and at least a few plugins, like Yoast for SEO and Wordfence for security.
A third-party theme adds complexity to your WordPress website, and so does every plugin you install. So add a few hours to 1-2 days to your plan for each and every addition to WordPress right out of the box.
The Bottom Line
So, how long does it take to learn WordPress?
Planning out your website takes 3-4 days.
Producing the content for your website takes 1-2 weeks.
Finding a good domain name (and one that's available!) takes 2-3 days.
Installing and setting up your WordPress website takes a few minutes to a few hours.
Getting to know WordPress and finalizing your website takes anywhere from 4-5 hours to 1-2 months, depending on what you want your site to look like and how experienced you are with WordPress (and building websites as a whole).