Canva changed the rules of graphic design as we know them. Creating images for print and the web is no longer the preserve of graphic designers with expensive computers and impossible-to-learn software.
And, now, the team behind Canva wants to do the same with videos. Watch out, professional editors, because this tool is about to make it a whole lot easier for the rest of us to create intros, outros, and cutscenes!
Whether you're new to Canva—or you're a long-time user looking to learn about Canva videos—one of the first questions that come to mind when you hear about this feature is probably: How long can Canva videos be?
There's no time limit for your Canva videos, which means you can make them as long as you want them to be. However, a single scene can only be 10 minutes long.
Suppose you're editing a 1-hour Canva video. Since an hour is 60 minutes, and each scene in a Canva video can only be 10 minutes long, you need at least 6 scenes.
(In reality, you'll probably have many more scenes. Because if you don't, and your scenes only chance once every 10 minutes, you will bore your video's viewers to death!)
Here's what I mean when I say "scene" in Canva: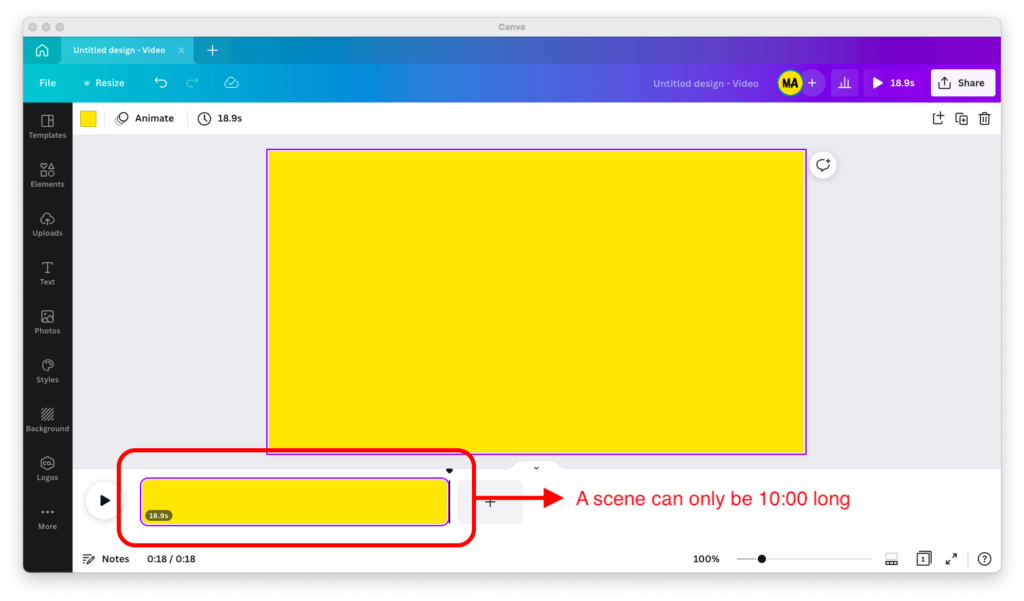 A scene, which Canva calls a "page," is a single piece of your video that you can drag-and-drop templates in and make animations and transitions for.
How to Make Canva Videos Longer
If you want to know whether you can make your Canva video longer, the answer is a clear and resounding "Yes, you can." Read on to find out how.
There are three ways to make a Canva video longer: (1) by inserting a new scene, (2) by duplicating an existing scene, or (3) by extending the duration of an existing scene.
How Many Files Can I Upload to Canva?
Canva is great for creating and editing short videos for TikTok or Instagram, maybe even 10 to 15-minute YouTube videos.
However, unless you're a Canva Enterprise user—in which case more power to you!—there are some important limitations to the amount of space the files you upload to Canva can take up.
Those limitations are as follows:
If you're a Canva Free user, you can upload up to 5 gigabytes of files to the cloud.
If you're a Canva Pro user, you can upload up to 100 gigabytes of files to the cloud.
If you're a Canva Enterprise user, you get unlimited cloud storage space for your uploads.
If you're planning to upload your own footage into Canva, keep these two limits in mind.
Yes, you can always delete a few files from your Uploads tab, but it's never good to run out of space in the middle of an important project and be short on time!
Are Canva Videos Watermarked?
It depends on what kind of photos or footage you add to your video from the Canva library and whether you're a free or paid user of Canva.
Generally, there are two types of stock media in the Canva library: free media, which you can use without paying, and stock media, which you need to pay for or be a Canva Pro subscriber to use.
If you are a Canva Free user and you work premium media into your video, you will need to pay Canva at download time to get a one-time-use license and remove the watermark.
If you are a Canva Pro user, you don't need to pay anything extra. Your subscription already covers the cost of any premium stock media you incorporate into your graphics and videos, and you will be issued a license automatically upon download.
(As I've said many times, a Canva Pro license pays for itself.)