Whether you're a blogger, podcaster, social media influencer, or YouTuber, if you create content online, you absolutely need to come up with good headlines.
You know… the kind that people actually want to click on? The kind that gets the views, the plays, the shares? The kind that pays the bills and maybe, just maybe, gets that content of yours you worked so hard on to go viral?
Yeah, those headlines.
But, since you're here, and you're reading this post, I bet you already know that.
You also know how hard it is to come up with good—scratch that, with GREAT—headlines. So let's talk about Headline Studio, a tool that can finally help you figure this out. Because, with this tool, you will be able to ace it and write winning headlines that will be clicked on every single time.
(If you have fear of success, brace yourself. And don't say I didn't want you!)
What Is Headline Studio?
Headline Studio is a web-based headline analyzer tool by the team behind CoSchedule, the popular work management app for marketers. (In case you're wondering, Headline Studio is completely standalone from CoSchedule; you don't have to be a subscriber of one to use the other.)
It analyzes your headlines and helps you make them more clickable and better optimized by giving you actionable suggestions for improvement. These suggestions are really good, and they're based on a detailed analysis of every version of your headline.
There is a free version that you can keep using forever. But a free lunch will only get you this far, so there's also a paid version, with a set of plans that unlocks all the tool's features for you.
Let's take a closer look at what those features are—and if they're worth your time and money.
How Does Headline Studio Work?
This tool is all about writing headlines.
You type in your headline, then Headline Studio performs an analysis and returns two scores: a headline score and an SEO score.
The headline score tells you just how captivating (or not) your headline will be to humans. The SEO score tells you how well (or poorly) your headline is optimized for search engines.
For each of the two scores, Headline Studio gives you actionable suggestions for the tweaks that you can make to your headline to boost the score. You make those tweaks, then you click on the blue "Reanalyze" button and repeat the process until you get a headline you actually like, whose score is high enough to tell yourself, "That's it!"
For each headline, you get a maximum of 25 tries. (You've entered it once, so this means you get to reanalyze your headline 24 times until you have to create a new one.)
The Headline Score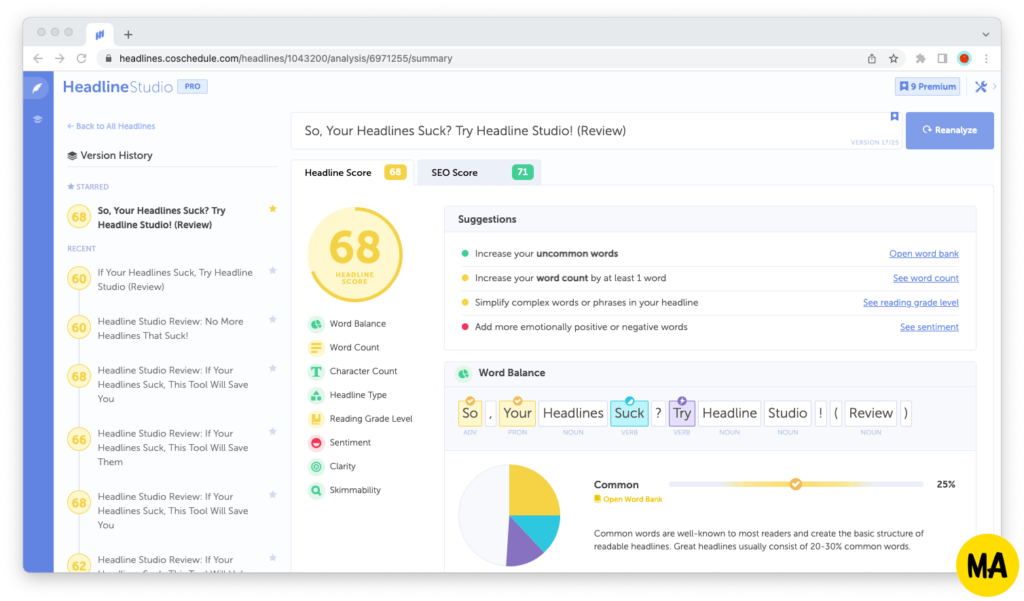 The headline score looks at eight factors, each of which can make or break a headline in the eyes and minds of your audience: word balance, word count, character count, headline type, reading grade level, sentiment, clarity, and skimmability.
Word balance: Your headline can contain common words, uncommon words, emotional words, and power words. If you want your headline to make people stop scrolling and read, listen to, or see what you have to say, you want to have a good balance of each.
Word count: If your headline has too few words, you're missing out on opportunities to wow your audience. If it has too many, you're trying too hard; hardly any people, if any at all, are going to read it through and through. Like Goldilocks in the house of the three bears, you want to find the word count that's "just right."
Character count: Research shows that headlines 70 characters long are the most clicked on any platform. Period! So you should have the right number of words in your headline, but you should also aim to have the proper number of characters. Good thing there's a check for that!
Headline type: There are different types of headlines—think questions, listicles, and so forth—and not all of them are created equal. Statistically speaking, certain types of headlines get many more clicks compared to others. So the tool will analyze the type of yours and suggest improvements.
Reading grade level: We all have our inner academic. You know, that sophisticated and refined inner voice you've internalized "thanks" to the psychological damage inflicted on you by your college professor? The urge to use abbreviations, jargon, and highfalutin language because you can? Resist it; nobody will read it. (When in doubt, the reading grade level check will help.)
Sentiment: Part of not being boring is being emotional, a.k.a. sentimental. And sentiment can go different ways. Your headlines can be neutral, negative, or positive. Neutral, as you can probably guess, is where you don't want to be. Negative and positive have their own way of exciting people (and getting them to click).
Clarity: Perhaps you might want to make your headline's message a little bit more concise than it currently is. I know you know what I'm talking about. (And you know I know what I'm talking about.) Clarity is the check that helps you turn indirect and but-what-are-they-trying-to-say?! headlines into the nice and clear message that they deserve to be.
Skimmability: Many years ago—like, in the early days of the web in 1997—the Nielsen Norman Group found through research that users were skimming, not reading, on the Internet. Knowing that most of us have a shorter attention span than a goldfish, I can't imagine what their research would have concluded today!
This check helps you write headlines that help people skim—so they don't look away and go to the content of your competitors.
The SEO Score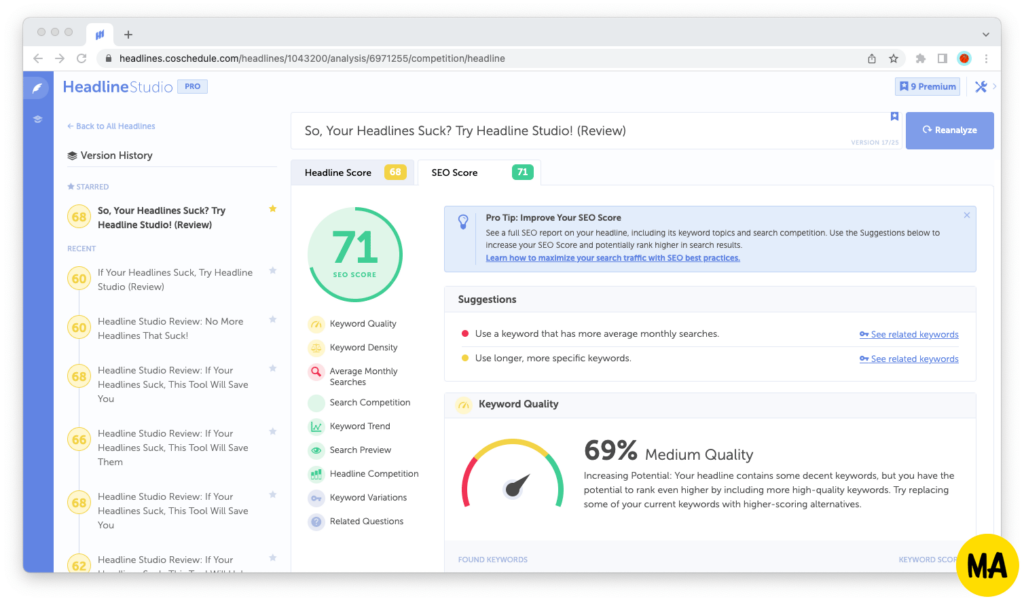 Let's get something straight: Headline Studio isn't an SEO tool.
But if you're creating a piece of content for the interwebz, and you have an idea for your headline, this tool can definitely help you take that headline to the next level in terms of search engine optimization.
How, you asked?
It's simple, really. Because, as it analyzes your headline, Headline Studio looks at several SEO factors, including keyword quality, keyword density, average monthly searches, search competition, keyword trend, search appearance, headline competition, keyword variations, and related questions.
The "SEO Score" tab of this tool is so good, it replaced a handful of tools I used to use to determine just how Google-friendly the titles of my blog posts were.
Keyword quality: This check looks for high-quality keywords to include in your headline to give your content an even better chance of ranking well on Google. Very often, its suggestions are spot-on.
Keyword density: People search for specific things. Content creators have the tendency to write about generic things. The keyword density check makes sure you're creating headlines aimed at long-tail keywords, meaning the specific things that people are searching for on Google.
Average monthly searches: The tool gives you an estimate of the average monthly searches for your headline's keywords. I'm not a big fan of search volume estimates, and I doubt that any party apart from Google has the data to reliably come up with them. Still, they're there if you disagree with me!
Search competition: The search competition check will tell you whether your headline is targeting a keyword with low, medium, or high competition. Because, as anyone who's tried to rank for "best vacuum cleaner" knows, competing for one type is nothing like competing for the other.
Keyword trend: Are the keywords of your headline trending up or down? The tool shows you an easy-to-read chart of a year's worth of monthly searches, which helps you see the trend (and the seasonality) behind what you're writing about.
Search appearance: The search appearance check gives you a nice preview of how your headline will look in the Google SERPs.
Headline competition: How does your headline compare to those of your competitors? This check examines the SEO scores of all the other websites on Page 1 of Google and tells you if your headline is above (or below) that score—and by how much.
Keyword variations: The check yields a list of keywords similar to those in your heading. These suggestions are to-the-point, usually, and if you include one or two of them in your article, you can rank higher in Google search results.
Related questions: Additional questions to consider from the People Also Ask or People Also Search For boxes in the SERPs.
Thesaurus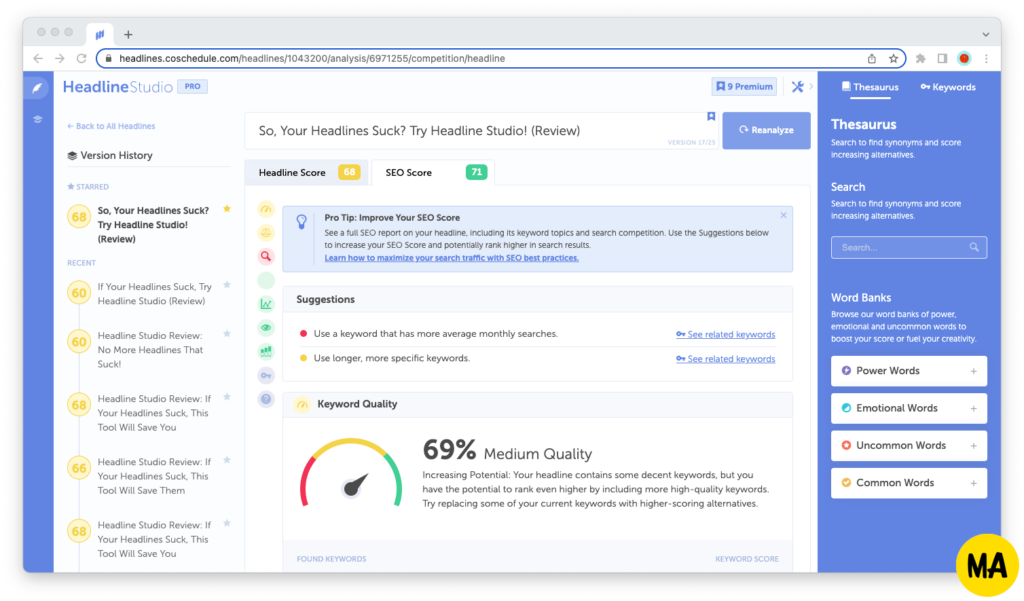 Can't find the right word?
Don't worry, it can happen to anyone. And the good folks at CoSchedule have found a way to help you get out of that, too.
It's called Thesaurus, and it's a searchable dictionary of synonyms and score-increasing alternatives to the words you want to include (or have already included) in your headline.
If you're just looking for inspo as I sometimes am, then refer to the tool's Word Banks, four treasure troves of power words, emotional words, uncommon words, and common words to awe the members of the audience and keep them engaged.
Is It Worth the Money?
You clicked on the title of THIS review, didn't you?
Mind you, when I made myself a cup of coffee and started writing, my first title was "Headline Studio Review." So yes: if, like me, you struggle with coming up with really good headlines for your content, this tool is absolutely worthwhile.
And it's not just the suggestions it makes (which, by the way, are superbly to the point). Just the fact that you're paying for a headline optimizer, and you want to get your money's worth, is enough to get you to take writing good headlines seriously. As soon as you do, this tool pays for itself!
Who Is It For?
Bloggers and niche website operators/owners who want to boost their site's average CTR in Google's SERPs;
Freelance writers and content agency owners who want to write the best possible content that they can for their clients;
Ad people (and their copywriters) who bid on Google Search ads and want to make sure that their ads, and not those of their competitors, get clicked on;
Marketers, social media managers, and virtual assistants who want their headlines in social media to stand out;
YouTubers who use keyword research tools but struggle to create emotionally charged headlines for their videos.
Who Is It Not For?
Anyone who expects an AI-powered writing assistant that generates versions of titles for them. With this tool, it's you who does the writing, and not the tool;
Anyone who expects to get more than a headline analyzer. This tool is not a competitor to NLP-based content optimizers like Surfer or Frase;
YouTubers who want keyword suggestions and optimization recommendations based on YouTube, and not Google Search.
How Much Does It Cost?
You can sign up for Headline Studio for free and use it for free forever. However, if you want to use all the features, and you do, you should subscribe to the paid version, Headline Studio PRO.
Headline Studio PRO gives you access to the headline score, improvement suggestions, SEO score, thesaurus, and word banks. The latter, word banks, are long lists of emotional and power words to work into your headings for optimal results.
Here's how much it cost on the day I wrote this review: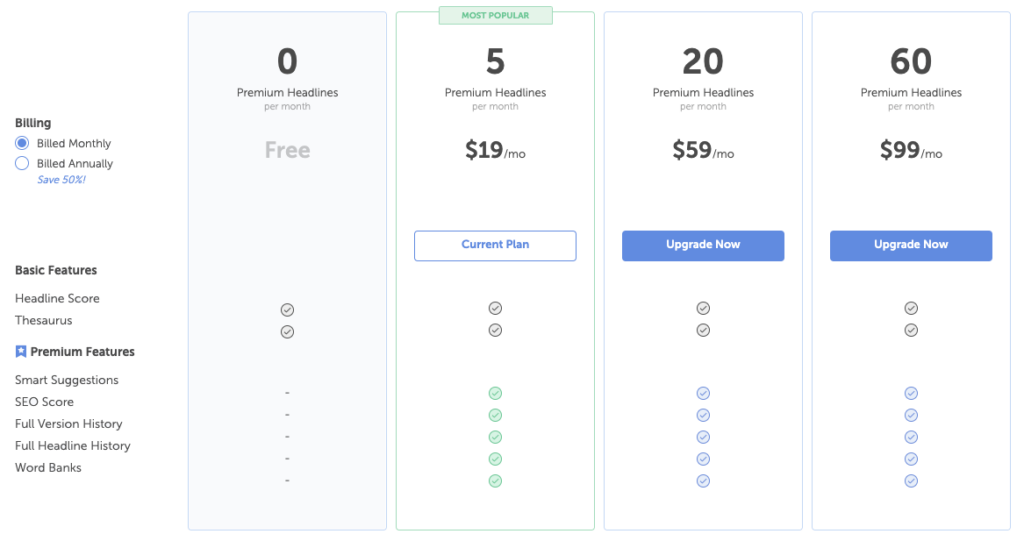 Yes, it's expensive.
But if you want to give the tool a try, sign up and watch for limited-time discounts. For $99/year (paid annually), I got a plan that allows me to analyze 10 headlines per month—and that's a pretty good deal.
The Bottom Line
Headline Studio by CoSchedule is a web-based analyzer that helps you write better headlines. The kind that people click on and that rank high on search engine results pages. It isn't cheap, but if you make the most of it, it will pay for itself.