If you want to create a website for your business, you have several options.
You could learn web development and build the website yourself. But it will probably take you months of learning until you can ship anything that even resembles a single page, let alone a whole website.
You could sign up for Wix or Squarespace and build your website using their visual editors. Sooner or later, your business will grow and you'll probably need to migrate your website to a platform that gives you (and your team) more ownership and control over it.
You could hire a freelancer or an agency and outsource 100% of the work to them. Which will end up costing you a lot of money that you may not have yet, especially if your business is just getting started.
Or you could create a website with WordPress.
WordPress is a Content Management System (CMS) that powers 35% of the websites on the Internet. You can use it to build a site or start a blog. You can turn it into an online store, a course platform, an online community, and pretty much anything else your business may need now or in the future.
Released under the so-called General Public License (GPL), WordPress is a CMS that's free to download, edit, and use for both personal and non-commercial use.
Yet there's one thing about WordPress that puzzles many who are not as familiar with tech as its creators and the people who recommend it…
Does WordPress require hosting?
Yes, WordPress requires hosting to work. You can sign up for WordPress.com, the freemium hosting service from the creators of WordPress, or download the latest version from WordPress.org and host it yourself with a WordPress hosting company of your choice.
Think of WordPress as an open-source prefab house made with the contributions of many architects. You can download the designs for it on the Internet and use them to build a home easier and faster, but you still need to buy or rent the land for it.
Hosting WordPress is the equivalent of renting land. For a monthly, yearly, or multi-year subscription, you get server space on which to install and run your WordPress-powered website.
When it comes to WordPress hosting, there are generally three tiers of hosting companies: low-, mid-, and high-tier.
There's a lot of cheap hosting companies out there, but I wouldn't recommend any of them. You'll save money from the monthly fee, but you'll end up paying a bigger price in the form of opportunity cost from your website being slow—and occasionally down.
Still, if you don't want to pay for mid-tier hosting (and the risk of occasional downtime or a slow website) is not that big of a problem for you at this stage, Bluehost (best uptime) and Namecheap (best support) are two good options.
If you're thinking of hosting your own WordPress website (which is generally the better option), it's best to go for a mid-tier hosting provider from day one. Mid-tier WordPress hosting can cost you anywhere between $7.50/month and $25.00/month based on the number of sites, the traffic to them, and storage space you need.
WordPress was created in 2003. I built my first website with it in 2005. Since, I've created, sold, and abandoned tens of websites—and used almost every hosting service provider you can think of (some of them no longer exist).
My two favorite WordPress hosting companies of all time are SiteGround and WPX. SiteGround is the best host to get you started and WPX is the right host after your website reaches more than 25,000 monthly visitors.
Is WordPress Free?
WordPress is released under the General Public License (GPL), which makes it free for personal and commercial use. Anyone can download, install, use, change, and extend WordPress as their website evolves.
And, if you want to pay nothing for a WordPress website, you can start with the free plan of WordPress.com. Just keep in mind that that plan is very limited—and you'll soon need to upgrade to one of the paid plans or migrate your website to a different hosting company.
In reality, even though you can download WordPress for free, you'll most probably need to pay for a number of products and services to power your website with it. This includes web hosting, a domain name, and in may cases a premium theme plus a few plugins.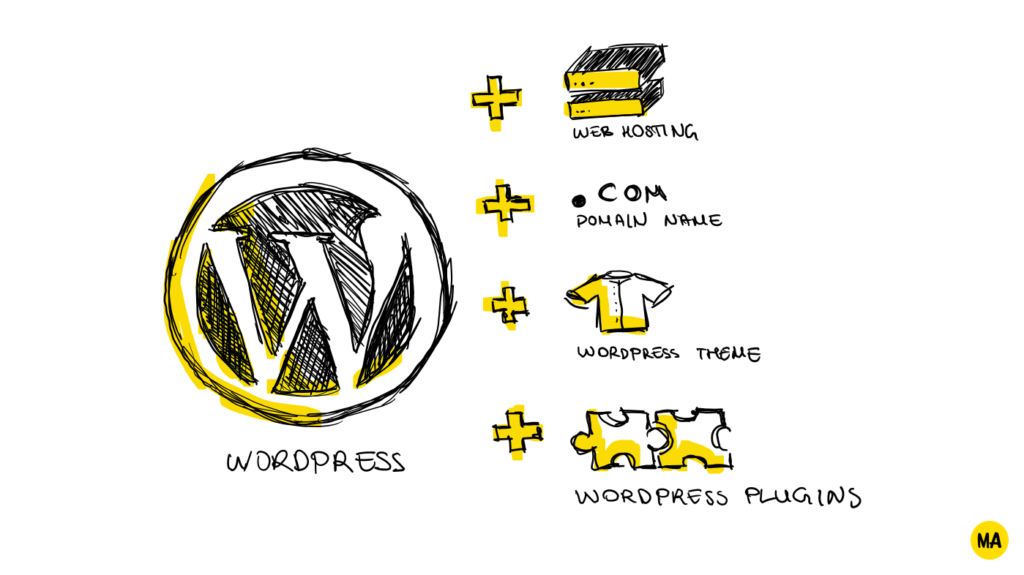 Web Hosting
The web hosting service allows you to upload, install, and run WordPress 60 minutes an hour, 24 hours in a day, 7 days a week, 365 days a year. With a hosting plan, you can create, manage, and edit your website. And your customers and open and use it. Without one, WordPress is a bunch of files sitting in a folder on your computer.
An entry-level hosting plan for WordPress costs about $100/year. Most hosting companies offer 25% to 75% discounts for the first year (as well as if you buy their services for two or three years in advance).
Domain Name
The domain name will give your website a unique address that customers can type in their browsers, just like makersaid.com. If this website was hosted with WordPress.com but didn't have a domain name of its own, it would be hosted on a subdomain name like makersaid.wordpress.com.
The price of a domain name depends on the domain registrar (the company you are registering that domain name with) and the domain extension (.com, .net, .org, and others).
The typical domain name costs about $15/year. Most companies offer 25% to 75% discounts for the first year. Some will give you a domain name for free for the first year if you also buy hosting from them.
WordPress Theme
The WordPress theme "dresses up" your WordPress website with a beautiful and intuitive design, making your brand stronger by helping your business stand out from the crowd and create a better experience for your customers.
There are free WordPress themes, which you can install and use on your website. There are also premium themes for WordPress, which cost between $29 and $249 (one-time fee or yearly subscription).
Most free themes have few features and limited customization options, which causes most WordPress website owners to consider their premium counterparts. In my experience, the best place to look for premium themes is ThemeForest.
In recent years, website builders have become very popular among WordPress users. You install them as a theme or as a plugin on your website and they allow you to create your own designs using pre-built and highly-customizable elements in a drag-and-drop visual editor. Without doubt, Divi and Elementor are the best website builders.
WordPress Plugins
If the theme makes your website more beautiful, WordPress plugins make it more functional by adding new features to it. For example, one of the plugins that I use on this site, Yoast SEO, gives me fine-grained control over the titles and descriptions of pages and blog posts when they show up in Google searches (which WordPress alone doesn't).
Like themes, there are two kinds of plugins for WordPress: free plugins and premium plugins. A beginner website can do only with free plugins and typically requires few to none premium plugins. But as your business evolves and your website grows with it, your plugin bill will almost certainly grow bigger.
How Much Does It Cost to Own a WordPress Website?
The typical WordPress website costs approximately $249/year. This includes hosting, a domain name, a premium theme, and 1-2 plugins.
By now, you know that WordPress is free to use in theory, but requires a number of paid products and services to power your website in practice. How much will a WordPress website set you back?
Let's assume you're starting from scratch and plan to do install, set up, and publish your website yourself. You've chosen Bluehost's Basic WordPress hosting plan, which comes at a list price of $8.99/month.
You want a .com domain name and you get it for free for the first year. After your first year expires, the renewal price you'll have to pay Bluehost to keep your domain name is $17.99/year.
So far, so good. You'll see that I've added two other products, a premium theme and a premium plugin, to our calculation:
| Need | Provider | Product | Cost |
| --- | --- | --- | --- |
| Web hosting | Bluehost | Basic WordPress hosting plan | $107.88/year |
| Domain name | Bluehost | .com domain name | Free 1st year |
| Theme | Elegant Themes | Divi theme | $89/year |
| Plugins | WP Rocket | WP Rocket plugin | $49/year |
| | | Total cost | $245.88/year |
Divi is one of the best website builders for WordPress. It offers tens of elements and hundreds of customization options to help you create the best-looking website for your business without learning how to code. It costs $89/year to access Divi and get frequent updates.
Let's also assume you'll need a caching plugin. WordPress isn't the fastest platform for building websites. Yet your customers expect a fast website that loads in less than a second. WP Rocket is a so-called "caching" plugin that can help you achieve that.
In total, your WordPress website will end up costing you $245.88 in the first year. You can reasonably expect that price to increase by 25-50% per year since you'll need higher- and higher-tier services as your business grows.
In Conclusion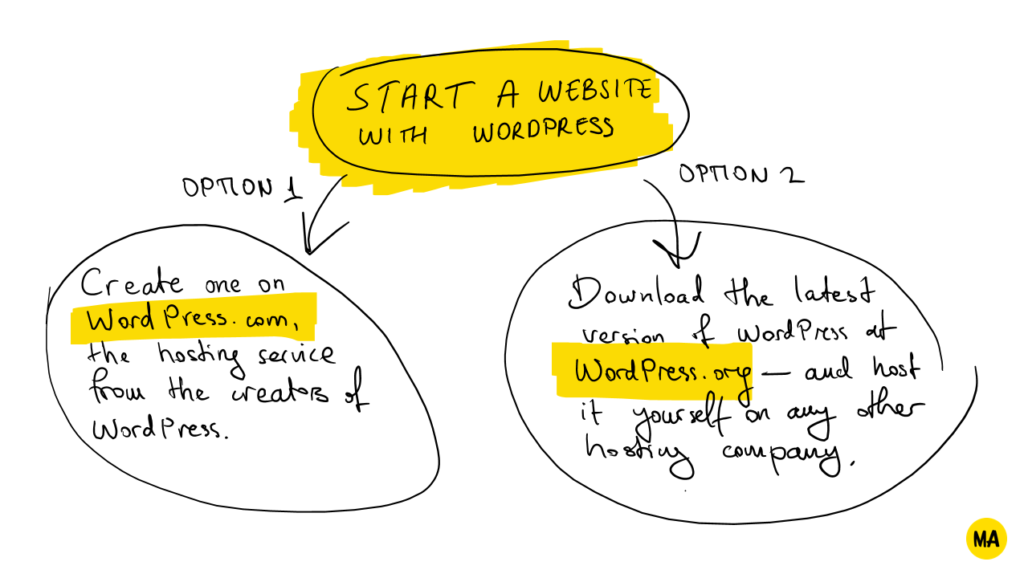 Yes, you need hosting for your WordPress-powered site or blog. To host WordPress, you can use WordPress.com, the hosting service by Automattic Inc., the creators of the tool. Or you can host it yourself with any other hosting service provider of your choice.
No matter which option you end up choosting, your WordPress website will, in one way or another, cost about $250/year to own. As your customer base grows and your website visits increase, the cost of ownership will also go up.
My two cents? Self-host your WordPress website on a good hosting service provider. The two most affordable hosts are Bluehost and Namecheap, but Siteground offers the best price/quality ratio.
Which WordPress hosting did you end up choosing? Let me and the rest of this post's readers know by leaving a comment below.