With more than 20 million customers and 84 million domains, GoDaddy is one of the oldest, biggest, and most trusted domain name registrars on the Internet.
They make it really easy for you to find and buy the ideal domain name for your business—and they have all the services you would need to make the most of it, from privacy protection to email accounts to web hosting.
Even if you already own a domain name with another registrar, but they're not giving you the prices or support you expect, you can easily transfer that domain name to GoDaddy.
In this article, we will be discussing how you can transfer your domain to GoDaddy—and whether GoDaddy will charge you for this domain transfer.
Why Transfer Your Domain Name to GoDaddy?
If you're on the fence about your domain registrar, there are a number of reasons to consider transferring to GoDaddy.
For starters, if you already have a few domains or a hosting package with GoDaddy, your life—and your accountant's work—will be a whole lot easier if you keep everything in one place.
GoDaddy has support with real humans that you can reach on live chat or by phone number countrywide. And their services are well-known for being reasonably priced and reliable for the business owner, big or small.
All your domains include free privacy protection for as long as you renew them. And if you're coming it with six or more domains, you can get a bulk discount of 31% for the transfer!
All in all, a great registrar and a Maker's Aid favorite.
GoDaddy Domain Transfer Fees
So, will GoDaddy charge you for domain transfer?
The answer depends on whether you're transferring to or from GoDaddy.
GoDaddy charge a flat fee for incoming domain name transfers and give you the first year with them for free. They don't charge for outgoing domain name transfers.
Transferring to GoDaddy:
If you're transferring a domain name from another registrar to GoDaddy, you will need to pay a flat fee. The flat fee excludes any applicable taxes and ICANN fees, and you get the first year of keeping your domain name with GoDaddy for free.
The free year of registration starts after your current registration expires. After that, you will have to pay an annual renewal for your domain name, which will vary depending on where you live and what the extension of your domain name is.
On the day of publishing this article, GoDaddy's flat fee for .com domain names was $5.17 stateside.
Transferring from GoDaddy:
If you're transferring a domain name from GoDaddy to another registrar, you won't have to pay a dime extra to GoDaddy. You can unlock your domain name, get an authorization code, and confirm the transfer for free.
How to Transfer Your Domain Name to GoDaddy
It is really simple to transfer your domain to GoDaddy! All you need to do is follow these simple steps:
Step 1: The first step is to unlock the domain name that you wish to transfer to GoDaddy from your current domain name registrar.
Step 2: Now that you have unlocked your domain, you can type it into the Domain Transfer page at GoDaddy's website.
GoDaddy will get the data from your current registrar, quote you a price, and tell you if the domain name is unlocked or not.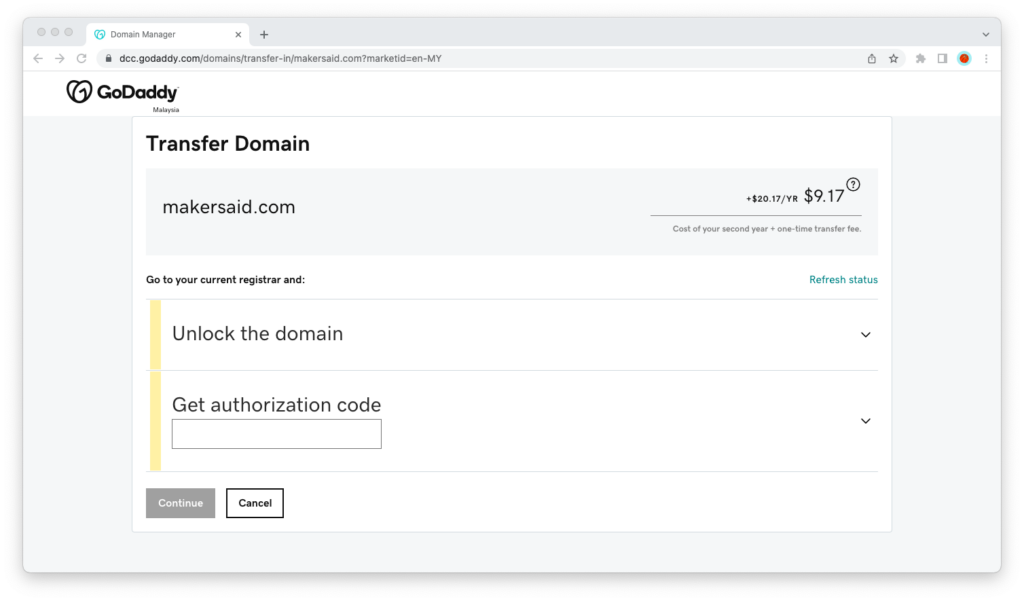 You'll know if the domain is unlocked, as there will be a green check mark next to "Unlock the domain." If this area is not green but yellow, you will have to verify with your current registrar that your domain is actually unlocked. 
Step 3: When you unlock your domain, you will be given an authorization code; this is also called an "EPP code" or a "transfer code."
Copy the code from your current registrar, then head on over to GoDaddy's website and enter the code in the field under "Get authorization code."
As long as the code is valid as it should, you will be able to proceed to the next step of the domain name transfer.
Step 4: Now that both the "Unlock the domain" and "Get authorization code" steps are marked in green, go ahead and click "Continue."
Step 5: You will be given an option to buy full domain protection for $9.99/year (by default, you get basic privacy protection). This is a neat feature that holds on to your domain name even if your credit card expires.
Step 6: Enter your payment details and then check out.
It is important to note that after you have completed this process, the domain transfer can take anywhere between 5 and 7 days to complete.
Related: How Long Does a Domain Name Transfer Take?
Checking The Process Of The Domain Transfer
With GoDaddy, it is really easy to check how the transfer is going.
All you have to do is log in to your GoDaddy transfer page and select "Transfer In." As the domain is transferring into your GoDaddy account. 
You can then select various tabs to review the details or statutes of all of your domains.
Final Thoughts
You can easily transfer your domain to GoDaddy, it is a quick and simple process.
Unfortunately, you can't avoid not having to pay a small fee for the transfer, but the charge will vary depending on the type of domain that you are transferring. 
We hope you have found this article useful and have a better insight into how much GoDaddy charges for domain transfers.