ClickFunnels is a Software-as-a-Service (SaaS) app for building sales funnels.
For readers who may be unfamiliar with the term, a sales funnel is essentially a sequence of landing pages that are designed to convert visitors (typically from ad campaigns on Facebook, Instagram, and Google) into paying customers.
Sales funnels work better than landing pages because they "squeeze" the visitor into taking a series of steps—such as reading a long landing page or watching a pre-recorded webinar—that build trust and make them more likely to buy from you by the time you make them an offer.
They also allow you to increase average cart value by upselling (making an offer for a higher-priced item) or downselling (offering a lower-priced item) customers immediately after they've purchased your product or service.
With ClickFunnels, anyone—even if they don't know how to code—can assemble, design, and edit a funnel, connecting it to the tools that they already use, such as ConvertKit or MailChimp for email marketing and Stripe or PayPal for payment processing.
ClickFunnels also has a *really* generous affiliate program that gives bloggers and website owners up to 40% commission when they refer a new customer. Unfortunately, many of the affiliates that participate in it publish a ton of shallow or outright spammy content on the Internet that's intended to trick you into clicking on their link.
This leaves many people who are unfamiliar with ClickFunnels wondering… is it legit, or is it some sort of multi-level company or scam?
Starting at $97/month, ClickFunnels is a 100% legit tool that lets you visually create sales funnels (sequenced landing pages) to convert visitors into email subscribers, webinar attendees, and buyers.
It's one of me and my team's favorite tools for selling digital downloadables and, in the rest of this post, I'm going to tell you the good, the bad, and the ugly that there is to know about it.
Alternatives to ClickFunnels include, in alphabetical order, Funnel Gorgeous for sales funnels, Kajabi for courses and membership sites, and Leadpages for landing pages as a whole.
If you're tech-savvy, you could also try to replicate ClickFunnels' functionality with WordPress and several plugins such as SamCart, MemberPress, and/or WooCommerce. As someone who knows how to stitch up (and code) WordPress sites using plugins and themes, I'd prefer the feature-richness and ease-of-use of ClickFunnels on any day.
But, instead of just telling you about ClickFunnels, let me give you a sneak-peek into the way that it actually works.
How ClickFunnel Works
When you sign into ClickFunnels, you see the home screen that gives you quick access to the funnel builder, your starred funnels, and the funnel training programs available to you.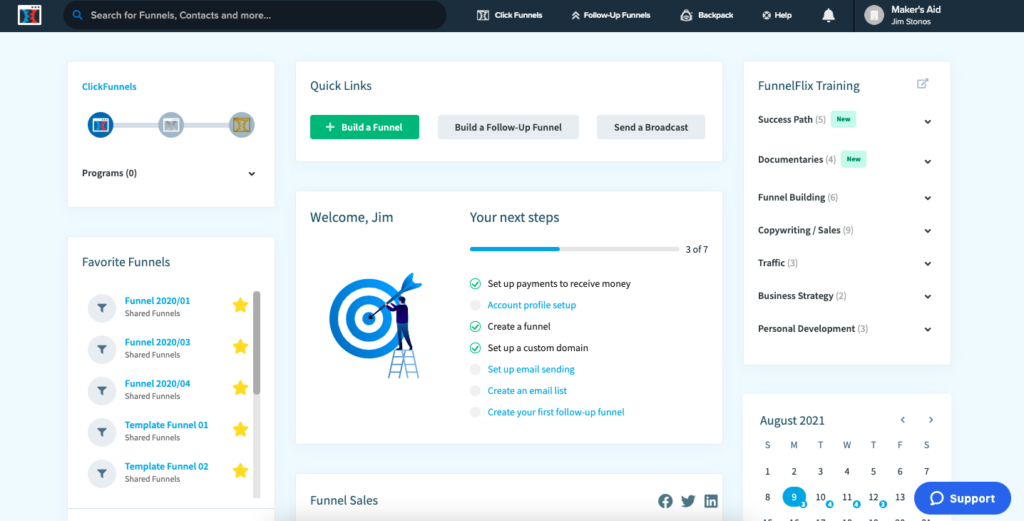 Head to the funnels screen, and you get a list of all your funnels—and the funnels that others have shared with you—that's sortable and searchable.
Here, you can create, edit, duplicate, and archive individual funnels.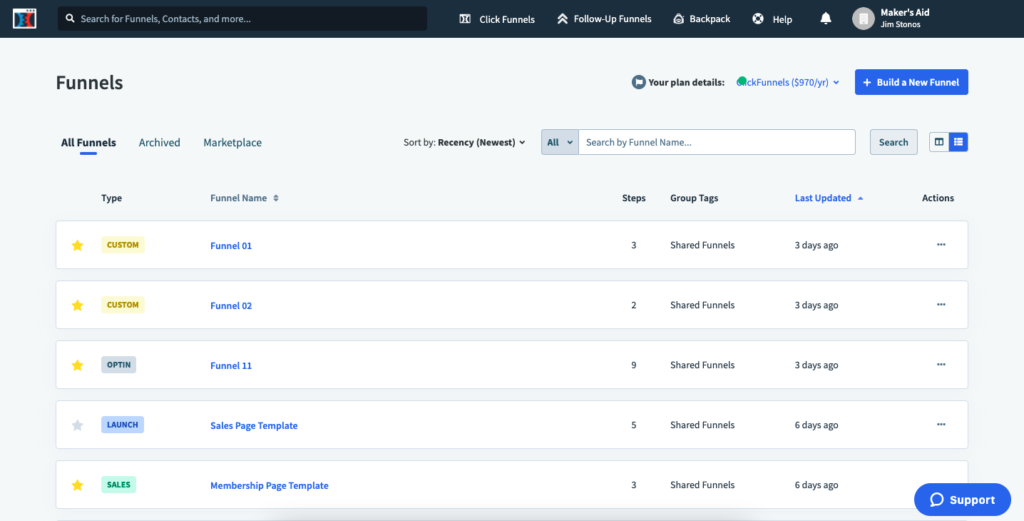 Duplicating funnels is a useful feature because it allows you to use an existing funnel as a template for a new one without having to copy/paste its elements and content manually.
So is the ability to archive funnels—to take them down without necessarily deleting them—if you're on the $97/month plan, as it limits the total number of funnels that you can have in your account to twenty.
The Funnel Wizard
Choose to build a new funnel, and you'll be redirected to the… funnel wizard?
Whatever they call it, it's a popup box that asks you about what goal you'd like to achieve with the funnel that you're creating (you can choose from collecting emails, hosting a webinar, and selling your product) and lets you select the best type of funnel for the job.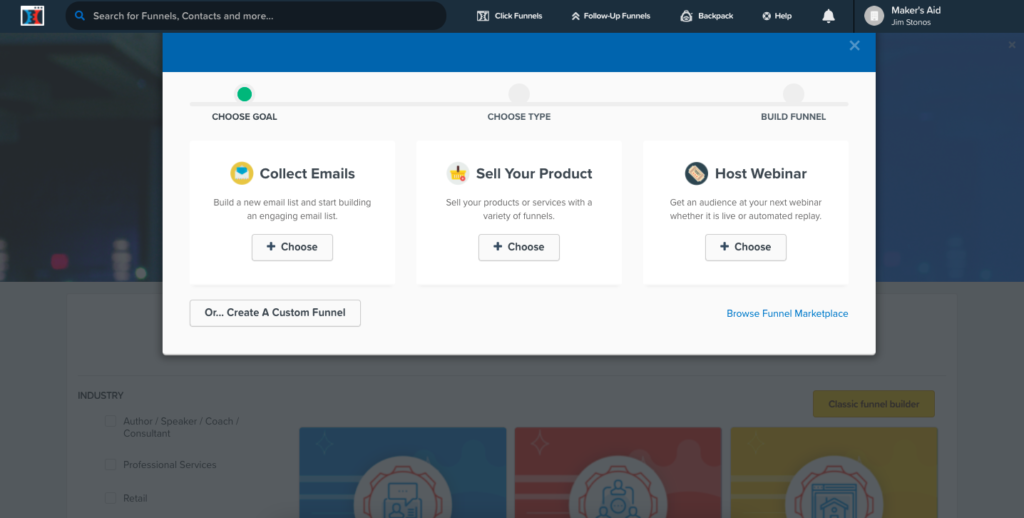 I haven't gotten round to screen-capturing a video of how this part of ClickFunnels works (yet), so here's a list of all the funnel goals and funnel types that the wizard guides you through instead:
Funnel Goal
Funnel Type
Funnel Steps
Collect emails
Email opt-in funnel
1. Landing page
2. Thank you page / Download page
Sell your product
Product launch
1. Landing page
2. Free video
3. Order page
4. Thank you page / Download page
Sell your product
Sales funnel
1. Landing page
2. Sales page
3. Order confirmation
4. Thank you page / Download page
Sell your product
Membership funnel
1. Membership signup
2. Member's area
Host your webinar
Live webinar
1. Webinar signup
2. Signup confirmation
3. Live webinar (on the day and time of the event)
Host your webinar
Webinar replay
1. Webinar signup
2. Signup confirmation
3. Webinar replay (on demand)
Funnel types and steps available from the wizard
Here, as most of you can probably already tell, is where ClickFunnels gets pretty powerful:
It doesn't take much to whip up a sequence of pages that takes someone who has no idea of who you are and what you have to offer. Then takes them on a journey that, in as little as a few clicks, interests them in your product or service enough to prompt them to buy.
The wizard lets you select from the best funnel types and steps that have already been proven to work for your marketing goals, then sends you to the funnel editor, where you can configure your funnel's settings and edit individual pages.
Later on, when you become a power user of ClickFunnels, you can choose to skip the wizard altogether and start from scratch. If you're just getting started, though, I recommend sticking to the funnel types and steps that are known to work.
Otherwise, you risk losing money on your ad campaigns by sending perfectly good audiences of people to funnels that, for one reason or another, fail to turn them into buyers.
I'm telling you all of this not to be a smart-ass about it, but because I've made this mistake myself, and I'm more than happy to help others avoid it. 🙂
The Funnel Editor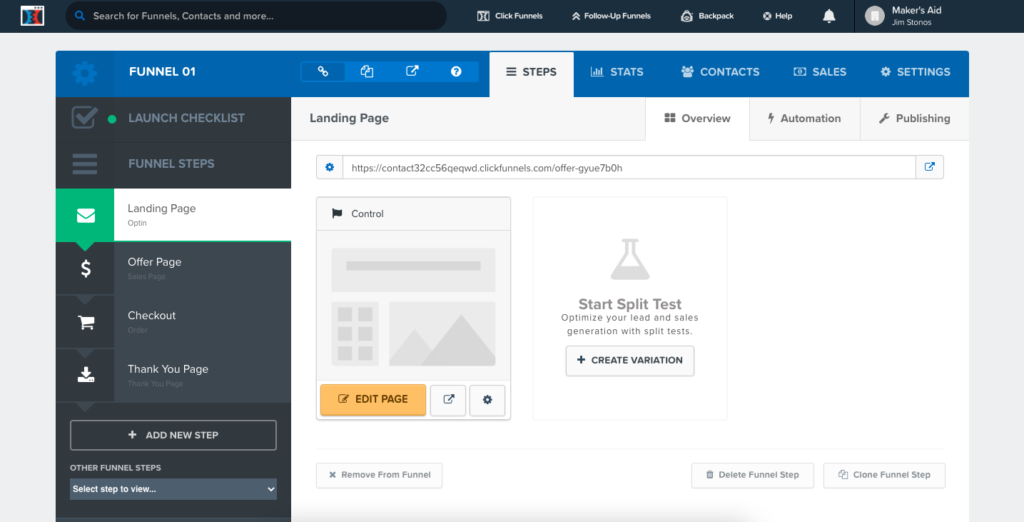 This is where you can add, reorder, or remove steps (pages) from it; select a domain name on which to host the funnel; configure the URLs of each page; and copy/paste tracking code from third-party tools for your Google Analytics property or Facebook pixel.
If you're selling a product or membership, for example, you will connect ClickFunnels to your Stripe and/or PayPal accounts. As soon as you do, and it takes roughly 15-20 minutes to get things right, you're all set to process payments from the most common debit/credit cards and payment providers.
The Funnel Step Editor (Page Builder)
For editing funnel steps (the landing page and following pages in your funnel), you get a visual editor that looks, acts, and feels very much like Elementor, Divi, or Thrive Architect on WordPress. Or any page builder such as Squarespace or Wix, as a matter of fact.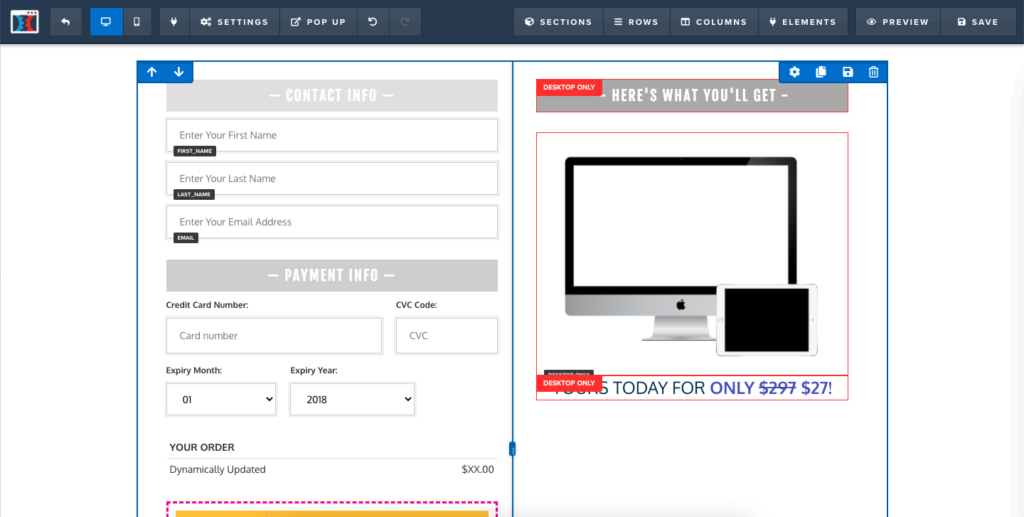 To give you the long story short, it lets you manage containers, blocks (headings, paragraphs, lists, opt-ins), and media (audio files, images, videos) through drag-and-drop.
It's not the most intuitive editor you've used and it will take you at least a few hours of playing around to get used to. However, it's good enough to help get the job of building funnels without knowing how to code done and, at the end of the day, that's what matters.
ClickFunnels has somewhat helpful and mostly up-to-date documentation, and there are plenty of tutorials out there on blogs like Maker's Aid as well as a few YouTube channels to show you how to get things done.
Plus, if you get stuck, you can always contact ClickFunnels' support. I've been there. at least a few times myself over the years, and they've helped me solve quite a few edge cases and puzzles. After all, even if a feature is missing, they can tell you all the workarounds (example)!
Sure, the funnels and the steps on them are probably not the most beautifully designed sites that you've seen on the Internet. Many, in fact, perceive them as ugly, especially if they know a thing or two about user experience and the foundations of web design.
But if you're building a sales funnel—and all you care about is how good it looks—you're kind of missing the point. It's designed to get the visitor to keep reading/watching until they feel so convinced that you have the solution to their problem, they're virtually screaming at you, "Shut up and take my money!"
Which doesn't always imply that they should look as if they're worthy of being posted on Siteinspire.
For decades, one of the best-kept secrets in the world of marketing has been that, more often than not, what's uglier converts better.
Of course, agencies and freelancers would have a hard time selling you ugly funnels for a boatload of money. So what they end up doing is tempting you with neatly-designed pages that don't convert at all.
Unless you have highly specific design requirements, all you have to do to build a funnel in ClickFunnels is, in 99.99% of the cases, to add your logo, customize the colors, fill out the pages with your headings, texts, and images or videos, and configure connections to the rest of the tools in your stack.
Why Is ClickFunnels So Expensive?
Head to Reddit or Quora, and it's not uncommon to see users asking, "Why is ClickFunnels so expensive?"
ClickFunnels pricing starts at $97/month because, when put to good use, it can save you thousands of dollars from custom development of landing pages for your ads, and bring in sales that boost your revenue to high figures.
ClickFunnels has three tiers called ClickFunnels, ClickFunnels Platinum, and Two Comma Club. While the differences between them have been laid out in detail on ClickFunnels' pricing page, here's the bird's eye view in case you don't want to click away:
| Tier | ClickFunnels | ClickFunnels Platinum | Two Comma Club |
| --- | --- | --- | --- |
| Users | 2 | 4 | 11 |
| Funnels | 20 | Unlimited | Unlimited |
| Domains | 3 | 9 | 27 |
| Payment gateways | 3 | 9 | 27 |
| Price | $97/month | $297/month | $2,497/month |
The pricing plans of ClickFunnels
Compare that to having a WordPress website, which costs roughly $245/year, and the price of ClickFunnels starts to seem astronomical. But I wouldn't say that's a fair comparison, and here's why.
While you could use ClickFunnels for your brochure website, the kind that visitors organically stumble upon in search results, ClickFunnels is best used for the conversion-optimized squeeze pages that sell your products or services, which you pay for ads to get traffic to.
If you don't go for ClickFunnels, you'd have to buy numerous WordPress plugins to be able to stitch these squeeze pages—and the logic that ties them together—yourself, or pay a hefty sum to a freelancer or agency to design and build them for you.
When you consider that you're selling products or services that cost tens, hundreds, of thousands of dollars each (and therefore bring in a large portion of your business' revenue), and you're putting in a lot of advertising money every single day to drive traffic to them, a price of $1,164/year starts to look like a bargain all of a sudden.
So, depending on how you look at it, ClickFunnels can be overpriced… or very inexpensive. As with any other piece of software, the value you get out of it depends on your ability to put it to use.
Can You Really Make Money With ClickFunnels?
The short answer is: yes, as long as you can drive a sufficient number of people with buyer's intent to your funnels, and the funnels themselves are designed engagingly and written convincingly.
Though you could probably pull that off without buying ads if you have a popular blog or email list with tens or hundreds of thousands of subscribers, the chances are you'll have to invest a solid amount of money into advertising to make the most of ClickFunnels.
I use ClickFunnels to sell more than one digital downloadable, and, over the years, it's more than paid for itself by serving as the page builder and technical backbone for my squeeze pages (a.k.a. sales funnels). And I know of many people who've done exactly the same.
That being said, buying a chisel doesn't make you a woodcarver, nor is getting ClickFunnels guaranteed to make you money. If you want to make the most of this tool, you need to know how to buy and manage ads so that you don't throw money out the window, and how to design and write copy for landing pages that gets people to buy.
To call these skills out specifically, it's good that you know the basics of:
Advertising in Google search results, also known as Search Engine Marketing (SEM), and buying ads on news sites and blogs on Google Ads, also known as display advertising;
Advertising on Facebook, Instagram, Pinterest, TikTok, Snap, or any other social network of interest, also known as social media advertising;
Conversion Rate Optimization (CRO);
Copywriting;
Landing page design.
P.S. You'll probably want to start with one means of advertising, like Google Search or Facebook and Instagram until you master it and can work your way to another. Don't go and try to become an expert at everything because, without practice, you simply can't.
So if you feel like you're very far from having these skills, you might be better off investing in the courses to acquire them before getting yourself subscribed to the software that helps you practice them, whether that's ClickFunnels or not.