Here's a good one for you: Why do all the ClickFunnels 2.0 reviews on the Internet look like they were written by people who've never touched the tool before in their lives?
If you stumbled upon Maker's Aid wondering about the same, looking through Google's search results for something real, welcome. I want to start by telling you that this review will be *a little* different, and assuring you you're in the right place.
See, I've been a subscriber to ClickFunnels for three, maybe four, years. I bought it long before 2.0 was announced, let alone released, and I've used it to make well over a hundred funnels during that time. In a way, you can say that I know the good, the bad, and the ugly when it comes to what everybody now knows as ClickFunnels Classic.
I was also one of the first adopters of ClickFunnels 2.0. I mean it; the day it got announced, I bought the Funnel Hacker plan — the one with 3 websites, unlimited funnels, and 200,000 contacts — just like that. And I've been a user of the ClickFunnels 2.0 beta ever since, learning its ins and outs, getting to know its roadmap by heart, writing tutorials here on how to use it.
But enough about me. This ClickFunnels 2.0 review is about you. It's about your questions and your concerns when it comes to the latest (and greatest?) version of everyone's favorite funnel-building tool. So let's waste no more time on introductions and get right to the meat of it.
What Is ClickFunnels 2.0?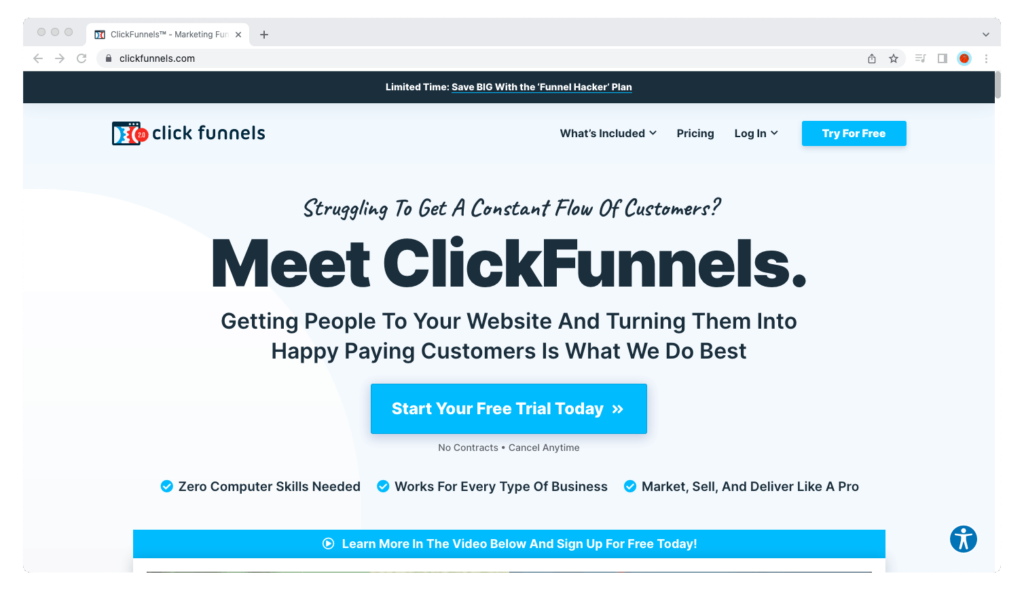 ClickFunnels 2.0 is the new version of ClickFunnels — one of the best and by far the most popular tools for building sales funnels.
ClickFunnels was created in 2014 by marketing guru and Internet entrepreneur Russell Brunson. Frustrated by how hard it was to create a sales funnel with the tools available to him at the time, he set out to scratch his own itch and create the tool he needed. Brunson and team have been setting the gold standard for how funnel-building tools must be built ever since.
The tool has changed a lot over the years, but ClickFunnels 2.0 is different; it's a complete overhaul of the funnel builder. With it, Brunson and team went back to the drawing board and redesigned everything about ClickFunnels, inside and out, to deliver a completely reimagined version for the needs of today's e-marketer.
The old ClickFunnels was "just" a tool for building sales funnels. But now, it's a platform that lets you run your entire online business: you can create your website on it, publish a blog with it, sell your products and services through it, and host your email campaigns and marketing automations on it.
The new and improved ClickFunnels 2.0 is a website builder, funnel maker, course platform, and turbocharged marketing engine all in one.
How Does ClickFunnels 2.0 Work?
The first thing you get when you sign up for ClickFunnels 2.0 is an account. The account is where you manage your subscription plan and billing information. It's also where you add or remove members from your team.
ClickFunnels 2.0 introduces the concept of workspaces. A workspace is like a standalone account within the account that holds a single website along with its store, funnels, pages, blog, courses, products, and marketing automation workflows.
Basic and Pro subscribers get one website and one workspace. Funnel Hacker subscribers, on the other hand, get three websites — and three workspaces as a result. Each workspace has its own website, with separate add-on domains, URL redirects, and assets.
For many users, workspaces won't make a difference because they only have one website (and, therefore, one workspace) in their ClickFunnels 2.0 account. But it will make quite the difference to agencies and teams with many brands, who previously had to use multiple accounts to keep configurations, sales funnels, and customer contacts separated in ClickFunnels Classic.
You can finally have one ClickFunnels account and be a member of as many workspaces as you need to. To switch between workspaces, you click on your company's name in the upper-right corner of the browser window and select the workspace to navigate to. At last, this makes working with ClickFunnels in big teams a cinch.
ClickFunnels Classic only made funnels, whereas ClickFunnels 2.0 tries to give you everything you need to run your online business in one platform.
That you can build websites, stores, blogs, courses, and funnels, and run email marketing campaigns and automations, in ClickFunnels 2.0 is big news! It means that — as long as the tool's features meet your needs — you no longer need a website builder like Wix or WordPress for your website, e-commerce platform like Shopify for your store, learning platform like Thinkific for your courses, or email platform like ConvertKit for your emails.
And the best part? You no longer have to pay extra to get it.
Before, you had to buy an add-on to use ClickFunnels as a marketing CRM. But in ClickFunnels 2.0, email campaigns and marketing automation workflows are included in every plan, from Basic to Pro to Funnel Hacker. For those who have a sales team, a sales CRM feature to let you move customer contacts through a sales pipeline like in Pipedrive is in the roadmap and being built.
Let me say that again: THIS IS BIG.
ClickFunnels 2.0 isn't just a tool for building funnels; it's an operating system for building your online presence, doing your marketing, selling your products, digital or physical.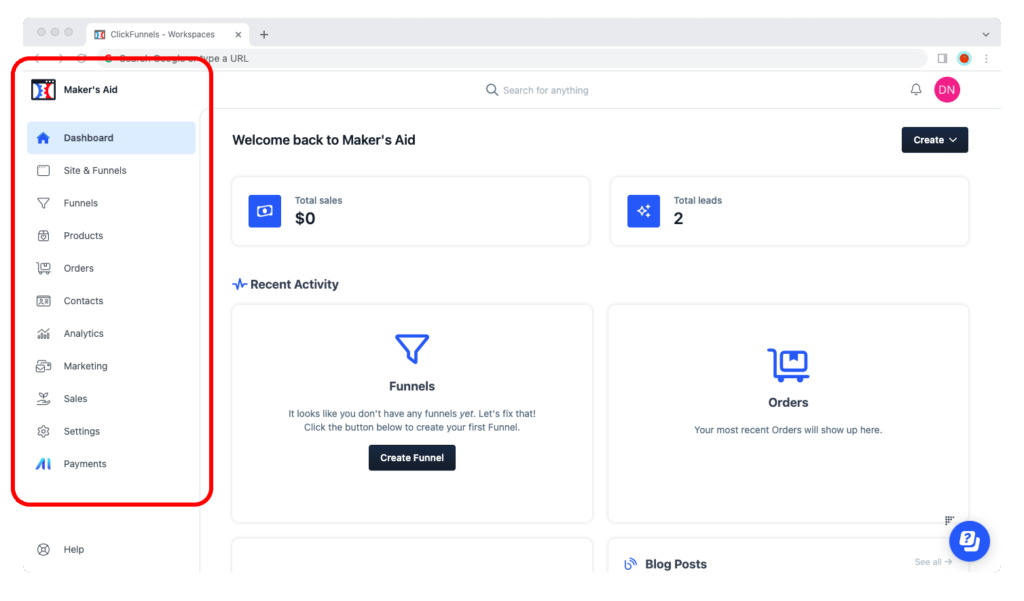 You can cut down on software costs and have more money to spend on ads instead, which can help you grow your business! And you no longer have to think about Zapier or other platforms to integrate ClickFunnels 2.0 with other apps.
Of course, if you try to do too many things, there's the risk that you might not do either particularly well. To make ClickFunnels 2.0 a success, the team building it will need to stay as focused as ever and make sure their platform does what's needed, and that it does it well.
Then there's Payments.AI.
ClickFunnels 2.0 has a payment gateway called Payments.AI, which processes payments from all major credit and debit cards, replacing Stripe. (Yes, its own payment gateway… I'll wait for a few seconds to let that sync in.) All customers in version 2.0 need to use Payments.AI to process payments, which is done with a per-transaction fee.
You can still connect third-party payment gateways to your Payments.AI account, including Stripe, PayPal, Coinbase, and Klarna, and use them instead of Payments.AI. However, ClickFunnels 2.0 will charge you an additional 1% fee for every transaction processed through a third-party payment gateway, and that's a lot.
This is important, especially if you're coming into ClickFunnels 2.0 with an existing business with a low profit margin or high-value transactions — it will affect just how much money you make from every product you sell.
You can read more about the Payments.AI pricing policy here.
How Easy Is ClickFunnels 2.0 to Use?
One thing that hasn't changed in ClickFunnels 2.0 is the ease and intuitiveness of creating and editing pages. Just like in ClickFunnels Classic, you can easily create and customize pages to fit your brand's guidelines and funnel's needs, without needing to know any code or have even the remotest of technical skills.
And if you do know how to code, we have good news for you: the custom CSS editor has been taken out of the popup and is integrated into the tool. Finally, you can add CSS and preview your changes in real time without opening and closing pop-ups all the time!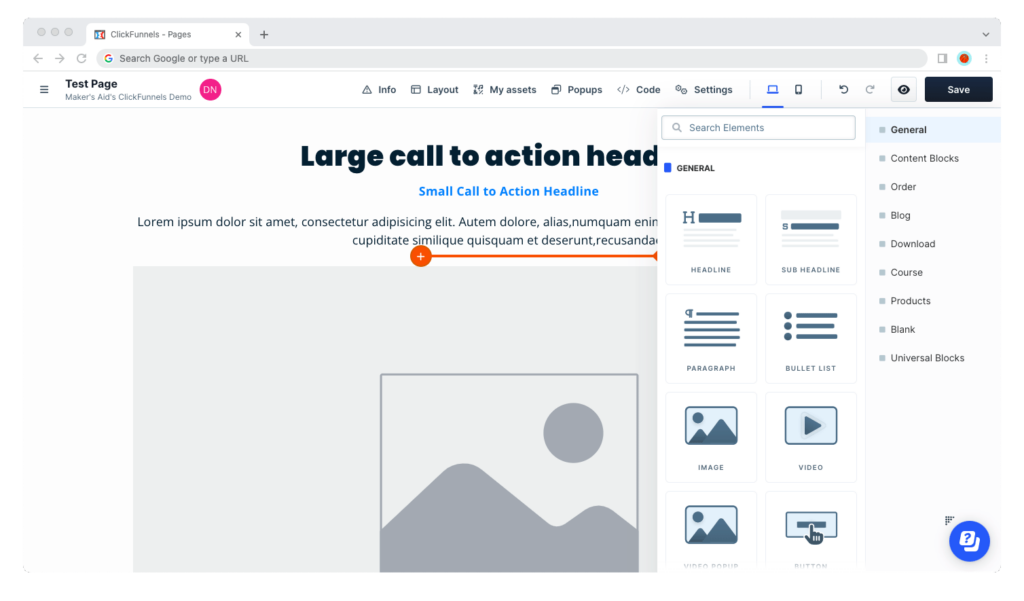 The visual builder feels faster, as if it uses less resources on your browser, leading to an improved page building experience as a whole.
The funnel editor is completely revamped.
Selecting from funnel recipes is somehow easier, and editing a funnel is more visual and less cluttered compared to ClickFunnels Classic. Before, the settings page for your funnels was full of colors and options. Now, it's streamlined and sleek, helping you focus on the visitor's journey and the funnel pages that make it up.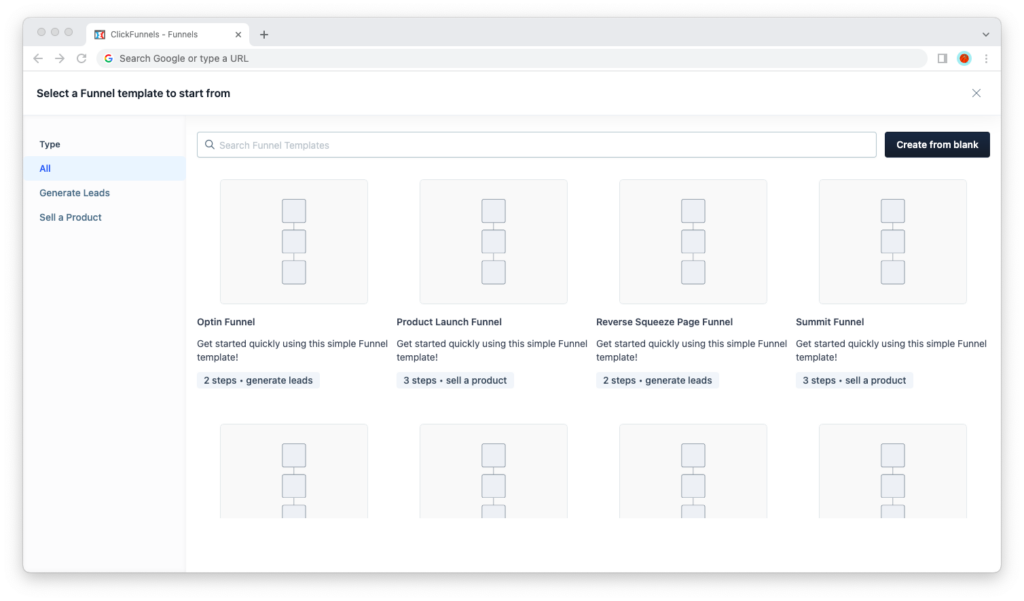 The editing interface is consistent across ClickFunnels 2.0's tabs and features. For example, the visual editor for marketing automation workflows closely resembles the one for funnels, and the page editor looks very much like the email editor.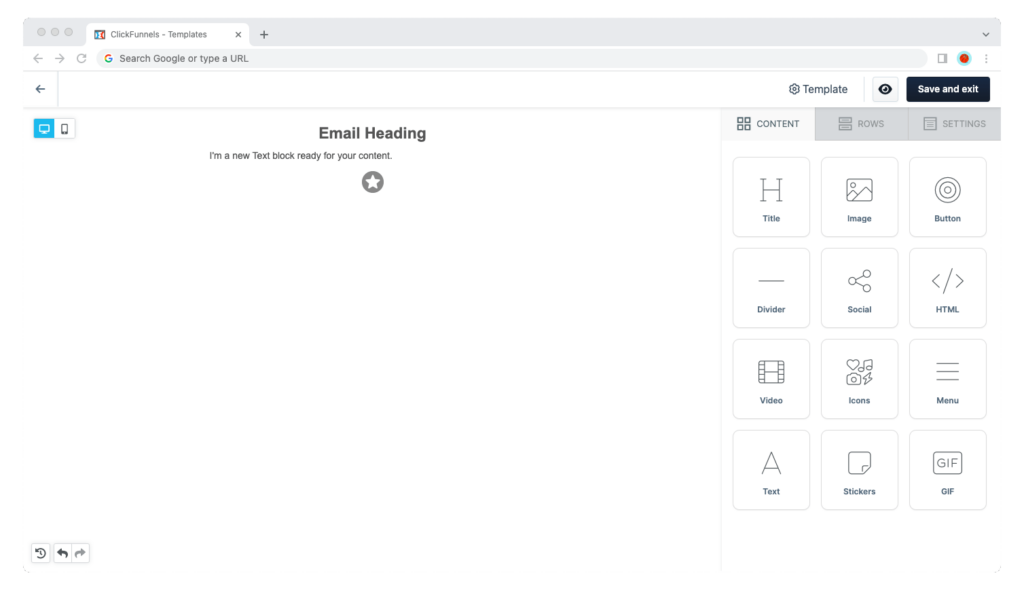 The templates for pages have also been redesigned. They look clean and modern, with bold, beautiful fonts and contrasting colors, requiring little-to-no customization (other than adding in or copy and editing the colors) on your part to produce a trustworthy, well-designed funnel for your products.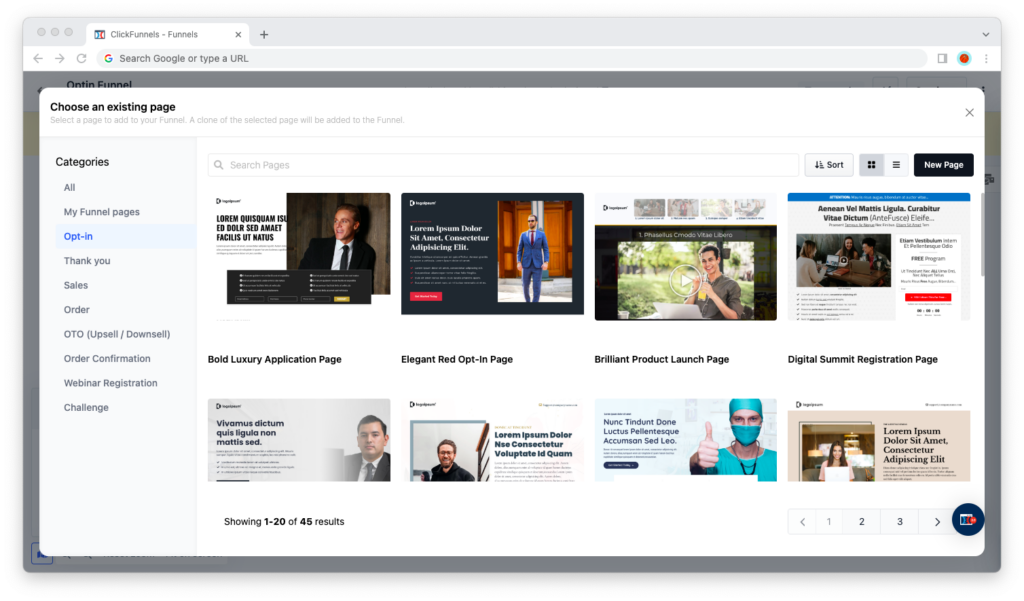 The interface takes some getting used to if you're coming into ClickFunnels 2.0 from ClickFunnels Classic. Although there's a help section with a lot of documentation, that documentation isn't always as helpful and as informative as you need, so be ready to do some googling as you learn the ropes.
What Can You Do in ClickFunnels 2.0?
At the time of writing, ClickFunnels 2.0 had the following features:
Create a website, online store, blog, landing pages, and sales funnels with a visual page builder
Send emails, create email sequences, and set up marketing automation workflows with a visual editor
Create courses with videos hosted on ClickFunnels 2.0
Sell digital or physical products
Have multiple product variants (i.e., colors, sizes, variations)
Charge customers once, in installments, or in recurring subscriptions
Ensure compliance with U.S. sales tax thanks to a built-in TaxJar integration
Ensure compliance with VAT or GST tax by manually configuring tax surcharges
Grant customers access to digital assets or enroll them in courses after successful payment
Tag, segment, and export customer profiles
Explore analytics for visits, opt-ins, sales, and course progress
Send event notifications and customer data to other tools with webhooks
The funnel builder had the following funnel templates:
Funnels for generating leads

Optin funnel
Squeeze page funnel
Reverse squeeze page funnel
Lead magnet funnel
Bridge funnel
Live demo funnel
Hero funnel
Application funnel
Ask campaign

Funnels for selling products

Product launch funnel
Summit funnel
Daily deal funnel
Video sales letter funnel
Hero funnel with order form
Invisible funnel
Who Is ClickFunnels 2.0 For?
ClickFunnels 2.0 is for online entrepreneurs who want to build a sales-focused website with high-conversion funnels and landing pages using a visual, easy-to-use page builder with many options for customization and ready-to-use templates.
It's also for course creators and subscription program makers who want to host their courses, website, and landing pages on the same platform, with seamless checkout, hassle-free payments, and automation workflows under the bonnet to power it all.
In other words, whether you sell mugs, WordPress templates, or teach people how to make pottery, ClickFunnels 2.0 can be your website, your shopping cart, your membership site, and your email marketing platform in one.
Last but not least, ClickFunnels 2.0 for freelancers and agencies who want to give their clients full-fledged, results-driven websites faster and cheaper, without the need to license and integrate several tools (and all the hassle that comes with operating and maintaining them).
Is 2.0 Better Than ClickFunnels Classic?
ClickFunnels 2.0 is new, but is it better than ClickFunnels Classic?
This is an important question. ClickFunnels Classic is old, and it looks and feels outdated in many ways, but it's also a piece of software that's been built on and improved since the year 2014. Yes, ClickFunnels 2.0 is the product of the same company, but, according to its marketing messaging, it's built from scratch.
To make a long story short, ClickFunnels 2.0 is and isn't better than ClickFunnels. And to help you understand why, we need to highlight two things about ClickFunnels 2.0: First, it's in beta, which means it's being built as we speak. Second, many features from ClickFunnels Classic have yet to be built into the new version.
As you navigate between tabs, you'll see how some features are grayed out, which means they're in development and not available yet: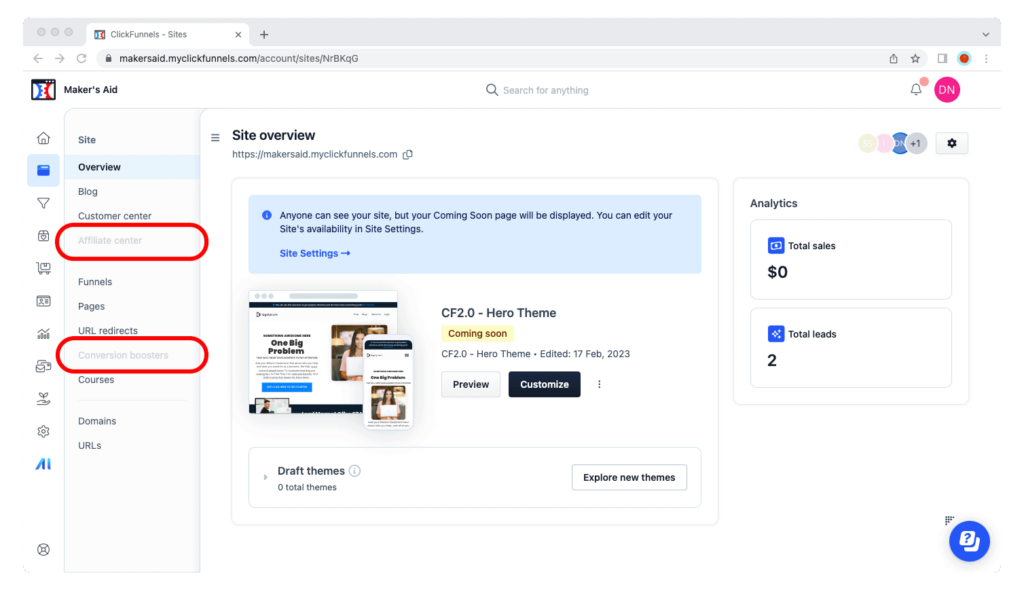 Sometimes, not having those features can be a dealbreaker. For example, up until recently, ClickFunnels 2.0 only let users sell products in U.S. dollars (USD). Outside the U.S., entrepreneurs had two options: wait for multi-currency support to come, or look towards other platforms.
To stay on top of product updates, familiarize yourself with the tool's roadmap and visit the changelog frequently.
How Much Does ClickFunnels 2.0 Cost?
There are three pricing plans for ClickFunnels 2.0: Basic, Pro, and Funnel Hacker.
| Plan / Limit | Basic | Pro | Funnel Hacker |
| --- | --- | --- | --- |
| Websites | 1 | 1 | 3 |
| Domain names | 1 | 3 | 9 |
| Admin users | 1 | 5 | 15 |
| Courses | 3 | 15 | 200 |
| Studends | 1,000 | 10,000 | 20,000 |
| Contacts | 10,000 | 100,000 | 200,000 |
| Funnels | 20 | 100 | Unlimited |
| Pages | Unlimited | Unlimited | Unlimited |
| Products | Unlimited | Unlimited | Unlimited |
| Email sequences | Unlimited | Unlimited | Unlimited |
| Automation workflows | Unlimited | Unlimited | Unlimited |
| Analytics | Basic analytics | Basic analytics | Advanced analytics |
| API access | Not included | Included | Included |
| ClickFunnels Classic Maintenance Mode | Included | Included | Included |
If you're starting out, the Basic plan is good enough. If you're an experienced funnel builder coming into ClickFunnels 2.0 from ClickFunnels Classic, you'll probably want to go for the Pro or Funnel Hacker plan.
There's no trial for ClickFunnels 2.0, but there is a 30-day money-back guarantee. This means that the best way to give the tool a spin is to sign up for the Basic plan paid monthly.
Basic Plan
The Basic plan, which lets you create one website with three courses and 20 funnels, costs $147 per month when paid monthly and $127 per month paid annually (in other words, $1,524 per year).
Basic plan subscribers can only add one domain to their ClickFunnels 2.0 workspace, and are capped at a total of 1,000 students in their courses and 10,000 contacts in their account.
Pro Plan
The Pro plan, which lets you create one website with 15 courses and 100 funnels, costs $197 per month when paid monthly and $157 per month paid annually (in other words, $1,884 per year).
Pro plan subscribers can only add three domains to their ClickFunnels 2.0 workspace, and are capped at a total of 10,000 students in their courses and 25,000 contacts in their account.
Funnel Hacker Plan
The Funnel Hacker plan, which lets you create 3 websites with 200 courses and an unlimited number of funnels, costs $297 per month when paid monthly and $208 per month when paid annually (in other words, $2,496 per year).
On top of everything from the Pro plan, Funnel Hacker subscribers get advanced analytics for their website and sales funnels.
Funnel Hacker plan subscribers can add as many as nine domains to their ClickFunnels 2.0 workspace, and are capped at a total of 20,000 students in their courses and 200,000 contacts in their account.
Bottom Line
If Russell Brunson hadn't created ClickFunnels, Internet marketing wouldn't be the same. The tool has had many changes and improvements since, but ClickFunnels 2.0 is by far the biggest — and riskiest.
The tool is still being built. And although it's being built quickly, and it lets you do much more than ClickFunnels Classic ever did, it lacks some of the features that made the old version so powerful. It's a great time to hop on and lock in a bargain price as an early adopter. But if ClickFunnels 1.0 already powers your business, do your due diligence and find out if 2.0 already has the features you need for a full move.
If you're new, though, chances are ClickFunnels 2.0 has everything you need to get your started, and it will only get better from this moment on. Sign up for the monthly plan before upgrading to annual billing and give it a spin; the 30-day money-back guarantee's got you covered.
Pros
Site, store, blog, and funnel builder all in one.
Email campaigns, email sequences, and marketing automations.
High-conversion funnel recipes and gorgeous funnel templates to choose from.
Visual page builder and email editor let you create stunning designs without needing to know code.
Cons
Version 2.0 is being built, and some of the features from ClickFunnels 1.0 have yet to be made available.
All customer payments have to go through Payments.AI, which imposes a 1% processing fee if you use Stripe, PayPal, or other gateways.
Because the tool is so new, finding tutorials and information about how to do things can be a challenge.