If you have anything to do with graphic or web design, which you probably do since you're reading this post, the chances are high that you've looked at and downloaded fonts from DaFont.
DaFont was founded more than two decades ago, in the year 2000, and has since become one of the largest repositories of fonts on the Internet. Font authors can upload their fonts—some free, and others paid—to DaFont and showcase them for anyone to try.
On the other hand, designers can download any font from DaFont completely free of charge, try it, and then decide whether to use it for their project or not. And this is where the font's license comes into play.
The fact that you can download a font for free from DaFont doesn't mean that you can use it for commercial purposes. Before you do, go to the font's page and look at the license in the upper-right corner under the top red bar.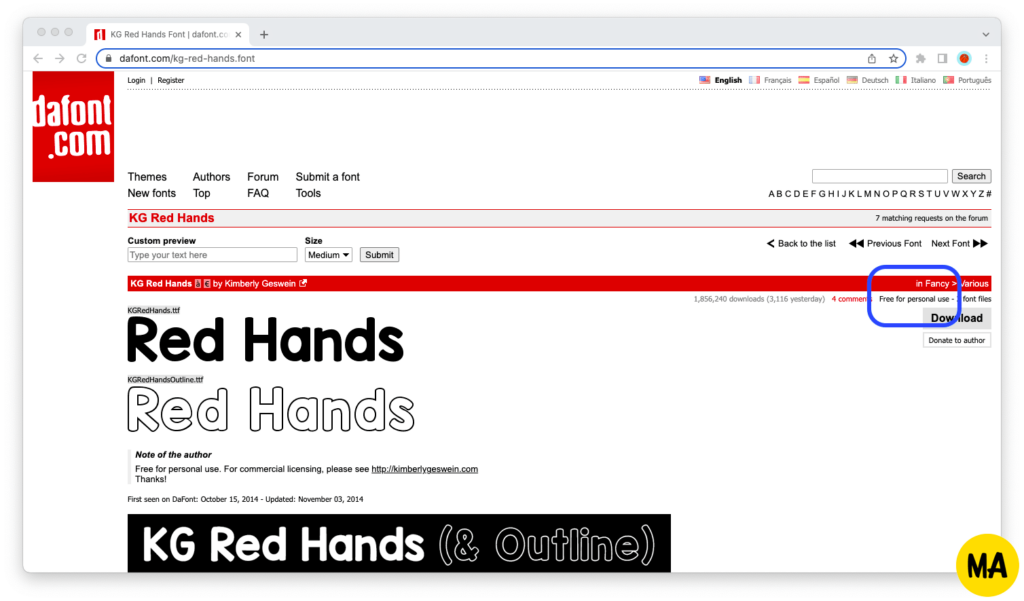 But here's the thing:
Don't just rely on the license information at DaFont. It doesn't happen often, but sometimes people who don't have the rights to upload a font will claim that that font belongs to them, and upload it anyway.
Instead of taking that information for granted, you should go to the author's website in the upper left corner under the top red bar, try to find the font, and familiarize yourself with the license. (If you can't find the font and/or the license, contact the author to ask.)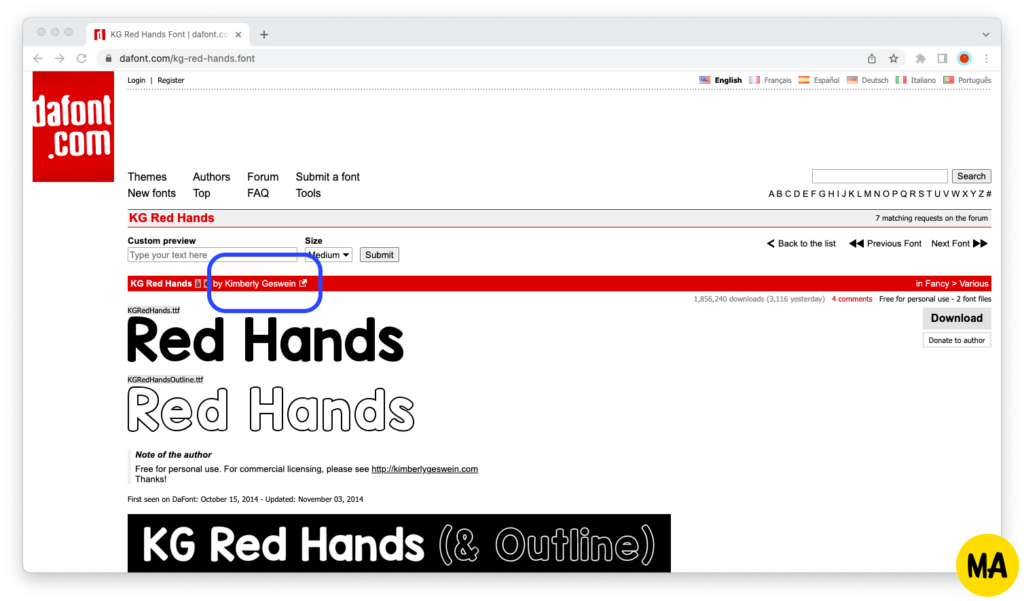 If you don't see any license information on DaFont and you can't find an author, you shouldn't use this font commercially.
Unfortunately, you have no way to determine whether you need to license the font or not—which also means that you can't rule out the possibility that you or your client will get into legal trouble for using it.
Font Licenses on DaFont, Explained
As a general rule of thumb, all fonts uploaded to DaFont should have one of five licenses:
Public domain fonts belong to the public domain, which means they are not subject to copyright. They are free to use for personal and commercial purposes, and they can also be modified and redistributed.
100% free fonts are fonts that are free to use for personal and commercial purposes. But, because they are subject to copyright, they should not be modified and redistributed.
Free for personal use fonts are fonts that can be used for personal, but not commercial, purposes. To use them commercially, you have to purchase a license, usually from the author's website.
Donationware fonts are fonts that are free to use for personal purposes. However, to use the font for commercial purposes, you have to make a donation to its author through DaFont.
Demo fonts are paid fonts offered to you in good faith. You can download them to your computer to try them out. If you don't like them, you're expected to uninstall them. If you like them and intend to use them, you're expected to purchase them.
Now, you might be wondering… what qualifies as commercial use in the first place?
In some cases, "commercial use" is easier to define than in others. That said, I really like the three criteria for commercial use that Creative Market defines for the products in its marketplace, and I think they also apply to the fonts at DaFont.
When in doubt, ask yourself:
Are you using this font for a project that involves the exchange of money?
Does the project for which you're using this font promote a business entity or a non-profit organization?
Will your use of this font result, directly or indirectly, in financial gain?
My litmus test for whether or not I need to license a font is even simpler:
If I will be using it for anything other than sketching things for my own education or entertainment, then I *probably* need to license it if I want to keep on using it.