If you're creating an online course or a membership program, Kajabi is undoubtedly one of the best platforms to build your website and sell your products.
It's by far the easiest platform to work with, both for you and your customers. It's also fast, beautiful, integratable, and offers some of the best support of any tool of its kind on the market.
But can you use it to sell services, not products?
Yes, you can sell services on Kajabi. As long as your services have a fixed price and are not billed per hour, you can use Kajabi for your website, marketing, service sales, and customer onboarding.
My business partner and I tried Kajabi some time ago. We almost immediately fell in love with it—and have been using it ever since to sell digital products and online services for one of our business lines.
That was a while ago. By now, I consider myself a Kajabi power user. For those of you in the service industry who are interested in this tool, I'd like to share my honest opinion on what makes it so good for selling services.
Using Kajabi for Services
If you and I were in chatting in the elevator right now and I only had 30 or so seconds to tell you what Kajabi is, I'd tell you this:
With Kajabi, you can create a site where you can sell your digital products or online services, giving each customer access to a customer-only area with content and, if you wish, a community.
Kajabi calls these "products," but that name can be misleading.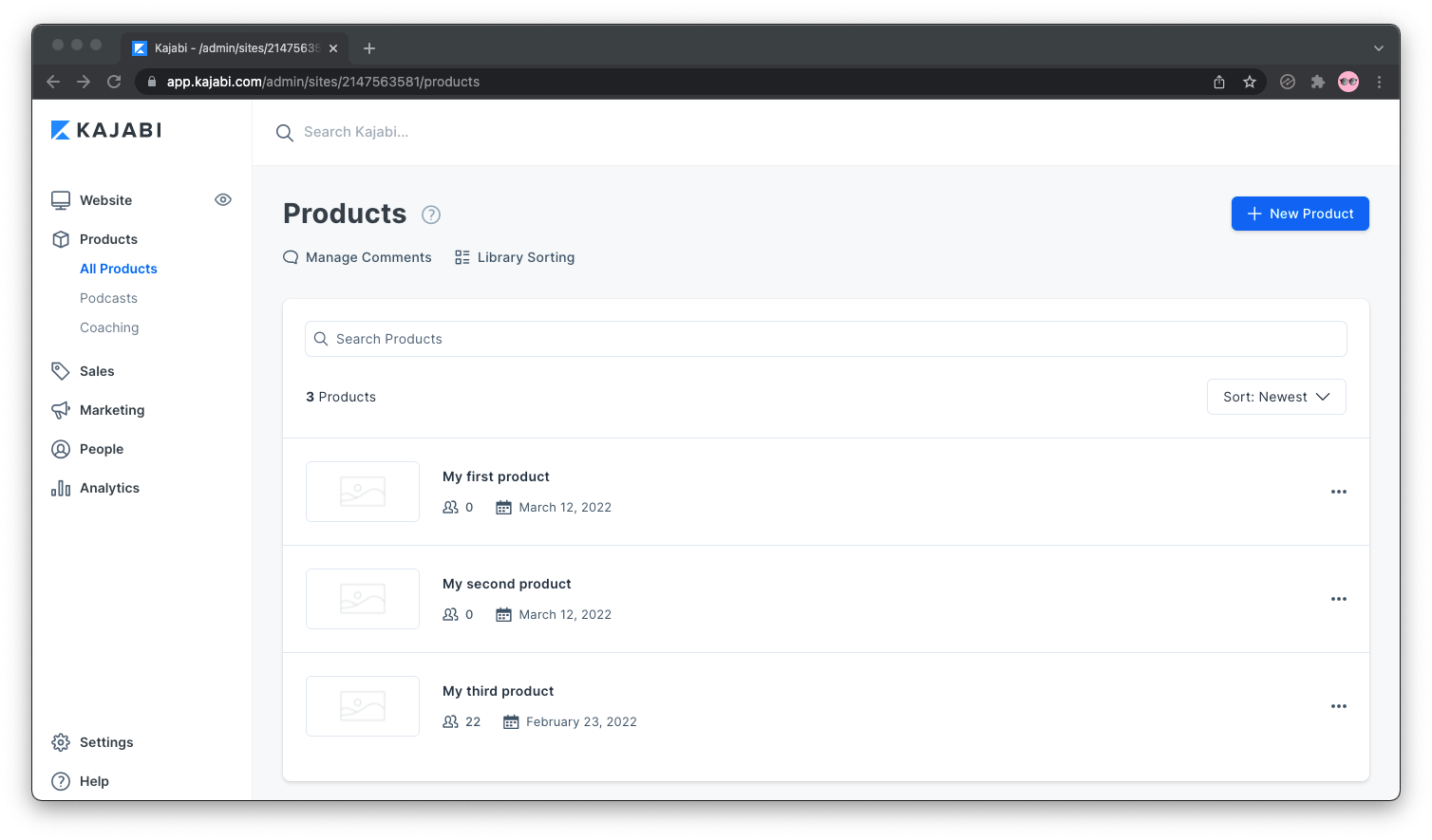 A product is a single thing that you can give away or sell—as a one-time purchase, a purchase split between multiple payments, or a subscription—through offers.
Offers can be for one thing or for a bundle of things, and you can sell each thing by more than one offer. This, as some of you are probably already thinking, is very handy when you are running ads for different audiences and testing prices.
An offer can be limited in quantity, meaning the total number of units that can be purchased by all customers, or in time, meaning that it can expire after a certain date and time, then redirect visitors to another landing page.
As any service business owner painfully knows, service businesses are capacity businesses, and in this industry, limiting the quantities customers can buy is far more than a marketing gimmick.
Kajabi lets you do this gracefully, without compromising on customer experience.
When a customer purchases a "product" (remember that the name can be misleading), they are asked to create an account and log in so they can access it.
The "product" is a mini-site resembling an online course on Coursera or edX, with modules organized into sections. (Kajabi calls it "posts" organized into "categories." I've written about this in detail here.)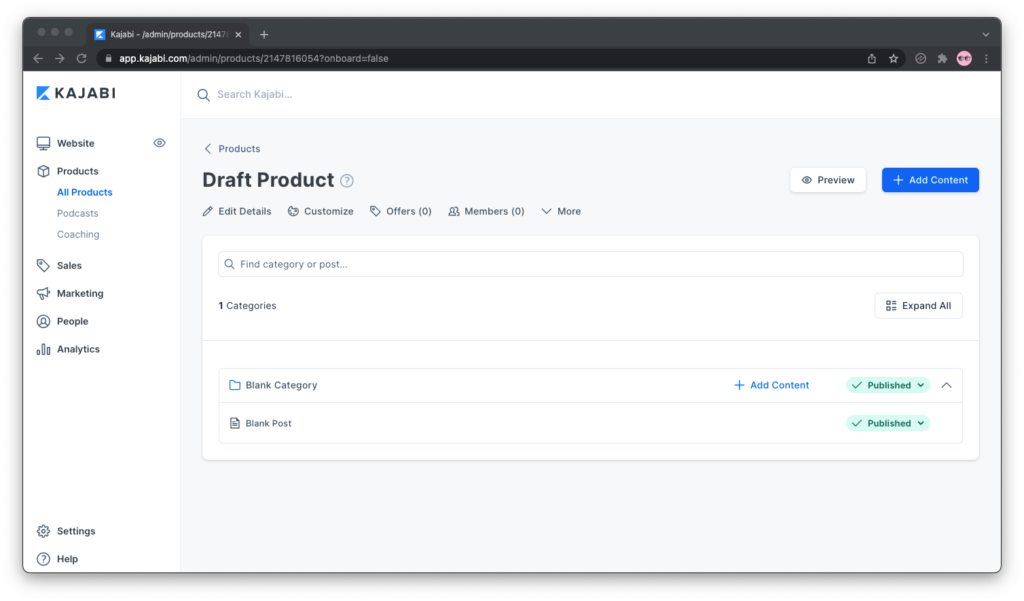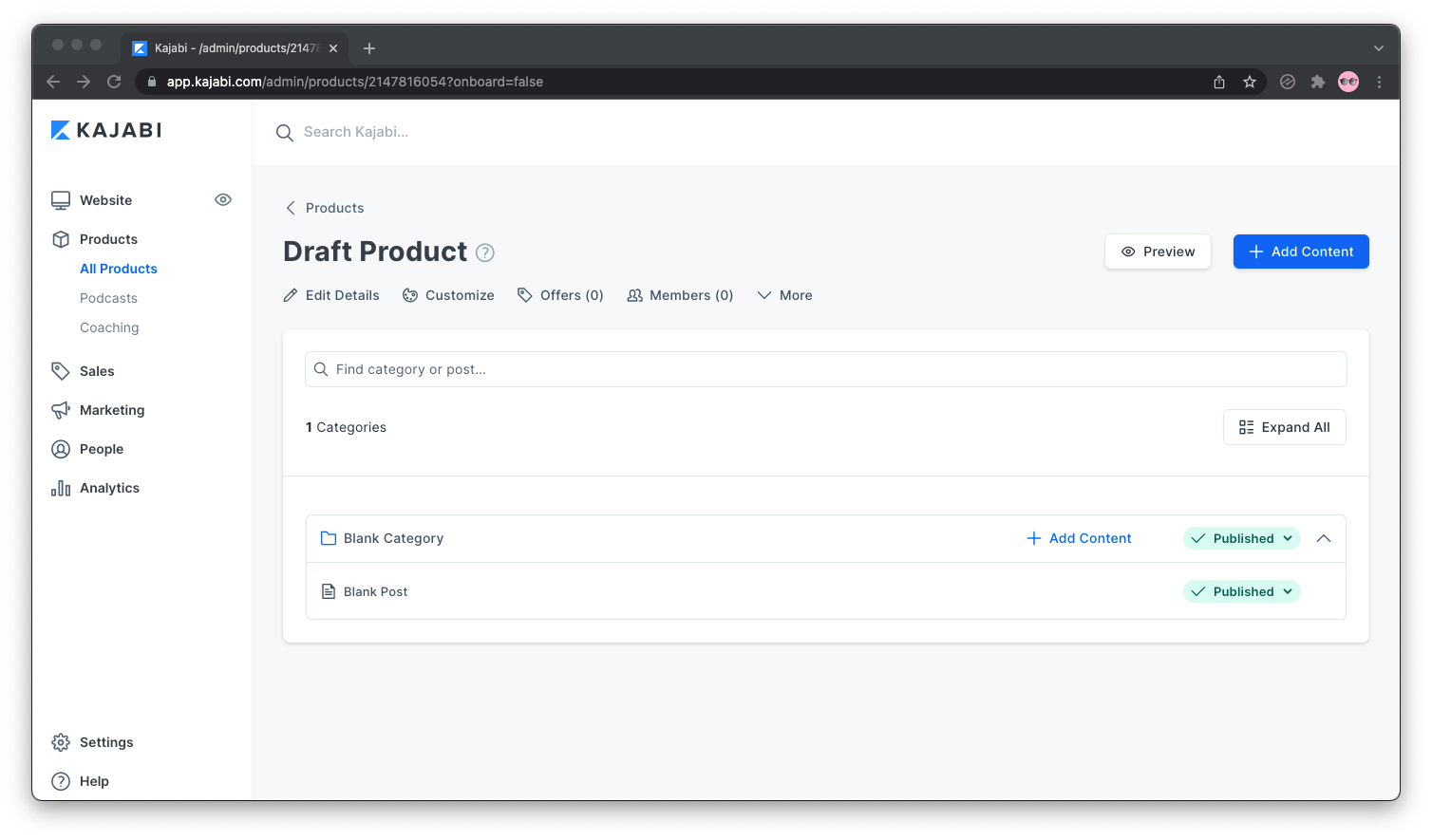 The "product" is basically the customer area for a single service. It's where you can onboard customers with text, audio, and video; link out to forms they need to fill out; and give them the information they need to make the most of your service.
You can even set up a drip-feed for these modules, that is, give customers access to a module after a certain number of days, weeks, or months after they join. This drip-feeding works great for services with SLAs and pre-determined delivery schedules.
Still, Kajabi is no project management tool. You can use it to sell services and give customers access to a customer-only area with onboardings and links to other tools. But you can't use it to manage projects, work items, cost, and timelines.
When it comes to services, my business partner and I like to think of Kajabi as a storefront, onboarding tool, and customer-facing wiki with comments and forums. (The latter two—comments and forums—are optional. Service providers working under NDAs will want to keep individual customer relationships and customer discussions private.)
So keep that in mind; you will need to delivery-manage and project-manage in another tool, such as Asana, Jira, Monday, or whatever it is your business is using.
A very, very important call out is that Kajabi will only work for those of you who sell fixed-price services. You can't have flexible pricing, and there is no option to bill customers based on completed hours of work.
What Is Kajabi Suitable For?
Creating a website for your business

Creating landing pages for lead generation

Creating automations to turn leads into customers
Sending email sequences and marketing campaigns
Selling services, in a store, with landing pages, or pipelines
Having a customer-only area for each service with onboarding and links to other tools
In other words, it's for your site, marketing, and customer onboarding.
What Is Kajabi Not Suitable For?
It's not a project management tool
It's not a chat, voice call, or video call app
It's not a billing system for bespoke, per-hour services
It's not a customer support platform
Simply put, only go for Kajabi if you sell fixed-price, and not bespoke, services. You'll also need a project management tool, an app for chats and calls, and an app for support and case management.
Is Kajabi (Really) Worth It?
Any self-respecting service business needs a solid online presence. Instead of spending a lot of money on a CMS, a CRM, and an agency to manage it, you can sign up for Kajabi and create your company's website and all your marketing automations right in it.
Kajabi is expensive, I know: the Basic plan, which lets you sell 3 products with 3 pipelines on 1 website, costs $149/month. The Growth plan, which raises those limits to 15 products and 15 pipelines on 1 website, will cost you $199/month.
And the Growth plan—with 100 products and 100 pipelines at 3 locations—is something that, in my humble opinion, you shouldn't even think about unless your service business is making seven figures a month with the tool.
With that said, when you consider how much money you have to spend on a number of tools if you do not sign up for Kajabi… the costs kind of add up. A Wix site starts at $16/month, but only gets you this far. MailChimp starts at $11/month for email marketing and landing pages. You'll probably need to throw a Zapier subscription ($19.99/month) in the mix to integrate these.
We're already at $46.99/month for Wix, MailChimp, and Zapier, and this is excluding the cost of learning to use them and managing them, and this only covers the website, landing pages, and email marketing part! We still have to figure out a customer portal where you can do customer onboarding and success management.
Anyway, you get the picture. Kajabi is only expensive if you do not use it to its fullest extent. If you do, you will save money, time, and nerves because you will not have to deal with a multitude of other apps to run your business.
Kajabi is a site builder, a funnel builder, an email platform, and a course platform with powerful engagement and membership features. At the end of the day, it comes down to this simple question: How much of it will you adopt and use?