Until recently, Microsoft PowerPoint was the only decent presentation design app you could use for school assignments, startup pitch decks, or your company's annual investor report.
But not anymore!
Canva came along and—with presentation templates you'll actually want to use and access to millions of royalty-free stock photos, videos, and design elements—it stole the show.
And yet not everyone has Canva. And you can't use it from every computer, especially in a corporate setting or if you don't have a reliable Internet connection.
Did you know that you can download your Canva slide deck in PPTX format so that you can view, edit, and present it in Microsoft PowerPoint?
This tutorial will show you how to do this in just four steps, with screenshots.
How to Download Canva Presentation as a PowerPoint File
Step 1: Open your Canva presentation, then click on the "Share" button in the upper right corner of the screen.
Step 2: The "Share this design" menu will pop up. Scroll down to the bottom of the menu and click "More."
Step 3: Scroll down until you can see "Microsoft PowerPoint" under "Save."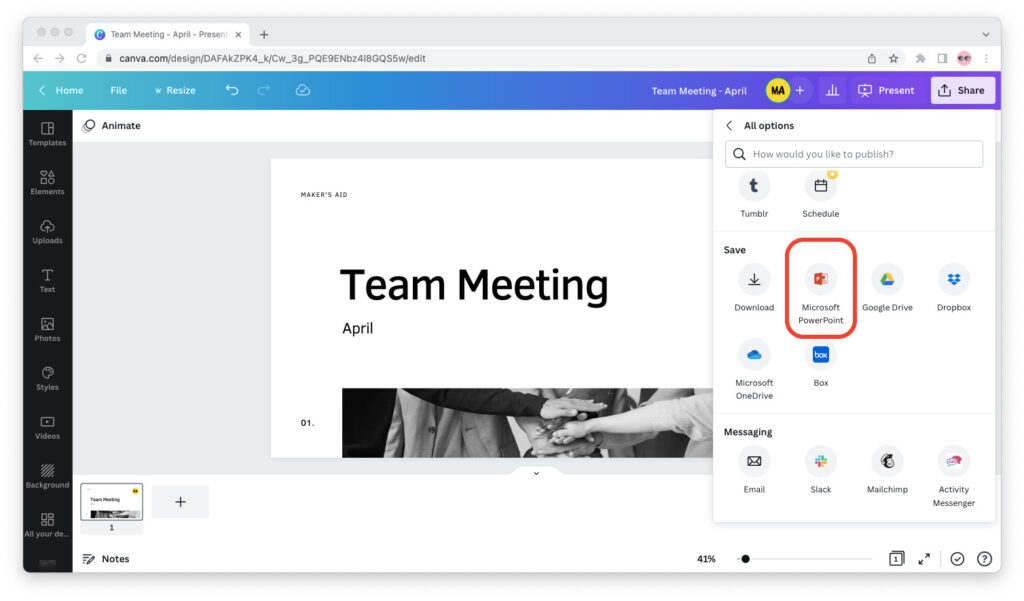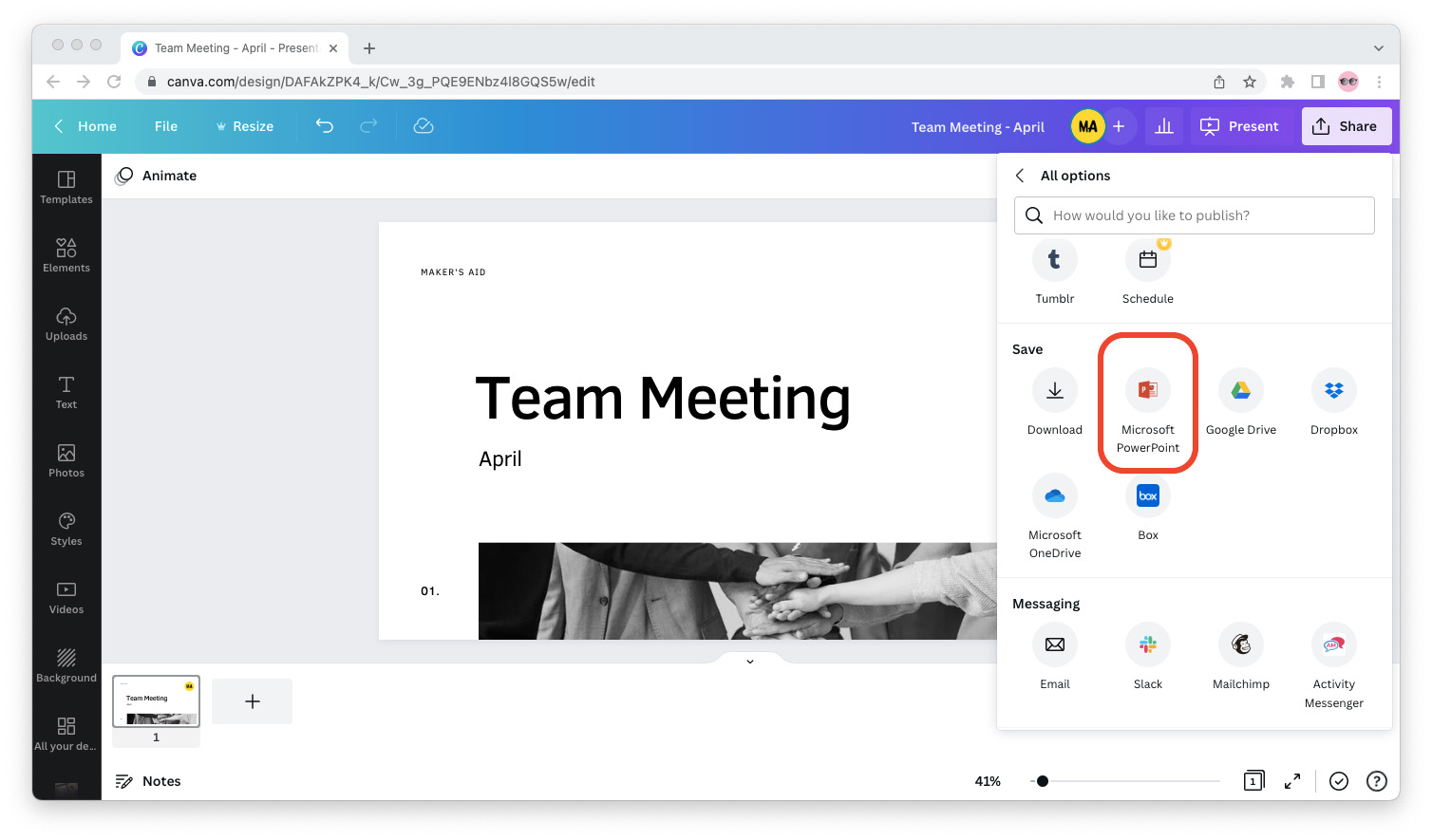 Step 4: Click on "Microsoft PowerPoint," then select "Download."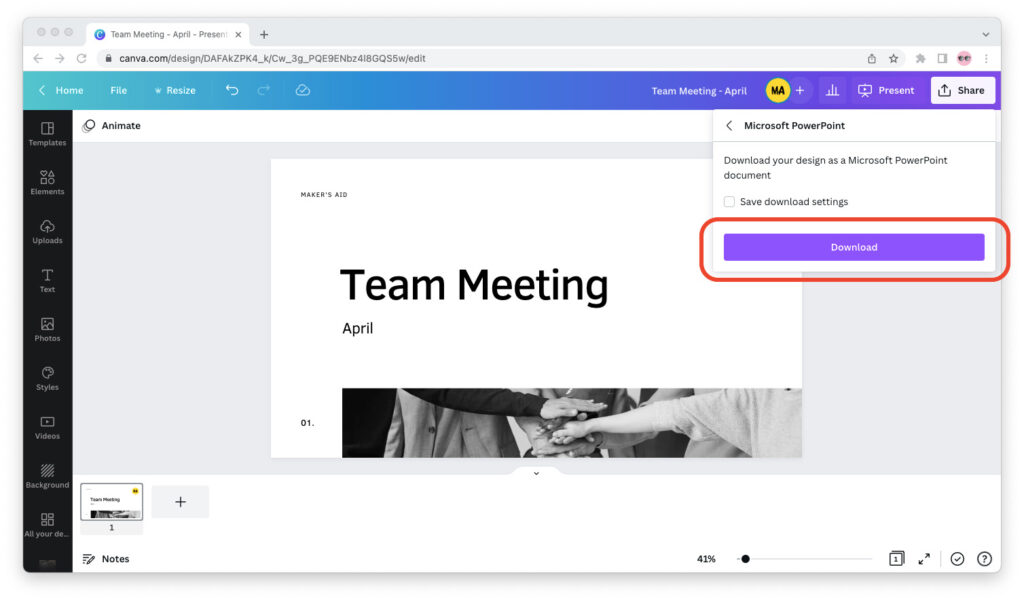 Once you go through these steps, you're all set!
The Canva presentation will download to your device as a PPTX file. You can view, edit, and present this PPTX file from Microsoft PowerPoint on your computer.
If the fonts you used in Canva are not installed on your computer, remember that Microsoft PowerPoint must replace them with other fonts when you open the deck.
So if you have to present on a device that doesn't have Canva and you want to keep your fonts, you can export the presentation in PDF format. You will, however, have to forgo slide transitions and animations.
Can You Present From Canva?
If you created a presentation in Canva, you can present it from Canva to your device.
Open the presentation in Canva, click on the "Present" tab in the upper right corner, then select the type of type of presentation you'd like to make and click on the purple "Present" button.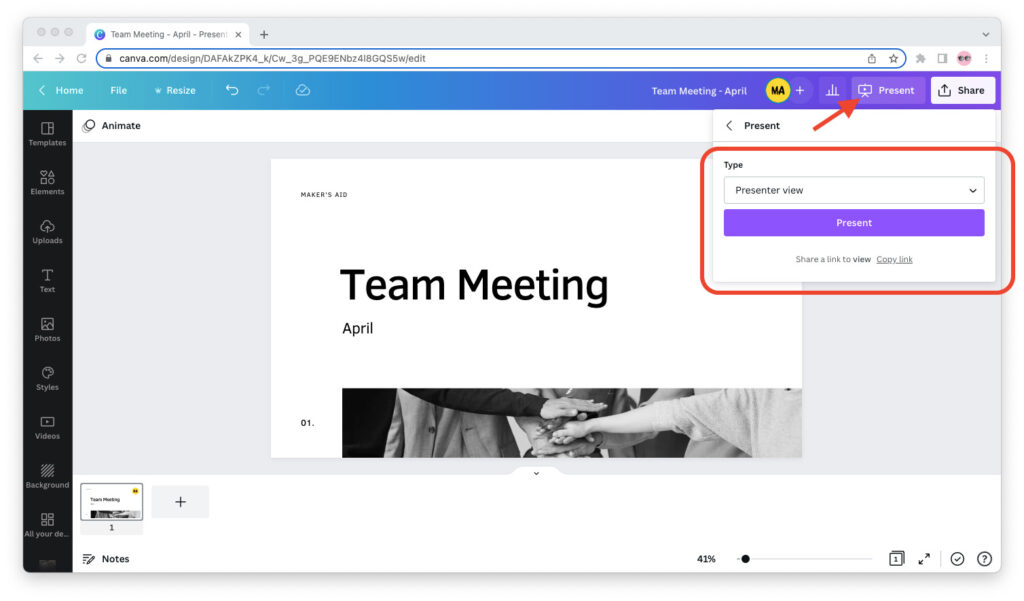 To be able to present on Canva, your device must be connected to the Internet.
You can choose from three presentation modes in Canva:
Standard mode, which expands your slides to full screen and lets you switch between them at your own pace.
Presenter view mode, which lets you view your presenter's notes and get a sneak peek into the upcoming slides.
Present and record mode, which lets you record yourself as you present.
As long as the device you're presenting on has Internet access and you can use Canva on it, presenting your slide deck directly from Canva is your best option.
Final Words
Yes, you can view, edit, and present Canva slide decks in PowerPoint. To do this, simply download the Canva presentation as a PPTX file and open it in PowerPoint.