I've said it before, and I'll say it again. Keywords Everywhere is one of the best keyword research tools out there.
Whether you're an SEO expert or you're just getting started with content creation, Keywords Everywhere can help you find out how others are searching for answers and products online. It's easy to use, reasonably accurate, and sells for a bargain price.
To get started using it, simply install the browser add-on on the Chrome or Firefox browser on your computer and start browsing the web as you'd normally do. Keywords Everywhere will churn out search volumes, keyword suggestions, and 12-month trends in a matter of seconds.
But will it work on your iPad or iPhone?
No, you can't use Keywords Everywhere on an iPad or iPhone. Apple doesn't allow mobile browsers to have add-ons the way that it does on desktop. For the time being, you can only use Keywords Everywhere on your computer.
Right now, there's no known workaround for iOS devices.
If you want to do keyword research on your iPad or iPhone, you'll either have to wait until Keywords Everywhere finds a way around this limitation or start using a different tool.
Don't say I didn't warn you, though. Most keyword research tools are not mobile friendly (or don't have responsive mobile apps at all). The Internet is becoming increasingly mobile and this will most probably change in the course of the next one or two years.
Until that happens, your computer remains the best device for keyword research.
Which Keyword Research Tools Can I Use on iOS?
Is there a keyword research tool that's actually easy to use on mobile? I set out to find the answer, so that you won't have to.
I signed up for a trial plan on what I believe are three of the hottest SEO suits on the market, and tried to use their keyword research tools from the Safari browser on my iPhone.
Those services were Ahrefs, SEMrush, and Neil Patel's Ubersuggest.
Neither of the most popular Keywords Everywhere alternatives are necessarily mobile friendly. If you want to do hassle-free keyword research, for the time being you're better of using your computer.
Here's how I found each of the three.
Ahrefs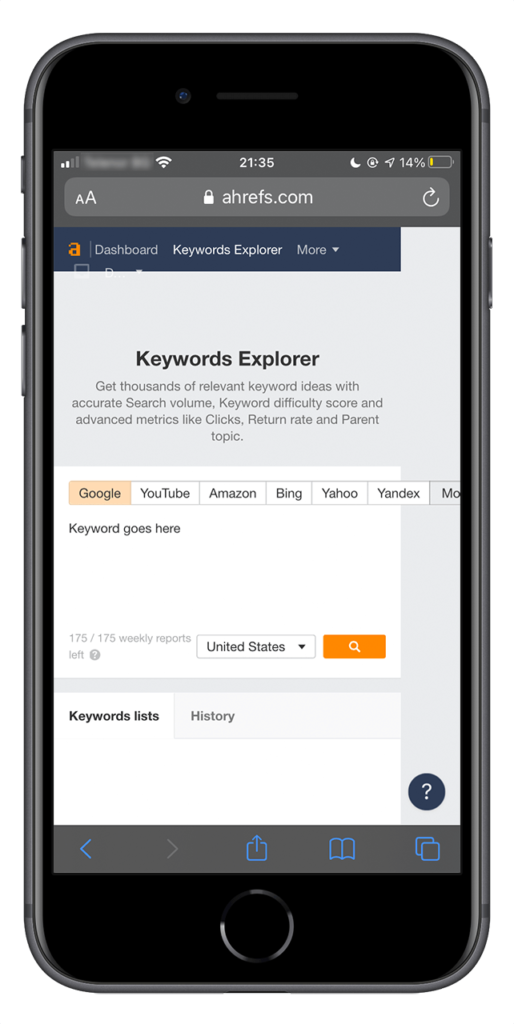 Ahrefs was one of the two SEO tools I tested that had a responsive UI. Yet, for one reason or another, some of the elements on it consistently came out wider than my screen's viewport. I had to swipe left and right every now and then to be able to use it.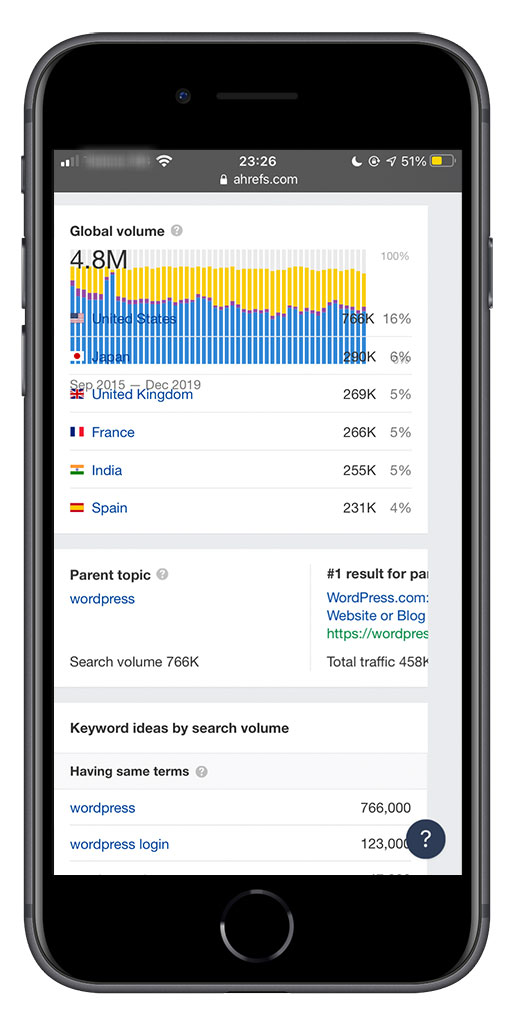 The glitches in the UI continued after I entered a keyword and was redirected to the results page. For example, the country names and search volumes would show on top of the "Global volume" chart.
SEMrush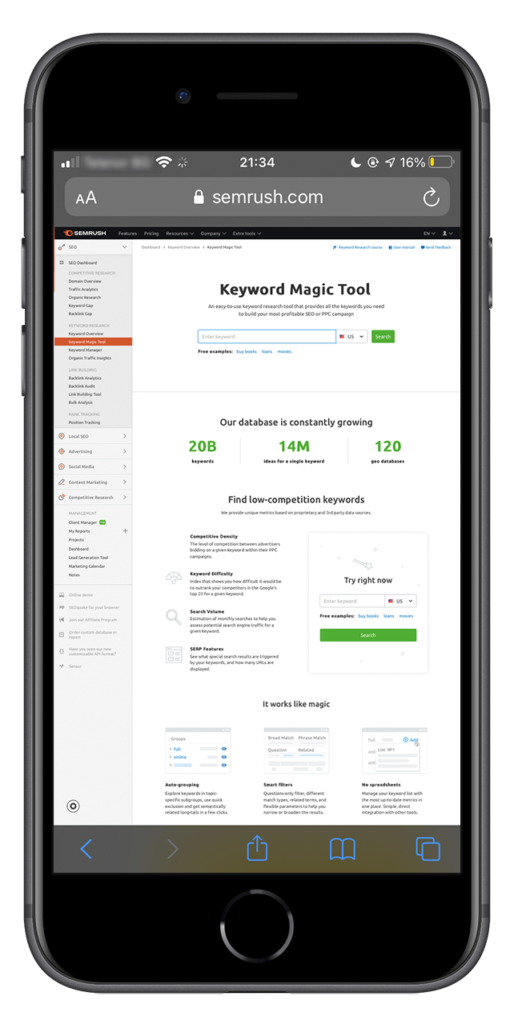 SEMrush didn't have a responsive design at all. Ironically, I found it the easiest to use on my iPhone despite (or should I say because of) that. Its desktop UI was relatively simple and came with few bells and whistles, which allowed me to make the most of its tools.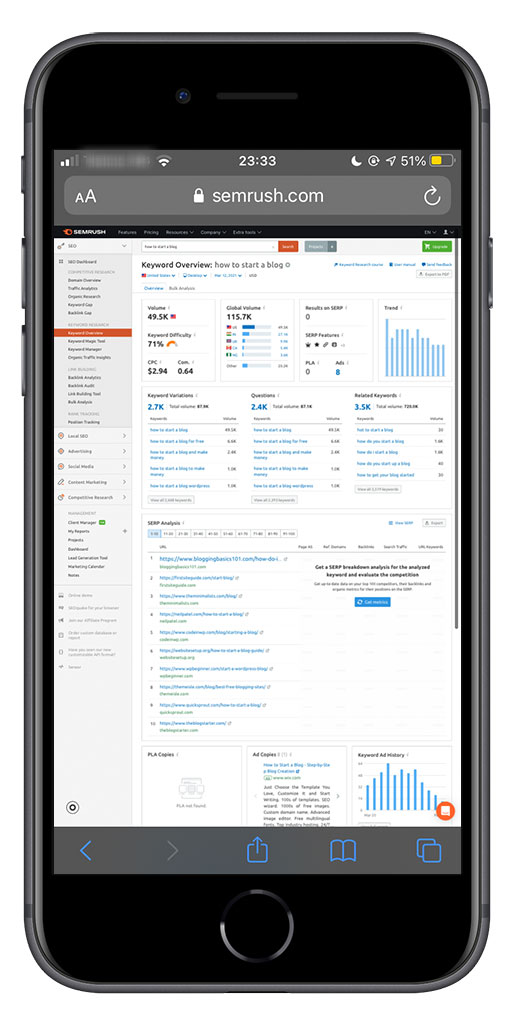 Even though the "Keyword Overview" page of SEMrush was clearly intended for a computer screen, I found it the easiest to understand at a glance and use on mobile. It had no bugs and glitches to throw me off of my research.
Ubersuggest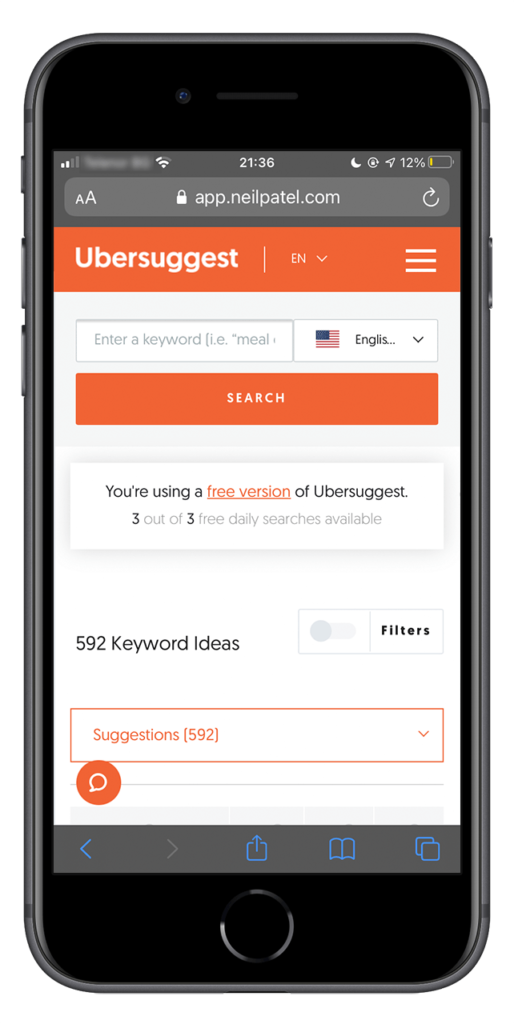 At first, Ubersuggest seemed to have the best mobile UI. In a way, it did. Unlike Ahrefs, no elements were wider than the screen, and the mobile look and feel of the tool was generally okay.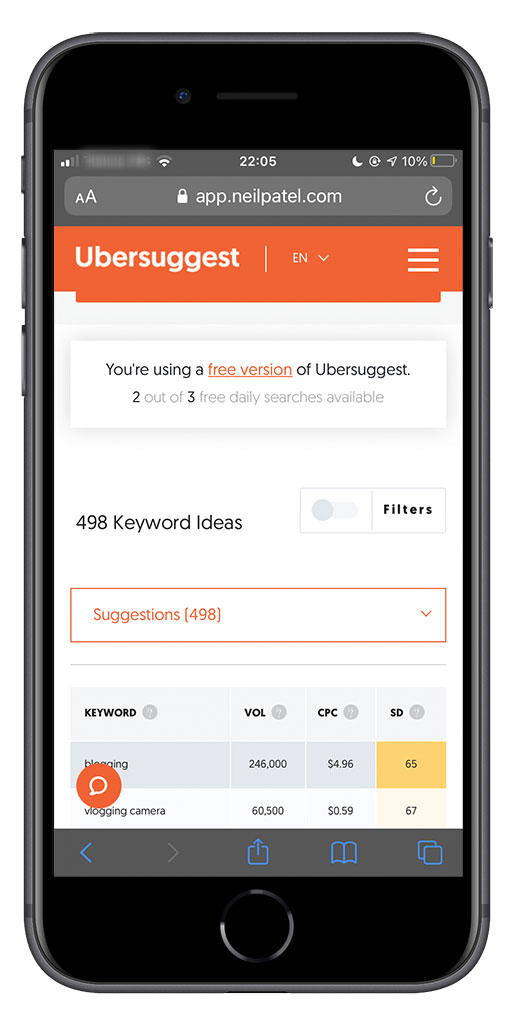 Still, I came across a few glitches. For example, I only got three keyword ideas at a time, and the smooth scroll on the table was a complete nightmare.
The Bottom Line
You can't use Keywords Everywhere on your iPhone and iPad. Though some of its competing keyword tools have web apps that you can use from Safari, they clearly have a long way to go when it comes to making them truly mobile friendly.
For the foreseeable future, you and I are better off doing keyword research on our MacBooks.