Over the past couple of weeks, my business partner and I have been testing Kajabi, a platform for online courses and membership sites that's been very popular lately, for a course we're working on.
The course, as with all courses these days, is paid. To process customer payments, we wanted to connect Kajabi with Stripe, which we've been using as a payment gateway ever since we started our business.
In the process, we came across a message in Kajabi's Help Center that took us by surprise (which, I assume, is the reason why you're here, too):
"If you already have an existing Stripe account, you can connect to your site on Kajabi," states the platform's documentation.
"However, if your existing Stripe account is already connected (for example, another Kajabi site, third-party software) you will need to create a new account within your existing Stripe account."
What does this mean, exactly? If you're coming into Kajabi with an existing business—and an existing Stripe account—can you, or can you not, connect them?
It took me an hour or two of research and reading the Kajabi and Stripe documentation, but I finally found a good answer. Take a peek below if that's what you came here to find out, too.
Why You Can Only Connect One App to One Stripe Account
In July 2021, Stripe introduced new rules for platforms like Kajabi or ClickFunnels that integrate with its payment gateway: Unlike before, one Stripe account could only be connected to one platform.
This means that, if you accept payments for your products and services on more than one Kajabi site or more than one platform (for example, your sales funnels on ClickFunnels and your membership site on Kajabi), you will need to create and use a separate Stripe account for each.
Account vs. User
It's very important to understand the difference between a Stripe account and a Stripe user.
An account is more like a bank account, a ledger that holds revenue, and where you store customer and transaction records. A user is an email address and password that you use to access your business' Stripe account.
One Stripe account can only be connected to one platform. One Stripe user, on the other hand, can access and manage multiple accounts.
Account vs. Legal Entity
In addition to that, a legal entity can be shared between multiple Stripe accounts. (In other words, your business can have more than one Stripe account under its name.)
What Classifies as a Platform?
Popular platforms among content creators include Buy Me a Coffee, ClickFunnels, Ghost, Gumroad, Kajabi, Mailchimp, Memberful, Shopify, and ThriveCart, to name a few.
As I interpret it, any tool that requires "read and write" permissions to your Stripe account—that is, it can not only access customers, transactions, and refunds but also create them—classifies as a platform.
Now, there is an exception, and you need to know of it to make the most of your Stripe account:
Generally speaking, tools that require "read only" permissions to your Stripe account, such as your bookkeeper's accounting software or your customer support app (for example, Drift, Intercom, or Zendesk) can be connected to a Stripe account that's already connected to a platform.
What Does This Mean for Your Business?
Since Stripe introduced "the one platform policy," they also made it easy for you to create multiple Stripe accounts under the same user and business entity.
When you're in Kajabi and you go through the Stripe connection and onboarding flow, Stripe will automatically detect if your existing Stripe account has a platform that's already connected to it or not.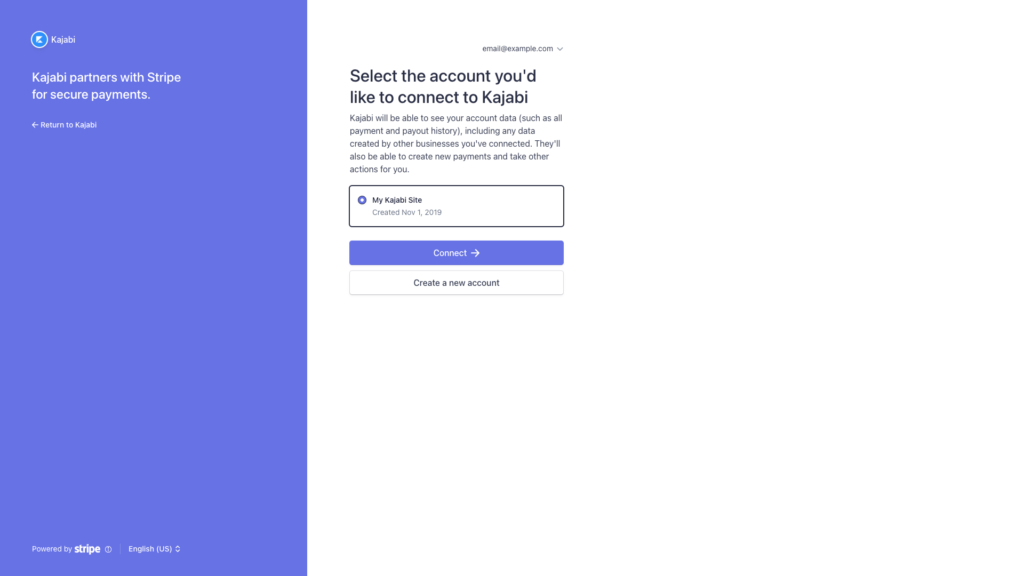 If it doesn't, you will be able to select and use this Stripe account. If it does, you won't be given that option, and you will be prompted to create a new Stripe account instead. In doing so, you can (and, nine times out of ten, you should) use your existing Stripe user account and your business' legal entity.
So you have two options:
Create a new Stripe account with your existing Stripe user and Stripe's legal entity sharing.
Go to the "Authorized Applications" tab on your existing Stripe account and, if you're no longer planning to use the other platform that's connected to it, revoke access so that you can connect that Stripe account to your Kajabi site.
If you opt for the first option, remember to notify your bookkeepers. You're basically creating a new Stripe account that needs to be… ahem, accounted for in your company's general ledger.
The second option is the one to go for if 1) you're migrating from one tool to another and 2) you're far enough in the migration process to be ready to cut off payments from the old platform to Kajabi, the new platform.
In Conclusion
To recap, since July 2021, you can only connect one app with "read and write" permissions to one Stripe account, and as many apps with "read only" permissions to that Stripe account as you need.
To reuse your existing Stripe account, you'll need to disconnect the old platform so that you can connect it to your Kajabi site as the new platform. If you're planning to use Kajabi and another platform, you'll probably need to create a second Stripe account under the same user and legal entity.