Finding great images for your blog, especially if you want them to be reasonably priced, is no easy task.
You could try your luck with a free image from Pexels or Unsplash, but they don't have suitable photos for all topics. Even when they do, half of your competitors are probably already using it for their posts, so you'll have a hard time getting your blog to stand out.
Stock photo marketplaces, such as Adobe Stock and Getty Images, have every image you could possibly need. However, their prices, including for subscriptions, tend to be high and are certainly not within the budget of every blogger.
Then there's Canva.
At $12.99/month (or $119.99/year), a subscription to Canva Pro gives you access not only to the easiest to use design tool in the world but to 100+ million stock photos, vectors, and illustrations.
I'm a subscriber, and—when I'm not keen on paying an actual designer two-three hundred dollars for a job—I use it to come up with logos and make Instagram and Pinterest images for my accounts.
The question is, as a blogger, can I also use Canva for the featured images and in-post images on your posts?
You can use Canva Designs with stock photos for the featured and in-post images on your blog. However, if you haven't altered them as part of a unique composition, you can only export your design in a resolution of up to 800×600 pixels (or 600×800 pixels).
You have to comply with this rule whether you're a Canva Free user or you're subscribed to Canva Pro.
If you're a Canva Free user, any premium stock media you add to your design will have a watermark. To remove it, you have to pay $1/design for a single-use license. Or subscribe to Canva Pro, in which case all design downloads will automatically give you a single-use license.
This, according to a dedicated page on the topic at Canva's Help Center, is what you should and should not do with stock images, vectors, and illustrations if you want to be compliant (and, by all means, you do).
Now let's try to interpret what that exactly means…
Unaltered Images
Suppose you have a U.S. travel blog, and you're about to publish a blog post that helps the reader plan a trip to the Rocky Mountains.
You open Canva.com in your browser, type "Rocky Mountains" into the stock photo search bar on the left side of the screen, and an image of the mountain range at sunset catches your eye.
If you want to use the photo as-is, perhaps cropping it to your desired dimensions and maybe adding your blog's logo to the bottom right corner so that other people don't steal it, you'd leave it unaltered: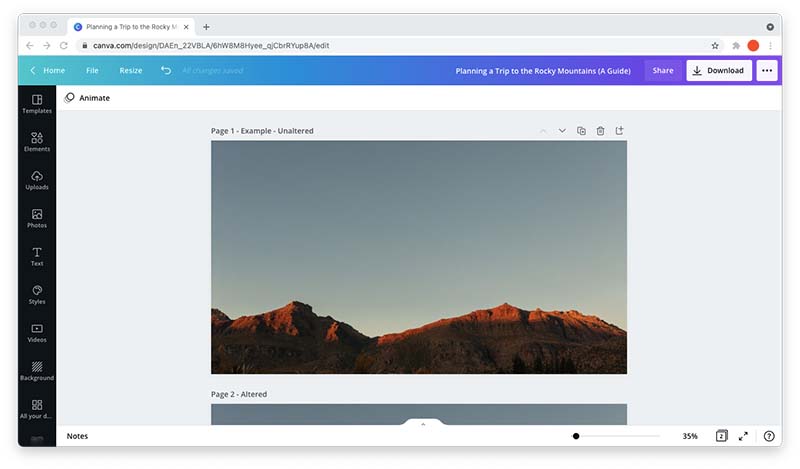 You can still use it as the featured image of your post or as a secondary image within the post content itself. However, you are required to export it in a resolution no bigger than 800×600 pixels (for a landscape-oriented image) or 600×800 pixels (for a portrait-oriented image).
If you don't, and you upload a bigger file to your blog, you're in violation of Canva's licensing terms and living in a gray area that could potentially get you in legal trouble. You don't want to get there; there are companies whose core business is to hunt down people who illegally use stock media and chase them for compensation.
Altered Images
Say that your blog's theme is wider than 800 pixels, so, to keep your featured image from becoming blurry, you need to export it in a higher resolution than that.
Then, you'd have to alter it as part of a unique composition: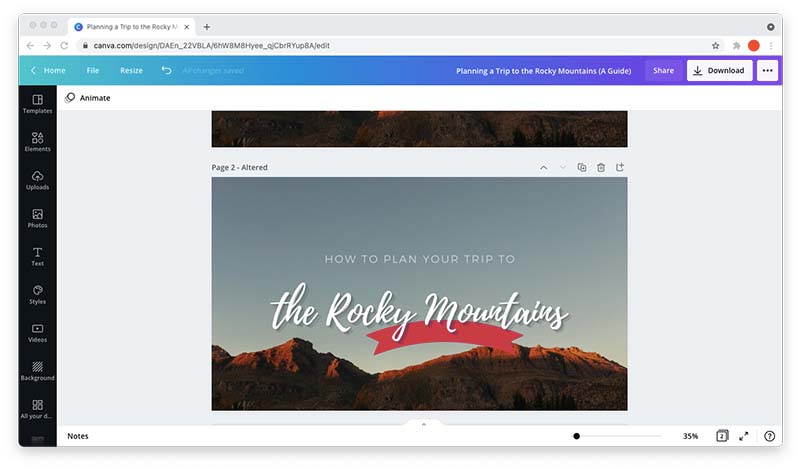 This is different because you've taken a stock photo and, instead of cropping it in a placeholder and using it as-is, you've incorporated it within a featured image that's unique to your blog.
"By using content in a design or a composition, you're creating something unique," Canva's licensing terms stay. "Once you do, there are very few restrictions on what you can do with your creations. Go wild!"
Now, you can safely export your featured image in the resolution you need to.
Where Do You Draw the Line?
The general rule of thumb when it comes to licenses, and Canva's are no exception to it, is that they're meant to be interpreted. That's why they seldom give you specific examples and detailed guidelines for each and every possible case.
So you end up in gray zones where you have to think for yourself and make informed decisions about what to do compared to what you are explicitly allowed—and forbidden—to do.
Drawing the line between an altered and unaltered image in Canva is one of those gray zones.
I'm 99.9% certain that, if you use Canva's templates, which make your design work easier by giving you placeholders for your images and texts, your image counts as altered. Some templates are cleaner, some are heavy on the eye and a bit overdesigned.
I'm also certain that, if you create a composition from scratch yourself, adding a heading and shape or two turns an unaltered image into an altered image. Clearly, effects, filters, and overlays result in an image that's "more altered" than otherwise, though I don't know where exactly the threshold sits.
What I'm less certain of is whether taking an image, cropping it to fit a design's size, and adding your logo to the bottom right corner (not as a way to take credit for the work, but as a way to brand the image within your blog) counts as altering it. I'm pretty sure it doesn't.
Single-Use License
When you buy a license as a Canva Free user or download a design as a Canva Pro user, you get a single-use license for that image.
Translated to blogging terms, you can only use your design as a featured image or in-post image for one post. I'm assuming there's no problem with it appearing in your category, tag, and archive pages as long as you don't re-use it on multiple posts.
The best practice here, at least if you ask me, is to create a new and unique Canva design for each image, and to not delete that design from your account so that you have a record somewhere of it.
Can You Use Canva on a Monetized Blog?
You are allowed to use Canva designs for personal and commercial use, so it's okay if you have display ads and/or affiliate links as a means to monetize your blog, or you're selling something on it.
If you have funnels or landing pages, and you're buying ads to get paid traffic to them, you can also use Canva designs for your Facebook, Instagram, Pinterest, and/or Google ads.
However, if you want to incorporate Canva designs into your products, physical or digital, different terms may apply, and, to know how to comply before you do so, do familiarize yourself with them.
Are Canva Images Copyright-Free?
Some of the images on Canva are free for personal and commercial use, but that doesn't mean they're copyright-free. Canva images are copyrighted and licensed to you, the user. This includes templates, elements, photos, videos, and so forth.
Whether you're a blogger, solopreneur, course creator, make sure you're familiar with Canva's license and terms of use before you start using images created with it.
For example, anyone else can use templated Canva logos. And, if you create a logo for your business using one of these templates, you won't be able to trademark it. You can use still Canva to create a brandable logo, but you'll need to start from scratch and take your own direction instead of using pre-made templates.
Do You Need to Give Credit for Canva Images?
One question a great deal of Canva users ask is, "Do I need to give credit for Canva images?"
"None of our licenses require attribution," says Canva's "Licensing Explained" page, "however it is always welcome!" Attributing the photographer, in other words, is optional.
The page also states clearly that you can't take credit for unaltered images provided through Canva. When you download a photo, you are given a one-time, non-exclusive license to use it—but it doesn't became yours to take credit for.