Without a doubt, Grammarly is the best AI-powered proofreading tool on the market. I've been a Premium subscriber for a few years, and it's helped me save a ton of money on proofreading services.
It also has a plagiarism detection tool, which helps me double-check the uniqueness of the blog posts that I get from my team of online writers (if you're hiring writers for the first time, it's almost a must to do this).
But can Grammarly be trusted? After all, it needs to collect and process every piece of text you feed it with, and it uses some of your inputs to train its algorithm continuously.
As with any other service of its kind, the answer is not black and white.
According to Grammarly's privacy policy, its proofreading tool collects "all text, documents, or other content or information uploaded, entered, or otherwise transmitted by you in connection with your use" of it.
This is expected. Grammarly is an AI-powered writing assistant that needs to read whatever you're writing, run it through its algorithms in the cloud, and come back with suggestions for improvements. It's literally a robot that's sitting by your side and proofreading everything you type.
The privacy policy goes on to explain that Grammarly employees do not monitor or view your content unless:
They believe the Terms of Service have been violated, and human confirmation is required;
Their team needs to respond to your requests for support;
They determine that they must review it as described in the Terms of Service;
To feed their AI algorithms so that they can improve them.
This shouldn't come as a surprise to most of you as well. If their team suspects that you're a Premium subscriber, but you're giving out your credentials to your entire team, they'd probably double-check that.
If you raise a support ticket because something's not working, their team needs to investigate what went wrong—and what steps you should take (or what fixes they have to make on their end) to restore your service.
If something fishy's going on (crimes and all), they'll probably take a closer look. Last but not least, they're training an algorithm. Now and then, that training needs human intervention to be done correctly.
Let's not forget that Grammarly allows you to buy human proofreading services (for when you want to outsource the work to someone else). If you do so, the professional editor on the other end of the service will obviously have to access and work on your text.
The human proofreading service apart, should you be concerned about everything else?
My honest take on the topic as someone with a software development past who's coming from the IT field is, "it depends."
From one point of view, Grammarly is a proofreading tool. It can't do its job without getting access to whatever it is that you need proofread.
From another, technology changes fast—and no organization is entirely immune to human error or third-party hackers.
For example, in 2018, a security vulnerability affected around 22 million users who were running version 14.826.1446 of the Chrome browser and had the Grammarly extension installed.
According to the report, between the time when the vulnerability was introduced and then fixed, any website could log in to grammarly.com as you and access all your documents and account data.
Of course, the difference between a vulnerability being introduced—and someone actually taking advantage of it—is important. Someone found a flaw and reported it, then Grammarly responded quickly and fixed it.
In the technology world, this happens more often than you think on all of the apps and devices you're using (which is why I keep smart appliances, especially ones with cameras, out of my home). It's not a question of "if," it's typically a question of "when."
Yes, Grammarly is a popular company. It makes money from selling subscriptions to its proofreading tool, not from selling your data. And, as any tech company would do, I'm sure it's taking security and privacy as seriously as anyone else—which makes them capable of reducing the blast radius to a minimum, even when the unwanted happens.
What you can do is familiarize yourself with Grammarly's User Trust Guidelines and take a few simple steps to reduce the information that you're sharing with them.
If you are a security buff like me, then you'll probably want to swap Grammarly's browser extension for its writing app.
You can access the web app by logging in to app.grammarly.com (this is especially useful if you're using the tool from a work computer that you're not allowed to install any apps on).
Or you can do as I do—and download and install its native desktop app (there's one for Windows and one for macOS computers). In fact, this is where I draft and edit all of the posts for my blogs!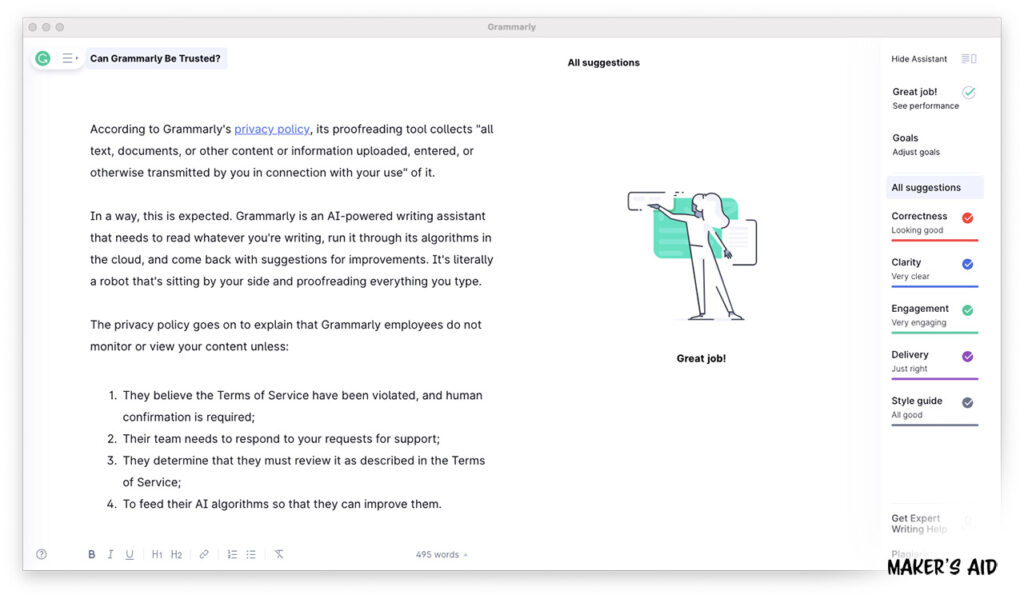 Before, I used the Grammarly extension for Google Chrome, turning it on only whenever I needed it for writing with Google Docs.
It worked perfectly until either the Chrome browser or Grammarly extension got an update (or maybe both; I don't know). After that, something happened, and the browser tabs with Google Docs started consistently freezing on me.
Annoyed, I tried the app and instantly fell in love with it. It's simple, easy to use, and lets me focus on writing (hopefully) great blog posts like this one.
My paranoid side also likes it because it allows me to control what content I feed Grammarly's servers and algorithm with. As selective I am about the tools I use, and as much as I trust the companies that sell them to me, I do all that I can do to keep my business safe and my personal life private.
This reminds me of another thing you could do…
Even if you prefer the Grammarly browser extension over its app, you can still turn it off when you don't necessarily need it—turning it back on only when you do.
In Google Chrome, you can do this by clicking the "Extensions" icon in the top right corner. As soon as you do, you'll be taken to the "Extensions" screen, which allows you to toggle individual extensions on or off.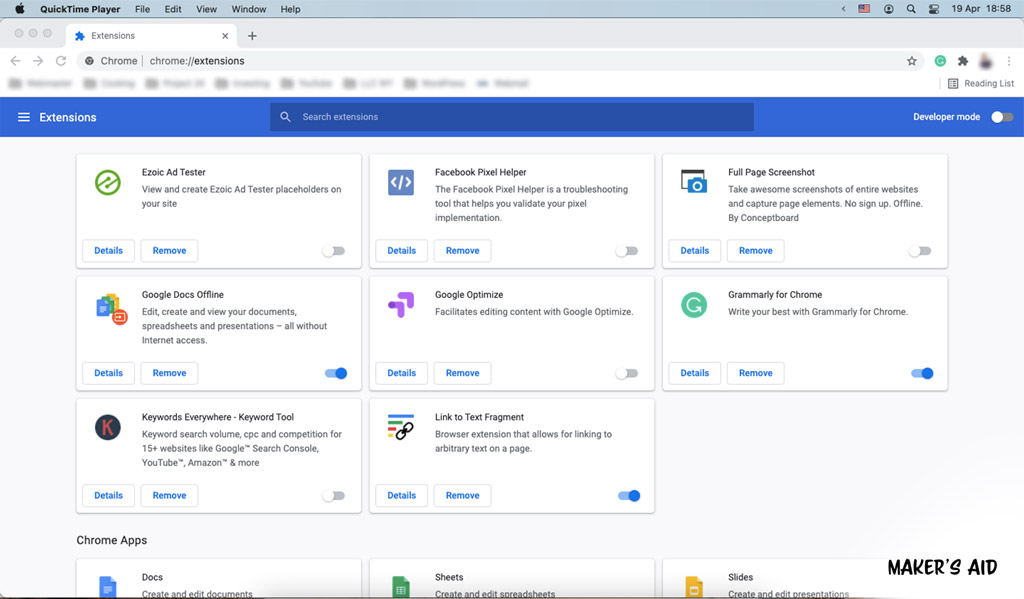 I don't use Mozilla Firefox, so I couldn't take a screenshot of how to manage extensions in it. Happily, the Mozilla team has documented this in a helpful guide in the support section of their website.
If I were still using the browser extension, would I leave it turned on at all times? Definitely not. And that's not because it's insecure, don't get me wrong. It's because, as a general rule of thumb, I don't leave any of my extensions on unless I need them.
Those of you who want to make use of Grammarly's tool—which, in my humble opinion, is as good as they get—and are worried about privacy should do the same.