Blogging is an occupation that you can practice from anywhere in the world, and it doesn't require that much special equipment.
I know because I created my first blog in 2007. It took me a while to make a living out of it, that's for sure, but it has changed my life for the better from the very day I got there.
In this post, I'll be telling you about the gadgets and apps that you, as a blogger, will need or may want to consider owning. The good news is that they're not that many. And, if you buy them smart, you won't have to replace them for years to come.
So, what's the must-have blogging equipment in 2023?
Since you can't work without a computer, it's the only piece of equipment you absolutely cannot go without as a blogger. If you take photos and shoot videos—two required activities for food and travel bloggers—then you will also need a camera and microphone.
As I was checking out my competition for this post, it staggered me that everyone else who had written on the topic out there either didn't know what they were talking about or clearly hadn't bought and used the products that they recommended.
You won't see that here. I'll be walking you through my gear and my reasoning for why I chose it (and why I think you should, too).
---
Laptop
As anyone skimming through this roundup knows very well, high-performing bloggers spend 90% of their time creating content—in other words, on the work that moves the needle—whether that's writing posts, retouching photos, or editing footage.
Since they make most of their money from selling ads and promoting products, which means they're not bound to any location and can move around and about frequently, laptops tend to provide better mobility than stationary computers.
Blogging will never get its episode on Mike Rowe's Dirty Jobs, that's for sure. That being said, it requires you to stare at a screen all day and type thousands of words on a keyboard, so that screen and keyboard better be good.
You need enough power to be able to use not only a text editor but also to retouch photos and—in case you're shooting videos to publish on YouTube and embed in your articles—to edit footage.
Last but not least, long battery life is essential. Nobody wants to be bound to their desk the whole day, and being able to switch scenery by working from your couch or heading out to the local café for a few hours or so is crucial to feeling good and staying productive.
When we speak of laptops (and computers as a whole), two platforms always come to mind: Apple's macOS and Microsoft's Windows. I've used both, and I'm not going to try to convince you that one is in any way superior to the other.
As you can tell by the photo above, my wife and I are Apple people. Both of us are business owners and content creators, and we enjoy the ease of use and long life of our MacBooks.
Having a MacBook Air, albeit ancient, and a 2021 MacBook Pro at home, I can safely say that—no matter when you're reading this—a last-year MacBook Air with an M1 chip, double the RAM, and plenty of storage space will give you the best value for the money.
So no prizes for guessing my laptop pick below:
The cool thing about a laptop is that you can always plug it into a docking station to connect it to a monitor, a keyboard, and a mouse, effectively turning it into a home office. (But you can't turn a Mac or a stationary PC into a portable computer.)
---
Camera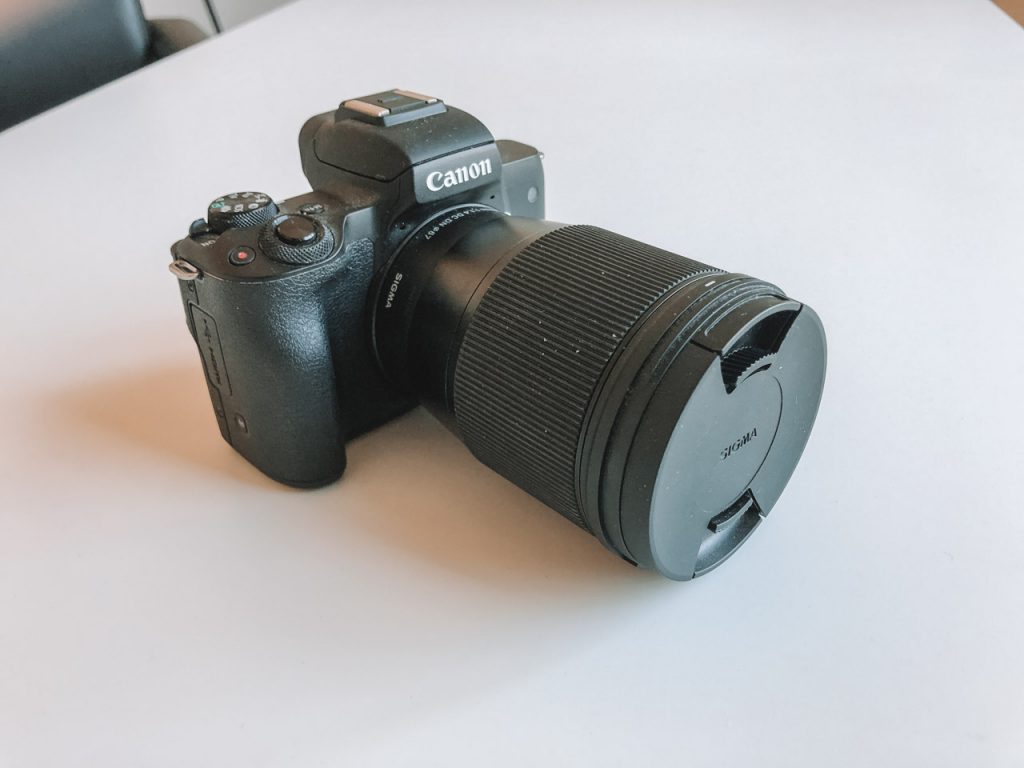 There are thousands of free stock photos on sites like Pexels, Pixabay, and Unsplash. And you could always subscribe to a premium marketplace like Depositphotos or 123 RF if you want to have less generic photos in your posts.
But if you really want to make your blog—and the content on it—stand out, there's no substitute for unique, professionally taken photos with a good camera. Don't take this the wrong way; I'm not trying to lure you into becoming a hobby photographer.
It's just that the Internet is overflowing with copycat content and, if you want to keep making a living as a blogger and sleep with a sense of job security at night, you have no other choice but to go the extra mile to win over your readers' trust and create better content than everyone else out there.
Plus, a good camera is a must if you want to start creating videos for your blog or have the appetite to start a channel for it on YouTube.
As most of you can probably already tell, I don't make purchase decisions lightly. Instead, I research meticulously and educate myself into an informed buyer who almost always gets the best bang for his buck. "Almost" because we all make mistakes, and God knows I've made my fair share of them.
So here's why I bought myself the Canon EOS M50—and why you should, too.
When selecting a camera for blogging, vlogging, and YouTube as a whole, you're looking for a make and model that's compact, so that you can take it everywhere you go with you, has good autofocus for photos and videos, so that you'll never have to worry about out-of-focus shoots, and that's generally easy to use, since you're not necessarily a professional photographer.
With a 24 MP APS-C image sensor, 10 FPS burst, and 7.4 MPS with face tracking, Canon's Wi-Fi enabled, touch-screen EOS M50 is just that. It's mirrorless, which means that what you see on the screen is what you get in the photo, and can shoot footage in a resolution as high as 4K (though, 99.9% of the time, I tend to shoot in 1080p).
It has a built-in microphone. As with most cameras in this price range, that microphone is good, but definitely not great. So do check out my microphone picks below, as you will need them if you have a podcast or you record voiceover for your videos.
Automatic mode is good, but manual mode is where the magic happens. The manual mode on the EOS M50 has just enough settings to give you control over the outcome, yet not so many that shooting a selfie for a YouTube thumbnail starts to feel like rocket science.
Also, there are many—and I mean many—professional photographers that show you exactly how to setup and use this camera in indoors and outdoors settings on YouTube, which can't be said for every make and model.
The default lens is good. But an aftermarket lens like the Sigma 16mm f/1.4 can help you take stunning photos even when it isn't golden hour outside ("golden hour" is the brief moment of time after sunrise and before sunset when the light is just perfect for shooting), or when your home studio isn't lit well.
---
Microphone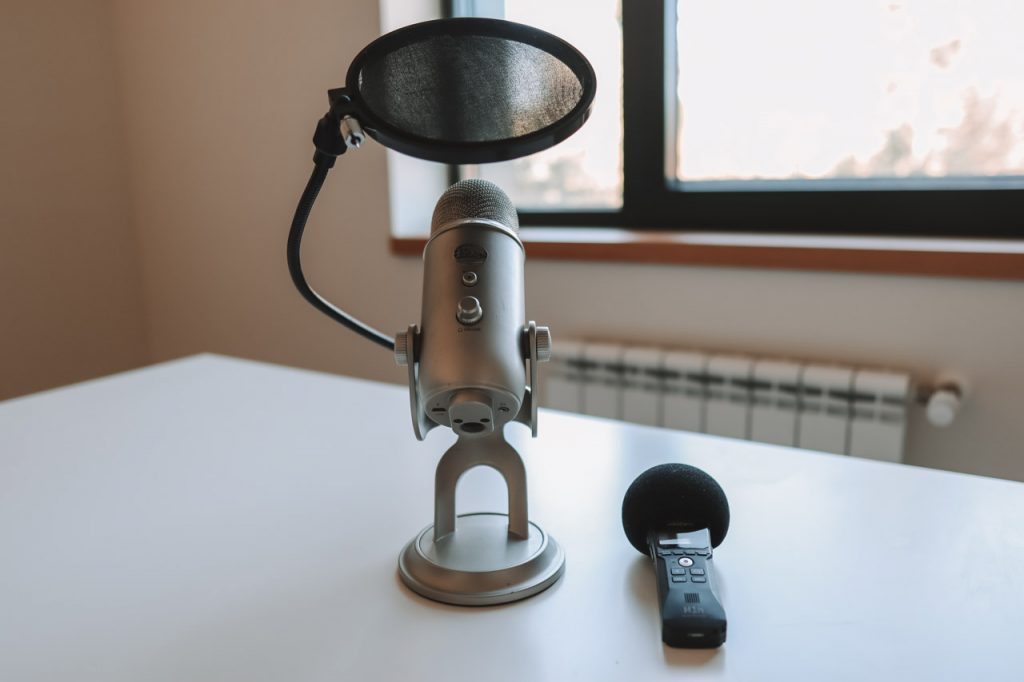 Whether you want high-quality audio for your YouTube videos, Twitch stream, or podcast—or you're simply recording audio versions of your posts so that readers can also listen to them—you need a great microphone for the job.
As you can tell by the photo, I'm about to recommend two pieces of sound-recording equipment to you: one is best for indoors recording or live streaming, and the other for taking with you when travelling or for recording out in the open.
For Indoors Recording
Much has been said and written on the topic of microphones, and everyone tends to have an opinion (some better-informed, others not so). Mine is that, when it comes to content creation, we've yet to see a better microphone than Blue Yeti, a Logitech brand.
When recording audio for your blog, vlog, livestream, podcast, or YouTube channel, you're looking for a microphone that captures clear audio, gives you enough control over the recording mode and volume, and works with any computer and operating system.
After much research a few years ago, I bought a Blue Yeti, and—I'm happy say—I've yet to find a reason to regret my decision.
The Blue Yeti is a plug-and-play USB microphone. Simply insert it into your computer, follow the setup instructions, open up a recording app like Audacity or Garageband, and you're pretty much all set to go.
What I love about it is that you can record audio in four modes:
Cardioid mode, which picks up the audio directly in front of the microphone and ignores all the background noise, is ideal for podcasting and streaming.
Stereo mode, which uses the left and right channels to record realistic sound for those who play with their bands, sing with their choirs, or record ASMR videos.
Bidirectional mode, which picks up the sound from the back and the front of the microphone. Perfect for when you have a single guest over at your podcast for a 1-1, radio-style interview.
Omnidirectional mode, which basically picks up sound from all around the mic. This mode is good for when you have multiple guests over at your podcast, or when you're recording nature sounds out in the open.
I've equipped mine with a pop filter to stop plosives, the blasts of air that come from our mouths and end up in the form of popping sounds on the recorded audio track.
This microphone is as affordable and as versatile as they get. On the flip side, it's heavy and bulky, which makes it impractical to carry around with you when you're on the road and out in the open.
For Outdoors Recording
When recording on the go, you need a lightweight, take-anywhere recorder with long battery life that lets you capture audio for hours on end. As with any recorder or microphone, you want to have good controls over the type and the volume of your recordings, so that you can get the most out of any recording scene.
The jury's out on whether a built-in battery or standard, removable batteries are "better." From one point of view, you don't need to carry a pack of batteries around with you all of the them if you get one with a built-in battery in the first place. From another, removable batteries can be stocked up on from any convenience store—and they don't require you to have access to a power outlet to record audio.
If you travel a lot or you just want a microphone that doesn't weigh a ton and require its own drawer, consider Zoom's H1n audio recorder:
The well-built, old-school Zoom H1n has everything of you need in a portable recorder, and none of what you don't. It records high-quality sound in stereo at sampling rates of 44.1, 48, or 96 kHz and in MP3 or WAV formats.
This portable recorder reminds me of those good ol' remote controls we used to use for our TVs before touch screens became a thing. To be frank with you, it's just as sturdy as they were. I've dropped mine more times than I care to admit, and it survived every single one of them.
The monochromatic, 1.25-inch LCD display is big enough to not require you to wear glasses, yet small and unassuming enough to not waste battery power whenever you need to tweak a setting or two.
Plus, you can mount it on a tripod and plug in an external microphone, handheld for interviews or wearable for recording yourself. All in all, the Zoom H1n is the best portable recorder for its price range.
Why You Can Trust Me
I own and use every single piece of equipment I've written about in this post.
Some, I did my homework before buying and picked well. Others, I got after trying cheaper products from lesser-known brands that seemed to have good reviews at Amazon and Best Buy, yet completely disappointed in a matter of hours or days of use.
Even of those products I didn't return and decided to keep instead, there are those that I use less compared to others.
For example, I own a Nikon D3200 camera with a telephoto lens, and a couple of Windows laptops by Lenovo and HP. Yet, for one reason or another, I always end up reaching for my Canon and my old-but-gold MacBook Air.
If this is your first visit at Maker's Aid and you have a hard time believing me, just take a sneak-peek at my "seldom used" drawer:
Over the course of time, I've come to understand what folks mean when they say "buy it nice or buy it twice." I've spend more nerves, time, and money on replacing crappy products than on buying great ones in the first place—and I encourage you to learn from my good and bad choices.