If you're curious to begin a digital marketing career, it can be a minefield to know where to get started.
Despite the huge amount of digital marketing channels on YouTube, it can be really time consuming to sort through which ones are actually worth your time.
In this article, we will cover 10 of the best YouTube channels for digital marketers. So, if you're interested in becoming a digital marketer, you have plenty of options to choose from for research.
Let's get started.
Why Is YouTube Helpful for Digital Marketers?
When you're first getting started in digital marketing, research is everything.
From books, to research papers, online articles to informative videos, you're going to be consuming a lot of information to gain a better understanding and grasp of what you're trying to learn and how this can best aid what you want to achieve.
The good news is that there are a tonne of resources out there to help you get started, one of which is YouTube.
YouTube is a free platform that allows you to access a wealth of information on digital marketing all at the click of a button, and entirely free of charge.
There are a huge range of YouTube channels out there. That being said, YouTube is so heavily saturated with content that it can be a challenge to know which are the places to seek help from.
This is why we're here to help you sift through to find the most useful information.
So, What Do These YouTube Videos Cover?
Well, that's pretty varied, too. Generally speaking, digital marketing channels provide in-depth advice from marketing experts as well as novices that may be useful in your career as a marketer. 
Learning the do's and don'ts from people with years of experience in the industry can be hugely beneficial when you're first starting out.
The majority of these digital marketing YouTube channels are linked to informative and useful blogs.
Helping you to build a solid foundation of knowledge that can be useful to save time and hit the ground running as a marketer.
Although not all YouTube channels in the digital marketing space are necessarily marketing advice channels, they have close ties with marketing and can be useful to watch to get a better feel for the space. 
Not only are a lot of these videos educational to watch, but they also offer a vast amount of tips and also have the potential to provide you with lots of inspiration.
So, what are some of the best YouTube channels for digital marketers? 
10 Best YouTube Channels For Digital Marketers
1. Social Triggers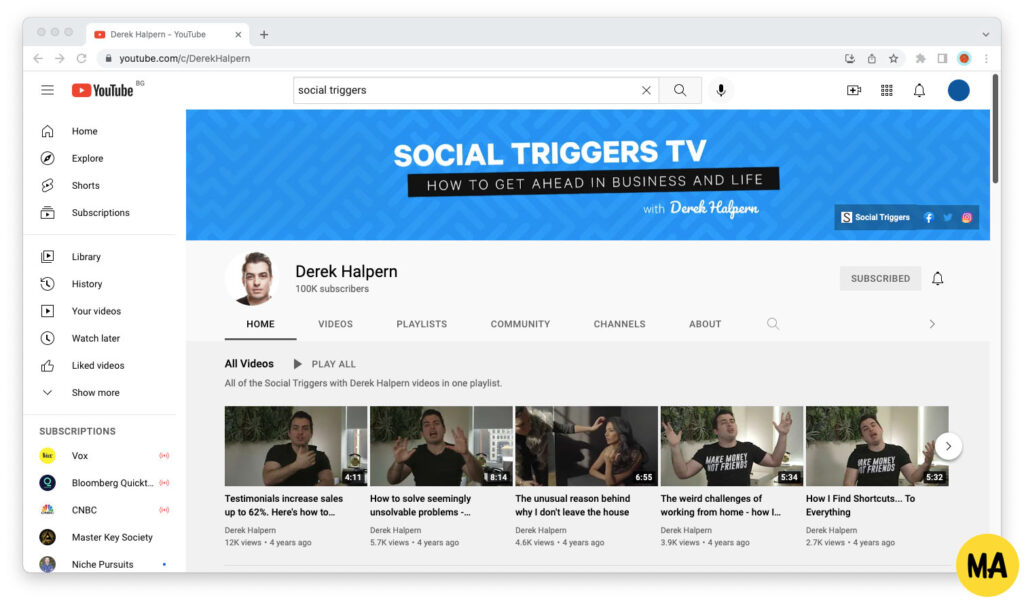 This particular YouTube channel is thanks to the entrepreneur and expert marketer, Derek Halpern. 
With 100,000 subscribers, Derek knows a thing or two about digital marketing.
Derek combines personal case studies with academic research as well as data-driven marketing to deliver truly fascinating marketing content.
The topics he covers in his videos are vast, from attracting new customers to improving your marketing traffic.
What makes his YouTube channel so interesting is the fact that you can apply his advice to not only your marketing career, but also your own life.
2. Neil Patel
Neil Patel is a New York Times best-selling author, a Forbes top 10 marketer, and the creator of a company that Entrepreneur put on its top 100 most brilliant companies list.
Co-founder of Neil Patel Digital and owner of popular search engine optimization and listening tools Ubersuggest and Answer the Public, Neil Patel posts short, punchy, and actionable advice for marketers and business owners every Monday, Thursday, and Saturday.
His style is simplistic and accessible, making it very easy to engage with his YouTube videos whether you're just discovering digital marketing or have been in the industry for years.
3. Koozai
Koozai is a successful digital marketing company, evidenced by their 14 years of experience within the industry as well as the 1,000+ businesses that they've helped over the years.
The team refers to itself as a creative bunch of digital marketing experts, and the numerous videos featuring a number of professionals is a testament to this.
They have various videos that cover a range of different topics on their YouTube channel, from SEO to content marketing, PPC to social media.
Their clear videos contain visuals that make it easy for beginners to grasp concepts at a quicker rate when compared to other channels where the expert simply just discusses a topic.
4. Jay Baer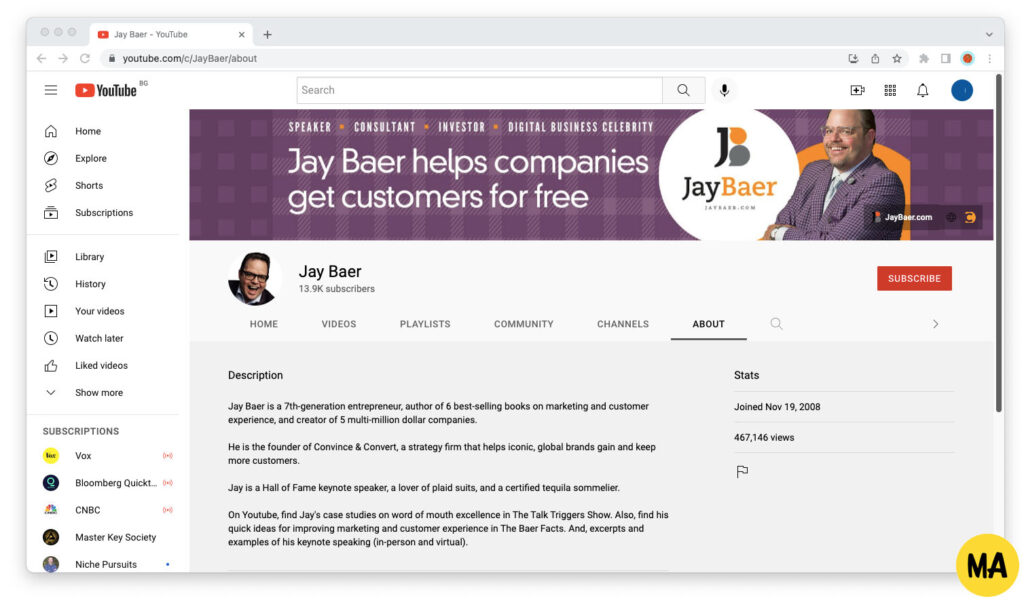 Not everybody can say that they're a seventh-generation entrepreneur. Jay Baer, the next marketer on our list who's very active in sharing his knowledge with the industry, can.
The founder of Convince & Convert, a strategy firm that helps iconic, global brands gain and keep more customers, Jay Baer's YouTube channel centers around digital, marketing, and leadership.
As an inspirational marketing speaker, you only need to listen to Jay speak for a small amount of time to feel like you're ready to start a career in digital marketing and start putting his tips into practice!
Similar to his show, Jay's YouTube channel offers marketing tips that are sure to inspire you, content creation, and social media, amongst other topics.
5. Marie Forleo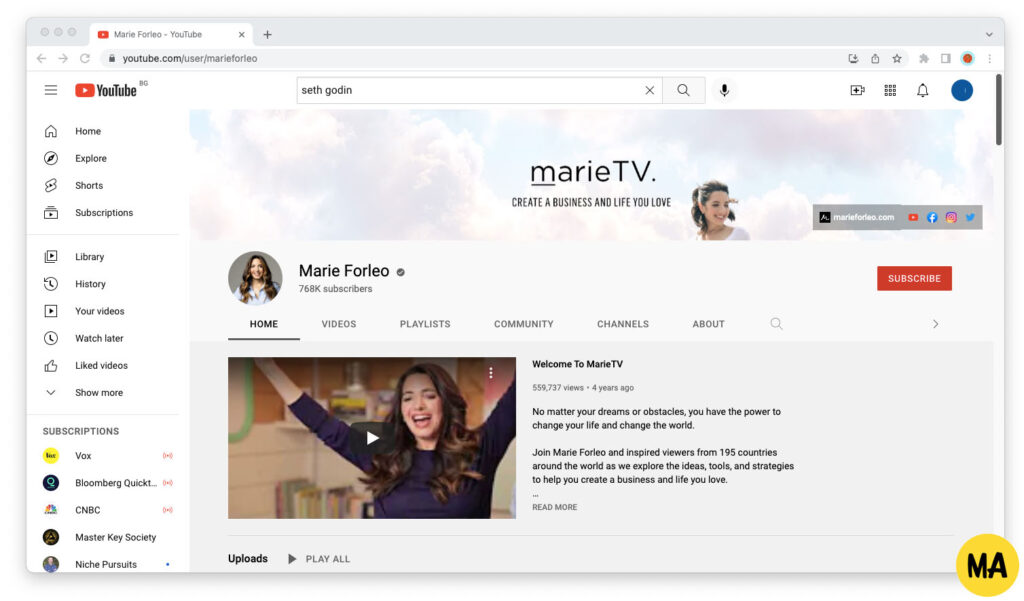 If you're in digital marketing, then there's absolutely no way you haven't read, listened to, or watched Mario Forleo.
Named by Oprah as a thought leader for the next generation, Marie Forleo wants to help you win in life and business. From growing a business through digital marketing to writing copy that converts, Marie's YouTube channel has it all.
Plus, Marie regularly has guests over who give inspiring interviews that help you take your life and your business to the next level. We're talking about can't-miss private talks with Tony Robbins, Daymond John, and Mark Manson here!
6. Pat Flynn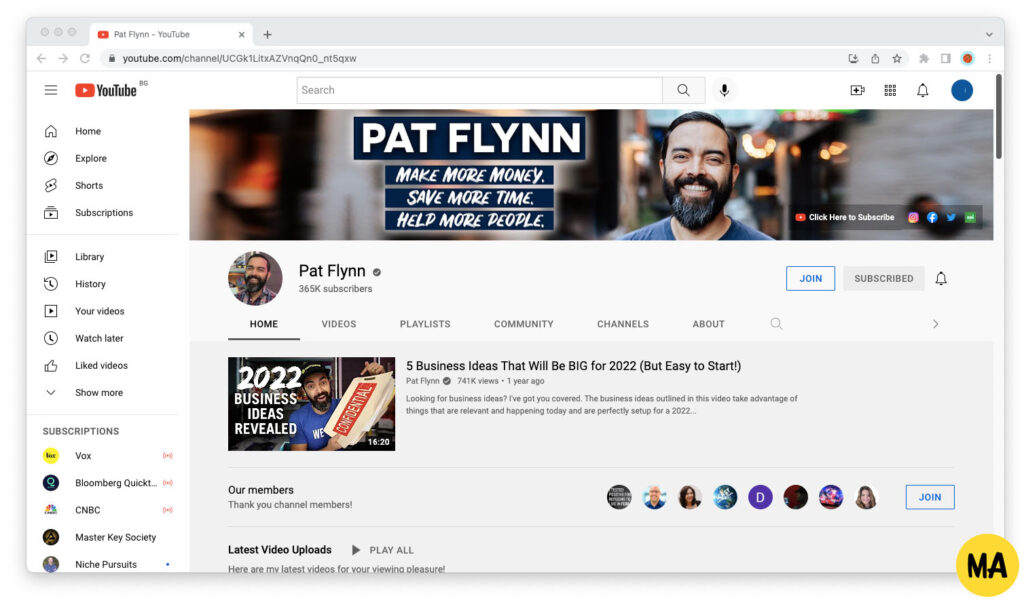 Pat Flynn is an American entrepreneur, YouTuber, podcaster, and blogger. Commonly known for his blog Smart Passive Income, Pat's repertoire of content in the world of digital marketing is vast.
With nearly 370,000 subscribers on his Youtube channel, Pat offers a range of videos that tackle topics such as how to make a passive income, ways in which to work smarter not harder, informative interviews, and more, all within the digital marketing world.
If you're stuck with where to get started in making your business a success, then Pat Flynn is one to check out.
7. Michael Hyatt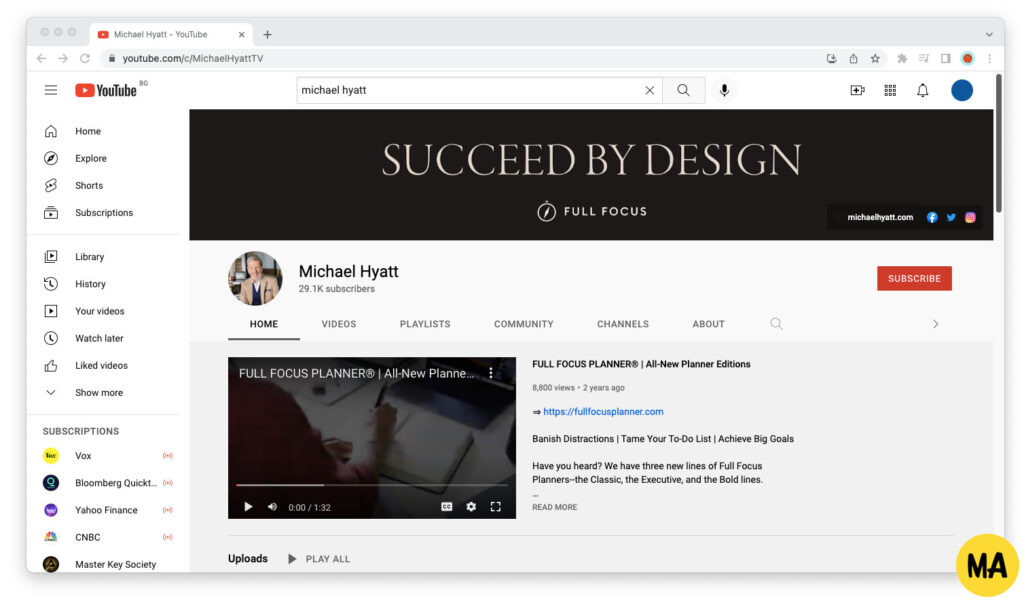 As the former CEO of Thomas Nelson Publishers, the author Michael Hyatt owes a lot of his following to the blog he started several years ago.
His YouTube channel has a tonne of interesting content on topics that range from leadership to motivation.
As evidenced by his nearly 30k subscribers on his Youtube channel, Michael offers a range of different videos that include him as well as other industry experts to help your business grow and thrive.
From do's and don'ts to avoid in your business, to implementing changes in your own life to make yourself more productive, this isn't a channel you'll want to skip by.
8. Digital Marketing Institute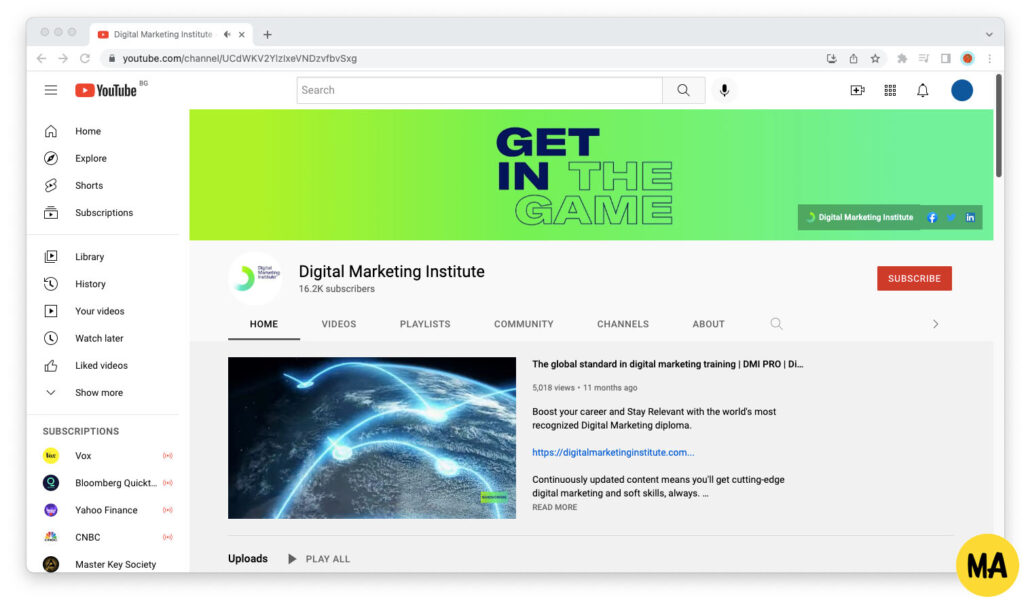 If you're interested in the personal development side of your digital marketing journey, then Digital Marketing Institute Channel offers much more in terms of this.
It features a number of videos that explain digital marketing, and even offers digital marketing courses.
While their videos are informative, they have a unique approach to tackling certain topics that is both engaging and fun. Many of their alumni are actually working with powerhouse names such as Google, Twitter, and Unilever.
Although their channel is on the smaller side, they're mighty, and you stand to learn a lot with the Digital Marketing Institute YouTube channel!
9. Lisa Irby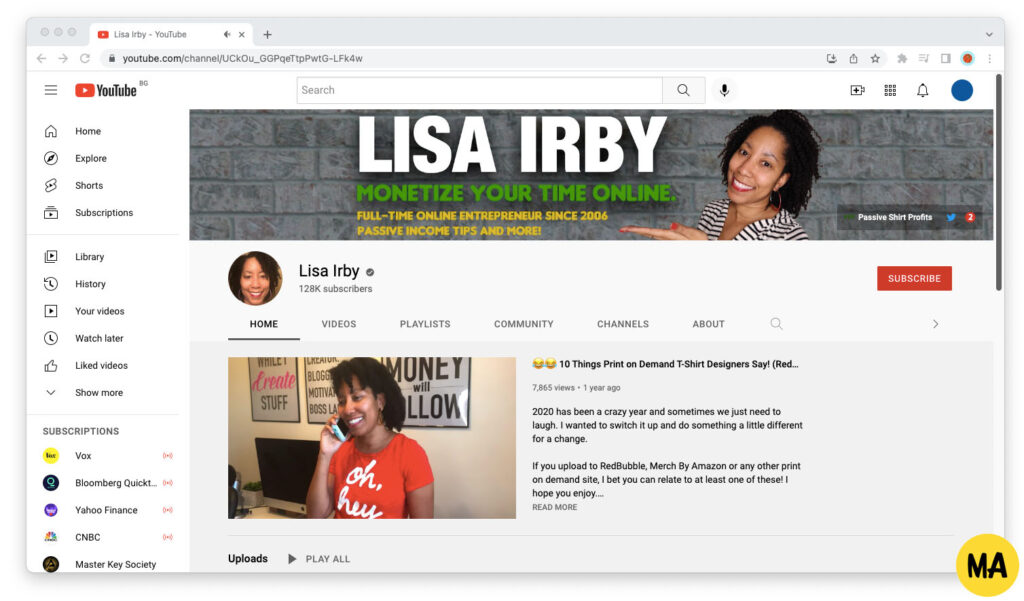 With nearly 130,000 subscribers, Lisa Irby is not a YouTube channel you want to scroll past.
Lisa is renowned in the digital marketing space as being one of the most successful self-made entrepreneurs, particularly when it comes to web and content creation.
Lisa's YouTube videos center around content marketing, SEO, as well as fascinating insights into the marketing world in her opinion videos. 
If you're stuck for inspiration, all you need to do is look Lisa up for a boost of motivation!
10. Kimberly Ann Jimenez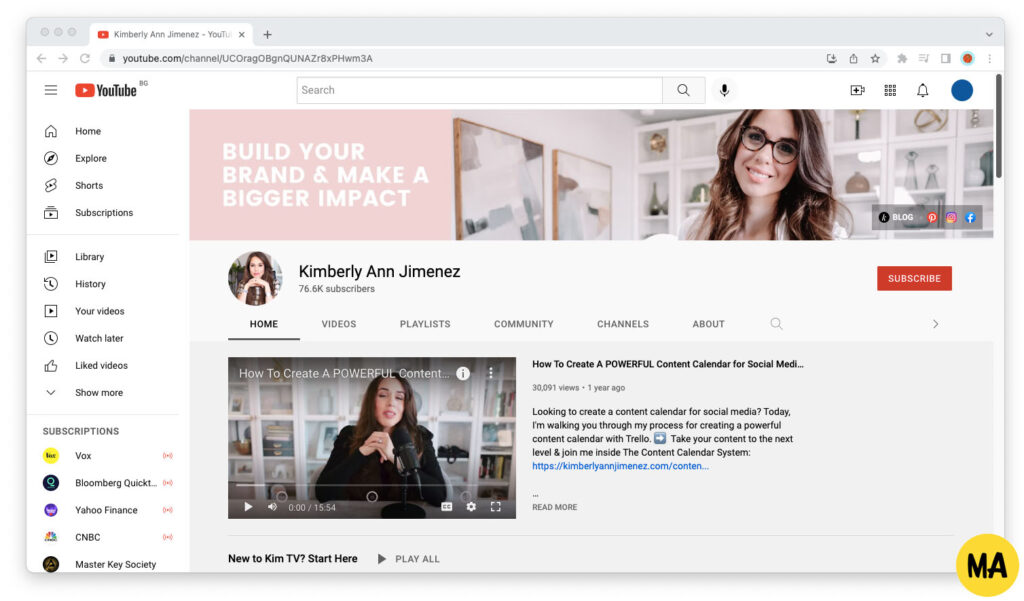 Last, but by no means least, we have Kimberly Ann Jimenez. 
If you're looking to grow your business, Kimberly has a variety of videos on how to strategically market your business, allowing you to work smarter, not harder.
With nearly 80k subscribers, Kimberly knows what she's talking about when it comes to growing your business, creating content, and all things digital marketing.
If you want to learn how to make content that is sure to attract new customers and maintain loyal ones, then you should definitely check it out.
In Summary 
So, there we have 10 of the best Youtube channels for digital marketing!
We hope this article has been helpful and informative, and that you now have a variety of digital marketing Youtube channels to get started.
Good luck on your digital marketing journey!