Whether you're a Computer Science student, UX designer, or solution architect, flowcharts can be an invaluable tool for visualizing your ideas and getting everyone on the same page.
Flowcharts help you visualize complex processes and systems in a clear, non-ambiguous way, making it easier to understand and communicate them to others. Fortunately, there are many flowchart apps available for Mac users that can help you create beautiful, functional flowcharts with ease.
In this roundup, we'll take a look at some of the best flowchart apps for Macs, so you can choose the one that's right for your needs. From easy-to-use drag-and-drop interfaces to powerful diagramming tools, read on; we've made sure there's something here for everyone.
Best Flowchart Apps for Mac
Best overall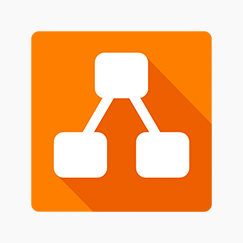 Free and open-source
Web and desktop app for macOS
Real-time collaboration with live cursors
Import diagrams from Microsoft Visio and Lucidchart
Export to PNG, JPEG, PDF, and HTML
Draw.io is a free, open-source diagramming tool available as both a web app for browser use and a desktop app for Google Chrome OS, macOS, Linux, and Windows. Designed with privacy in mind, Draw.io's web app stores your diagram's data locally, on the client side, meaning that the tool's creators cannot access your data in any way. The desktop app lets you go full-on privacy and work offline.
Draw.io is focused on privacy, and yet it doesn't skimp on collaboration. You can collaborate with others in real-time — with live, shared cursors — import diagrams from Visio, Lucidchart, SVG, and even SQL or freeform text, and export your diagrams to many formats, from PNG and JPG images to HTML and PDF documents.
Don't let the fact that Draw.io is free fool you; it's one of the most intuitive and feature-rich diagram editors on the market, and the best-kept secret of many a diagram maker. With an easy-to-use drag-and-drop interface and a vast library of shapes, symbols, and templates, Draw.io is a great choice for beginners and experts alike.
Best enterprise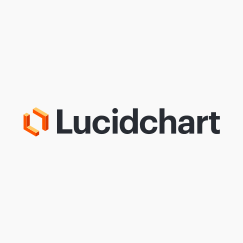 Free plan, premium plans start at $7.95/month
Browser-based web app only
Feature-rich, intuitive UI
Great security controls
Lucidchart is a web-based flowchart app for business users who need a powerful, collaborative diagramming tool to help them visualize complex ideas and collaborate on them effectively. With everything you need to create clear, concise diagrams, Lucidchart is the go-to tool for businesses of all sizes.
One of the standout features of Lucidchart is real-time collaboration, with live cursors, in-editor chat, and shape-specific comments helping you get everyone on the same page. Brainstorm, co-create, and align with ease as you collaborate on diagrams.
The tool also lets you overlay important information on your diagrams through data linking, making it easy to keep your diagrams as useful as possible. Besides, with the auto-visualization diagram feature, you can automatically create ERDs, org charts, and other types of diagrams, making it easy to get started on a new project.
Lucidchart also helps you keep data secure with robust control over who within your organization can see, access, and publish your documents. You can set allowed IPs and allowed domains for user email accounts, making sure that only authorized individuals have access to your diagrams.
Best for non-technical users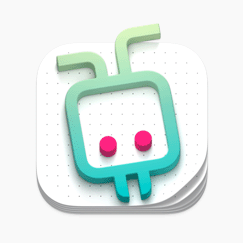 Paid app available in the App Store (one-time purchase of $22.99)
Free, 5-day trial with no commitment
One license for all your Macs
Native macOS app
For local editing
Diagrams is our marketer-friendly pick. If you're a Mac user looking for a native diagramming app that's optimized for macOS, look no further than Diagrams. This powerful and yet simple tool is designed specifically for local editing, making it a great choice for non-technical users who are just looking for a no-frills diagramming app for their Mac.
One of the standout features of Diagrams is its integration with Apple's Shortcuts app. This allows you to create quick actions for your favorite use cases, saving you time and effort when creating new diagrams.
Diagrams also boasts a simple, intuitive UI that will appeal to both beginner and advanced users alike. With its drag-and-drop interface and vast library of shapes and symbols, creating diagrams has never been easier.
However, it's worth noting that Diagrams doesn't have any of the collaboration features that Draw.io and Lucidchart do. This is because it's designed specifically for local, individual diagramming. If you're looking for a tool to collaborate with your team in real-time, Diagrams may not be the best choice for you.
How to Make Great Flowcharts
Flowcharts are essential tools for visualizing processes, workflows, and decision-making paths. They can help you communicate complex ideas and concepts in a clear, concise, and easy-to-understand way.
But not all flowcharts are created equal, and creating a good one requires careful planning, attention to detail, and the right tools. You have out picks for the tools, so here are some tips for producing clear, informative flowcharts that will help you get your ideas across and get others aligned.
Know your audience. Before you start creating your flowchart, it's important to define its purpose and scope. What is the problem that you're trying to solve? What process are you trying to visualize? Who is the audience for your flowchart? Answering these questions will help you create a clear and focused flowchart that meets your needs and communicates your ideas effectively.
Use the right symbols and notation. Flowcharts use a specific set of symbols and notation to represent different elements and actions. Using the correct symbols and notation can make your flowchart easier to read and understand. So make sure you're doing that, and that you're doing it consistently throughout your chart.
Keep it straightforward. A good flowchart should be simple and straightforward, with a clear visual hierarchy and easy-to-follow flow. Avoid cluttering your flowchart with unnecessary details or steps, and make sure the flow is logical and intuitive.
Get feedback, and then iterate, iterate, iterate. Once you've created your flowchart, it's important to get feedback from others and iterate on your design. Share your flowchart with colleagues or stakeholders and ask for their input. Use their feedback to refine your flowchart and make sure it accurately represents your ideas and meets your goals.
By defining the purpose and scope of your flowchart, using the right symbols and notation, keeping it simple and straightforward, and getting feedback and iterating, you can create clear, informative flowcharts that will help you communicate your ideas effectively and get others aligned on your vision.