If you own a Mac or MacBook and you keep your macOS up to date, you have the Home app installed on your computer.
And if you have the Home app installed, every now and then you will receive spammy (and scammy!) invitations like this one, in which a random person from the Internet asks you to let them take control of the smart devices in your home.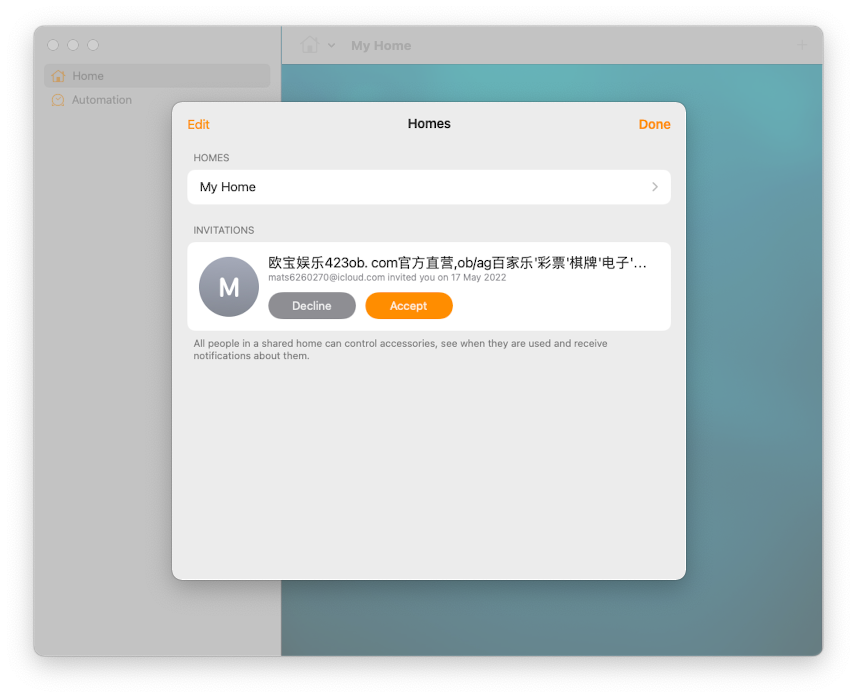 I have good and bad news for you.
The good news is that you're reading this post, which means you know that you should never, ever give someone you don't know access to your shared home in Apple Home.
The bad news is that there is no setting that lets you limit who you can receive these invitations from in Apple Home. (In contrast, Airdrop has a setting that lets you receive file-sharing invitations only from the people on your contact list.)
So you need to stay vigilant and double-check that… no, make that triple-check that you have not accidentally accepted a spammy and fraudulent Apple Home invitation whenever you receive one.
This is extremely insecure and highly frustrating, and I hope Apple fixes it soon.
Until then, make sure to always hit the "Decline" button.
Image courtesy of Artur Verkhovetskiy /Depositphotos